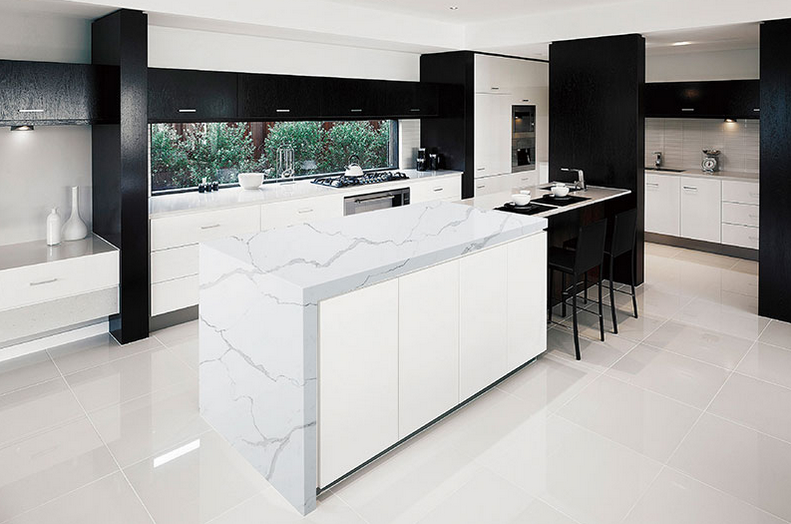 Display 36 Products per page
Home Art Tile is a proud dealer of Quartz Master high-quality quartz slabs and surfaces. Our premium quality quartz slabs can be used for kitchen countertops, bathroom countertops, and bathroom vanities, among other things. If you are looking for Quartz Master slabs near Queens, Brooklyn, or Manhattan, stop by Home Art Tile, the best quartz slab showroom in NY. 
Quartz Master Slabs are manufactured from natural materials, each slab is unique and variations to shade and pattern are inherent to the product. All Quartz Master surfaces are easy to clean and maintain, and require minimal maintenance – there's no need to seal or wax the surface. This is why many of our customers love quartz countertops for their kitchens and bathrooms. Quartz Master always receives the best reviews and praises from our customers. 
Some of our customers' favorite choices among Quartz Master slabs are: 
Quartz Master Vanilla White – always a timeless and elegant choice for kitchens and bathrooms. So easy to combine in any type of design, white is always a favorite. It never goes out of style. Vanilla White also comes in a leather finish, which has become more sought-after in the last years, because this type of finish has less gloss than the polished slab.
Quartz Master Venato Gold Quartz – a perfect choice for a sophisticated and attractive kitchen. This quartz has a beautiful grey veining throughout the surface and it very much resembles marble. If you love the look of marble countertops, but don't want the trouble of its maintenance, then Venato Gold Quartz might be the perfect option for you. 
Visit our blog to find inspiration on how to choose the best countertops for your kitchen. Or visit our showroom in Queens NY, to take a look at the slabs in person.