Marble tiles present a luxurious interior design idea for any flooring remodel project in Manhattan, Queens, or Brooklyn. Install marble floor tile as an entryway, as a living room flooring, or a kitchen flooring. It will set a powerful statement and give the perfect look to your floors.
Marble Tiles Superior Finishes for Luxurious Look
Marble tiles present a great solution both for residential and commercial spaces. If you want a luxurious look for any interior, you can safely choose marble tile. Its various color options and attractive veining will make any room shine in a different, gorgeous light.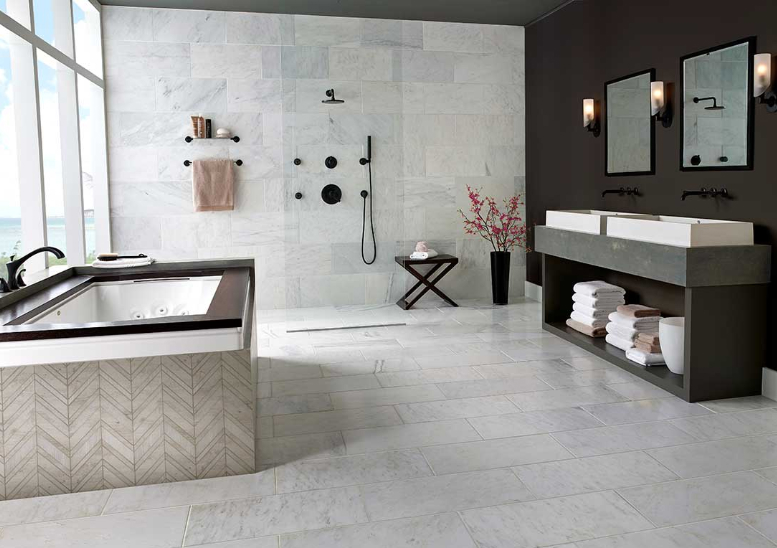 Arabescato Carrara Marble Tiles Flooring MSI
The unique beauty of marble is additionally enhanced through the various finishing processes. When you start choosing the right marble tile for your flooring project, it's good to know that you can choose between many options. Honed, polished, brushed, and tumbled finishes are all available to make your remodeling project easy and successful. If your room needs more color, pick smooth finish marble tile because this finish emphasizes veining and the color. Choose rough, brushed or tumbled finish luxury marble floor tiles to get a subdued color look.
Marble Tile for Surfaces with Character
Marble is a natural stone with delightful beauty and character. Colors like blue, gray, yellow, white, pink, and black speckled with attractive impurities make each slab one of a kind. Quarried from all around the world, marble comes in marble slabs and marble tiles to your local marble store and makes your renovation project a success.
Find Beautiful Marble Tiles for Your Renovation Project at Our Showroom
Choose from one of the greatest selections of marble floor tile, marble mosaic tile, marble tile bathroom or kitchen. Find the perfect option for your remodeling project in Manhattan, Queens, or Brooklyn. Home Art Tile Kitchen & Bath is the place where you can find various style options of marble tiles.
Shop our wide selection of marble tile designs today.
Contact us for more information and a free estimate or simply stop by our marble tile showroom and see all the beautiful options we offer.
No products were found matching your selection.