Builders Supply for Kitchen and Bath Projects in NY
Builders supply for commercial and residential kitchen and bath projects — find everything you need right here, at Home Art Tile Kitchen & Bath!
We are one of the largest distributors of kitchen cabinets, floor and wall tiles, countertops, bathroom vanities, vanity tops, and many other home improvement builders supply products you need in Queens, NY.
Located only 5 minutes away from Manhattan, NY and very close to Brooklyn, NY, we are the go-to location for all construction builders working in Manhattan, Brooklyn, and Queens, NY.
Professional Builders Supply Products for Kitchen and Bath Projects in NY
Home Art Tile Kitchen & Bath provides kitchen cabinetry, countertops, tiles, bathroom vanities, and other professional builders supply products in bulk. We offer extra discounts for builders so you can save money both for your business and your clients.
Here, at Home Art Tile Kitchen & Bath, quality and excellence cost less. Shopping here is like shopping at a builders supply outlet, only more convenient. Our convenient location close to Manhattan and Brooklyn, spacious and comfortable store, affordable prices and free services we provide for builders, make us the best choice for your next project.
Providing cabinetry and other home builders supply products to construction builders for a decade, offering easy returns and refunds, shorter lead time, quality guarantee, and superior customer service, brought us a reputation of the most trusted kitchen & bath builders supply source.
Contact us today to explore all opportunities we can provide you with.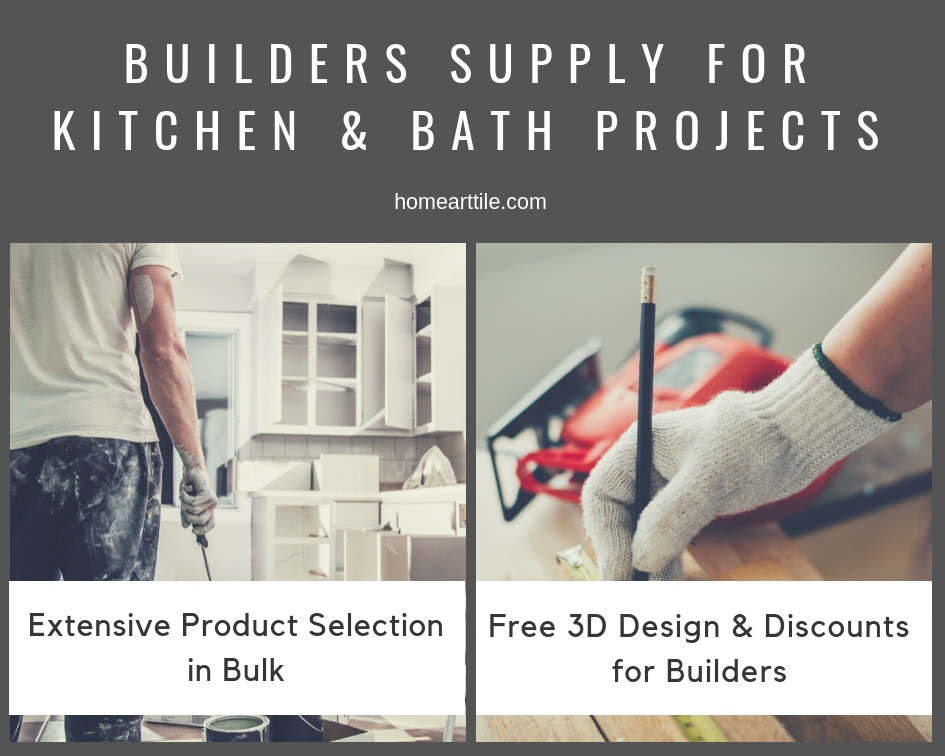 We Got Your Kitchen and Bath Building Projects Covered
Home Art Tile Kitchen & Bath brings the best and the largest kitchen and bath modern builders supply products available in Manhattan, Brooklyn, and Queens, NY. Whatever you may need for your next commercial or residential project, we are sure that we can provide you with all the products and services you need.
Free Estimate
When you come to us with your new kitchen or bath remodel or building project, we will get all the needed information and make this initial phase easy for you. Our experienced estimating staff is readily available to review your plans and recommend the best cabinetry, porcelain, ceramic, marble, or glass tile, countertops, and other kitchen and bath building supply products.
Free 3D Design of Your Kitchen or Bath Project
If you're building a new commercial or residential kitchen anywhere in Manhattan, Queens, or Brooklyn area, you will want to make sure that the kitchen you're building is perfect. Home Art Tile Kitchen & Bath allows you to see new kitchen cabinets in 3D before you buy them from us. Simply bring in the measurements you took, choose the cabinets, and our helpful staff will easily build your 3D kitchen model.
Flexibility to Customize and Combine Kitchen & Bath Builders Supply Products
Choose from a wide variety of home improvement and building supply products! Home Art Tile Kitchen & Bath is the go-to location for construction builders who need the highest quality product solutions at affordable prices to create the best commercial and residential kitchens and baths.
Choose colors, materials, and profile styles. Our friendly staff will work with you and help you choose the products that will best suit your needs. We will even help you make adjustments and changes on the spot. We cater cut to measure service to Manhattan, Brooklyn, and Queens kitchen and bath builders. All you need to do is to select products and we'll provide those products in exact required quantities. Please visit us to enquire in-store or contact us.
Home Art Tile Kitchen & Bath in Queens NY has all your builders' supply needs covered, and more! We offer superior wood kitchen cabinets, sturdy and durable countertops, natural stone and glass mosaics, ceramic and porcelain tiles, trendy bathroom vanities, and everything else your construction building company may need to build the most beautiful and functional kitchens and baths in Manhattan, Queens, and Brooklyn area.
On-Time Delivery & Installation for Commercial and Residential Projects
Most of our kitchen and bath home improvement products can easily be taken to your building location. They are conveniently designed and packaged. Therefore, you can transfer them anywhere easily. However, we can deliver heavy and bulky products such as kitchen cabinets and vanities on your request. We supervise all our deliveries, making sure everything runs smoothly.
Extensive Kitchen and Bath Builders Supply Products in Bulk
Whether you need 1 or 10 kitchens to build, we have many kitchen cabinets lines in a variety of colors, styles, materials, and designs. Find readily available quartz countertops and natural stone countertops, porcelain tiles, and ceramic tiles. shower sets, sinks and faucet combos, tub doors, and beautiful bathroom vanity options, as well as other home remodel and building supply products for any size job at 35-10 43rd Street Long Island City, New York.
Competitive Discount Prices & Easy Returns
Home Art Tile Kitchen & Bath offers low prices and extra discounts for commercial and home builders on building supply products. Providing various convenient payment options and discounts, with convenient return options, we give you the best, most affordable, and the most accommodating solution for your commercial and residential kitchen and bath building projects. We open at 7 am just for your convenience.
Over and above the standard services we offer to construction builders, we will always give our best to assist you however possible.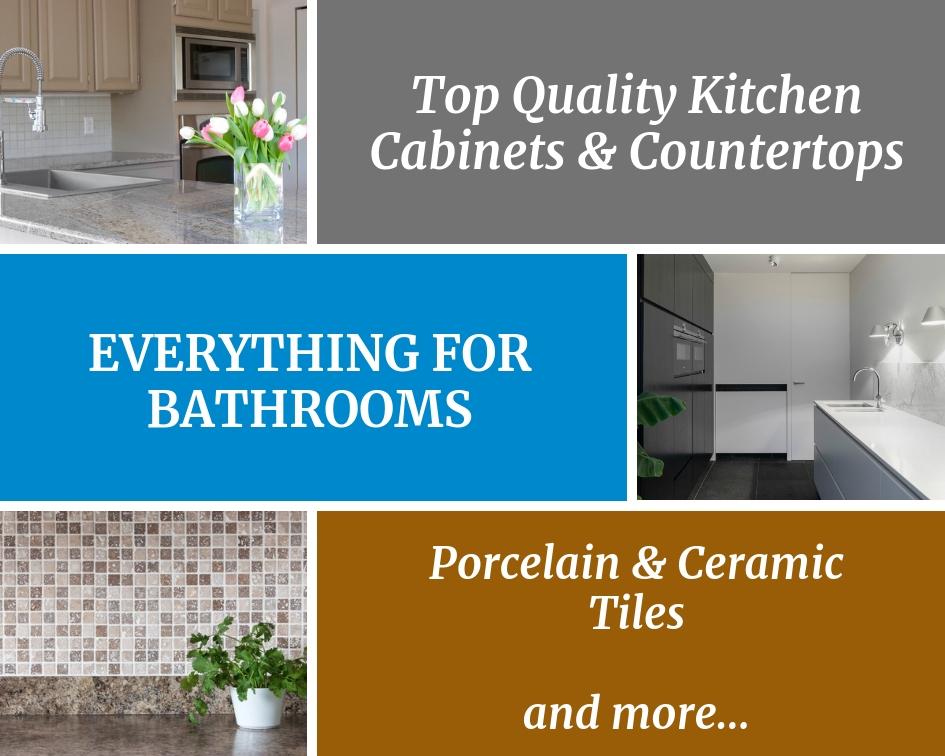 Leader Supplier for Residential and Commercial Builders
Home Art Tile Kitchen & Bath is one of New York's largest distributors of kitchen and bath countertops, kitchen cabinets, bathroom vanities, and porcelain and ceramic tiles.
We provide builders supply products to a network of licensed construction builders throughout the tri-state area.
Being able to provide kitchen cabinetry and other products in bulk and on demand to construction builders and contractors for both small and large kitchen building and remodel projects is something we are very proud of.
Besides great deals we are currently offering, we are also continuously adding new specials. Be sure to visit us today or check back often!
Our mission is to continuously provide residential and commercial builders in Manhattan, Brooklyn, and Queens NY with the best builders supply at the most convenient conditions.
Offering an endless array of possibilities, high-quality products, and services specifically customized to home builders needs sets us apart from other home remodel stores.
Hand-selecting only the finest kitchen and bath products and materials, we serve you with the kind of care you need and expect from true professionals.
Frequently Asked Questions about Home Art Tile Kitchen & Bath Builders Supply Service
Can you assist me with product selection?
We will be happy to assist you with kitchen cabinets, tile mosaics, wall and floor tile, countertops, and other remodel product selections. Our staff has a wealth of experience and will ensure a stress-free process.
Do you provide design services or will I be dealing only with salespeople?
Home Art Tile Kitchen & Bath provides you with free 3D design service. Contact us to make an appointment and you will get one of our experienced designers that will take care of your needs from the beginning and make sure you're satisfied with the design.
Are returns possible? Are there going to be any fees in case I need to make changes during the building process?
We know that changes may happen during construction. This is why we allow returns with no additional fees added.
Do you offer a free delivery service to home builders?
Yes, we do provide free delivery service on qualifying purchases.
Can you install kitchen cabinets?
Yes, we can. Just let us know when making your order.
Feel free to contact us and let us know if you have any questions. We will be happy to answer them.
Get the Best Builders Supply Products at Home Art Tile Kitchen & Bath, NY
Whether you're a big builders company or a boutique builder, come visit us at 35-10 43rd Street Long Island City, New York or call us now at 718-433-0060. We provide builders supply to both big and small builder companies and construction groups that cover Manhattan, Queens, and Brooklyn areas in NY. Having enough supply in stock, we can deliver both small quantities and products in bulk.
We have hundreds of successful commercial and residential bath and kitchen projects in our portfolio. Offering you free 3D design service, free estimate, extra discounts for builders, convenient paying options, and extensive builders supply products selection, we can change, improve, and ease your processes.  Large enough to handle any project, yet small enough to be familiar with all of our clients, we have enough experience to make your next building project easy and enjoyable.
Contact us today to get started with your project and speak to one of our designers. You can also choose to simply stop by. We are here from Monday to Saturday, from early morning until 7 pm. When you walk through our kitchen and bath showroom, you'll be inspired and relieved. This is your builders supply one-stop shop in NY.