Kitchen Cabinets in Manhattan - Best Quality at Low Prices
Kitchen Cabinet Deals in Manhattan, NYC
If you want to renovate your city apartment kitchen but don't want to pay city prices, come to visit us!
Kitchen cabinets in Manhattan apartments and homes have a demanding task – to compliment those beautiful spaces so they are practical and functional, but also to embody owner's dream kitchen idea. Although it is easy to find great kitchen cabinets in Manhattan stores, it is less likely to find high-quality cabinetry at low, reasonable prices.
Home Art Tile Kitchen & Bath Design Center kitchen cabinets showroom is located only 5 minutes from Manhattan but offers low priced cabinets that will fulfill your idea of a dream kitchen. We carry best-rated kitchen cabinet brands like Forevermark Cabinets, Fabuwood, Cubitac, and CNC Cabinetry at deal price!
Whether you're looking for high-end kitchen cabinetry, custom made, semi-custom or stock kitchen cabinets, our large showroom in Queens NY has a wide choice of different kitchen cabinet door styles to inspire your kitchen renovations in Manhattan, NYC.
Just take a look at our White Shaker Cabinets selection! From uncompromising sharp white to soft, gentle off-white shades, these shaker style cabinets will give you a modern kitchen with a classic charm.
Maybe white cabinets aren't your thing? Then we got just the right option for you! Gray kitchen cabinets are a favorite for many homeowners and designers. Contemporary looking and easy to combine with other styles and details, gray kitchen cabinets can be the answer to your Manhattan kitchen remodel project.
When you pick your perfect cabinetry, don't forget about another important element of every successful kitchen remodel – countertops. We have all the Caesarstone countertops colors and collections and the most affordable prices in NY.

Fast Sellers Kitchen Cabinets for Manhattan Kitchens
When choosing kitchen cabinets in Manhattan, you want to make sure you're selecting top-notch quality, solid wood kitchen cabinets that feature best colors and natural finishes. However, finding the best kitchen cabinet style at the right price that will suit your budget is not always easy.
Good news is that many of our kitchen cabinets are fast sellers for Manhattaners! Versatile in style, size, and finishes, our kitchen cabinets are perfect for Manhattan apartments because they fit perfectly. At the same time, it is possible to create amazing kitchen setups that will allow you to personalize your kitchen space and show your own style.
Home Art Tile Kitchen & Bath team of designers knows Manhattan homes and Manhattan residents, as well as what they look for when they are in the process of renovating their kitchens.
Visit Us to Get Your Dream Kitchen in Manhattan NYC
Are you looking for the best kitchen cabinets in Manhattan? Are you unsure of how will different kitchen cabinet styles fit your Manhattan home? Have you been wondering what kitchen cabinet material will perform best? Do you have doubts when looking for the best kitchen cabinet color for your Manhattan apartment? Have you been trying to decide between white and grey kitchen cabinets not being sure what color will continue being popular in the years to come?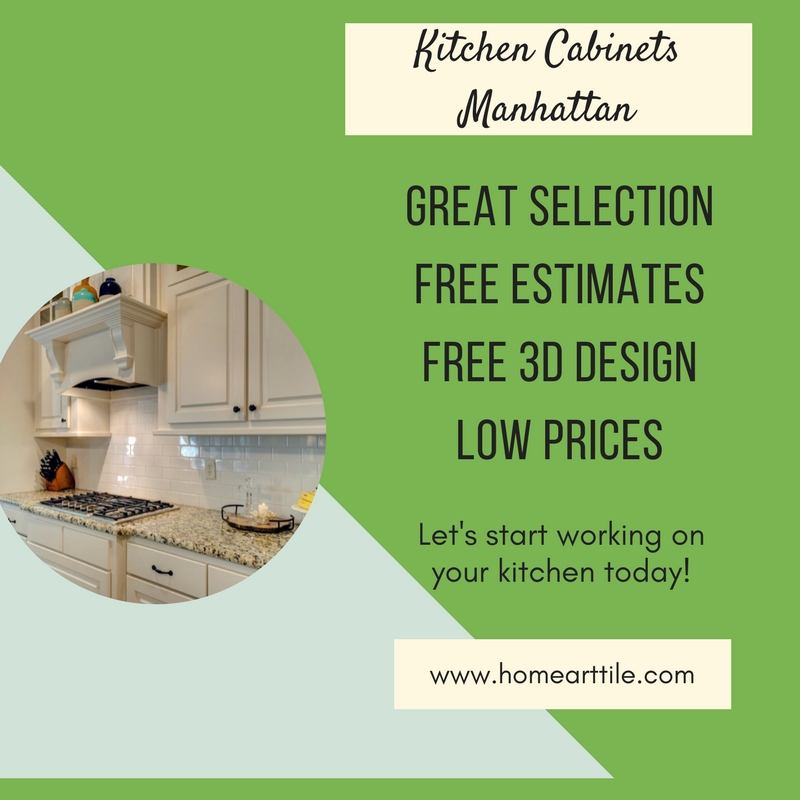 Our leading design specialists will help you decide what kitchen cabinet design will best compliment your Manhattan kitchen.
Contact us today and find out why homeowners, builders, contractors, and designers from Manhattan NYC love our service and the kitchen cabinet styles, colors, and brands we carry. Start renovating your city apartment kitchen for less money – set 5 more minutes from your busy schedule, visit Home Art Tile Kitchen & Bath in Queens, NY, and save money.
You can call us right away at 718-433-0060, visit us when it's convenient, or simply fill out the contact form. We know how important kitchen cabinets are for building your dream kitchen in Manhattan, NYC. Visit us so we can make this experience easier and truly enjoyable for you.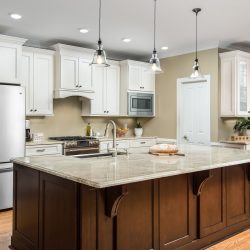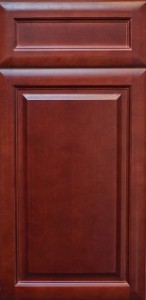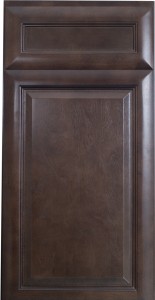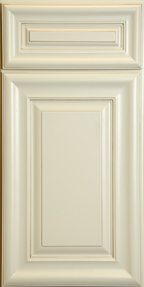 Manhattan Kitchen and Bath Remodel Projects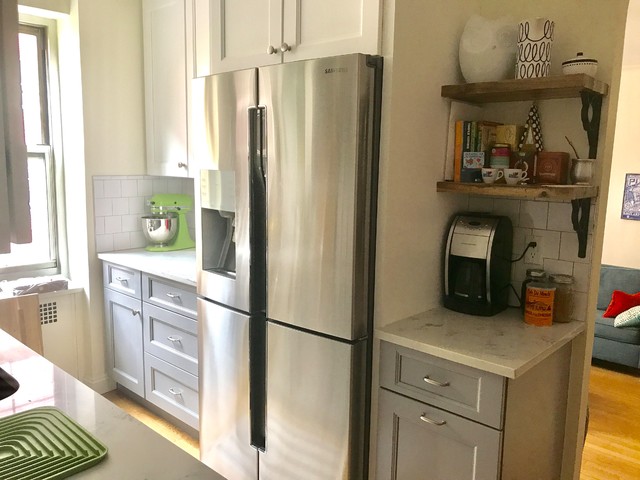 Manhattan Kitchen and Bath Design by Home Art Tile Kitchen & Bath
"When renovating our kitchen/bath, our contractor recommended we order our tile & cabinets through Home Art Tile. These guys are great! Such a helpful & kind staff. We looked at cabinets elsewhere, but nobody could beat Home Art's prices. We ended up ordering other little things from them, like our shower door & stone for our bathroom shelves, because they were so reliable & easy to deal with. I was a first-time renovator & needed a little guidance; these guys always gave me their honest opinion when I asked for it, & it helped a LOT. We had a really positive experience working with them."
This is what Hallie B. said after we helped remodel her kitchen and bath. Nothing makes us happier than assisting in creating kitchen spaces that inspire and excite. The kitchen is the most important room in any home. It's the place where our families gather, where we connect with our friends, where we host parties, lunches, and dinners. It's no wonder we want our kitchens to look their best possible.
Manhattan kitchen and bath remodel projects are specific and we know that. This is why we are constantly staying on top of kitchen and bath trends in this ever-changing industry.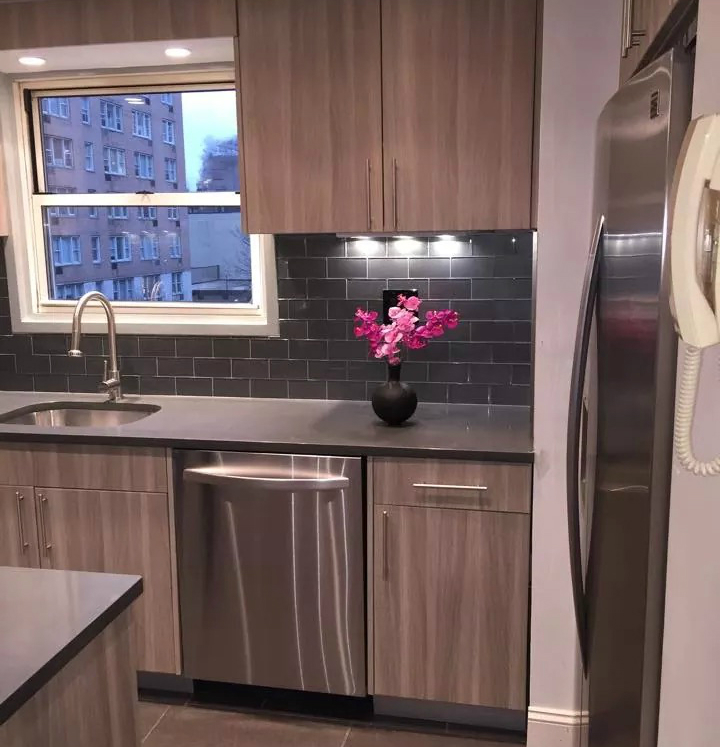 Manhattan Kitchen Remodeling Projects are Easier after Visiting Our Kitchen Cabinet Showroom
Home Art Tile Kitchen & Bath supports many Manhattan kitchen and bath remodel projects. For example, this lovely Manhattan NYC kitchen features Home Art Tile Kitchen & Bath products and is just one of many modern designs easily achieved with our assistance and support. Manhattan kitchen remodeling is easy when you can find the best kitchen cabinet deals near you.
Home Art Tile Kitchen & Bath home improvement center is located in Queens, NY and has anything you may need for your Manhattan kitchen remodeling. Whether you need apartment kitchen cabinets, CNC kitchen cabinets, Cubitac cabinets, Forevermark cabinets, gray kitchen cabinets, or you would prefer white shaker cabinets for your kitchen remodeling in Manhattan, stop by our kitchen cabinet showroom in Queens. We will give you the best kitchen cabinet deals that you can find near Manhattan.
Don't pay more than you need to. We are located only 5 minutes from Manhattan and we equipped numerous Manhattan kitchen and bath remodel projects with everything needed to complete successfully. We pride with reasonably priced kitchen cabinets and some of the best custom cabinets of New York.
If you want your kitchen to be one of the best designed modern kitchens in NYC, stop by Home Art Tile Kitchen & Bath in Long Island City, Queens. Our designers will give you a free advice and a free 3D design. Any information you may need regarding our kitchen cabinets, backsplash, floor tile, or countertops is available to you right away.
Find the Best Kitchen Cabinet Deals at Home Art Tile Kitchen & Bath Design Center
Depending on the layout for your kitchen, our professionals will configure the kitchen design for optimal functionality. This will make sure that you can utilize your kitchen in Manhattan the way that is best for you and your family. Using the free 3D design tool, we will make sure that the stove, refrigerator, and sink are laid out in relation to one another. They will be laid out in a functional way to make it easy for you to use them without any trouble.
If you don't have a contractor to work with on your Manhattan kitchen and bath remodel project, let us know. We can recommend you well reputed local contractors that have been serving the area for a long time.
When you come to our kitchen and bath showroom in Queens NY, consider how you and your family will use the room. For example, do you prefer a tub or a shower for your bathroom? Maybe you need a smaller guest bath for occasional use? What are your cooking habits? This is of crucial importance when you start defining the layout and design of your kitchen space. Do you use your kitchen only for cooking or you want to use it as an entertaining space, too? Depending on your answers, we will determine whether you need a smaller or a larger kitchen space, more or fewer kitchen cabinets, an island or a table.
Have in mind these questions when planning your Manhattan kitchen and bath remodel project. We are kitchen and bath professionals that will equip your Manhattan kitchen easily and affordable. Finding reasonably priced kitchen cabinets in Manhattan is not easy. That is why we are here for you!
We know what to consider when planning materials, products, a layout, as well as an overall look and feel of either a kitchen or a bathroom in your Manhattan home.
Contact us or stop by our showroom today to find the best kitchen cabinets, countertops, tiles, sinks and faucets for your kitchen remodel. We also have anything you may need for your bathroom remodel. We are certain that you will find the best to suit your needs.
Find more kitchen and bath remodel projects in Manhattan that we equipped on our Houzz profile.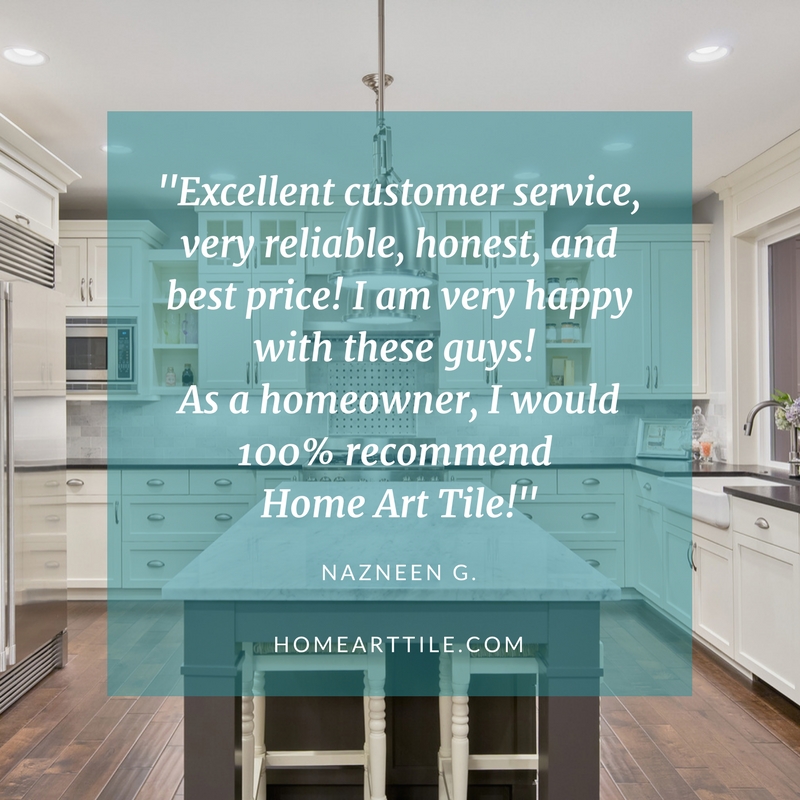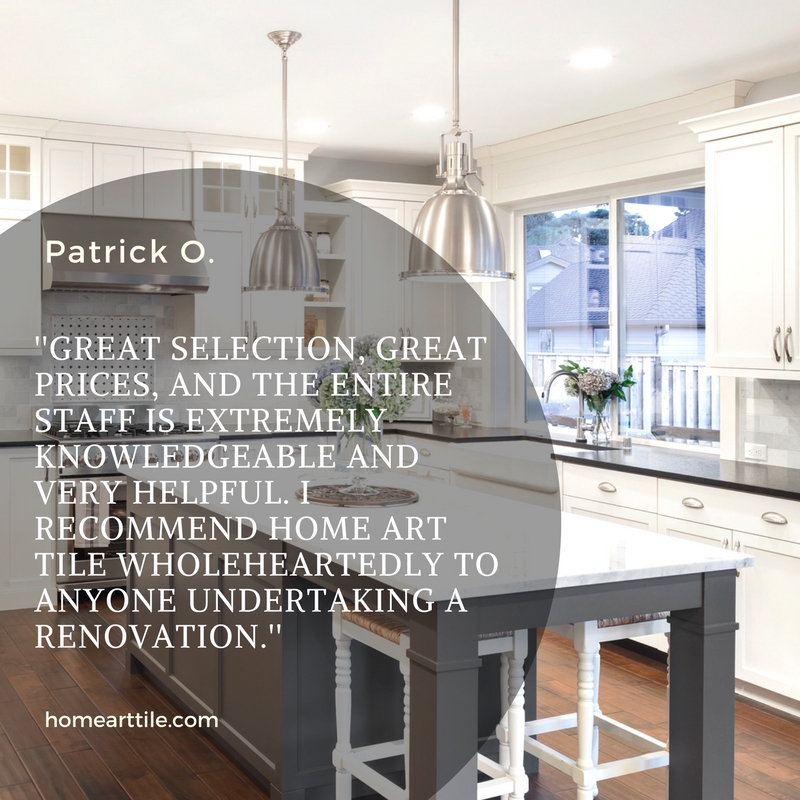 Read the reviews to learn what real homeowners have to say about us in Manhattan, NYC
Directions to our showroom
From Manhattan
Directions by vehicle
Take NY-25 E/Ed Koch Queensboro Bridge Lower Roadway (signs for Ed Koch Queensboro Bridge) (1.7 mi)
Turn left onto Northern Blvd/Quees Plaza E (0.7 mi)
Turn left onto 43rd St
Directions by public transportation
Take the R Broadway Local train
Take off at the Steinway St
Head southeast on 34th Ave toward 41st St
Turn right onto 43rd St
Please check back soon for Kitchen cabinets specials in Manhattan,NYC.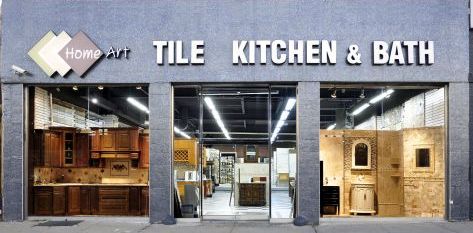 Address: 35-10 43rd Street Long Island City, New York
Manhattan NY – the Greatest City in the World
If you live in the greatest city in the world, you should also have an equally great kitchen with the best kitchen cabinets. We are only 5 minutes away from Manhattan but our kitchen cabinet prices are thousands of dollars lower than in Manhattan kitchen cabinet stores.
If you are just visiting, don't forget to use the opportunity to see this economic and administrative center and most densely populated borough of the New York City. Manhattan is also renowned as financial, media, economic, entertainment, and cultural capital of the world.
This symbol of New York City is a borough that is home to some of the most exciting attractions, such as the Empire State Building, One World Observatory, The High Line, and Central Park. If you wish to explore its culture, visit Manhattan's concert halls, top art museums, clubs, and restaurants. Also, don't forget to see and experience Broadway and Times Square.
Delightful neighborhoods with reclusive green areas, exclusive restaurants, and intimate bars, with lots of memory-worthy localities, are waiting for you to discover them.
Visit Wikipedia to learn more about Manhattan Neighborhoods, Infrastructure, and Transportation.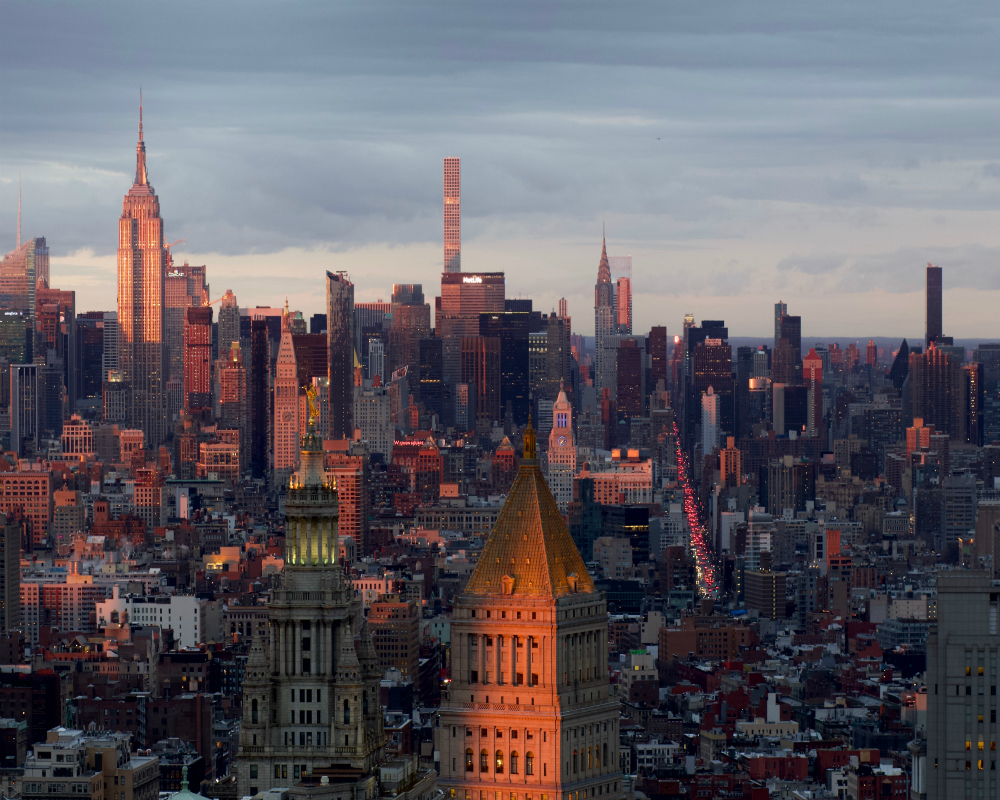 Visit Manhattan
Watch below amazing 4K tour of Manhattan: