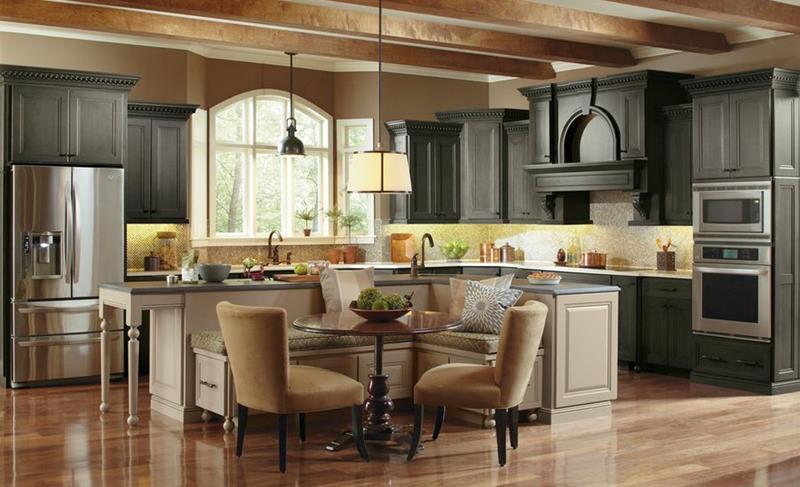 Kitchen cabinet outlet store in Queens NY – Home Art Tile Kitchen & Bath provides top quality kitchen cabinets at the lowest, factory-direct prices. If you live in Manhattan, Brooklyn, or Queens, shopping for kitchen cabinets won't be a hassle anymore. Kitchen cabinet shopping is a simple and enjoyable experience with us. We provide quick turnaround on our ready assembled kitchen cabinets at discount, factory outlet price. Our kitchen cabinet outlet store is located in Queens, only 5 minutes from Manhattan. Stop spending more money than you have to on your kitchen. With Home Art Tile you will save thousands and still get top-quality kitchen cabinet design.
Kitchen Cabinet Outlet in Queens NY for Homeowners, Builders, and Designers
Since 2007, we provide Manhattan, Brooklyn, and Queens homeowners, builders, designers, and remodelers with top quality kitchen cabinetry – from stock to custom. Our kitchen cabinet discount showroom in Queens offers many styles from dozens of America's leading kitchen cabinetry manufacturers. Both professionals and homeowners love our products and services because we provide complete design services, free estimate, and free advice, at no additional cost. We also open at 7 am for the contractors' convenience.
Our professional, courteous, friendly and highly knowledgeable designers and sales representatives will be with you every step of choosing kitchen cabinets process. They will help you pick the right color, finish, and design, deliver and install them. Working closely with every customer, carefully listening to their needs, and understanding their desires and budget, is our imperative.
Whether you're a homeowner who needs advice on the right cabinets for their kitchen, a designer who already knows what she wants, or a builder that needs consultation regarding kitchen cabinet measurements or the right contractor tool, we are here for you, ready to assist you in your kitchen remodel project.
Kitchen Cabinet Outlet Price – Solution for Any Budget
Our kitchen cabinet lines are 100% real solid wood cabinets with remarkable components. This makes them the highest quality cabinetry that can be found on the market today. You can find these kitchen cabinet lines at other places and stores too. However, we distinguished our kitchen cabinet outlet from others and created an important difference. We provide best everyday outlet sale price on kitchen cabinets. Our kitchen cabinet outlet prices will suit any budget.
In order to completely understand the quality and exquisite looks of our discount kitchen cabinets, as well as our low, wholesale prices, visit our kitchen cabinet showroom in Queens NY. Come and see ready assembled cabinets and custom cabinets that we offer. Depending on your needs and budget, you will be able to make a perfect choice. Our staff will help you with their professional and knowledgeable advice. Be assured that you won't have to compromise quality because of the price. Many kitchen cabinet styles and colors are available at low, wholesale, outlet price to suit your wishes and needs. At our kitchen cabinet outlet Queens store, you will get more value for your money. Many other kitchen cabinet stores will charge you extra for the items that are already included in our kitchen cabinet wholesale price.
Kitchen Cabinet Outlet – Quality Cabinet Selection
Kitchen cabinets will occupy most of your kitchen space. This means they will be the most visible part of your entire kitchen design. When building or remodeling your kitchen, you should choose the best quality and best looks kitchen cabinets. These cabinets will set the mood for the entire kitchen. Quality means longevity. Great looks means great atmosphere. This is why our kitchen cabinet outlet in Queens NY is the best place to visit when planning a kitchen remodel.
Our wood kitchen cabinets come with soft close drawers, dovetail drawer box construction, full extension heavy duty glides, finished interiors, grade A plywood box construction with finished wood face frames, doors and toe kicks. Some of our cabinets are side mounted with epoxy coated slides and six-way clip-on adjustable hinges. They also facilitate for combi-plywood adjustable shelving.
Kitchen Cabinet Outlet – Functionality & Beauty
Our kitchen cabinets truly stand out from the rest. For example, Geneva cabinets stand out with their big size. The wall cabinets feature twelve and a half inch deep shelves while the base cabinets have 18 inch deep shelves. Base cabinets have an additional full dust cover feature.
If you like shaker kitchen cabinets, our Shakertown kitchen cabinets are the right choice for you. They feature all birch plywood construction, recessed square center panel, full overlay, butt doors, finished interior, 5 piece matching drawer front, rabbet drawer box construction, epoxy coated sidemount glides, and 1/2″ plywood construction.
There are more shaker style kitchen cabinet designs, like Shaker Linen, Shaker Natural, Shaker Brandy, Espresso Shaker, Ice White Shaker, White Shaker, and Pepper Shaker.
Shaker Brandy kitchen cabinets feature clean lines, symmetry, and simple elegance. These wooden kitchen cabinets build a classic yet modern kitchen rich with a charm that shows refined taste. These cabinets are built from birchwood and come with 5-year factory warranty.
Espresso Kitchen Cabinets by Forevermark feature a rich, warm-toned stain that wonderfully complements contemporary neutral color palette. Espresso is one of the most popular kitchen cabinet color stains today. Environmentally friendly, functional, and beautiful, these cabinets have all you are looking for in a kitchen.
Ice White Shaker cabinets will make any kitchen space look larger and brighter. The design of these kitchen cabinets is clean and simple. It pairs  well with any layout or color scheme too. Feel free to use them both in traditional and modern kitchen designs because it is highly adaptable. Ice White Shaker kitchen cabinets feature a combination of color and design will transform and overstep any kitchen trend.
If you prefer more luxurious kitchen cabinet designs, Elite-Cinnamon Kitchen Cabinets will make your dream of an ideal kitchen come true.
This luxurious kitchen features full overlay solid birch raised panel mitered door, dowelled and finger jointed doors and 5-piece recessed panel drawer fronts, ⅝" solid birch drawer box with dovetail construction, and six-way adjustable concealed hinges with a soft-close mechanism,  and natural finished interior.
These cabinets are available in two glazed finishes: Merlot & Cinnamon. A high sheen finish upgrade is also available.
Our kitchen cabinets are very popular in Queens, Manhattan, and Brooklyn neighborhoods because they are beautiful and functional. However, there is another quality that our customers love about them. They blend in beautifully with different kitchen finishes and interior color mixes. We are proud to provide our customers in Queens, Brooklyn, and Manhattan with highest quality kitchen cabinets that will upgrade the décor of their homes.
Kitchen Cabinet Outlet with Great Customer Care
We are happy to say that designers at our kitchen cabinet outlet help building and creating remarkable kitchen designs in Queens, Brooklyn, and Manhattan since 2007. They carefully listen to your plans, understand your needs, and consider your budgets. While big box stores try to specialize in many areas of home remodeling and offer you wide range of products and services, we specialize in particular home improvement products and services. This is the main reason why the homeowners, builders, remodelers, and designers trust us with our cabinet product selection, our expertise, and our exceptional services.
What we do here, at Home Art Tile Kitchen & Bath, we do with passion and love. We truly believe that people see and feel this passion and that this is the main reason why they always come back.
Kitchen Cabinet Outlet Reviews – 5 Stars for Home Art Tile Kitchen & Bath
Here just a few of many amazing 5 star reviews on our kitchen cabinet outlet:
"We were looking for a while to find a fairly priced home renovation store with a good selection. This place is it. While doing our kitchen, their staff was incredibly helpful and patient. They helped us design our cabinet layout using the software in the store. They were responsive to all our questions and spent a lot of time helping us piece together our beautiful home. We ended up buying our cabinets, tiles, quartz counter, and vanities. I shopped around online and all of Queens. Their prices were the best. Thank you again!" (Rino Skoblar)
"Thank you for everything that you guys did for me during my kitchen renovation.  You made the process seamless. The place looks gorgeous and the product is second to none." (Erhan)
"Great selection, great prices, and the entire staff is extremely knowledgeable and very helpful. I recommend Home Art Tile wholeheartedly to anyone undertaking a renovation." (Patrick O'Connor)
"My husband and I purchased cabinets for our prior home. We returned to them 3 years later for wall tiles for our new home.  The customer service is second to none, very friendly and professional.  We definitely plan on returning to them again for other renovation projects." (Josephine Hall)
From design to delivery, our quality kitchen cabinet outlet will meet your specific needs. We feature only the best kitchen cabinet materials with craftsmanship second to none, at discount, low prices. This means that you will get exceptional value and save money.
Kitchen Cabinet Outlet Home Art Projects
When you come to our kitchen cabinet outlet in Queens NY in search for the best cabinets for your kitchen remodel, we will help you pick a quality and an effective kitchen design. Here are some of the kitchen renovation projects that feature products bought in our kitchen cabinet outlet showroom.
This kitchen renovation project was completed in Queens NY. Wood kitchen cabinets present classic, traditional styling, with contemporary, bold and clean lines. All products in this lovely kitchen were purchased from us.
Manhattan kitchen remodel project features an amazing work on renovating a torn down kitchen in this part of New York. These modern kitchen cabinets feature sleek and clean lines, perfect for small Manhattan kitchen. They are tailored to match busy, modern life in Manhattan. The combination of contemporary kitchen countertops, trendy backsplash, and stylish kitchen cabinets provides an uplifting and inspiring cooking space. All of the material, including kitchen cabinets, backsplash, wall and floor tiles, were purchased from us.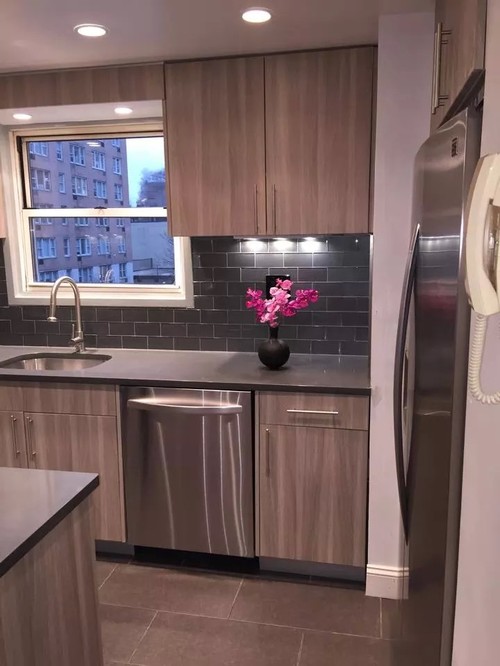 Kitchen Cabinet Outlet Store near You – Visit Us Today in Queens NY
We invite you to take a virtual tour of our kitchen cabinet showroom in Queens NY from the comfort of your home. Then come in, have a look, and advise with our designers. You will be pleased to discover our ready assembled ready cabinets, custom kitchen cabinets at discount, factory direct prices, and a quick turnaround time.
Our amazing staff will give their best to help you pick cabinets that will best suit your needs, design, and budget. We also offer a free 3D design view of what your kitchen design will look like. Located in Queens NY, we are conveniently located near Brooklyn, and also only 5 minutes from Manhattan. We will make your visit worthwhile. Our kitchen cabinet outlet store carries one of the largest selections at best prices in New York. Our experienced kitchen professionals will guide you through the entire process of kitchen cabinet selection.
Whether you are looking for the latest kitchen cabinet trends or a customized kitchen of your dreams, our kitchen cabinet outlet store is the right place to visit. Contact us or come in today!
Featured Image Source: Home Epiphany
https://homearttile.com/wp-content/uploads/2017/06/25-Beautiful-Kitchens-with-Dining-Tables-20.jpg
487
800
sandra
https://homearttile.com/wp-content/uploads/2017/11/logo-102214.jpg
sandra
2017-06-02 19:06:41
2017-06-03 08:58:59
Kitchen Cabinet Outlet in Queens NY – Best Value for Any Budget