Modern Kitchen Cabinet Ideas to Update Your NY Kitchen in 2023
Modern kitchen cabinet ideas — simple, clean, and unencumbered — can give your cooking space a fresh and chic appeal. If you enjoy sleek lines, polished surfaces, and classy, up-to-date looks, we've got some modern kitchen cabinets ideas for your kitchen that will make you swoon. Kitchen cabinets take the center stage in any kitchen and will lend the dominant look and feel to the space you're about to remodel. Modern kitchen cabinet design will introduce an ultra-contemporary appearance along with super functional storage and endless organization options. This combination of style and function is everything you need to create the kitchen you've dreamed of.
Take a look at these modern kitchen cabinet ideas to get inspired and create an inviting, forward-looking home.
Modern Kitchen Cabinet Design
Are you overwhelmed by rich curves, ornate details, decorative brackets, trim works, plate racks, inset panel doors, chicken wire cabinet doors, bin-style handles, and crown moldings? Is a traditional style too classic for you while transitional forms leave you indifferent?
Geometric forms, angular design, straight lines, flat surfaces, and minimal ornamentation may just be your thing. All of these characterize the look of modern kitchen cabinets. Sleek, lustrous, and streamlined with irresistible simplicity in its lines, frames, and doors, the modern kitchen cabinet ideas in design lean toward mid-century styled furniture. This introduces some novelties into this innovative trend — daring lines and bold angles that leave you starstruck. Add innovative appliances, modern dishware, and cookware to this, and you get a definition of contemporary kitchen space with all the cutting-edge functionalities a modern family needs.
Modern kitchen cabinet ideas suggest a combination of materials. To ensure a one-of-a-kind experience, both look and feel, modern kitchen cabinets ideas often fuse laminate, glass, wood, and metal. Each material works toward creating a highly functional, spacious, comprehensive, and unique space.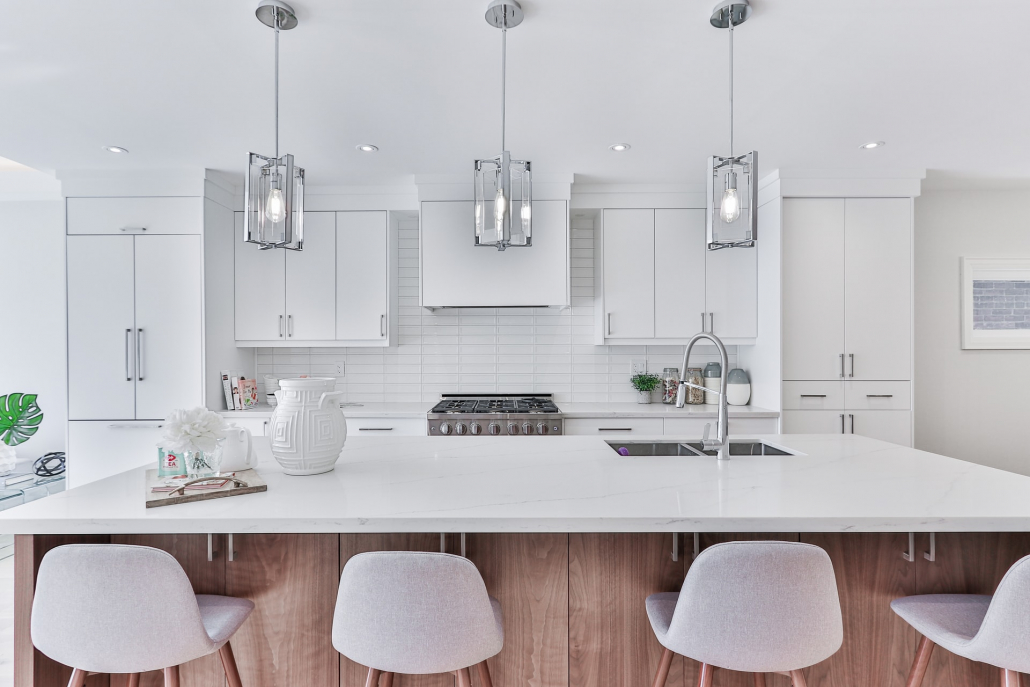 Whether your kitchen is small or large, airy and bright, or dark, these modern kitchen cabinet ideas can help you add the look, function, and features you desire for the most important room in your home.
Browse our Kitchen Cabinets selection.
Mid-Century Modern Kitchen Cabinets — Nostalgic, Yet Fashionable
Mid-century modern is a timeless style that is very important for modern kitchen cabinetry design. Lasting, always fashionable, and popular, mid-century modern kitchen cabinets add a little bit of nostalgia and whimsy, creating a timeless design.
Kitchens that are mid-century inspired bring cabinets that feature bold colors, crisp white charm, and sleek wood. Made of oak, maple, cherry, and walnut, mid-century modern kitchen cabinet ideas will help you make the room feel welcoming, bright, and joyful.
Whatever is your thing, shiny white, daring colorful, or warm wood, the mid-century charm will accommodate it and allow you to create a room that will turn heads.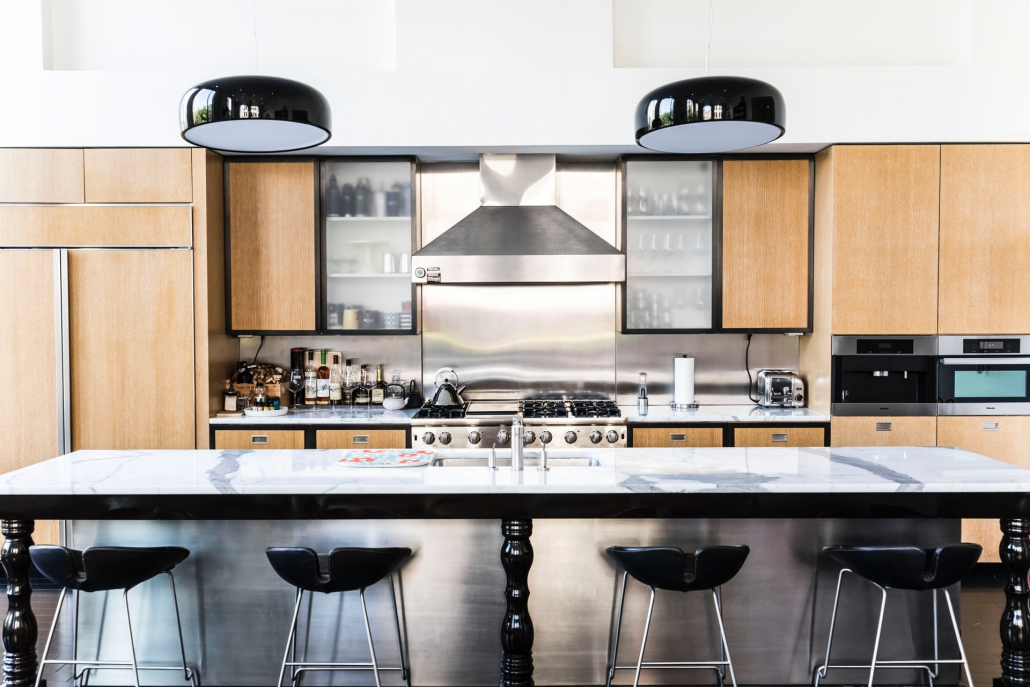 Flat Front Cabinetry Style
Slab doors, so common in European kitchens, are the new go-to in the USA kitchens as well nowadays.
Without recessed panels or trim, slab doors feature a simple, solid surface and understated but straightforward lines so hip in modern kitchen design. Besides modern and mid-century kitchens, the flat-front cabinetry style is one of the most popular modern kitchen cabinet ideas that can also be seen in transitional spaces as well, where they provide a fresh take on kitchen cabinetry and spaces.
Whether you're a fan of simple utilitarianism or sleek contemporaneity, solid hardwood or wood veneer slab door cabinets will provide you with a smooth, refined, uncomplicated modern design.
High gloss is another take on modern kitchen cabinetry design that is considered premium and is usually found in Euro-styled kitchens. Although they were deemed pricier than other modern cabinetry, they are slowly becoming more affordable and more often seen in mid-century style kitchens.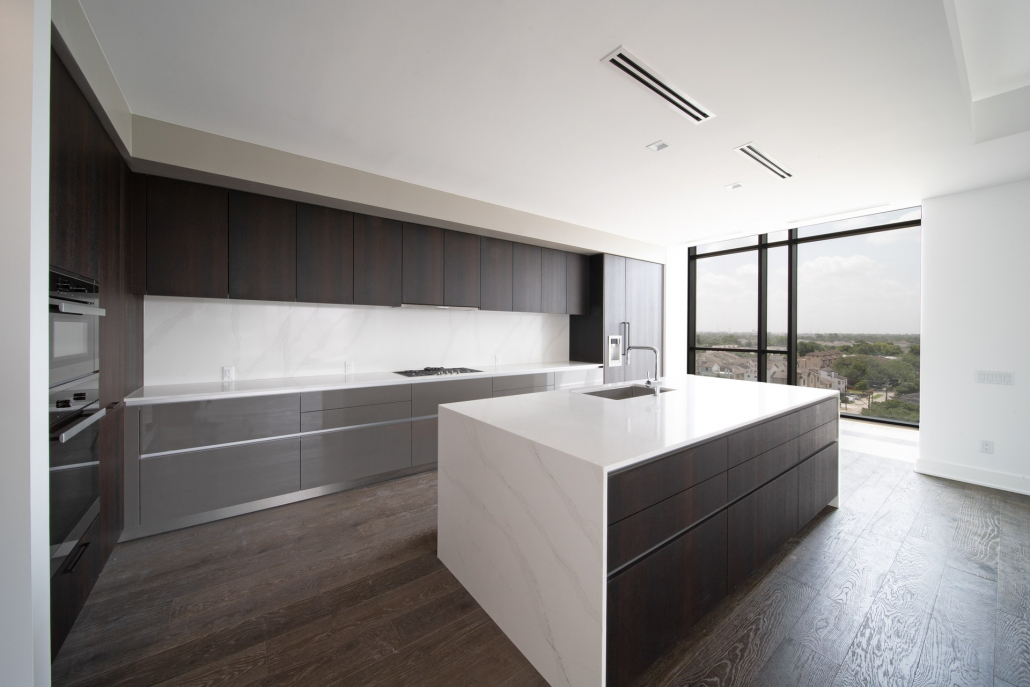 Check what Forevermark Cabinets offer.
Metal Kitchen Cabinetry for an Ultimate Industrial Look
Modern metal cabinets are one of the modern kitchen decor ideas that introduce a glossy, highly polished, and immaculate look to a kitchen space. While cabinets made of metal were mostly seen in restaurants and commercial kitchens, more and more they get introduced into private, family homes. Ease to care for, metal kitchen cabinets enhance a contemporary, industrial feel, flawless surfaces, and simple, plain lines. Accents, if any present, are there to boost a timelessly classy look and feel of the cabinets.
If you have a genuine retro mid-century modern kitchen design in mind, metal kitchen cabinets can be just the perfect choice for you. Easy to clean, durable, and stylish — that's all you need to acquire modern kitchen cabinet design.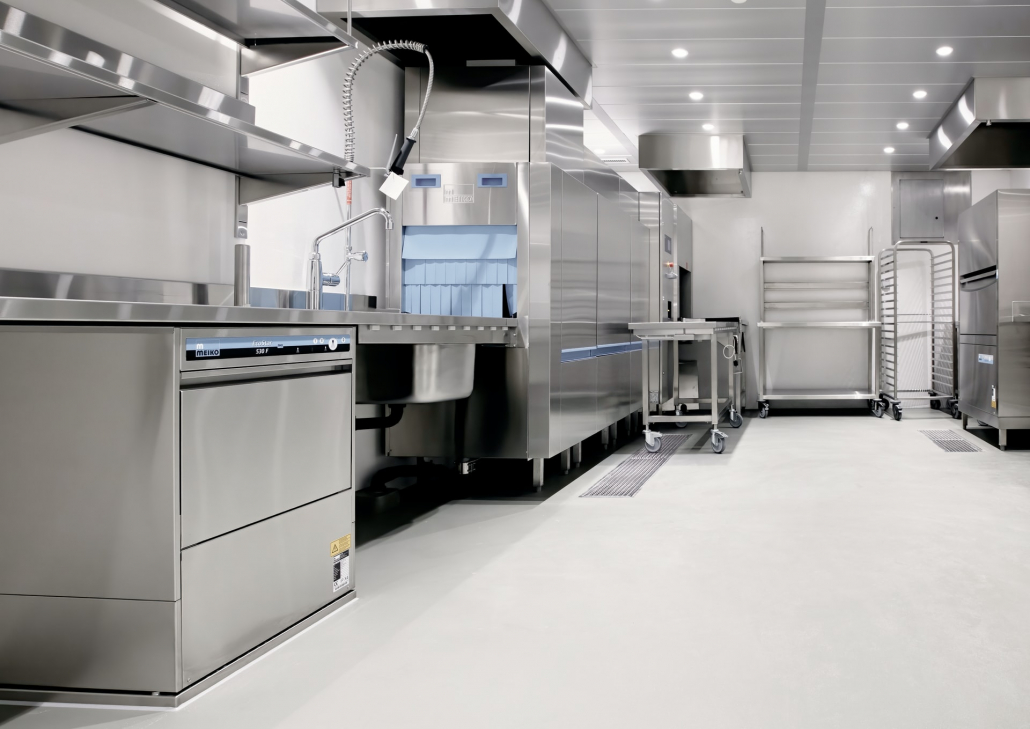 Modern Kitchen Cabinet Colors Ideas
Being sleek, simple, and straightforward, modern kitchen cabinet doors can be a blank slate waiting for the right color to give them new life.  Don't be afraid to include one of the colors from the wide palette suitable for modern kitchen design.
While both light and dark wood tones present a universal and amiable option for both classic and contemporary kitchens, so do multiple colors, from crisp whites, cheerful oranges, yellows, and deep reds to bold blues and uncompromising blacks. Never hesitate to choose a less conventional option that will make your kitchen space stand out.
When choosing a color for your cabinets, consider the form and shape of the cabinets, as well as hardware. Supposedly there are no excessive details on your cabinets, like crown molding or raised panels, all you need to care about is to blend the color well with the rest of the room and your home.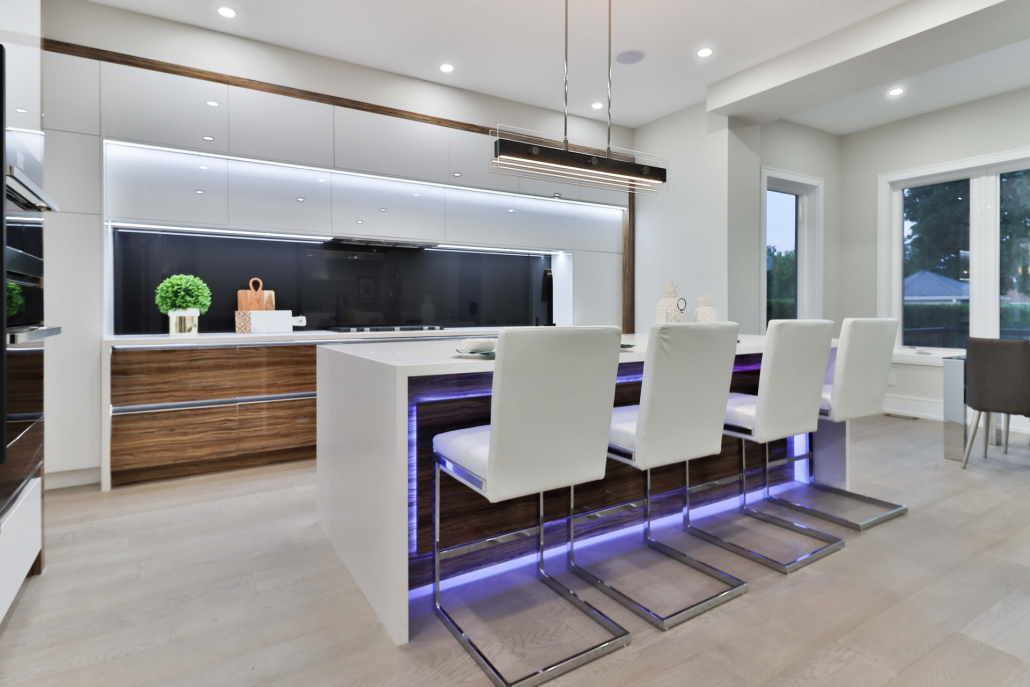 How to Choose the Perfect Color for Your Modern Cabinets
Depending on the effect you wish to achieve, you can seek the balance or embrace contrast.
The contrast works amazingly well in modern kitchens and it's great to add a bold visual impact into the room. From clean white cabinets combined with daring black countertops or wood cabinets topped with gray countertops, anything works, as long as you have a pop of color. Modern two tone kitchen cabinets are also an option when looking to achieve contrast and contemporary appeal in your kitchen.
Striking the balance is an art in itself as well. When choosing the right colors to achieve balance in your kitchen, start with choosing the best color for the cabinets as this color will dictate everything else in the room. It will carry the most of the financial budget and will carry the most of the visual weight.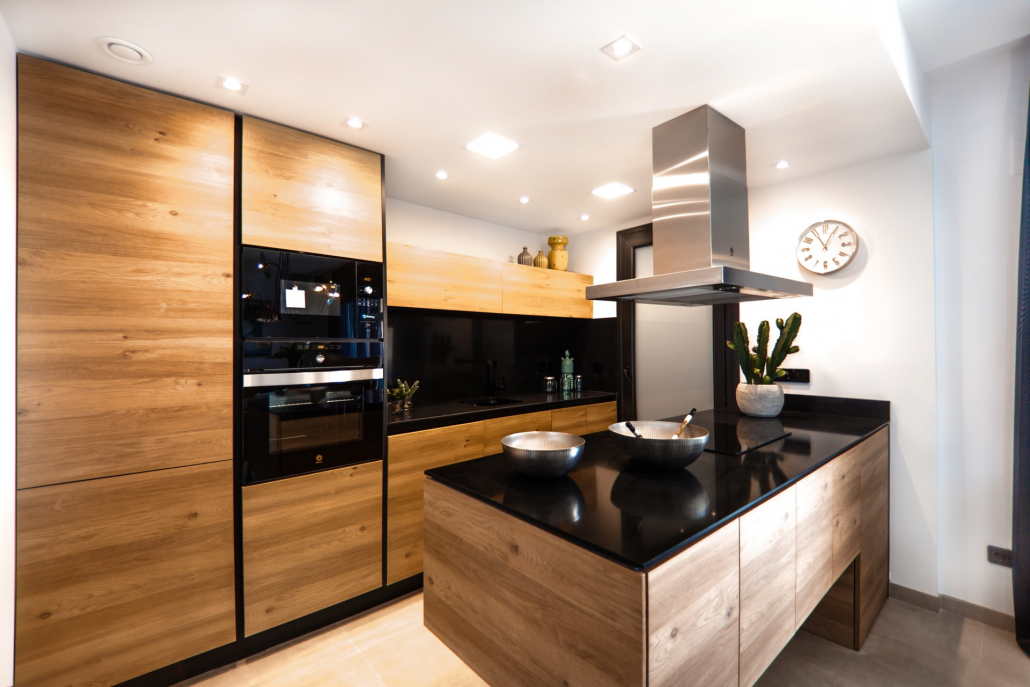 Besides the looks, the choice of colors can affect your mood, productivity, and happiness. Choose cool green and blue tones if you desire focus and calmness. Pick warm oranges, yellows, and reds if you want to transform your kitchen into an upbeat space that will wake you up and boost your appetite. Light options such as white will uplift you any time you walk into the kitchen.
Modern White Kitchen Cabinets for Timeless Charm
Nothing says "modern" and "contemporary" more than timeless white. Crisp, glistening, soft — there are many options when choosing the right white tone for your modern kitchen cabinets. The white finish will keep your cabinets looking fresh, new, and clean at all times. And we simply cannot think of anything more gorgeous than a white kitchen bathed in sunlight that comes in through large windows. Just imagine. So warm, so bright. So perfect.
White finish can come as veneer, paint, melamine, or glossy lacquer. The options are many and regardless of our budget, that perfect modern white kitchen can be yours.
Glossy Modern White Kitchen Cabinets for a Slick-Fashioned Look
Typical for European-styled kitchens, glossy white cabinets made their way into US kitchens as well. They are minimal, often without any hardware for a non-fussy appearance and casual, serene experience. If you wish to add knobs and pulls to your glossy white modern cabinets, make sure you pick the right finish for the effect you wish to achieve. Brass hardware will make your cabinets look coastal, while dark hardware will introduce a sharp look with almost an industrial edge.
Choose the right white cabinets modern style from Fabuwood Cabinets.
Modern Gray Kitchen Cabinets for the Perfect Balance
Calming colors present a great combination with cutting-edge contemporary cabinetry lines and forms. Geometric forms and angular design can overwhelm the space if combined with bold color finishes. Choosing muted, soft, and subtle tones will balance the space and introduce calm, as well as the perfect balance of form and color.
Modern dark gray kitchen cabinets, especially those with added shine, pair perfectly with other modern kitchen cabinet colors ideas. Blue and gray are such a perfect pair, especially when combined with marble-looking quartz surfaces and custom kitchen islands.
Modern light gray kitchen cabinets feature a tone that presents an amazing pick for ceiling-height cabinets. The balance of finish and shape achieves a streamlined feel and a calm ambiance. Radiating neutrality and warmth, varying from bold blue-grays to subtle hues, gray is everything but drab and dingy. This color made its way to modern kitchens, lending cabinets a truly contemporary, chic charm.
Whether you decide to go with light or dark all-gray modern cabinetry or use it only for upper or lower cabinets in a two-tone kitchen, gray is a truly modern and highly versatile color that will make your design possible.
Browse our Gray Kitchen Cabinets styles.
Modern Black Kitchen Cabinets for Top Glam Look
Looking for a striking color for your modern kitchen cabinets that will make a statement?
Whether you're stepping out of your comfort zone to create a daring contrast or you believe nothing is more high-end looking than black kitchen cabinets, going over to the dark side is so always glam. Black is always one of the best modern kitchen cabinet ideas for kitchens of any style and design.
Perfect for creating powerful contrasts, when combined with light marble countertops and backsplash, modern black kitchen cabinets will make your cooking space feel classy, expensive, and to the point.
A special hardware design and type can impact black cabinets. However, if you desire a more compact and streamlined look, skip adding hardware to your modern black cabinets.
To give your modern black kitchen a delightful farmhouse vibe, add natural wood accents to the room.
Go for the ultimate contrast — black and white. You simply cannot go wrong with this universal aesthetic.
To open up your modern black kitchen and prevent the room from looking too heavy and dark, one of the modern kitchen cabinet ideas is to add open shelving instead of some of the upper cabinets. Then make sure your backsplash reflects your personality and corresponds well with the rest of the kitchen.
A dark black minimalist kitchen with steel touches is very modern.
Modern Blue Kitchen Cabinets Options to Brighten Up Your Day
If you're looking to design a modern kitchen style with personality, then blue hues are certainly your jam. If black feels like too much, blue kitchen cabinets will give you exactly what you want. From uplifting pale blue to deep blue and modern navy blue kitchen cabinets, these shades will lend your cabinets an unforgettable flair.
If you want your modern blue kitchen cabinets to look more streamlined and simple, give up hardware and go handle-free. But if you believe that hardware will reflect even more of your personal character and taste, there are options available. Using modern blue kitchen cabinets you can create even a farmhouse kitchen. Modern farmhouse kitchen blue cabinets are a true breath of fresh air in classic kitchens. Also, some other options are also available with both modern navy blue kitchen cabinets and modern farmhouse kitchen blue cabinets. For example, leather cabinet pulls will introduce a relaxed, casual but still modish vibe. Copper or silver knobs and pulls will freshen up the cooking space and bring in an uplifting vibe.
Blue is also perfect as a pop and contrast to the rest of the cabinetry. For example, you can keep your upper cabinets crisp white and add in a pop of blue with your island or (and) lower cabinets. This is a color that seeks attention and turns heads, deservedly so.
Browse CNC Cabinets options.
Modern Brown Kitchen Cabinets
Brown has always been one of the most logical and the most effective modern kitchen cabinet ideas — a no-brainer solution for modern kitchen decor ideas both for our mothers and grandmothers, and, unexpectedly, for us as well. Although we have a vast choice of modern kitchen decor ideas and modern kitchen cabinet design ideas that come in uncountable colors, shades, and tones, some of us still prefer — modern brown kitchen cabinets.
Brown kitchen cabinets are an everlasting modern kitchen cabinet design and trend. And that's a fact. Light modern brown kitchen cabinets are easy to accommodate to modern kitchen decor. It is just as easy to get inspired by a wealth of modern kitchen cabinet ideas and adapt them to your goal of having modern brown kitchen cabinets as a star in your kitchen.
Just as modern light brown kitchen cabinets are one of the great modern kitchen cabinet ideas for your kitchen that is contemporary but leans toward classic charm, modern dark brown kitchen cabinets can look sleek and contemporary as well.
Brown is a neutral color and whether it's modern light brown or applied as modern dark brown kitchen cabinets, it's one of the best colors for any kitchen, regardless of its style.
Check out our farmhouse kitchen ideas for more inspiration.
Modern Cherry Kitchen Cabinets
Cherry wood was a staple in classic, traditional kitchens for years. Rich and highly refined, often with all the whistles and bells that come with the traditional style kitchens, dark and shiny cherry wood easily refines and elevates any kitchen space. However, this is not the case only with classic kitchens. As time goes on and the general aesthetic preferences of modern homeowners change, kitchen cabinet design and style change as well. Modern kitchen cabinet doors became straight and simple than they were before while kitchen cabinet colors stayed. Although light colors are immediately connected to modern, dark kitchen cabinet colors are in play as well.
Cherry color may still have that old-world charm and feel but modern cherry kitchen cabinets are perhaps more popular now than ever. As you can see from the image above, one of the best you can modern kitchen cabinet ideas is to create a large kitchen filled with modern cherry kitchen cabinets and enjoy their contemporary look and feel.
Sometimes, modern can get even more modern. Cherry modern kitchen cabinet design is especially appealing when applied in a minimalist style. When you use modern cherry kitchen cabinets, you don't need anything else. When make of cherry wood, a modern slab door with minimalist handles and pulls or no handles and pulls whatsoever will give you exactly what you need — a modern kitchen cabinet design elevated to meet even the highest aesthetic expectations.
Check out our simple kitchen design ideas to get inspired further.
Modern Green Kitchen Cabinets
More trendy kitchen cabinet ideas come in the freshest colors of all — green! Its majesty, green color, looks gorgeous on kitchen cabinets. Whether you prefer modern sage green kitchen cabinets or modern dark green kitchen cabinets, it is certain that you'll be able to gather a lot of modern kitchen cabinets ideas for your inspiration.
Sage green kitchen cabinets present a specific trend in modern kitchen design and style that imbues tranquility and peace. If this is your favorite green, you'll be happy to know that it's so easy to combine it with other colors if all green is a bit much for you.
On another hand, modern dark green kitchen cabinets are also an option. Combining them with white is always a great solution that lets you create contrast and gives you a chance to make your kitchen look fresh and new like spring but also light and bright, like the first warm, sunny day of the new year ahead.
Modern Red and Black Kitchen Cabinets
The red color is associated with warmth and hunger, as well as with action and energy. Combined with black, red color comes out even more powerful and striking. Modern red and black kitchen cabinets look super modern and are great to make a statement of superior style. If you feel too shy to mix two bold colors, think again. Red and black are bold and striking, but they are also very complementary and are so great at matching, completing, and even enhancing each other.
To combine red and black, you don't actually have to combine kitchen cabinet door styles in two colors. You can match red cabinets with black backsplash, black hardware, and other black kitchen elements. Modern red and black kitchen cabinets are especially effective when presented in a modern, industrial, minimalist style.
Explore more kitchen cabinet design ideas.
Modern Cream Kitchen Cabinets
When you need a little bit of warmth in your new kitchen, but not too much, modern cream kitchen cabinets may just do the trick. Strong colors like white, blue, black, and even brown get all the attention. However, cream and sometimes off-white cabinetry can actually be the perfect solution that plays a transitional role between striking and ethereal.
Modern cream kitchen cabinets have a calming effect on their surroundings and can easily breathe in a breath of fresh air not just in your kitchen space but your home. Whether it's an ivory paint finish, greige tone, shadow white, coffee tones, soft clay, cloudy gray, or a particular tone of white kissed by the sun, cream kitchen cabinets will give your kitchen coziness, familiarity, warmth, and unique personality. So if you prefer light kitchen cabinet designs and styles, and cannot decide between modern white kitchen cabinets and modern cream kitchen cabinets, take into account that white kitchen cabinets are modern and beautiful but sometimes can feel like an impersonal, common box that everyone has. Modern cream kitchen cabinets, on the other hand, can give you exactly what you need.
Modern Two-Tone Kitchen Cabinets
Mixing and matching colors have always been exciting. While the look of two-tone kitchens has been around for years, the possibilities this concept offers never stop to amaze us. Dynamic, innovative, and never boring, a two-tone kitchen aesthetic is easily achieved. Two-tone kitchen cabinets, with the contrast of upper and lower cabinets, in modern just as in more classic spaces, will always work.
Whether you decide to combine white and black, green and gold, blue and white, color and texture, or different pastels, the dynamic and ultra-modern vibe will be there to excite you every time you enter your kitchen.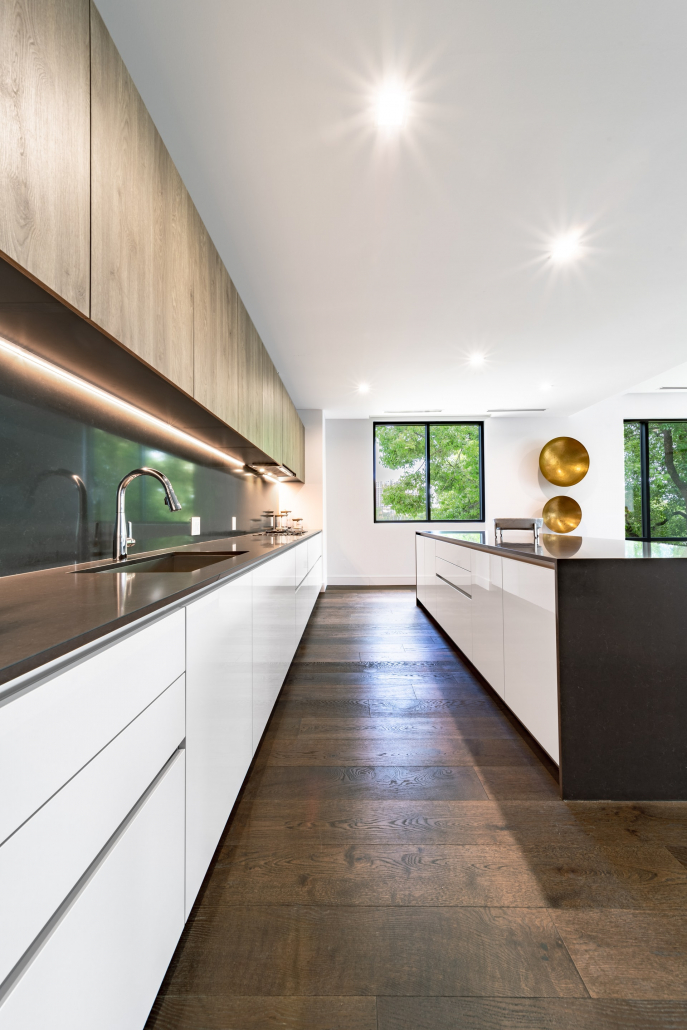 Modern Kitchen Cabinet Doors
If you imagine modern kitchen cabinet doors as futuristic items that can open by themselves and look nothing like standard kitchen doors, we must reassure you. Modern kitchen cabinet doors are somewhat different from classic-style cabinet doors in colors, finishes, and lines they feature, but they do keep their primary function — to protect your valuable storage. From modern European-style kitchen cabinet doors with streamlined, simplified, and embellishment-free looks to shaker-style cabinets that are also included in contemporary kitchens, modern kitchen cabinet doors primarily feature slab fronts and glass fronts.
We'll talk a bit about both, so you can easily decide between the two or even combine them for an interesting and dynamic appearance.
Modern Kitchen Glass Door
If you're looking for ways to elevate your kitchen's aesthetic appeal, modern kitchen glass door may be just the right solution to achieve that goal. Modern kitchen glass door is one of the best modern kitchen cabinet ideas for contemporary spaces and homes. Glass is an important part of any modern kitchen cabinet design and is always one of the greatest modern kitchen cabinets ideas. It protects your storage but also allows you to display memories, pretty elements, or valuable family heirlooms.
A modern kitchen glass door can present a real work of art or simply provide an illuminating surface that will bring even more shine and light into your contemporary kitchen decor.
Modern Kitchen Slab Door
Nothing says modern or contemporary such as flat panel or slab doors on your kitchen cabinets. The overall look of any kitchen cabinet style is almost fully centered around kitchen cabinet doors. It's the most visible part of the cabinets and naturally will catch your eye and successfully turn heads thanks to its color, finish, and specific lines and design.
The modern kitchen slab door style is actually a flat-panel door style, also familiar as slab cabinet doors. No bevels and no details are included in these modern kitchen cabinet doors. Completely flat, with edges of 90-degree corners, the modern kitchen slab door style is the ultimate mark of any contemporary kitchen.
Whether you're a lover of sleek, minimalist modernity or you're an ultimate utilitarian who puts the function of the cabinets first, the modern kitchen slab door style is most probably the right choice for you. High-gloss slab doors is something we would like to recommend for more beauty and charm.
Check out our service in Queens, NY.
Modern Kitchen Cabinet Hardware Ideas
Some of the best and most effective modern kitchen cabinet ideas don't include any hardware. A sleek, simple, streamlined, modern kitchen cabinet design doesn't need any details or additional elements to dazzle you and anyone who comes into your kitchen. However, there are plenty of modern kitchen cabinet hardware ideas that can inspire your contemporary kitchen design. Modern kitchen cabinet handles, modern kitchen cabinet pulls, and modern kitchen cabinet knobs are helpful in function and beautiful as well, and can help add more function and more beauty to your kitchen space.
Modern Kitchen Cabinet Handles or Modern Kitchen Cabinet Pulls
Small pieces of hardware can make a truly big impact on the look of your kitchen and can add a final touch of beauty just when you've thought you don't need anything else. Unique modern kitchen cabinet handles and modern kitchen cabinet pulls, which are basically the same, will elevate the look and feel of your kitchen in a subtle and very sophisticated way.
When you can, always try to match the modern cabinet style, color, grain, and lines with the handle or door style. Just as there are many modern kitchen cabinet door styles, there are also many modern kitchen cabinet hardware options and styles. So make sure to make the best matches if possible.
Modern Kitchen Knobs
While you might say that pulls, handles, and knobs are all the same, as they serve the same purpose, the truth is a bit different. The pulls and handles are very similar. However, knobs are different. Knobs always have only one screw attachment, pulls are always attached to the cabinet by at least two screws, which means that they require more precision and measurement. Pulls and handles take more space and give greater support to the hand opening the cabinet, while cabinet knobs require less space.
You'll also notice that modern kitchen knobs are usually used for opening the upper kitchen cabinets that are less heavy, while pulls and handles are more often used on base kitchen cabinetry.
All modern kitchen cabinet hardware — modern kitchen cabinet knobs, kitchen cabinet pulls, and kitchen cabinet handles can be made in a wide variety of styles, colors, materials, and finishes. Bronze, glass, stainless steel, and brass are some of the materials that work best in a modern kitchen space.
Learn what we offer to Manhattan, NYC homeowners.
Modern Kitchen Cabinets for Sale in Queens, NY
If you're looking to update your NY kitchen, and modern kitchen cabinetry styles appeal to you, we encourage you to embrace their highly attractive look and unforgettable charm. With their minimalist style, unique color palettes, and unparalleled accents, modern kitchen cabinets are so elegant and refined that they will never go out of fashion.
Stop by our showroom located in Queens, New York, 35-10 43rd Street Long Island City, and find contemporary cabinetry that will suit your home, match your taste, and always look sleek and current. Here, you'll find plenty of modern kitchen cabinet ideas for your unique space. Whether you're looking for industrial-style modern cabinets, cabinets in a variety of color options, simply white, or all black, we have the right match.
Contact us today, fill out the contact form, and let's get started on your modern dream kitchen together. You can also choose to speak to one of our designers at 718-433-0060 to get started ASAP.
https://homearttile.com/wp-content/uploads/2020/07/modern-kitchen-cabinets-2-min.png
312
820
sandra
https://homearttile.com/wp-content/uploads/2017/11/logo-102214.jpg
sandra
2023-05-25 10:00:04
2023-05-25 21:07:06
Modern Kitchen Cabinet Ideas to Update Your NY Kitchen in 2023