Kitchen Cabinets, Countertops, Porcelain & Ceramic Tiles Showroom
Serving Manhattan, Brooklyn, Queens and surrounding areas

Perfect for Homeowners, Builders, Contractors & Designers
A variety of ceramic tiles, porcelain tiles, subway tiles, natural stone tiles, glass tiles, and metal tiles is available at Home Art Tile Kitchen & Bath. Architects, designers, homeowners, and contractors from Manhattan, Queens, Bronx & Long Island love our service. We offer complete design services at no additional cost. We open at 7 am for the contractors' convenience.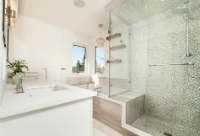 Kitchen & Bathroom Showroom in Queens
We offer an amazing selection of kitchen cabinets, bathroom vanities, kitchen and bathroom accessories, countertops, wood and laminate flooring at our Queens Tile Store. Whether you need a classic, traditional design or contemporary, clean, minimalist decor for your kitchen or bathroom, we have it. Stop by today!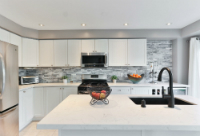 Exclusive Distributor, Huge Product Selection
As an exclusive distributor, Home Art Tile Kitchen & Bath Showroom is the only authorized seller of the world's foremost tile companies around tri-state areas. Select our beautiful tiles, kitchen cabinets, countertops, vanities, and other home improvement products for your Queens, Manhattan, Bronx, Brooklyn or Long Island home.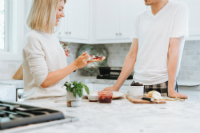 Free Estimates, Free Kitchen Design
Our interior design professionals will give you expert advice and help you select the best kitchen cabinets, countertops, vanities, and ceramic or porcelain tiles for your dream kitchen.
Let's get started on your new kitchen, today.
Speak to a designer to get started 718-433-0060 or fill out the contact form and we will get back to you within 1 business day.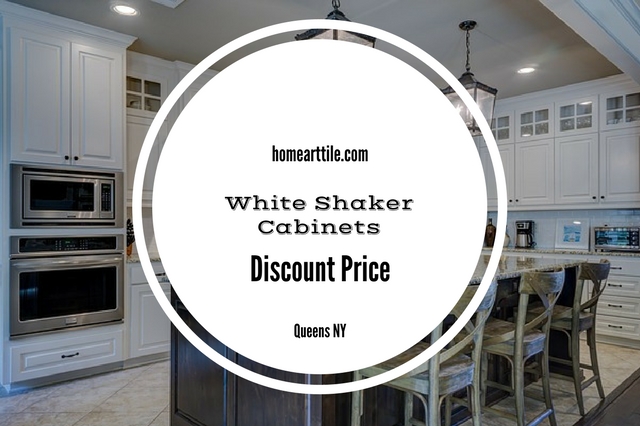 White Shaker Cabinets for Sale in Queens NY
White shaker cabinets are the epitome of classic taste in the kitchen design. The ideals of practicality and simplicity are embodied in white shaker kitchen cabinetry style. These ideals reflect greatly in the characteristic and distinctive look of white shaker cabinet design.
White shaker cabinets are definitely the best selling cabinetry in our Queens-based kitchen cabinet outlet store. High quality, all wood cabinets with shiny white or off white finishes and classic, shaker styling, will make any kitchen shine. Whether your kitchen is big or small, white shaker cabinets will give it sophistication it deserves with just enough decorating options you will want to add. Browse through our kitchen design ideas featuring white shaker cabinets and get inspired.

White shaker cabinets are very popular and stylish. Read on to learn more
---
Forevermark Cabinets for Sale in Queens NY
Forevermark cabinets provide beautiful, functional design and quality wood at an affordable price. The cabinetry features durable finishes and paints, sturdy wood construction, and superior hardware.
Each distinctive cabinet door style is designed with love, care, and excellence in craftsmanship. Whether you need classic, traditionally designed kitchen cabinets, transitional style, or contemporary kitchen cabinets for your modern home, Forevermark cabinets options will provide you with the best solution.
Check out why Forevermark is one of the best-selling cabinets brands in our Queens NY cabinet store and get inspired by many of their beautiful designs. Learn how to properly care for your Forevermark Cabinets and allow them to serve you for many years to come.
Browse through our Forevermark kitchen cabinets collection and then visit us to find the cabinets style you like best. We will give you a free estimate, free 3D design, and expert advice you need to successfully update the most important room in your home.

Forevermark cabinets are famous and trendy. Read on to learn more
---
Best Selection of Gray Kitchen Cabinets in NY
Home Art Tile Kitchen & Bath presents you with many various styles of gray kitchen cabinets for sale in our showroom. Find modern gray kitchen cabinets from the most trusted and most popular brands like Fabuwood, CNC, Cubitac, and Forevermark and get expert tips on how to choose the right finish and the right shade for your Manhattan, Queens, or Brooklyn kitchen decor.
Various options of soothing, shiny, and ultimately modern gray colors and shades can be just the right update you've been dreaming of. Browse through many gray kitchen cabinets options and ideas we prepared for you and find out why are gray cabinets the most balanced choice for all kitchen interiors.
Discover how can gray kitchen cabinets give your kitchen a modern, high-end look, how to pair them with various backsplash options, when to use dark gray and when to use light gray kitchen cabinets, and how to choose the right gray kitchen cabinets for your home.
Gray kitchen cabinets are stable, smart, and chic choice. Read on to learn more
---
Read the reviews to learn what real homeowners have to say about Home Art Tile Kitchen & Bath
---
View virtual tour of our Queens Tile Store. Get to know the products before you visit us
From our blog
Read home owner tips and news from Home Art Tile