Guide to Choosing Perfect Kitchen Cabinets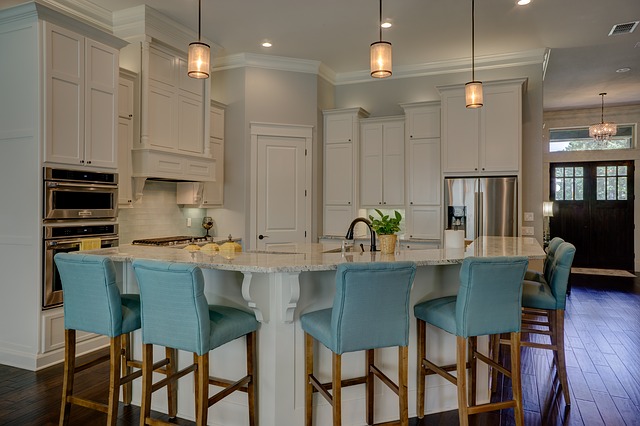 When visiting kitchen cabinet stores, it is important to access low prices in kitchen cabinets. Almost half the budget of a kitchen remodel is for the cabinets purchase and installation. This could either make or break the overall functionality and style of your kitchen. We at Home Art Tile compiled the details listed below. We wish to provide you with a comprehensive guide to choosing perfect kitchen cabinets in Queens, Brooklyn and Manhattan area. Before settling on a particular type of kitchen cabinetry, some of the factors to consider are:
Door Styles
A flat, shaker, or inset door design, your kitchen cabinet door style might be the most expensive expenditure for your cabinetry. This makes careful consideration quite important. However, choosing a style for your cabinet doors should not be a stressful task. A lot of kitchen cabinet stores can provide you with knowledge and advice on the most suitable cabinet door designs. However, friendly staff at Home Art Tile will make your task a breeze. With us, you are bound to find the most appropriate cabinet door design. With our help, you will successfully complement your overall kitchen theme.
You do not necessarily have to install wooden cabinet doors. Glass cabinet doors will open up the kitchen area to light and space. This consequently provides an excellent display for your favorite dishes and china. Consider options that are beyond the traditional swing doors for your kitchen cabinets. Pocket doors, flip-up doors, and corner drawers offer quite a remarkable operational quality. If you would rather stick to the more conventional cabinet door designs, the timeless shaker style is among the most suitable and reliable options. It will impact an appearance that complements a wide variety of kitchen countertops, backsplashes, and cabinet hardware.
Incorporate a countertop hutch to add a more conventional furniture style to your storage and kitchen space. Glass fronts for the countertop cabinet provide you with an ideal and efficient display for your beautiful and elegant dishes.
Open shelving is at home in both contemporary kitchen designs and traditional kitchen styles. It makes it easy to clean. It also simplifies storage space. Using environmentally friendly materials is an additional plus. It contributes and improves the quality of life. If undecided between two entirely different designs, mixing and matching might result in an even more desirable impact.
Perfect Kitchen Cabinets Hardware Styles
Once you are done choosing cabinets, you need to choose the type of hardware to install. Whether or not you go for the simplest shaker cabinets, the choice of cabinet door handles or knobs will significantly impact your overall finish. To ensure low prices in kitchen cabinets, flat-panel cabinets are the best option. This is especially important for installation in contemporary kitchen designs. However, you will have to choose matching hardware.
Finishes and Colors
In modern-styled kitchen spaces, colorful cabinetry installation has quite an impact. The resulting palettes provide an elegant and beautiful air to the kitchen area. According to our experts, you can play around with a combination of colors. You can make an excellent finish without the fear of being too bold. Contrasting bright colors with neutral finishes is also an ideal option for your perfect kitchen cabinets.
Using stains to apply colored finishes to your wooden kitchen cabinetry is an excellent technique. It ensures you do not cover the natural beauty of wood. Green, brown, and blue stains effectively complement your modern kitchen design.
Be sure you access low prices in perfect kitchen cabinets, regardless of whether you want to develop a new kitchen or remodel the current one. Our professionals recommend that you always keep a universal design in mind.
For professionally designed perfect kitchen cabinets in Queens, Brooklyn and Manhattan and low prices in kitchen cabinets, visit our store. For the residents of these areas, we offer competitive deals. You won't find better deals at any other kitchen cabinet store in New York. Feel free to contact us for free estimates.
Featured image source: Pixabay
https://homearttile.com/wp-content/uploads/2016/07/kitchen-2046777_640.jpg
426
640
homeart
https://homearttile.com/wp-content/uploads/2017/11/logo-102214.jpg
homeart
2016-07-15 19:00:00
2019-03-22 14:04:35
Guide to Choosing Perfect Kitchen Cabinets