MSI Countertops Ultimate Guide
Are you looking to remodel your kitchen or bath?
Explore MSI countertops comprehensive selection of natural and fabricated stone slabs available for your kitchen or bath remodeling projects. This guide is perfect if you're looking for beautiful, stylish, and practical ideas for easy and functional kitchen worktop and bath vanity top solutions. Here, we provide countertop options by MSI Surfaces, product information, designs and help you choose the best worktop for your new kitchen r bath.
We present you with the most popular MSI Quartz Countertops and MSI Granite Countertops, along with Marble, Quartzite, Onyx, Limestone, Soapstone, Travertine, and Venetian Marble.  Home Art Tile Kitchen & Bath will help you choose the right countertop material for your kitchen and your home.
When you visit us at our countertop showroom, we will not only show you all options available, we will also give you MSI tile and stone samples. Take them home and compare them against your cabinetry, walls, and flooring. Make sure you're getting the right products for your kitchen and bath. At the same time, we provide you with the lowest possible prices on MSI countertops in Queens, Brooklyn, and Manhattan. Continue reading to find the best countertops for your home.
When looking for a durable, hard, easy to clean and maintain, and beautiful kitchen worktop or bathroom vanity top, choose quartz MSI Countertops. Sleek and sophisticated, MSI quartz comes in high-glamour styles for envy-provoking appearance. A life-long durability of  premium quartz slabs guarantees your satisfaction and increased productivity.
MSI Quartz Slab Size
Quartz Slab Countertop Size: 112 inch x 26 inch x 2 CM
Flat Finish: 1½ inch laminated flat edge on one long side and two short sides
Backsplash: matching 6 inch high backsplash
Island Size: 108 inch x 42 inch x 2 CM
1½ inch laminated flat edge on all 4 sides
Where Does MSI Quartz Come From
MSI Surfaces is a quartz countertop manufacturer with headquarters in Orange, California. The company has over 20 distribution centers across the U.S. and Canada. MSI quartz countertops  consist of quartz and resin materials and come with a Residential Lifetime Warranty. These quartz countertop slabs are made of one of the hardest minerals on Earth that is treated and pressed for impeccable performance in even the busiest of kitchens.
MSI Quartz Colors
Quartz countertops by MSI come in a wide range of styles, colors, and patterns. Whether you're set to create a moden, contemporay and minimalistic style kitchen, or a traditional, warm, and cozy design, MSI quartz colors and styles offer enough varieties and options. In fact, there are about one hundred different quartz colors, patterns, and styles available. From genuine marble looks to state-of-the-art concrete appearance quartz slabs, MSI quartz countertops give great solutions if you are looking for a nature inspired kitchen worktop. Whether you prefer icy white stone tones or profound dark shades, or anything in between, MSI offers more than one option for you.
Once you fall in love with the quartz color and style ideal for your design, enjoy the ease of maintenance. With MSI quartz, you will never have to think about sealing, chipping, or staining. MSI manufactures these slabs to last you a lifetime.
Choose MSI quartz colors you love!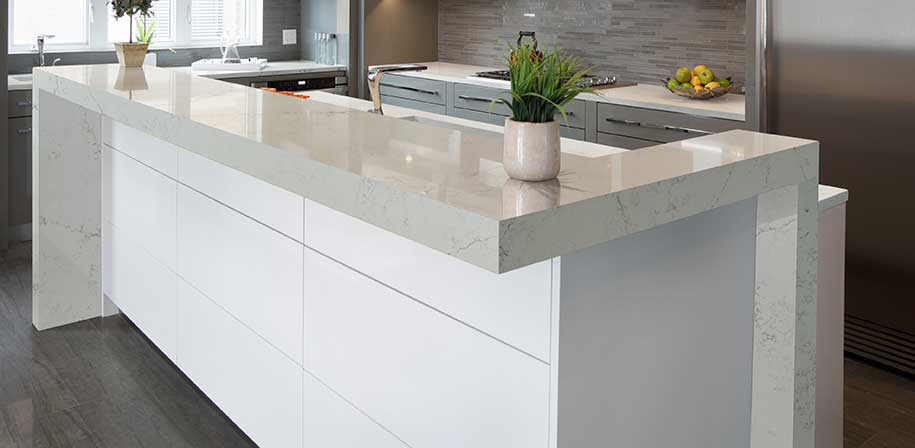 Alabaster White Quartz by MSI
If you love white marble look, you will enjoy the elegance and genuine marble appearance of polished Alabaster White quartz. A soft white background features long gray veining for a relentless refinement.
Regardless of the style, design or color scheme in your kitchen, Alabaster White quartz by MSI Surfaces will easily harmonize with any of them. You can use it in both residential and commercial settings, for kitchen or bath countertops, waterfall islands, backsplashes, floors, and showers.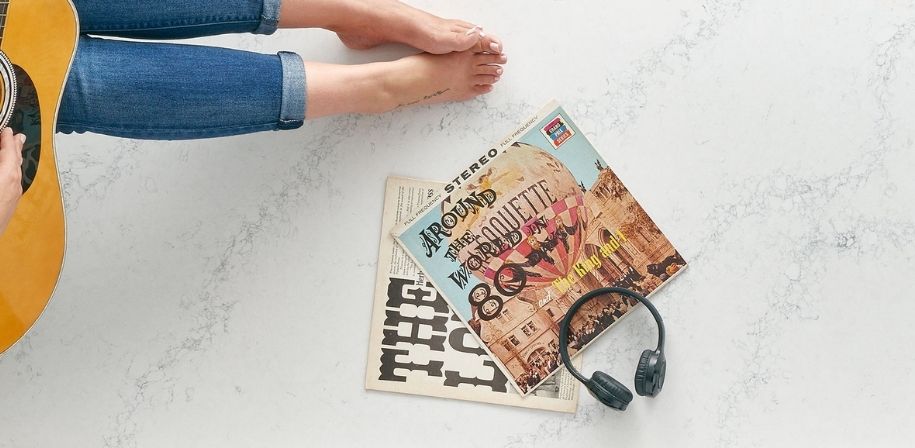 Calacatta Ida Quartz
The color white can be exciting and always new, especially when it helps a stone resemble a real, nature-born marble.
Calacatta Ida Quartz is everything you need if you love a whimsical but still powerful Calacatta marble look. Cool white background with soft, cloudy, almost feathery-like soft gray veining that floats across the surface of the slab effortlessly, like a bird over a marble beach.
Whether your space is contemporary, traditional, or transitional, Calacatta Ida Quartz by MSI will give it a chic and sophisticated look that you will adore and truly enjoy. Suffice to say, like any other MSI quartz, Calacatta Ida is also very easy to maintain, very durable and will remain pristine for many years to come.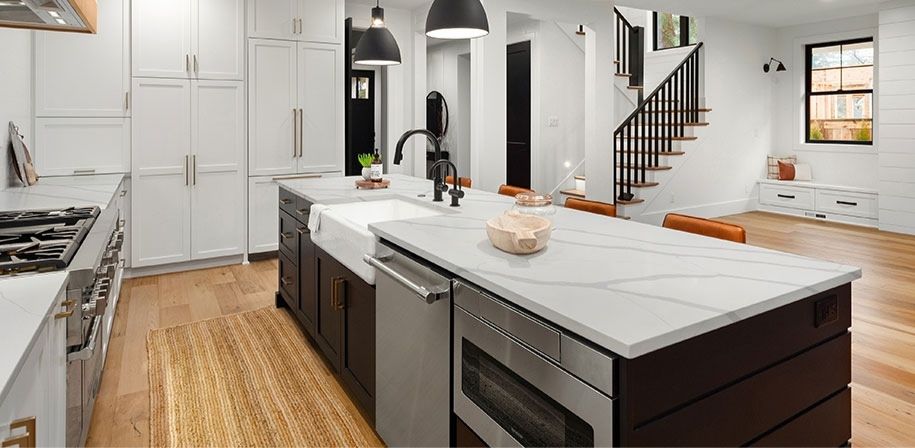 Calacatta Sierra Quartz
If you love the striking look of Calacatta marble but prefer the easy cleaning and durability of man-made quartz, Calacatta Sierra Quartz may be just the right choice for you.
This new quartz product by MSI introduces a dramatic Calacatta aesthetic enriched with quiet, understated sophistication. Like a wintery, crisp symphony, this marble-looking quartz is interwoven with cool and neutral tones throughout its slab surface, while thick gray veining in a diagonal interconnects with thin veining. This unique design gives Calacatta Sierra Quartz a well-balanced and eye-catching appearance.
Calacatta Sierra is made to become a waterfall island, a statement backsplash, a hard-working but still stunning countertop surface, or any other surface you need to perform and look its absolute best.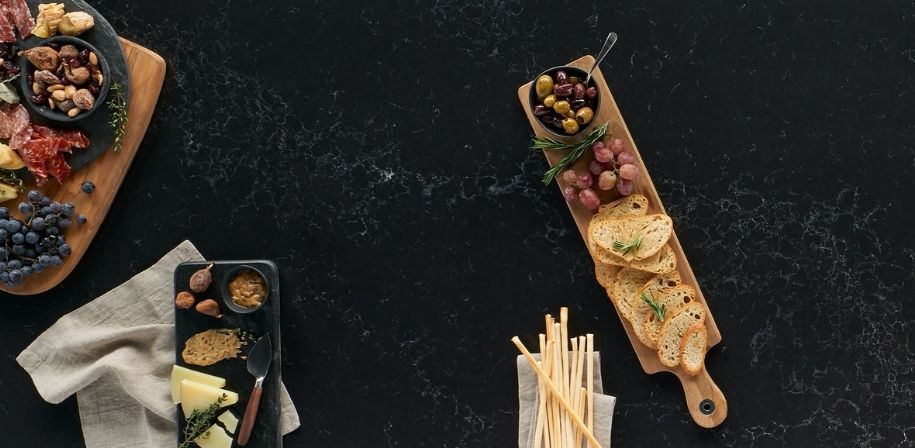 Midnight Corvo Quartz
Perfect for creating an eye-catching interior, Midnight Corvo Quartz by MSI boasts a rich, neutral-toned black background with subtle white veining that looks almost like sea foam.
Ultimate contemporary glamour is enhanced with a polished finish, while the unique veining gives you a sense of play and lets your imagination roam free.
If dramatic, bold, and powerful is your scene, then definitely consider Midnight Corvo Quartz Quartz for your next interior remodeling project. It's ideal for just any of the applications you may need in your kitchen, bath, or the rest of the home — wall applications, countertops, accent surfaces, backsplashes, vanity tops, and more.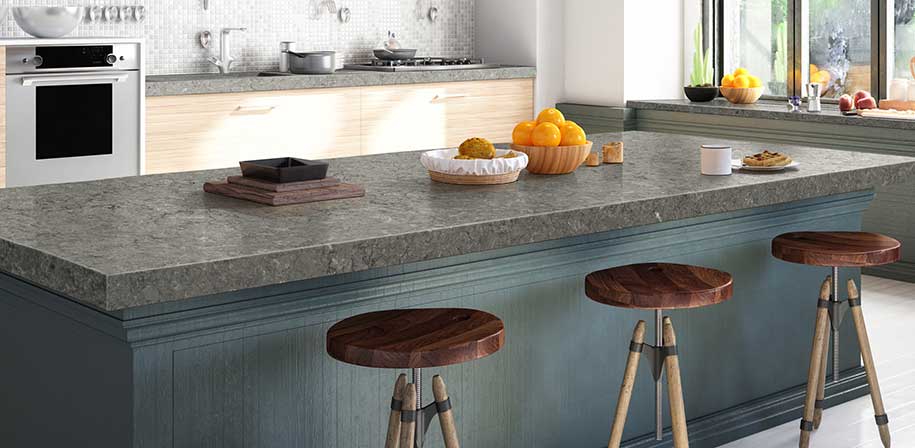 Fantasy Gray Quartz
Is gray color your thing? Do you prefer its neutral feel and freedom it gives you to add, combine, mix and match?
If your answer is yes, then Fantasy Gray Quartz by MSI Surfaces may be just the right choice for your new kitchen. This magnificent manufactured stone features unexpected dark veins, deep and varable shades of gray, along with cloudy white strokes, creating a natural stone look with all the premium functionalities of quartz man-made stone.
Fantasy Gray Quartz is an ideal solution for your kitchen worktop if you're looking for a focal point and a statement piece. Its high luxury look will embellish any kitchen, regardless of its size or style. You can use Fantasy Gray Quartz as a kitchen work top or a bathroom vanity top, for backsplashes, accent walls, bar tops, and even flooring. Germ, stain, and heat resistant, this MSI quartz variety offers premium performance and incredible durability, while providing you with a fantastic ease of maintenance.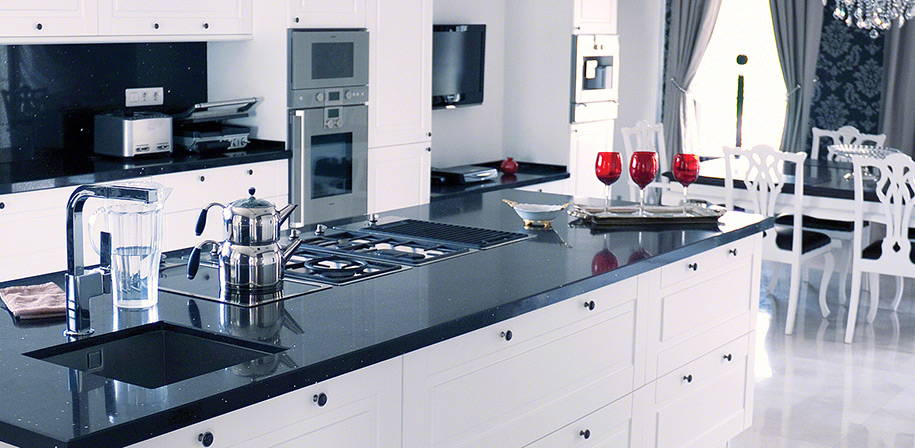 Sparkling Black Quartz
If you love dramatic and intriguing statement pieces in your kitchen interior, Sparkling Black Quartz by MSI Surfaces may be the perfect countertop for you.
Sparkling Black Quartz is available in 2 cm and 3 cm slabs, as well as in prefabricated sizes. This means that it's very convenient for various uses. Offering powerful appearance and irresistible glamour with powerful performance abilities, Sparkling Black Quartz is perfect for kitchen countertops, bathroom vanity tops, shower surroundings, accent walls, backsplashes, and flooring.
If you choose Sparkling Black Quartz, you don't get only material of stunning beauty that reminds of a summer night starry sky. You also get a low maintenance, stain-resistant, heat-resistant, and chip-resistant material.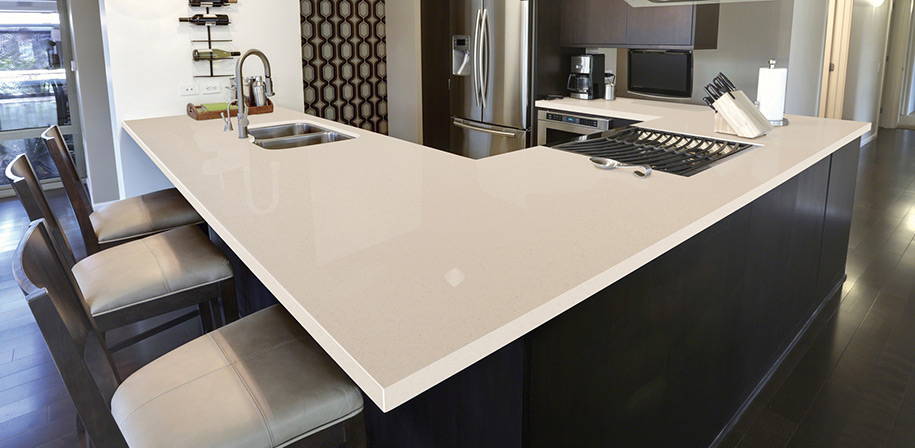 Pebble Rock Quartz
If you're looking for a clean and neutral canvas for your kitchen design that will easily fit with any color scheme or kitchen style, Pebble Rock Quartz may be the answer. It offers endless design possibilities.
Its warm and gentle beige tones let the genuine shine from within the stone come through. The pebbled nature of this quartz stone material makes many combinations possible. This MSI quartz stone will coordinate perfectly with a variety of floor tiles and wall tiles.
Being exceptionaly durable, stain-resistant, heat-resistant, chip-resistant, and low maintenance, Pebble Rock Quartz is perfect for many uses. Use it in kitchens as a countertop or backsplash, for accent walls, flooring, table tops, waterfall islands, and shower surroundings in your bathroom.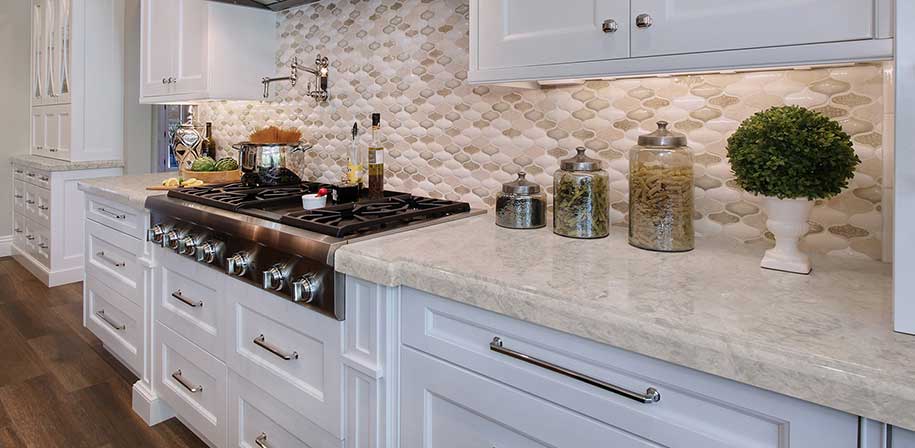 Portico Cream Quartz
MSI stone quartz comes in high movement patterns, too. Depending on how much movement in your countertops you prefer, you can choose different options. But if you're looking for just about right amount of movement that creates a sophisticated and elegant appearance, you will definitely want to look into Portico Cream Quartz material by MSI Surfaces.
Portico Cream Quartz pairs the refined movement and soft creamy tones with dependable durability and low maintenance. The look of this unique manufactured stone is like a piece of art with is gorgeous mix of greige, gray, and cream shades and tones. It's perfect for all kitchen styles — from traditional and classic to modern, contemporary styles.
Use Portico Cream quartz to add a subtle flair to your kitchen with countertops, backsplash, waterfall island, accent wall, or even flooring. This quartz works equally well in both residential and commercial spaces.
Granite countertops from MSI Surfaces are premium surface materials that will take your breath away. If you were looking for a variety of colors and designs, MSI offers more than 250 color and pattern varieties.
MSI granite countertops are as beautiful as anything mother Nature creates and provides. The most unexpected and always so original and unique swirls, hues, and patterns of colors will make any kitchen truly one of a kind.
However, MSI granite options are not only beautiful. They are also exceptionally durable when sealed regularly and maintained by instructions. Whether you need a unique surface material for your kitchen, bathroom, or any other room, a granite countertop is the solution you've been looking for.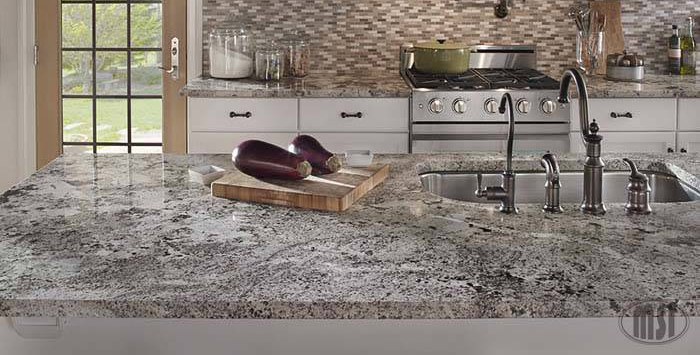 Alaska White Granite
White granite countertops are never simply white. Only bedrock is white but a plethora of different swirls, shades, colors, spots and patterns are intertwined within their surface.
Alaska White granite is such a type of white granite. A frosty blend of soft and pale silver color with MSI iced white and frosty shades, comes together with onyx hues and warm neutrals.
MSI imports Alaska White Granite from Brazil and offers it in a range of slab sizes.Imported from Brazil, this durable natural stone is available in a range of different slab sizes.
Use Alaska White Granite for kitchen countertops, accent walls, stunning backsplashes, floors, and other indoor and outdoor applications.

Bianco Romano Granite
With gorgeous shades of white and gray colors and small dark flecks and spots of black and brown tones, Bianco Romano Granite by MSI will add a remarkable point of interest to your kitchen design.
Subtle, but still stunning, Bianco Romano Granite brings other kitchen elements and color palletes together and creates unique kitchen interior settings.
Use Romano Bianco as a kitchen countertop surface, waterfall islands, and other residential and commercial, outdoor and indoor applications. Just don't forget to seal it regularly for the maximum performance and ease of maintenance.
Black Forest Granite
If you're looking for a countertop that is equally a piece of art as it is a functional and practical working surface, choose Black Forest Granite. Polished to high gloss, boldly patterned, and featuring high variations, Black Forest Granite shows snowy white flurries and streaks, just like a dark forest in the winter time. It is the deepest obsidian and sable granite.
MSI imports it from Brazil. The stone is available in both 2 cm and 3 cm thick slabs, so it's convenient for various applications.
Use Black Forest Granite by MSI for as a kitchen countertops, work surfaces, table tops, walls, and even flooring. You can use it for both indoor and outdoor architectural applications in both residential and commercial spaces.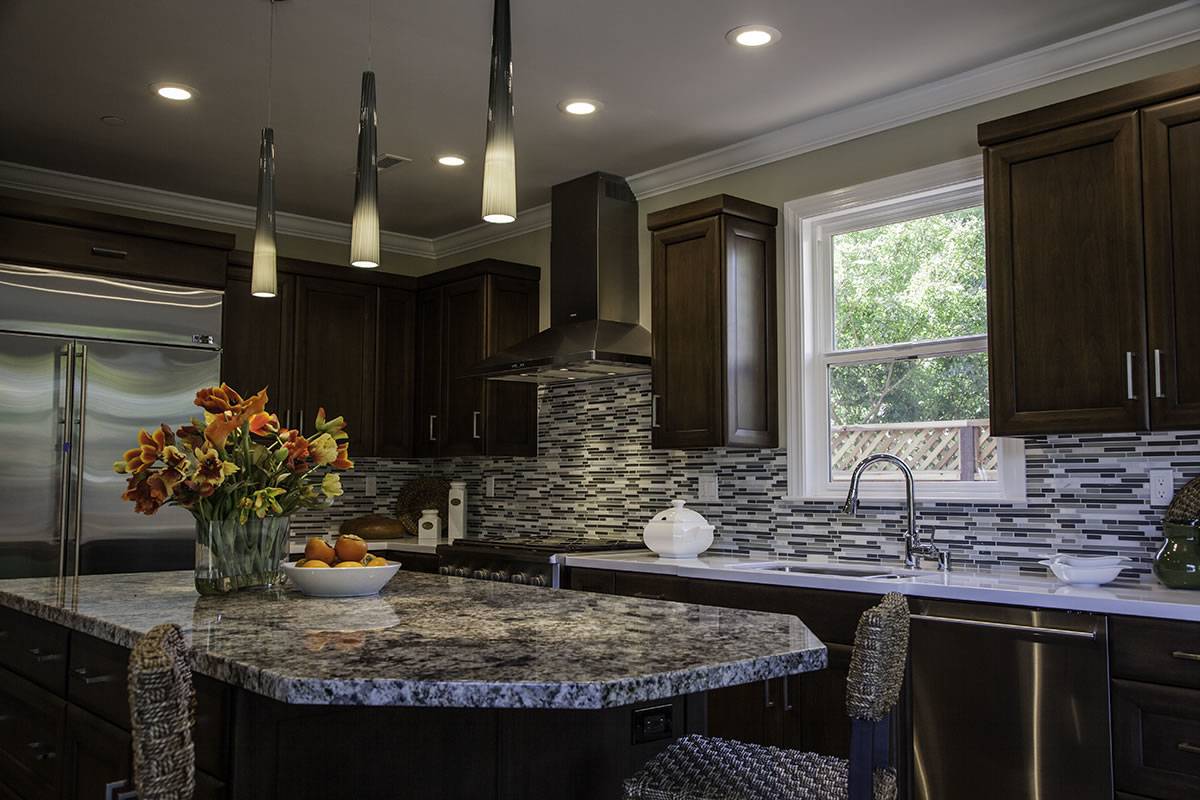 Blue Flower Granite
Don't settle for less dramatic if you desire a high impact, powerful and elegantly refined countertop design.
Blue Flower Granite from Brazil offers abundant swirls or dramatic blue color shades in combination with both dark and light veining.
Feel free to use this granite material for both commercial and residential projects, for indoor and outdoor applications equally.
Blue Flower Granite will make your kitchen countertops, backsplashes, flooring, accent wall and other applications truly one of a kind.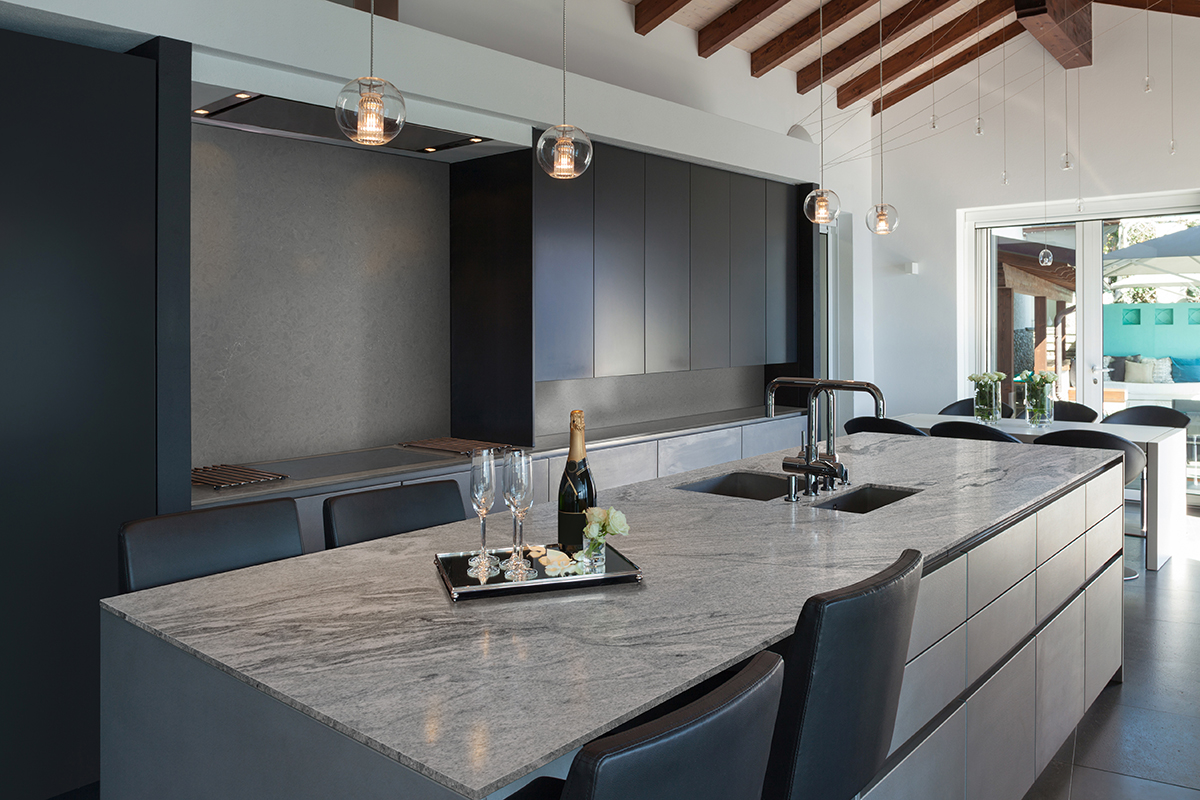 Silver Cloud Granite
One of the most sophisticated and refined granite stones if Silver Cloud Granite.
This remarkable stone features white, alabaster and ivory base with fog gray, sterling, and jet swirls. The stone is so finely grained, you will relish whenever you're near it.
Use Silver Cloud Granite by MSI Surfaces for flooring, walls, accent walls, backsplashes, and countertops. It's suitable for both indoor and outdoor applications, in both commercial and residential settings.
This granite stone is so durable and easy to maintain. We're sure you're going to enjoy every second using it.
MSI philosophy considers using various materials from nature and putting them to our service. Their soapstone countertops were created for both life and pure enjoyment in their beauty. The two functons are inseparable in this excellent material.
If you prefer natural, unique stone look for your countertops, but still need superior functionality, practicality, and ease of maintenance with minimum care, consider MSI soapstone countertops for your next kitchen remodel project.
MSI soapstone countertops are naturally non-porous which means they are water resistant. It requires minimum of maintenance. You need only mild soap and water to make it look its best. Soapstone also won't stain and it resists chemicals, acids, and heat very well. It's also durable and gorgeous looking. Featuring timeless elegance, MSI soapstone countertops usually come in black, green, and gray color. Green soapstone is very popular in our counetrtop showroom.
When thinking whether to choose soapstone for your kitchen counters, consider the fact that that scientific laboratories often choose this material because of its non-porouse nature, resistance, and durability.
These are the most popular MSI soapstone countertop colors.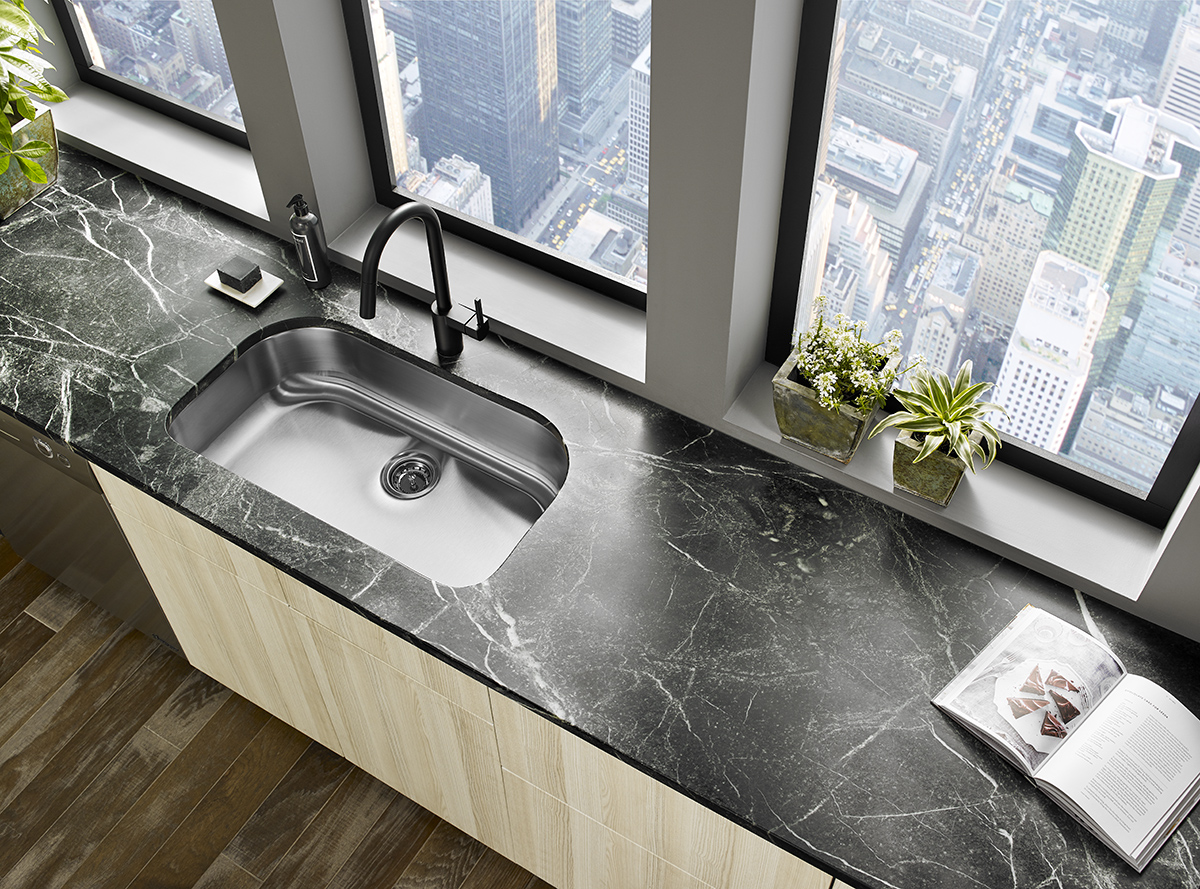 Gray Soapstone by MSI
This countertop material features rich character and powerful appearance. Gray soapstone countertop slabs show smooth gray background accentuated with striking white veining.
It's available in 2 cm and 3 cm thick slabs with honed finish. This particular finishing allows the genuine character of soapstone to shine through and gather the attention of anyone who enters your kitchen.
Use Gray Soapstone MSI material not only for kitchen countertops, but also for fireplace surroundings, waterfall islands, and other architectural applications.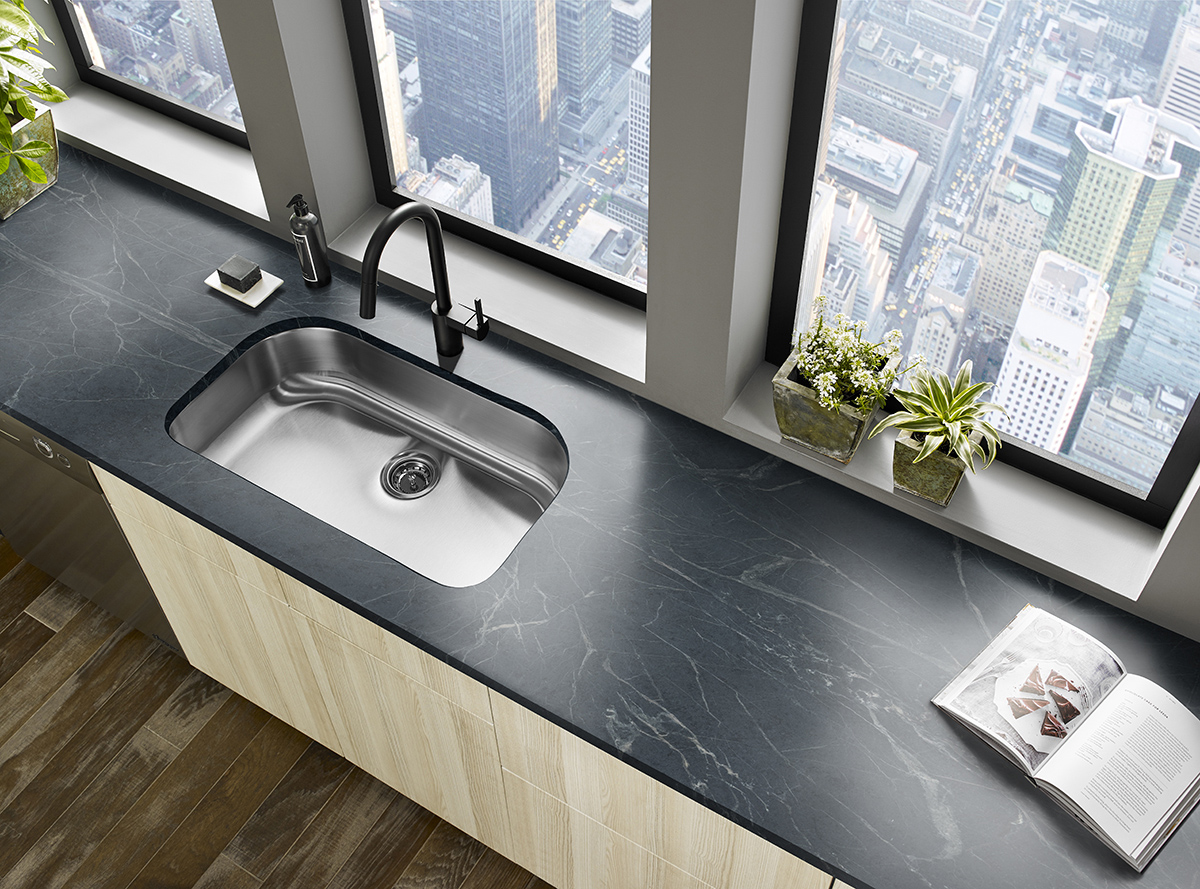 Black Soapstone by MSI Surfaces
Countertops made of black soapstone look timelessly elegant and easily add vintage-inspired charm to any kitchen. Try to imagine these black soapstone countertops with crisp white kitchen cabinets. What an incredible contrast would that combination make!
Soapstone is irresistibly veiny and that is one of its most desirable traits. Use black soapstone to design glamorous kitchens, whether ou prefer traditional or contemporary style. Black soapstone will add a luxurious vibe easily.
Durable, resilient, elegant and almost artful in its beauty, black soapstone is an answer not only for kitchen countertops, but for other applications as well. Use black soapstone in both commercial and residential spaces, indoor and outdoor settings, for creating floors, accent walls, waterfall islands, and backsplashes.
Onyx is a form of quartz, and it is one of the most popular precious gemstone materials. If you would love to personalize the look of your kitchen, consider a pictoresque look of onyx countertops and tiles.
Onyx is a material that is woderfully translucent and features contrasting shades of various colors that together define a truly unique appearance. Soft, abundant, luxurious, and almost extravagant in its nature, onyx is one of the most premium materials you can consider for your countertops.
Being delicate and soft, onyx demands some more maintenance and care than other countertop materials. However, this pays off because onyx provides you with a distinctive look that will make your kitchen truly one of a kind.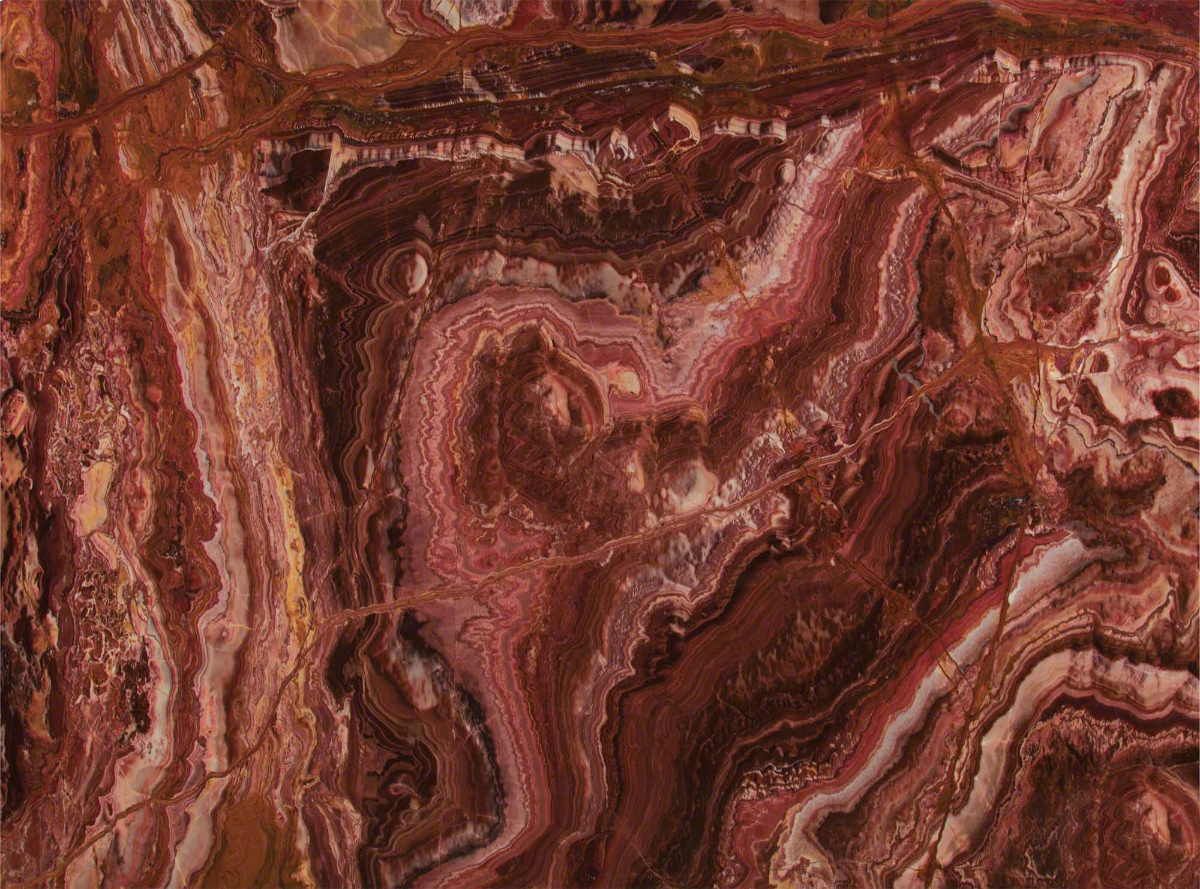 Tanzania Onyx Material
This type of onyx is very popular in our showroom. Tanzania Onyx features an exotic appearance and rich, translucent qualities. This is the perfect material if you want to bring a sense of uniqueness and originality into your home.
Highly sophisticated, elegant, and potent in its appearance, Tanzania Onyx features smooth clouds of strong colors accentuated with white shades. Profound shades of red color in the background with light beige and gold waves will take your breath away.
Use Tanzania Onyx to design kitchen countertops, table tops, shower bases, stairs, and more, in both interior and exterior, commercial and residential settings.
Quartzite is one of the most popular countertop materials today. Sourced from nature, it has all the best qualities of a natural stone. Quartzite brings excquisite appearance, great durability, and superior resilience to your kitchen remodeling project.
Quartzite originates from sandstone and presents a hard metamorphic rock. This metamorphic rock goes through a high heating and pressure process to transform into quartzite. Created like this, quartzite is an incredibly durable, resilient, and hard stone.
But this process doesn't only add to the durability and hardness of quartzite. It also greatly influences the appearance of quartzite. Heating and pressurization recrystallize quartz pieces and produce a highly decorative, gorgeous sparkling hues and patterns. These features make quartzite so irresistable.
Quartzite material is very strong, hard, and long lasting. Feel free to use it as a countertop surface, but also for other purposes such as flooring, backsplashes, decorative and accent walls, and more.
Available in a range of beautiful, neutral colors and hues, quartzite features the elegant and refined look that is easy to fit into any interior decor. This is why people mostly prefer it.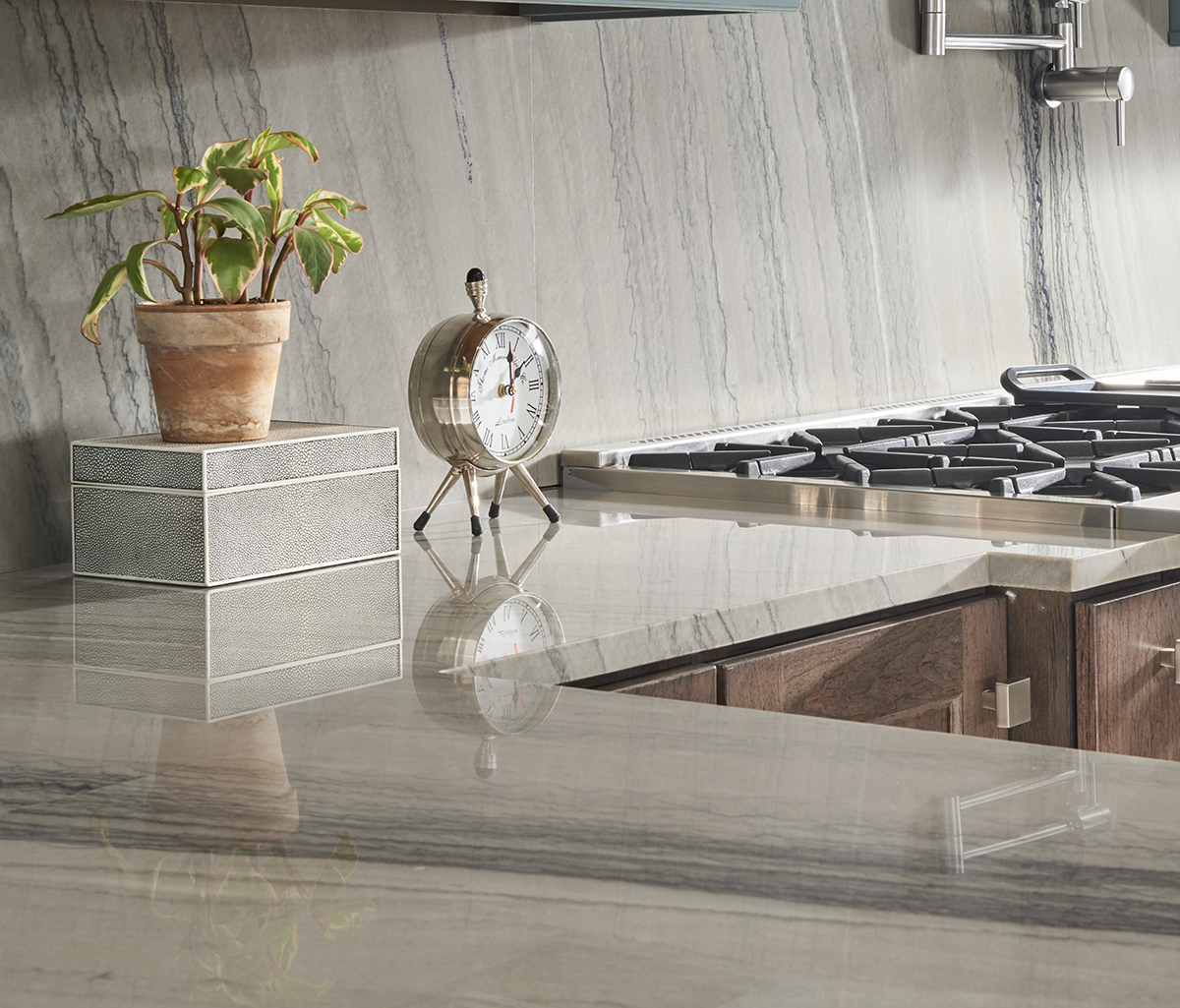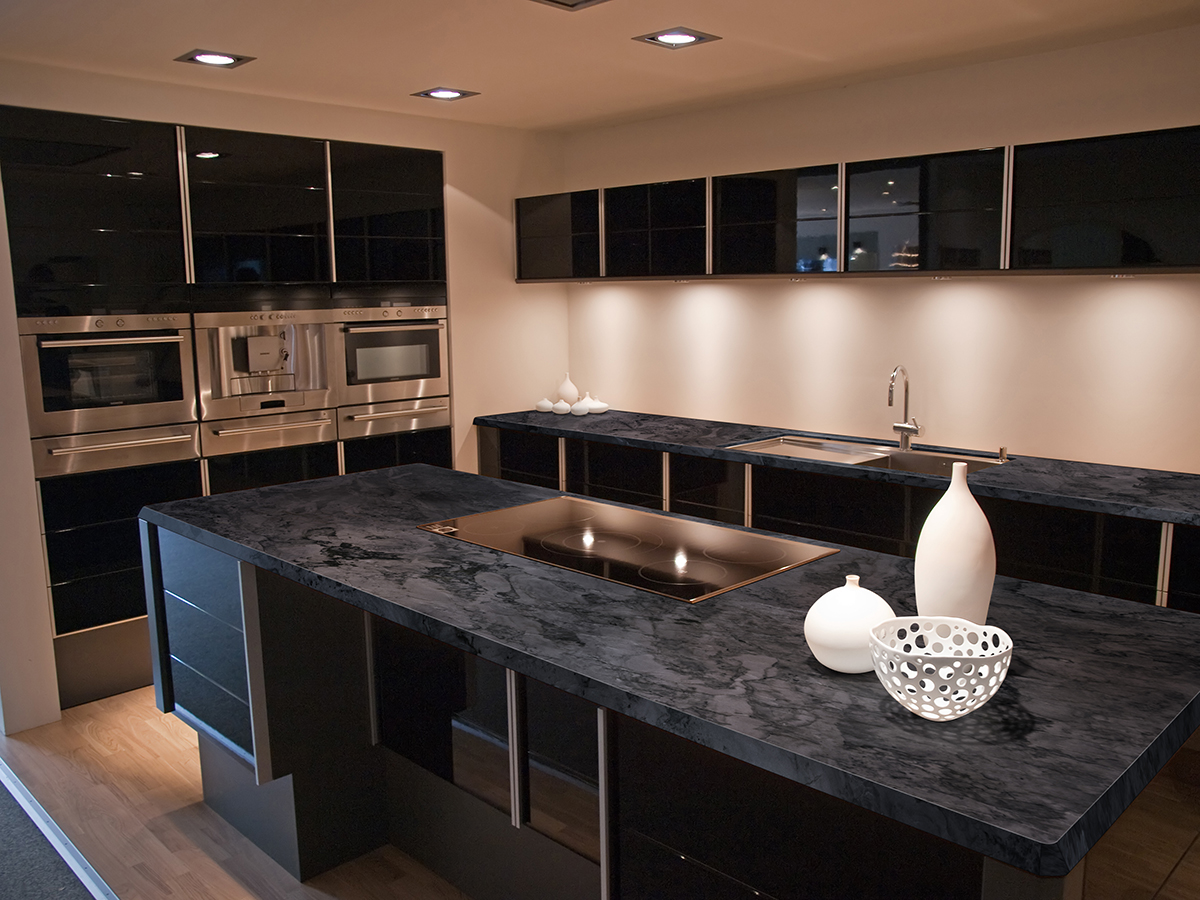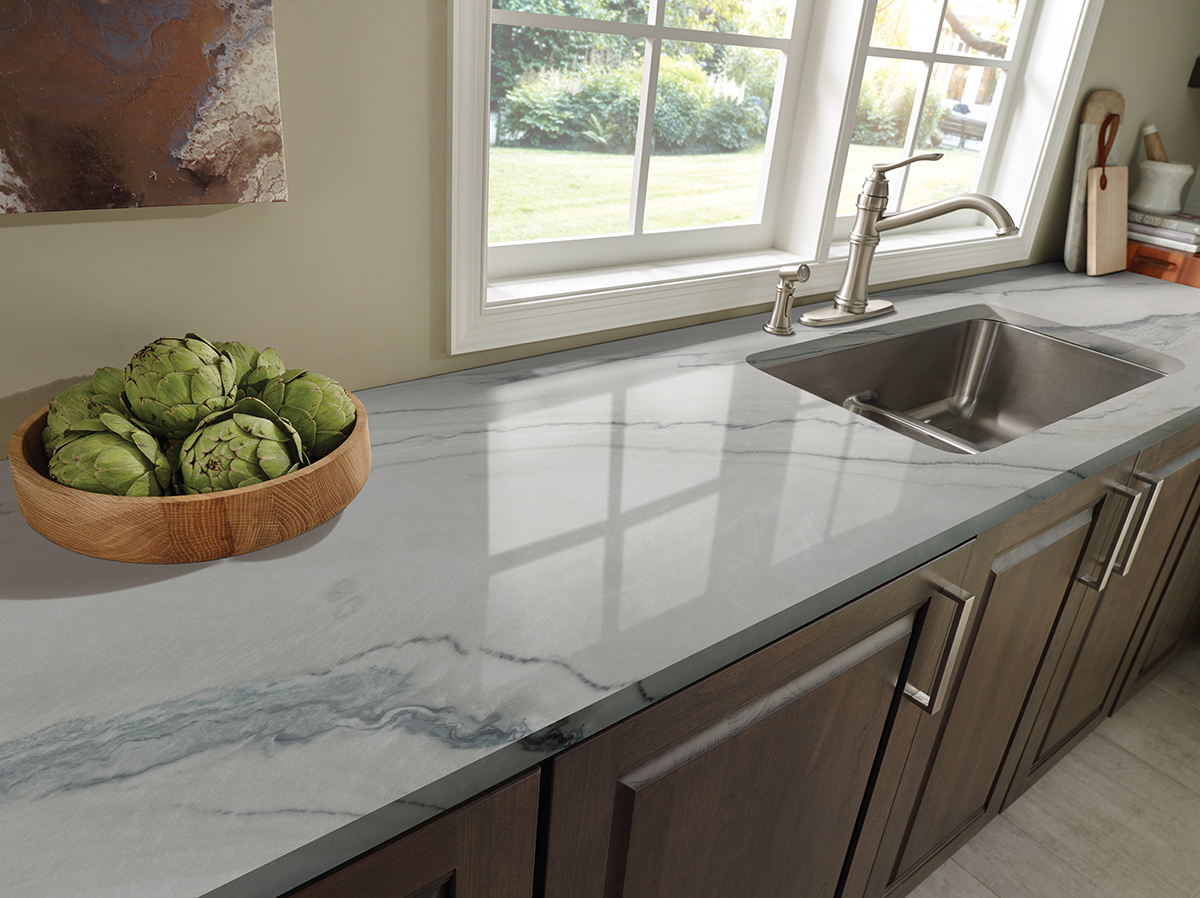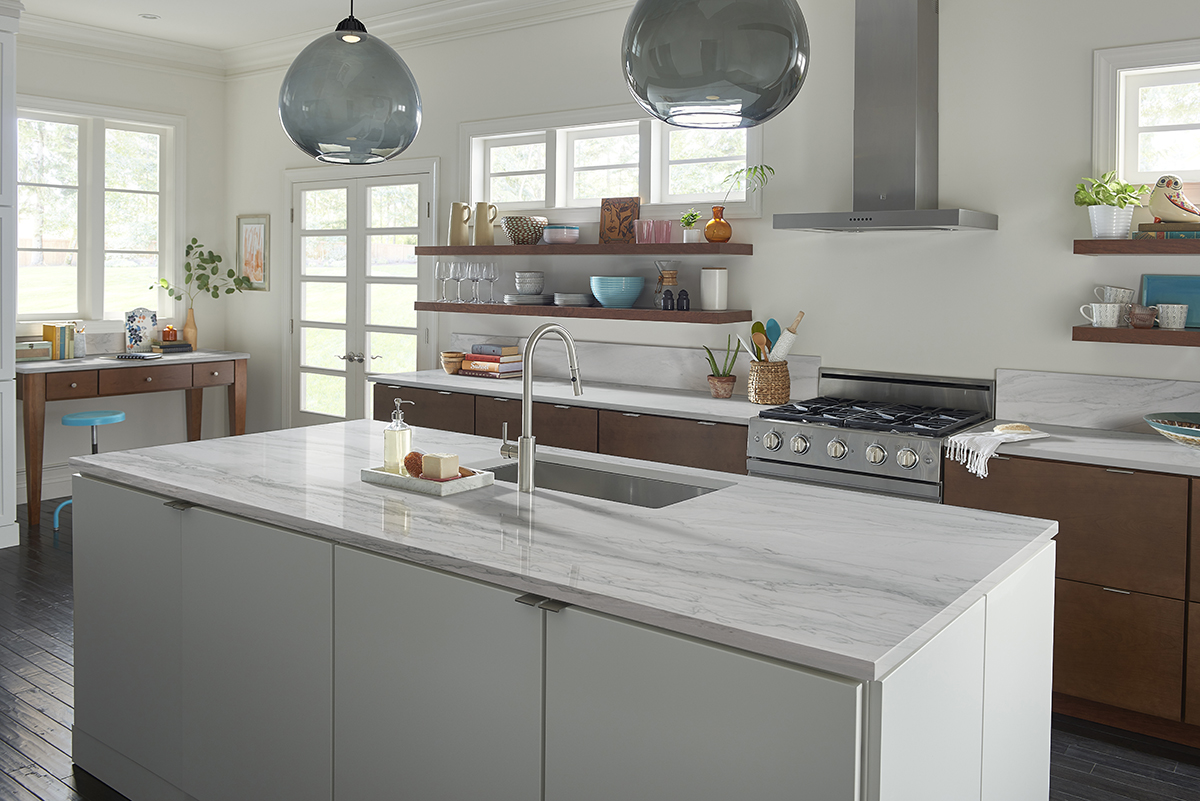 The epitome of elegance and high luxury, marble counertops present the ideal countertop material with timeless appeal. Marble is simply gorgeous and very sophisticated in its appearance. Although marble is most often seen in old world and traditional kitchens, it is actually neutral in its style and appearance. This is why homeowners and designers love using it in both classic and contemporary kitchens.
Marble usually comes in various hues of white, beige, gray, pink, and sometimes even green color.  Usually, marble stone features subtle and delicate, or thick and strong veining, with gentle of more busy movements. Regardless of the pattern and hue featured, marble always looks very elegant and high end.
If you choose marble for your counter top, please be aware that marble is a soft stone, softer than other natural countertop stones, like granite and quartzite. It is not resilient to chipping or staining. But this is a feature that people who love patina actually welcome. Over time, marble stone creates patina and unique personality that looks amazing in old world homes and kitchens.
To keep your marble countertop looking great and performing its best, use sealants and mild cleaning products. Never use abrassive products to clean marble.
MSI Surfaces features over 50 marble colors and patterns to choose from.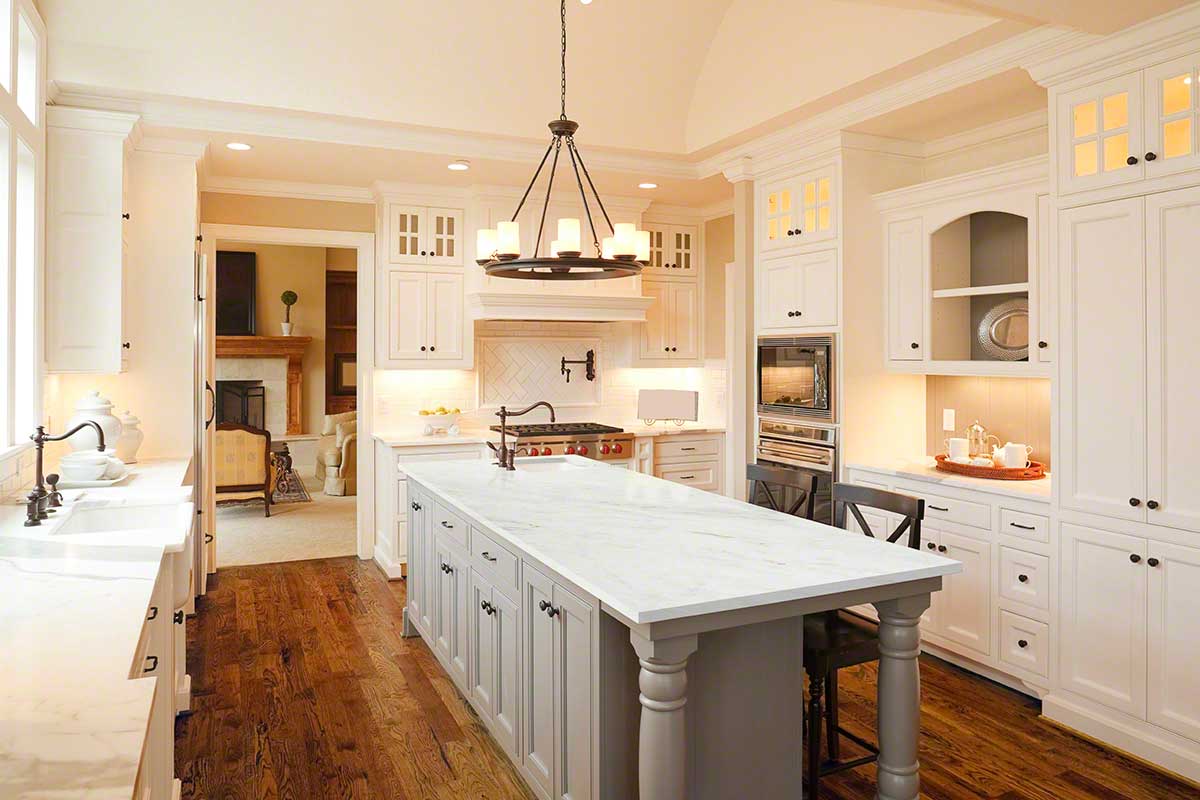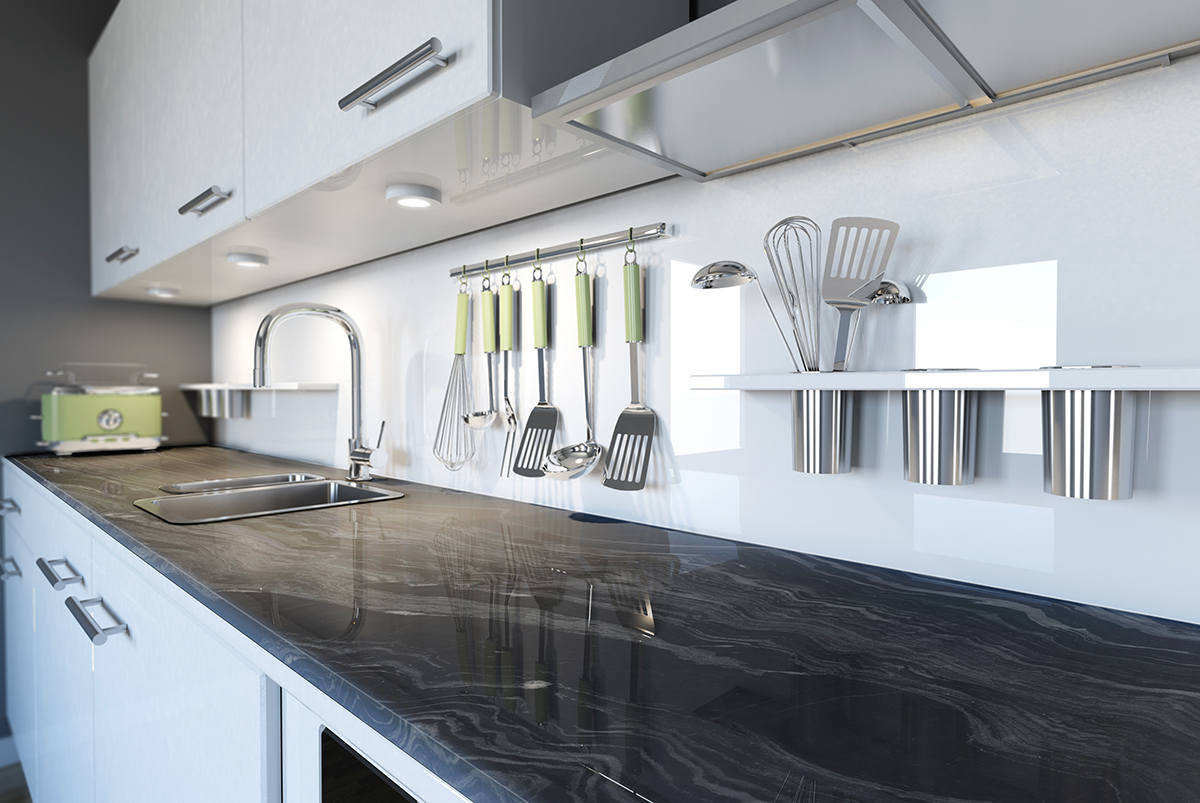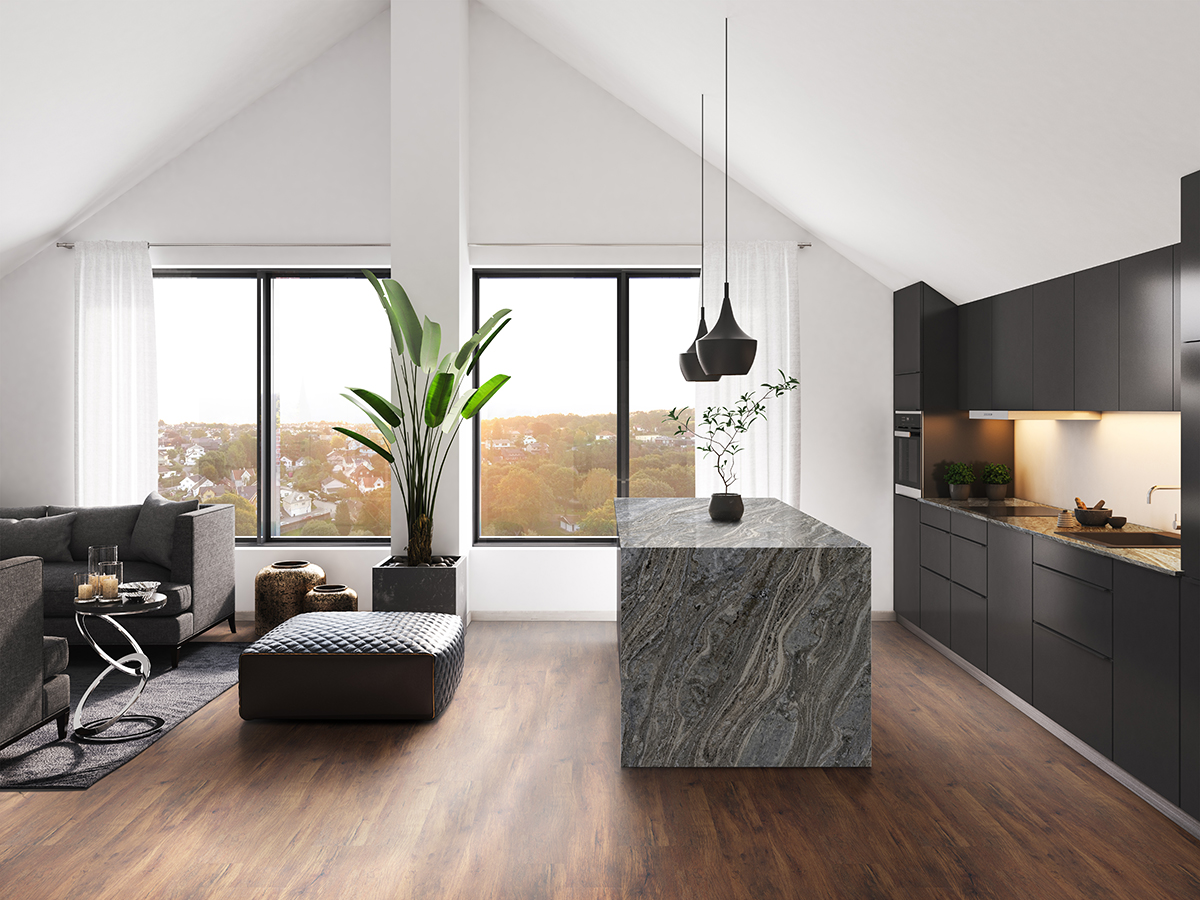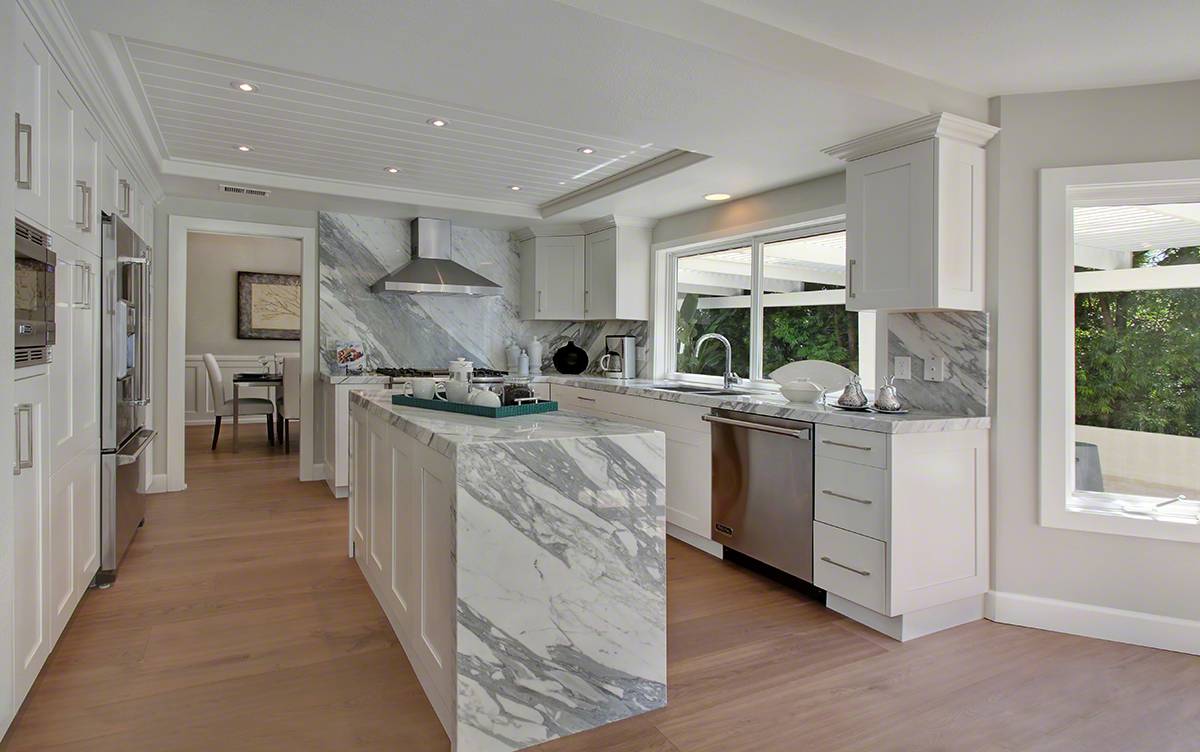 If you like chic countertops, look into travertine material. Travertine countertops feature stylish, sophisticated, and luxurious appearance. It may remind you of marble and that wouldn't be surprising, considering that both marble and travertine are natural stones.
Travertine comes in a variety of natural, earthy shades and tones of colors such as brown, beige, cream, gold ivory, walnut, coral, and more. Each slab of travertine stone is 100% one of a kind and will differ from another. Irregular holes and cavities give travertine a special charm.
Travertine material is also well known for its stength, resilience, and durability. It comes from a family of limestone. To make it more convenient for countertops, travertine stone is mixed with cement, smoothed, and polished. Manufactured this way, travertine is convenient for both residential and commercial use.
MSI Surfaces offer over 10 travertine colors and patterns to choose from. Choose the best one that will provide you with the exceptional durability and long lasting natural appeal you will relish in for years to come.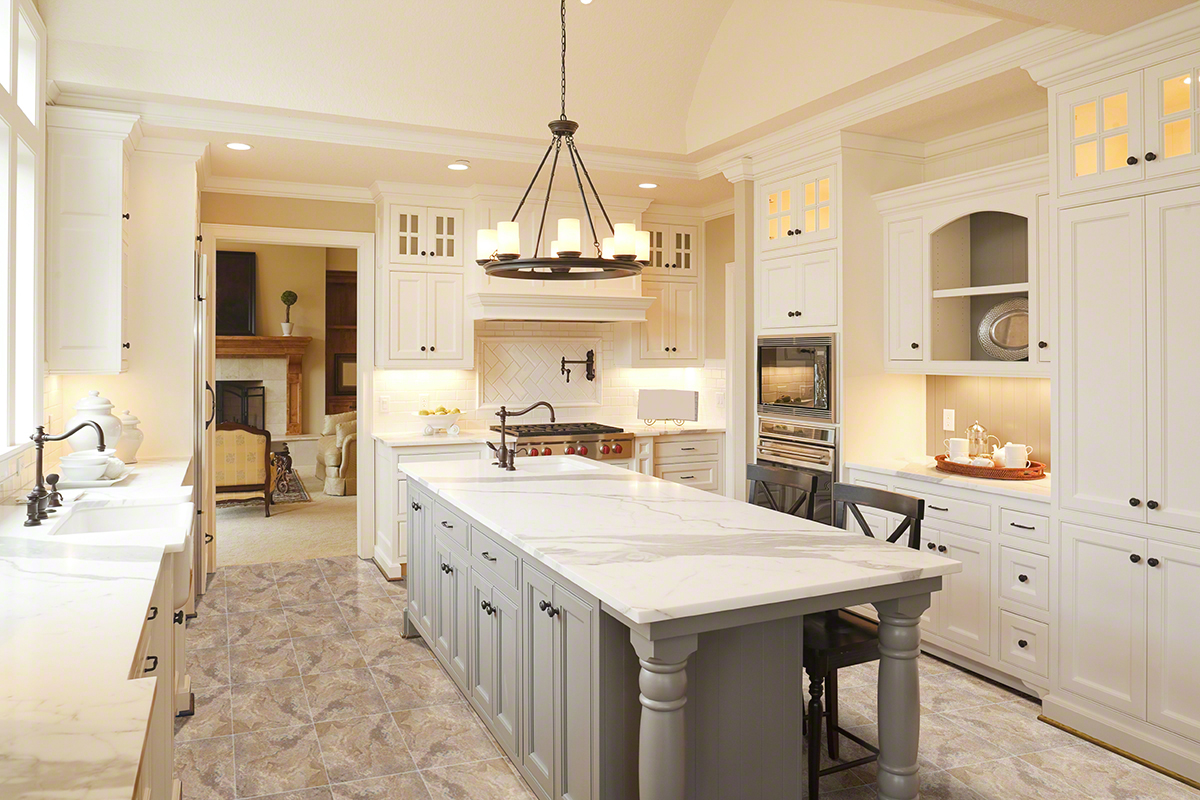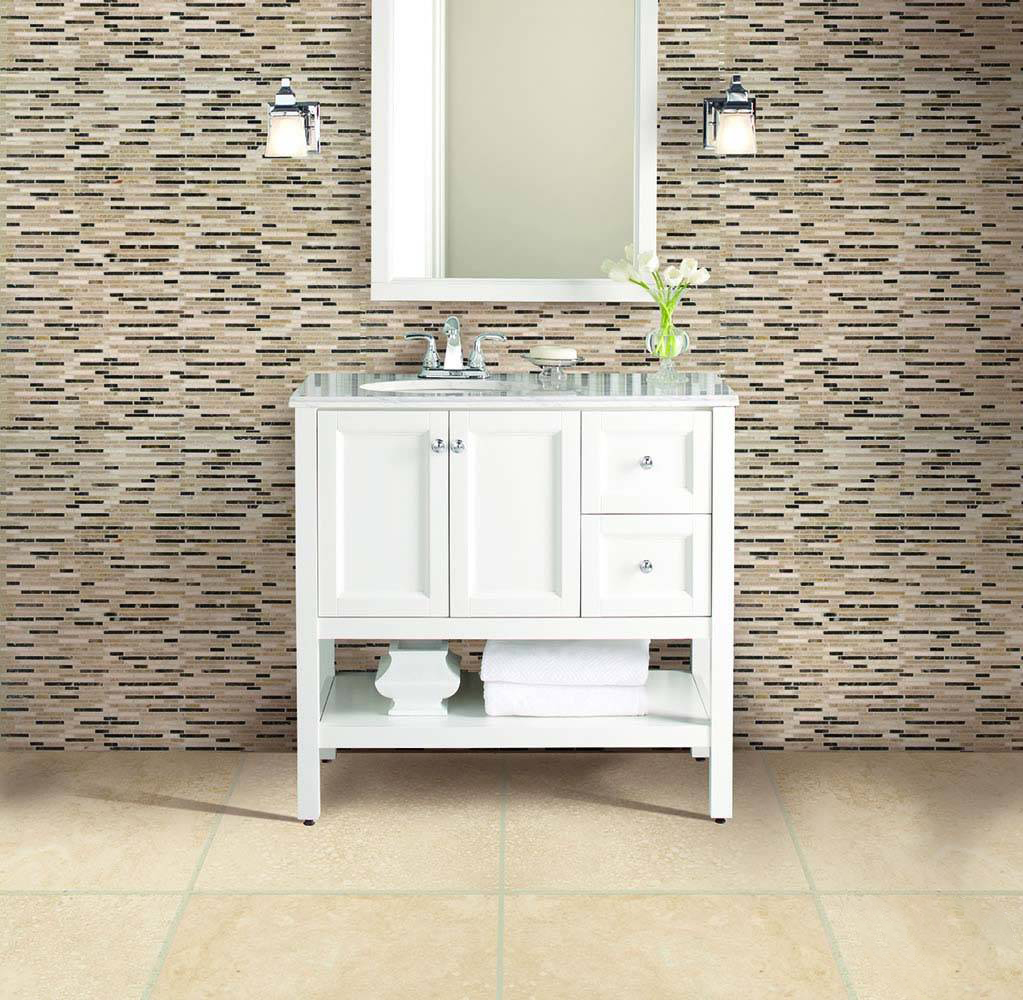 How Much do MSI Countertops Cost?
MSI countertops can cost anywhere from $60 to $100 per square foot for fabricated and installed countertops. However, the final MSI price will depend on several factors. MSI countertops price will depend on the type of MSI countertops you choose, on the slab thickness and size, where are you buying them, and on the fabrication and installation cost.
Usually, MSI quartz countertops, for example, are priced at the premium end, and will cost you from $70 to $100 per square foot, depending on the type of quartz countertop. Mid-quality quartz is generally priced at $60 to $70 per square foot while the cost for highest qualty quartz is about $70 to $100 per square foot. This means MSI provides you with only est quality at an affordable price.
Granite countertops can range anywhere from $35 to $175 per square foot installed and up.
Regardless of the MSI cost you get from your local countertop showroom, fabricator, and installers, keep in mind that they come with a lifetime warranty for residential use.
In order to still save money while getting superior quality, consider showroom you are going to purchase the countertops from and the costs that fabrication and installation are going to include. Make sure to receive the level of quality you expect in both MSI countertops and the stone installation.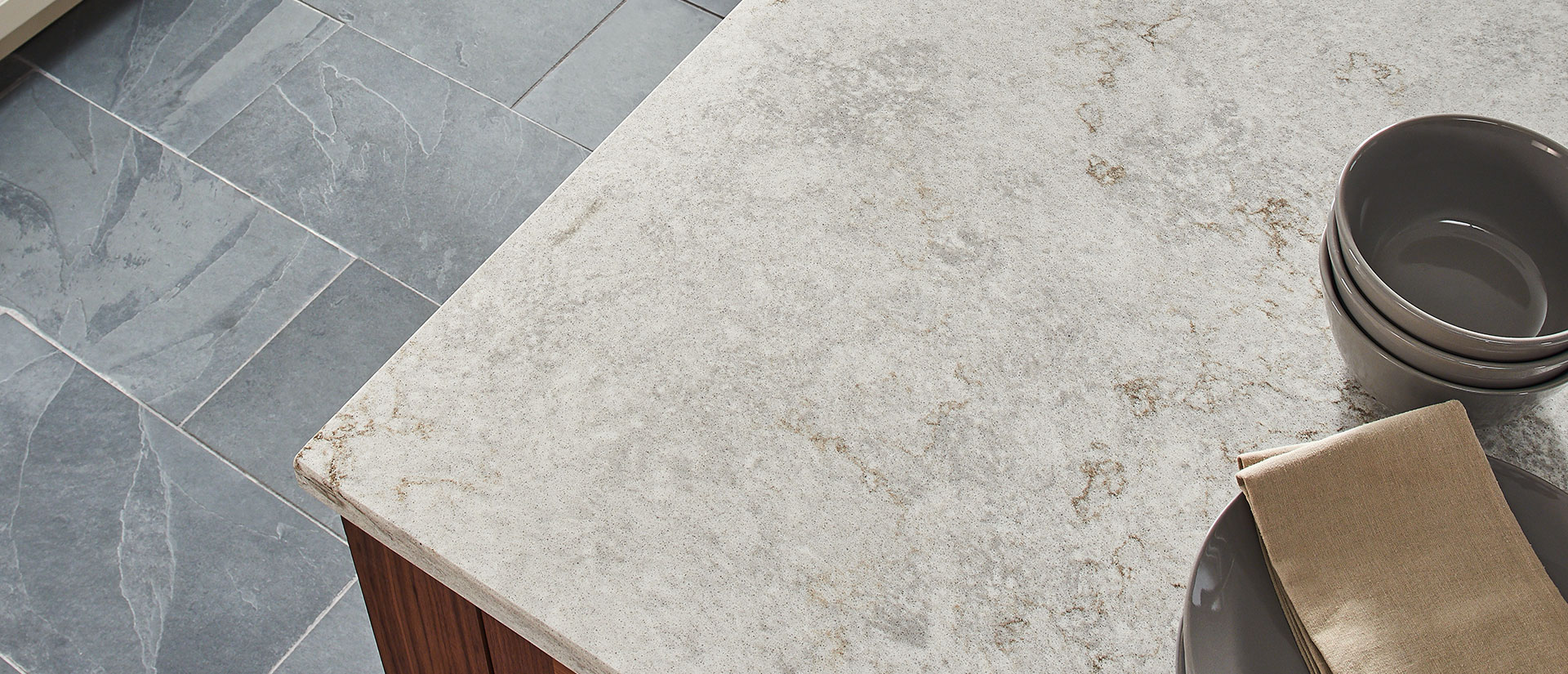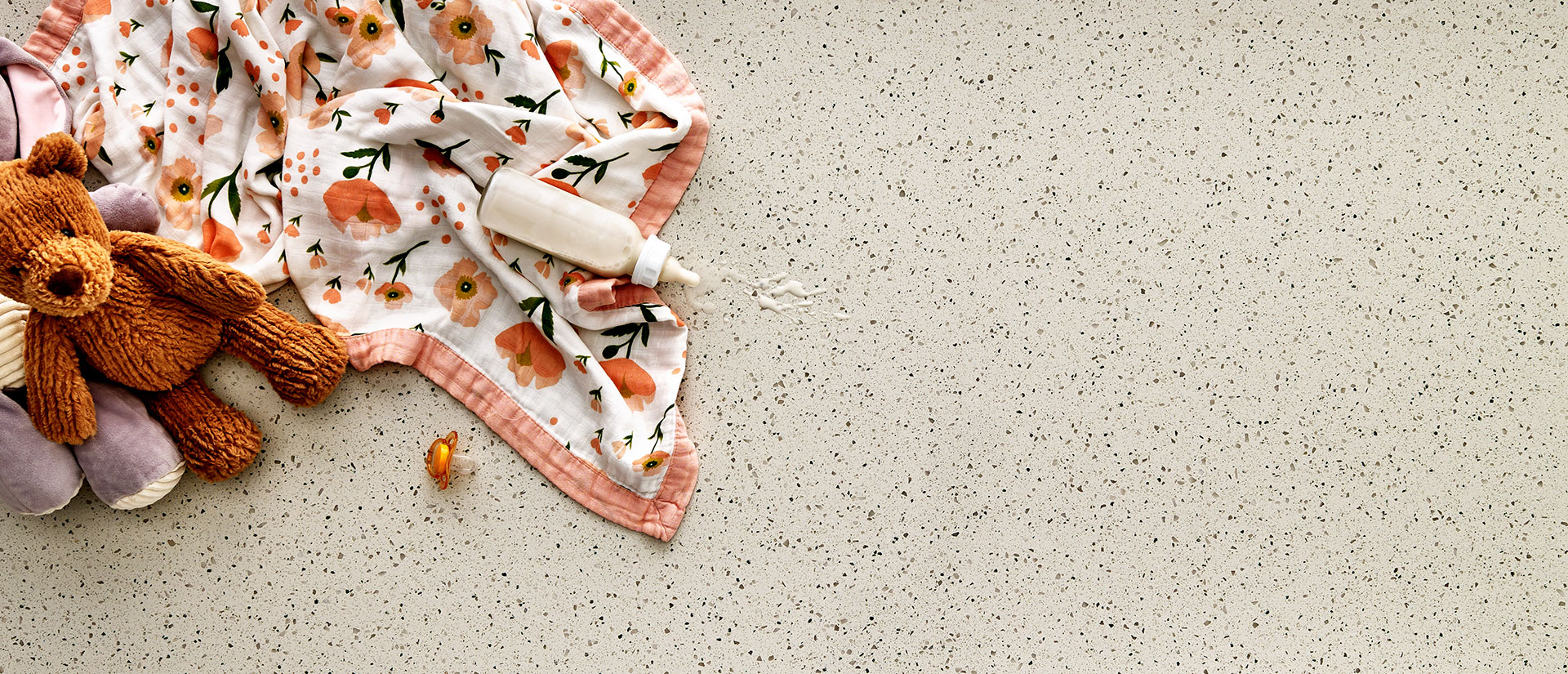 There are many MSI Surfaces dealers in Queens, Manhattan, and Brooklyn NY, but only some of us have a wide selection of MSI countertops for you to choose from. We even have the precious onyx countertops options.
Stop by our MSI countertops showroom at 35-10 43rd Street Long Island City, New York 11101, and see the slabs from up close. This is the only way for you to see all the swirls, patterns, and colors. When you see our selection, decide if you prefer natural or manufactured stone, warm beiges, soft whites or uncompromising blacks.
When you come to Home Art Tile Kitchen & Bath in Queens NY, we will show you all the MSI countertop slabs we have in stock and provide you with a free 3D design for your kitchen remodel project. This way, you can actually see how the MSI countertops will look like in your home.
Our designer and sales team will share with you any information you may need regarding MSI countertops quality, cost, colors, patterns, maintenance, and care.
Contact us today and get MS International countertops at the best price in NY.