White shaker cabinets are the epitome of classic taste in the kitchen design. The ideals of practicality and simplicity are embodied in white shaker kitchen cabinetry style. These ideals reflect greatly in the characteristic and distinctive look of white shaker cabinet design. White shaker cabinets are definitely the best selling cabinetry in our Queens-based kitchen cabinet outlet store.
White Shaker Cabinets – Beautiful & Practical Choice for Your NY Kitchen Remodel
White shaker cabinets bring a special kind of harmony, balance, and consistency to the kitchen space. They present the perfect white kitchen cabinetry choice for all of those who admire contemporary kitchen look. Nothing says 'modern' and 'contemporary' more than clean lines, geometric shapes, patterns, and minimalistic design of white Shaker style cabinets.
With white Shaker cabinets, you will achieve the angular look of modern, contemporary kitchen style. You'll also obtain white Shaker kitchen cabinet door original, authentic charm.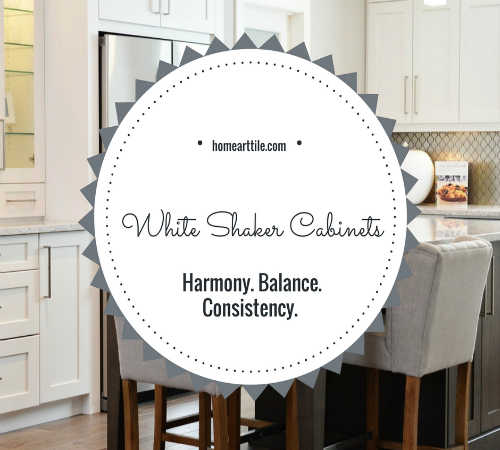 This makes white shaker cabinet doors an instant, timeless, and stylish choice for many homeowners.
Do you wish to know why so many people choose our white shaker cabinets to build or remodel their Manhattan, Brooklyn or Queens kitchens?
Take a look at the beautiful and high-quality white shaker cabinetry we offer at low, discount prices.
White Shaker Cabinets Selection on Sale in Queens NY for Your Dream Kitchen
Shaker style kitchen cabinet doors are flexible and adjustable in their style. This means they can be the perfect base for your traditional kitchen plan or they can become modern kitchen dream. This depends on what you pair them with. Decoration options are endless.
But it gets even better.
The starting point of creating your dream kitchen is choosing the best white shaker cabinets at best, discount price.
Our simple and elegant white shaker cabinet options come at wholesale price. They will let you start creating that white kitchen of your dreams today.
Choose the best quality all wood white shaker cabinets, high functionality, and exceptional design.
Come visit us and let our white shaker cabinets speak for themselves!
Ice White Shaker Cabinets can make any kitchen look larger and brighter. Its clean and simple design pairs well with any layout or color scheme. It is adaptable enough for use in both traditional and modern homes. Ice White Shaker brings together a color and design combination that has transcended every kitchen trend.
These lovely, modern white shaker cabinets feature all birch plywood construction, recessed MDF square center panel, full overlay, butt doors, finished interior, matching drawer front, dovetail box construction, undermount, full extension glides with soft close feature, and 1/2″ plywood construction.
Geneva Cabinets offer a different taste from the normal dovetail drawer design. These white Shaker cabinets adopt the combi-plywood frameless construction design with a quarter-inch MDF 5-piece backing and a three-quarters inch MDF raised panel thermo-foiled doors. They are side mounted with epoxy coated slides and six-way clip-on adjustable hinges.
Geneva cabinets stand out with their big sizes from the rest of white kitchen shaker cabinets. The wall cabinets have twelve and a half inch deep shelves while the base cabinets have 18 inch deep shelves. While all the cabinets are laminated white, base cabinets have an additional full dust cover dust feature.
These shaker style cabinets are one of the most popular because of their ability to blend in with different kitchen finishes as well as interior color mixes.
Frost White Shaker Kitchen Cabinets feature recessed paneling and crisp lines. They create a clean and classic feel, striking the perfect balance between tradition and trend. Full overlay door with mortise and tenon construction, solid wood door frames with ⅜" MDF center panel, solid birch drawer box with dovetail construction, dovetail construction box, and select birch plywood construction.
We are certain that one of these white shaker cabinets options will intrigue you to come visit our kitchen cabinet outlet store in Queens NY and see them in detail.
White Shaker Cabinets Wholesale Prices – Best Deal in NY
White shaker cabinets' wholesale prices can be found only 5 minutes from Manhattan. We are located in Queens NY but we also serve Brooklyn and Manhattan.
Get best quality white shaker kitchen cabinets and save money at the same time.
Our most popular and most wanted kitchen cabinetry design is white shaker. Some of our white shaker style cabinets are clean and simple. Others possess more decorative edge details. There is something for every taste and preference.
Home Art Tile Kitchen and Bath is your one-stop-shop for creating a dream kitchen. We believe that everyone deserves to have a beautiful kitchen space in their home and to get it at affordable, discount price. We pride ourselves on working closely with you, on listening and respecting your wishes and needs and providing products that enable you to stay true to your taste.
Now that you know where to find the best white shaker cabinetry at the lowest possible price, learn how to design the kitchen of your dreams.
Find out what white shaker cabinets are best for your specific kitchen space, what countertops are best to combine them with, and how to choose the right hardware. 
White Shaker Cabinets Ideas for Simple & Classy Kitchen
White Shaker Cabinets present a beautiful, stylish way to create a simple and classy kitchen design. Sometimes, everything is about finishing touches. This is why the final decision about what kind of white you want in your kitchen is very important for the overall look and feel of your kitchen. Homeowners usually opt for one of the two most common white shaker cabinets ideas – Off White Shaker Kitchen Cabinets or Pure White Shaker Cabinets.
Pure White Shaker Kitchen Cabinets for Stark, Modern Look
Pure white shaker kitchen cabinets are dependable and consistent. They are easy and enjoyable to be around. Their clear shade makes all the other kitchen elements look beautiful. Pure white enhances their look and makes all the details you want to be seen clearly visible. White Shaker Cabinets will stay consistent in any light.
Stark white look lends a clean, modern vibe. These crisp white shaker style cabinets will make everything around them come forward. Pure white shaker kitchen cabinets make your kitchen furnishings stand out like a piece of art.
Pure White Shaker Kitchen Cabinets provide a crisp and clean look that is best for modern shaker kitchens. To achieve this look in your kitchen, use simple hardware options, like polished nickel. Fill the rest of your kitchen with white quartz countertops and simple, white backsplashes. When set up like this, your modern white shaker kitchen will shine!
Off White Shaker Kitchen Cabinets for Country Style Kitchen
Getting white kitchen cabinets may seem like a daunting decision to make. White is a bold shade that will make a clear and loud statement in any kitchen. If you like white but think that pure white may be a bit heavy on your eyes and a bit too much, there is an option for you, too. There is a warmer, gentler, kinder white – off white.
Off White Shaker Kitchen Cabinets have just a hint of gray and beige in them and they never disappoint. Off White Shaker Kitchen Cabinets work great in rooms that get lots of light. They work equally well in those kitchens that need more light because they open them and shower them with soft, gentle glow. They are perfectly balanced – not too bright and not too creamy.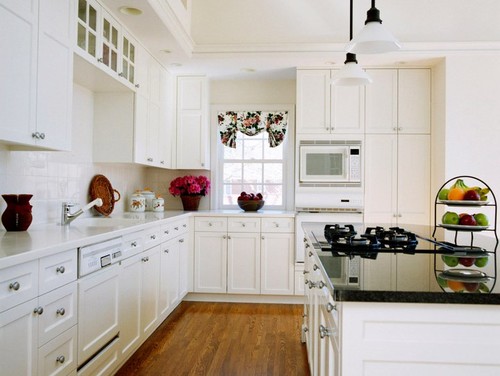 Off White Shaker Cabinets work perfectly in a country, cottage, or farmhouse kitchen settings. Use long, curved faucets and single basin farmhouse kitchen sinks, along with rich granite, marble, or soapstone countertops to achieve this lovely, timeless look. Curved pendant lighting and butcher blocks will additionally enhance a cozy country feel.
White Shaker Cabinets with Granite Countertops for Traditional Kitchen Look
Create an interesting and traditional kitchen look by combining white shaker cabinets and granite countertops. Shaker style cabinet doors stand for years as the most popular kitchen cabinetry trend. It is no wonder. They are easy to keep clean and to combine with other kitchen elements like countertops and backsplashes.
Style-neutral shaker white cabinets welcome other elements to dictate the design, style, and overall feel and atmosphere in the kitchen. White shaker style kitchen cabinets will allow your granite countertop of choice to catch the eye of many when they enter your kitchen.
Have you been wondering what countertop color looks best with white cabinets?
We'll tell you – it's absolutely impossible to go wrong with any granite color or pattern. All will look great!
You can create a perfect canvas for other kitchen elements and details by opting for white granite countertop varieties. If you prefer elegant or strong contrasts, opt for one of many dark granite countertop varieties.
You can decide to combine your shaker white kitchen cabinets with a colorful granite rich with hues and shades to add a specific interest to your kitchen space.
Whatever decision you make, granite countertop with white cabinets is a dream kitchen combination.
White Shaker Cabinets with Marble Countertops for Pristine Look
Create a warm and inviting kitchen space by combining white shaker cabinets with marble countertops. Both white shaker kitchen cabinets and marble countertops are definitely one of the hottest kitchen trends. When combined, they look absolutely marvelous. This is the perfect duo – elegant and classy.
White marble looks almost ethereal with its natural gray veins. Super White Marble and Calacatta Gold Granite will bring a variety of specks and vein colors. Both types of marble countertops will create interest and add a special dimension to white shaker cabinet door.
If you want to create a distinctive, dramatic look and contrast, combine white shaker cabinets with Michelangelo Marble. This lovely duo creates a well-balanced look with sweeping waves of natural colors and shades.
White Shaker Cabinets with Quartz Countertops for Contemporary Look
One of the easiest and most popular ways to show off the beauty of white in a kitchen is combining white shaker cabinets with quartz countertops. If contemporary sleekness and crisp, stark look in a kitchen is your favorite, you will be successful at accomplishing this by combining shaker white cabinets with quartz countertops subtle, fresh, and clean look.
This duo will create a perfect canvas for other dramatic or artistic elements in your kitchen to pop up.
White shaker cabinets with quartz countertops will create a beautiful cooking space that is equally comfortable and cool.
White Shaker Cabinet Hardware Ideas – Finish with Style
White shaker cabinet doors have a simple design and clean lines. Due to the frame and panel profile, rail and style construction, shaker cabinetry can seem plain. Original Shaker kitchen cabinetry design went through many variations during the years. However, it kept its simplicity, homogeneity, and purity we all love so much.
White shaker cabinet doors can get a whole lot more interest with the right shaker style door handles, pulls, and knobs. Hardware can really change the tone and overall look and style of your cooking space. Hardware for white kitchen cabinets is often referred to as the jewelry of a kitchen. Just like clothes and personal jewelry around your neck or on your ears, it can transform and shift your kitchen's appearance. In order to accomplish the look you wish to achieve, you need to pick the right hardware for white shaker kitchen cabinets.
You may think that kitchen cabinetry hardware is a seemingly minor fixture. It can add a ton of style to your kitchen and let your creative spirit do its best. Think about the look you wish to achieve. Then decide how closely you want your hardware design and white shaker cabinetry design to be coordinated and adjusted.
Maybe you prefer simple design and appreciate functionality above everything else. Then choose the kind of hardware that will save your time and simplify the design process. This type of hardware for white kitchen cabinets should be minimalistic, functional, and easy to clean.
Perhaps you wish to achieve a more traditional look? Complement your white shaker cabinets with hardware that will add a little extra flair to it. White shaker cabinetry presents the perfect canvas for different approaches, various styles door handles, knobs, and drawer pulls. A simple, understated brushed metal hardware, or brass hardware is one of the many options.
The choice is vast and it's yours. Different shaker white kitchen cabinet hardware ideas will allow you to express yourself more.
Reveal your unique design aesthetic and philosophy in the kitchen.
White Shaker Cabinets Maintenance
White shaker kitchen will provide a clean, bright look and light feel to any home. However, some homeowners may worry about how to keep their white shaker cabinets looking pristine white and spotless in the long run.
The truth is that white kitchen cabinets may start you yellow, especially if you cook a lot in your kitchen, or if your cabinets are exposed to direct sunlight. Stains and accumulations of grease are unavoidable too.
In order to prevent this, put blinds, draperies, or window film to shadow your cabinets from direct sunlight. When you start cooking, turn on the ventilation in your kitchen.
Don't use scouring pads or abrasive cleansers to clean your white shaker cabinets. These can scratch the cabinet surface and damage them.
Once a week, wipe your shaker style cabinets with warm water and dampened soft cotton cloth.If this isn't enough to clean your cabinets and make them look like new, create mix mild dishwashing liquid with warm water. Clean your white shaker kitchen and then dry them with a clean, soft cloth.
If this isn't enough to clean your cabinets and make them look like new, create a mix of mild dishwashing liquid and warm water. Clean your white shaker kitchen and dry them with a clean, soft cloth.
Follow our White Kitchen Cabinets Maintenance Step-by-Step Guide to keep your white shaker cabinets sparkling clean.
White Shaker Cabinets Sale – Contact Us for the Best Deal
White shaker cabinets are an all-time American classic. This kitchen design proved itself timeless. It continues to be a very important part of kitchen design across the country.
Located only 5 minutes from Manhattan, Home Art Tile Kitchen and Bath will provide you with the best American made white shaker kitchen cabinets at lowest, factory-direct, wholesale prices. By shopping here, you will save thousands comparing to Manhattan stores and still get the highest quality solid wood white shaker cabinets made by the best kitchen cabinet brands.
Contact us today for a free, no-obligation estimate and 3D design on your favorite white shaker kitchen cabinet design!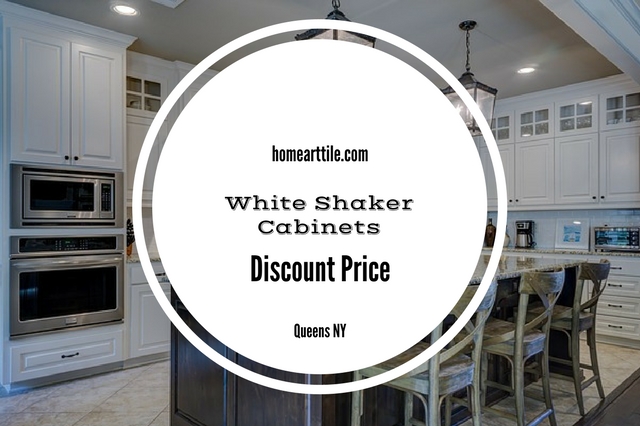 You can also visit our kitchen cabinet outlet store to see our white shaker cabinetry in detail and meet our designer team with years of experience. Kitchen cabinets are our passion and we'll be happy and honored to help building your white shaker dream kitchen in Queens, Brooklyn, or Manhattan.
White Shaker Cabinets Best Deals
Speak to a designer to get started 718-433-0060 or click to contact us below and we will get back to you within 1 business day.