Best Counter-Tops in Manhattan, Queens, Brooklyn and surrounding Areas
When in search for a high quality counter-tops, Home Art Tile is the company that offers a variety of personalized counter-tops. These counter-tops will not only look amazing, but will also last however long that they are needed. Various materials are used to create the counter-top of your dreams. These material include marble, onyx, soapstone, as well as travertine..
1.) Marble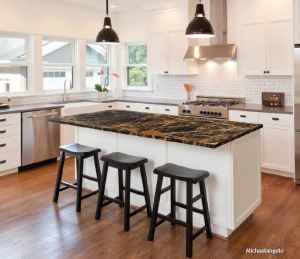 Of the marble choices, there are three forms of marble that are offered by this company. These three choices include Michaelangelo, Calacatta Gold, and Super White. These styles of marble can be seen first hand at the Queen's Showroom that is located in Long Island City, New York.
2.) Onyx
Of the choices for the onyx counter-top, one choice in particular that is special is the Onyx Tanzania. This beautiful and hypnotic counter-top is a great fit around a fireplace or in a kitchen. The colors that compliment this lovely counter-top include orange, pink, gray, and green.
3.) Soapstone
When searching for the perfect counter-top made out of soapstone, look no further than green soapstone. Soapstone creates a natural look to the entire theme of the kitchen. It is virtually maintenance free and can handle anything from hot pans to knives as it is a durable material.
4.) Travertine Counter-tops
Of the travertine variety, the roman vein cut is the finest as counter-tops go. Travertine is a form of limestone that is has been deposited by mineral springs. The fact that this precious stone is brought in from quarries signifies how natural looking this type of counter-top will make the kitchen look.
Of all the products sold at Home Art Tile, counter-tops and backwall kits are some of the most popular items as they are customized to fit each home. Backwall kits are very similar to counter-tops, but they are more useful for the bathroom in areas where the bathtub and shower go.
Home Art Tile offers many specialized designs of backwall kits that include an optional base, complete kits, shower base and wall kits, tub door and backwall kits, as well as tub-to-shower conversion kits. All of the offered backwall kits are easy to install and are absolutely maintenance free with the exception of the weekly cleaning that should be practices in order to keep the bathroom looking pristine.
All of the backwall products that are offered are specialized to fit a different type of person. If one prefers a bath, than the tub-to-shower is the best fit. If one is disabled, than the tub door and backwall kits would be the perfect fit.
Each kit and each counter-top has been designed to appeal to a large portion of the public. The versatility in the designs and in the stone appeal to a large audience who can choose what they want from a large collection. The goal of this company is to offer the best quality products with little to no maintenance after installation.