Best Kitchen Cabinets with Style and Function Buying Guide 2022

The best kitchen cabinets you can choose for the most important room in your home should possess the ultimate function and style you need. Various styles are available, from flat panel and shaker style kitchen cabinets to more traditional options. Your choice will depend on your personal preferences, taste, and trends. However, functionality is the quality that should never be compromised, along with the quality of the kitchen cabinet material. Kitchen trends 2022 put the accent on the cabinetry that presents the marriage of style, function, and quality.
High-end custom cabinetry looks and performs best but kitchen cabinet choice for most people will depend on the budget available to them in 2022. Luckily, top rated kitchen cabinets are available in several price ranges which means they are available to the majority homeowners. Even more importantly, buying the best value cabinets won't break the bank.
We will present you high-end cabinet brands and high-quality cabinet options. These cabinetry options will provide your cooking space with stylish appearance, high functionality, and guaranteed durability in 2022 without breaking the bank.
The following information on kitchen trends 2022 will help you pick the best cabinets from the best manufacturer brands for your kitchen space. It will also help you increase its value, whether you are planning on staying in your home or selling it.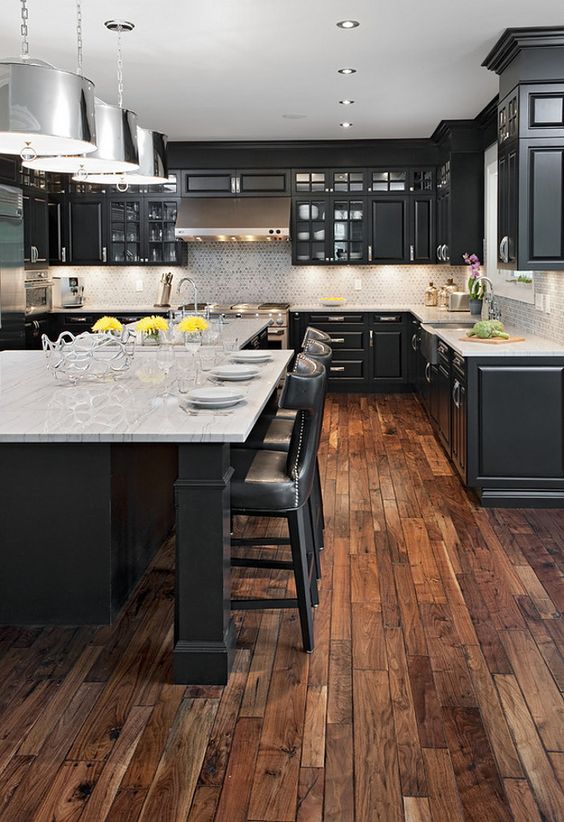 The Best Kitchen Cabinets for the Money
2022 kitchen design puts the kitchen in the heart of the home. The current kitchen cabinet market is filled with different kitchen cabinet options – from high-end custom made cabinetry, semi-custom, and stock kitchen cabinets, to the ready-to-assemble (RTA) option that is the cheapest.
The first option is the best – custom kitchen cabinets made especially for your cooking space, to your specifications, measurements, and style you desire, with high functionality. Most high-end cabinetry brands offer custom selection. Although these are the best cabinetry options for any kitchen in terms of style, quality, and functionality, they are also – most expensive. If you can afford these high-end cabinets, then a good portion of your job is already done. Still, you need to learn about different cabinet materials, finishes, stains, colors, styles, layouts, brands, and decide what option is best for you. These are usually the best quality kitchen storage cabinets because you get to choose both material and style.
On the other hand, if custom kitchen cabinets high price tag gives you a headache or you simply want the best cabinets for the money you have, you should look into stock kitchen cabinets. You can find them by simply visiting your local kitchen cabinet retailer. You can also find top-end kitchen cabinets in this category, too. However, finding the best place to buy kitchen cabinets is not that simple. Different kitchen cabinet retailers offer different kitchen cabinet brands and services. Also, kitchen cabinet cost is not the same everywhere and it depends on the kitchen cabinet material, finish, style, additional accessories, and labor that was put into building them.
Check out our Budget Kitchen Remodel Ideas.
Learning what are the best kitchen cabinets among many stock options available, will save you time and money. Keep reading to find out what are kitchen cabinet trends 2022 and the best kitchen cabinets on the market today.
The Value of Stock or RTA Cabinets
RTA cabinets are otherwise known as stock cabinets and are the most cost-effective kitchen cabinets. If you wonder what RTA means, here's the explanation — it stands for "ready to assemble". This means that RTA kitchen cabinets are pre-built cabinets. Usually, they are not available in many styles, colors, sizes, and designs. Even the best stock cabinet brands have limited options but are affordable and present an easy and simple solution for a kitchen remodel. The best-rated stock kitchen cabinets will be delivered pretty fast to your doorstep — usually in 1 to 2 weeks. However, it may be less convenient to fit RTA or stock cabinets into difficult corners or into custom areas of your kitchen.
Although custom cabinets offer many more options in styles, colors, designs, sizes, and custom options, the cost of custom cabinets is what may be a problem and a reason for choosing RTA cabinets.
Best Kitchen Cabinet Ratings
When looking to remodel your kitchen with high-quality kitchen cabinets, explore the recommended 2021 cabinet design styles. However, make searching for online kitchen cabinet ratings one of the first steps. Quality and durability are the most important. These kitchen cabinet ratings will point out what are the best kitchen cabinets brands currently. Based on this information, you will be able to find out about the most desirable characteristics and you will be able to decide what do you actually need. However, make sure to check construction specifics for each kitchen cabinet line on the manufacturer's website. Kitchen cabinet ratings will give you overall information, but you need to confirm them and get as many details as possible before making a decision.
Who makes the best kitchen cabinets for the money?
Home Art Tile Kitchen & Bath carries the best mid-range kitchen cabinets like  Fabuwood Cabinetry, Forevermark Cabinets, and CNC Cabinets. We also carry the latest kitchen cabinet trends 2022, as well as 2022 kitchen trends. You can check them out on our website or come to our showroom located at 35-10 43rd Street Long Island City, New York 11101 and see them from up close.
Regardless of what online kitchen cabinet ratings recommend, have in mind what are the top characteristics of top rated kitchen cabinetry. With this knowledge, you will be able to keep an independent mind and easily decide what you need. Choosing between luxury kitchen cabinets and mid-range, affordable kitchen cabinets doesn't mean a world of difference. With high-end cabinet brands, you get more custom options while with mid-range kitchen cabinets you get standard quality, great style, and suitable functionality.
Top 10 Cabinet Manufacturers in the USA
The largest cabinet manufacturers in the USA don't just make cabinets but make sure to listen to the homeowners and their families, anticipate their needs, and give them the value they desire for the money they can afford.
According to the ratings of the Woodworking Network, here is the list of the top 10 manufacturers for cabinetry in the USA that create the best American made kitchen cabinets.
MasterBrand Cabinets
American Woodmark Corp.
Masco Corp.
Elkay Wood Products Co.
ACProducts, Inc.
Foremost Groups Inc.
Wood-Mode Inc.
Wellborn Cabinet Inc.
W W Wood Products Inc.
Master WoodCraft Cabinetry LLC
The Best Kitchen Cabinetry on a Budget
Whether you're planning on a big kitchen makeover in 2021 or your kitchen cabinets are simply worn out and outdated, finding the best cabinets on a budget for your project will require a little bit of your time. You should find the most reliable kitchen cabinet retailer with preferably discount or wholesale prices who will give you all the necessary information for the best results.
The best kitchen cabinets on a budget are stock kitchen cabinets. Stock cabinets come in standard dimensions – 12"- 60" width and 30"-36" height. They are usually preassembled in the kitchen cabinet store but sometimes you can find stock kitchen cabinets that will require assembly. With good quality and functionality, stock kitchen cabinets are usually limited in colors and styles. However, you can always additionally paint or stain them. They are also becoming more and more popular because of their quick delivery and various accessory options like full-extension glides furniture feet.
Check out our Kitchen and Bath Remodeling Ideas That Pay Off.
The Best Kitchen Cabinetry Brands in America
Who makes the best kitchen cabinets is not an easy question to answer to and there isn't one definite answer to it. A kitchen cabinet comparison of brands may give the best answer you can rely on when deciding on top cabinet manufacturers and choosing the best cabinets. Looking where to buy affordable kitchen cabinets and how to buy kitchen cabinets to assure you get the most value for the money is also best answered with a kitchen cabinet comparison of brands.
What is the Best Kitchen Cabinetry Brand
It's hard to pick only one cabinet brand and pronounce it the best brand of kitchen cabinets. Obviously, the best kitchen cabinets are those that perfectly suit your needs, have amazing durability, offer ultimate functionality, and feature looks you love and need in your home. Different cabinet brands and lines feature different construction quality and value. When you go shopping for kitchen cabinet design trends 2020, ask what are the top-selling cabinet manufacturers in the showroom you're visiting. Inspect all cabinets in detail and pay special attention to the shelf supports and adjustability, drawer mechanism, material strength, finish imperviousness, and make sure cabinet doors have a quality overlay. Also, ask for information on how do they rank and compare for value considering their quality and price point.
Here at Home Art Tile Kitchen & Bath, our customers love Fabuwood Cabinetry, CNC Cabinets, and Forevermark Cabinets the most.
Best cabinet brands and most of the top kitchen cabinets manufacturers offer similar door style options, materials, and finishes because they listen to what people want and always look to meet their needs. New kitchen trends 2020 require from modern cabinetry brands to create and design agile, simple, and tidy cabinets for the kitchen without making them too complicated or heavy for the cooking space and the rest of the house.
Check out our Traditional Kitchen Cabinets Collection.
Kitchen cabinet color trends 2021 bring strong contrasts between light and dark, wood look, and shiny, sleek finishes.
However, while looking for the perfect color and style, we recommend you to especially pay attention to the material cabinets are made of. Make sure to pick 2022 cabinets made of wood that will allow your kitchen to last for a long time. You can change the color, stain, and even the doors on your cabinets but once your cabinets stop performing the way you need them to, you will need to replace them – again. This is why you should get home cabinetry without breaking the bank from the best brands.
When you decide on a kitchen renovation or a replacement of your kitchen cabinets, you will most probably start looking for the best kitchen cabinetry brands online, 2021 kitchen cabinet trends, and start searching for top cabinet manufacturers. This is the best place to start your search as you can learn what you should look for in cabinetry that will fulfill your requirements for functionality, style, and quality. On top of that, look into kitchen trends 2022 USA. Hidden movable constructs, sliding doors, and other similar features bring utilitarian and practical functionalism to the 2022 cabinet design.
Fabuwood and Forevermark are some of the best cabinet brands that will provide the quality, functionality, style, and value your home needs. These are also considered luxury kitchen cabinet brands that are also affordable.
Best cabinet brands build cabinets with solid wood, and apply the full overlay, butt door, raised square panel, natural finishes, concealed adjustable hinges, undermount, full extension with soft closing drawer glide feature, dovetail construction, wood corner brackets, and other great features. They make sure to update and innovate their collections on a regular basis. This is why you will find kitchen cabinet ideas 2021 already incorporated into their cabinets models.
If you live in New York, in Queens, Manhattan, or Brooklyn check out our high-quality and low-priced kitchen cabinets.
Check out our Modern Kitchen Cabinets selection.
Best Rated Cabinets — Quality for Life
Best-rated cabinets consist mainly of wood, plywood, and other sturdy materials. They have well-built drawers, dovetail joinery, a soft-close feature that stops drawers from slamming shut, quality door hinges, and plywood shelves.
Best rated cabinets will endure humidity as well as temperatures ranging from –5 to 120 degrees Fahrenheit. Kitchen mainstays like lemon, fruit juices, coffee, ketchup, and vinegar won't cause discoloration, stains, or any other damage. When you look for the best cabinets for your kitchen, make sure to find certified kitchen cabinet manufacturers for the best results.
Check out our White Shaker Cabinets.
Today's best cabinets have various user-friendly options. Highly convenient full extension roll-out shelves will enable you to easily reach for items you stored deep in the back of a shelf. Base cabinets' large drawers that enable you to store pans and pots, as well as pull-out recycling bins and built-in open storage systems like wine racks bring additional value to your kitchen space, makes it practical, functional, and beautiful looking. When looking into kitchen cabinet trends 2021, make sure to also consider these characteristics.
Which Material is Best for Cabinetry?
When choosing kitchen cabinets for your kitchen remodel project, the most important part of the process is choosing the right material. Functionality and style are important, but the quality of the material that cabinets are made of will determine their longevity and durability, as well as performance. When you go shopping for cabinets, look at all options, and don't forget to ask designers at the showroom which material is best for home cabinetry. You will get a lot of valuable information about different types of wood and other material, as well as about the best maintenance practice.
The best material for kitchen cabinetry is solid wood. However, solid wood contracts and expands, so we recommend choosing cabinets made of engineered wood. The best wood for kitchen wall cabinets is engineered wood because it's one of the most reliable materials. Also, it is less expensive than solid wood. You will also want to look into cabinets that include materials like MDF (medium-density fiberboard), particleboard with melamine and optional stainless steel, and plywood.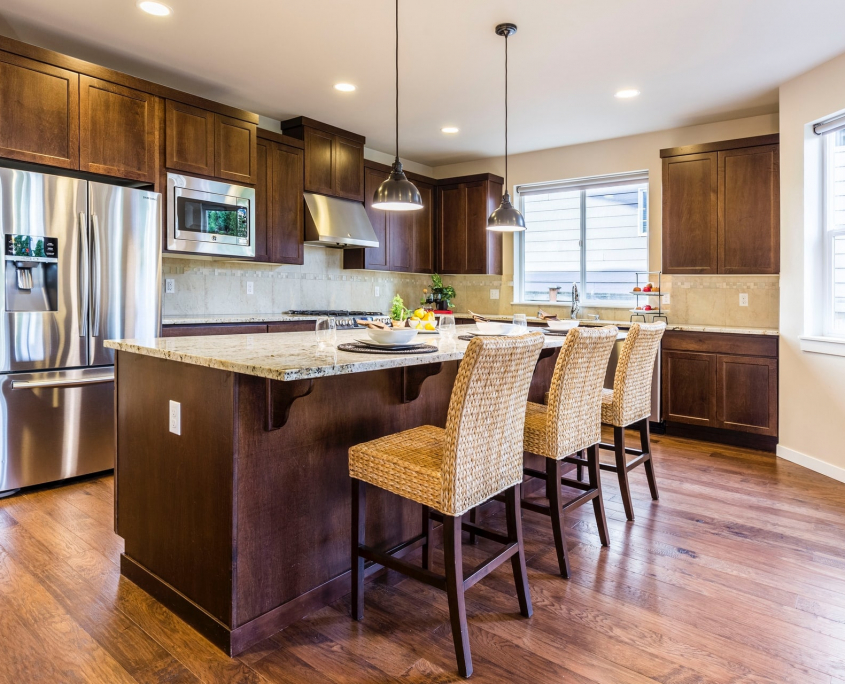 Kitchen cabinet doors are usually made from solid hardwood types of wood. The best wood for cabinet doors is various resistant wood options that won't scratch or dent. Maple, hickory, and beech are more durable and perform much better than some softer types of wood like mahogany, walnut, or alder. Natural wood kitchen cabinets will always look beautiful and stand up to daily use in high traffic kitchens.
Framed vs Frameless Cabinets
When you choose the best material for your kitchen cabinets, it's time to choose the type of cabinets. There are two most distinctive options — framed and frameless cabinets.
Both have advantages and offer various styles and design options. To help you decide which best suits your project, here a few details to help you differentiate between framed and frameless cabinets. If you're not sure yet what to choose between face frame vs frameless cabinets, it's about time you learn more about both options.
What is a frameless cabinet?
Frameless kitchen cabinets feature the highly desirable and pretty sought-after sleek look of cabinets that resemble those most popular in Europe. So we can freely say that these are Euro-style frameless cabinets. Frameless cabinets usually offer fewer sizes and modifications options and require more fillers to assure enough clearance for drawer and door openings.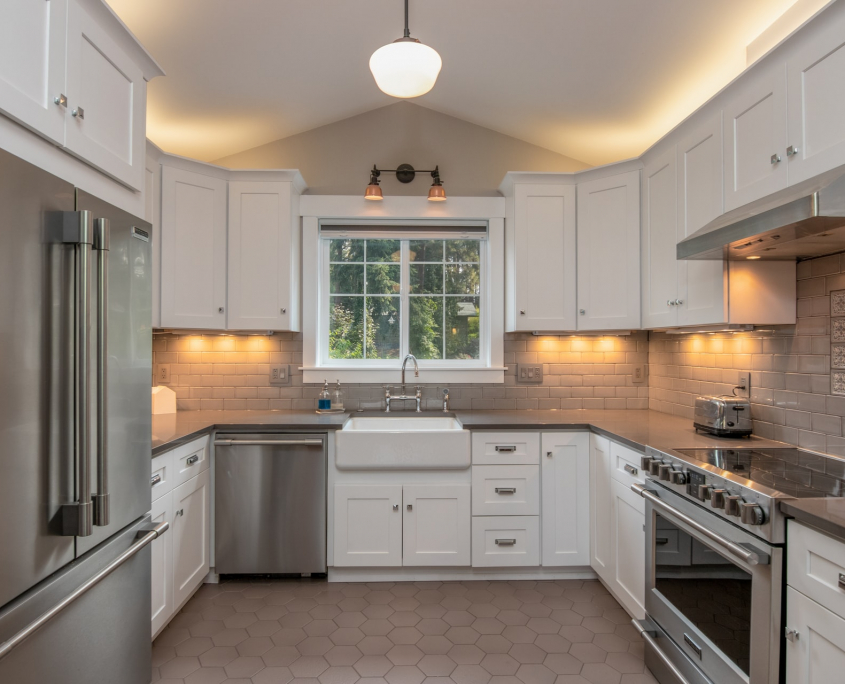 What is a standard frameless cabinet?
A standard frameless cabinet will provide you with a larger than typical drawer box capacity and full access to the cabinet interior.
What is a framed cabinet?
The main difference between framed and frameless cabinets is that framed cabinets are typical for US households. Framed cabinets are more flexible, allow more adjustments, and are easier to install. They also offer more size and modification options. Also, if you need to install them on site, be aware that face frame cabinets will require separate skin panels.
Kitchen Cabinets Paint Colors — Inspiration for Your Kitchen
Whether you've decided on high-end custom kitchen cabinets or you managed to find the cheapest place to buy good quality kitchen cabinets with good functional characteristics, you can always additionally customize them to make them look just as you want. Both high-end cabinets and cheaper options can help you strike the right balance between functionality, structural support, and style.
Painting cabinets for the kitchen is a popular trend that many homeowners consider these days. Your kitchen doesn't have to be white or wood-stained. There are many kitchen cabinet colors to choose from.
Explore our Gray Kitchen Cabinets Collection.
What is the Most Popular Color for Kitchen Cabinets?
One of the latest kitchen cabinet trends is the marine blue color for the popular nautical look.
Some of the most desirable kitchen looks are those with grey kitchen cabinets.
Black and blue mix together to bring a rich dark grey hue to one of the best looks.
Natural textures never go out of style. You can try to bring out this look in your cabinets using kitchen cabinet paint or you can simply choose wood stain on your kitchen cabinets.
Espresso shade gives these cabinets an elegant look.
Some of the best-looking cabinets are those painted in black, dramatic color, for an elegant and expensive appearance.
The best cabinetry will bring a natural feel to your kitchen. There is no better color than green in different shades to accomplish this effect.
Although it's expected of white kitchen cabinets to decline in popularity, they still hold well. Some of the best kitchen trends 2020 are those that fill your cooking space with an ethereal, soft, white glow.
You are free to decide on your kitchen cabinet color and create an environment that will surround you every day. However, although painting kitchen cabinets is an attractive solution, it is not for all.
People who live in areas with high-temperature differences – hot, humid summer weather, and dry, cold winters, should be careful when deciding whether to paint their kitchen cabinets. Painted kitchen cabinets will perform and look well but there is a possibility for the paint to crack or chip.
For example, humidity in New York can be as low as 20% during the winter. Summer brings high temperatures and humidity of over 90% or higher. These extreme weather conditions may make affect your kitchen cabinetry, especially the paint on top of it.
If you still think that the best kitchen cabinets option for you is to paint them, make sure to hire a professional to do it.
Reviews on the Best Kitchen Cabinetry for 2020
Since kitchen cabinets are very important in any kitchen renovation and hold about 30 to 40 percent of the entire kitchen renovation budget, homeowners are very careful when looking for the best option. Also, people are always on the lookout for the best cabinetry, mostly online.
Best kitchen storage cabinets reviews on kitchen cabinet style, functionality, and quality mainly report about the construction quality and overall value considering cabinets' price.
During 2019, people were mostly interested in finding the best cabinetry for the money they could afford. For example, some of the most expensive, high-end cabinet lines received lower marks on value. This happened because the competition among kitchen cabinet manufacturers is pretty high. Many different cabinet brands and manufacturers offer the same value at somewhat lower prices.
Regarding the style, the most popular and best cabinet look in 2020, according to many reviews, were white and grey kitchen cabinets. Shaker-style cabinet door was one of the most popular designs for both homeowners and designers.
Best cabinets and most popular cabinet door styles for 2021 are expected to gravitate more to simple, clean lines in flat panel cabinet doors and towards strong, powerful kitchen cabinet colors like blue.
How to Pick the Best Cabinetry in 2022
If you're planning on remodeling your kitchen or replacing your kitchen cabinets in 2021, you certainly must be on the lookout for the best performance cabinets and kitchen trends in 2022. How to pick cabinets, who makes the best cabinetry, and what kitchen cabinet trends to avoid are probably some of the questions on your list that wait to be answered.
How Do I Choose Cabinets?
Here are some points that will answer your question on how to choose kitchen cabinets easier and decide on the best value for your home:
Choose kitchen cabinet color depending on the amount of natural light in your kitchen. Maple, oak, and other light-colored wood cabinets are perfect for kitchen spaces with less natural light. Light-wood cabinets are best for these kitchens as they will make them appear more spacious and brighter. If your kitchen has enough natural light for most of the day, you are free to choose among many dark color kitchen cabinet colors. Best cabinets for light and bright spaces will bring an elegant and dramatic look with cherry and mahogany.
Pick high-quality boxes for your cabinets because the box is the heart of your kitchen cabinet. This is where you should invest most of your money. Fronts and color you can change, but quality cabinet boxes can carry your kitchen a lifetime. Plywood with high-quality quality joints and corner braces, as well as drawer boxes with dovetail joints are some of the most important things to look for in the best cabinets for your cooking space.
Pick a kitchen cabinet door style that you like. Traditional, contemporary, or transitional? All of these styles are timeless and the most important thing is that you pick the style that you enjoy the most. Choose a trendy option only if you personally like it and if you are certain that you will like it even when the buzz passes. There is no right or wrong when it comes to the looks of the best cabinets. What you like and enjoy is always right.
Personalize your kitchen cabinets with the right finish and hardware. The most reliable manufacturers usually offer stained, glazed, antiqued, painted, and distressed finishes for wood cabinets. Choose the right finish depending on the look you want to achieve. For a modern kitchen cabinet look, the painted finish is a good choice, while traditionalists may want to go for an antiqued finish. The look of knobs and pulls will also impact the overall design of your kitchen. Kitchen cabinet hardware trends 2020 will make cabinets look even better with the addition of high-class hardware.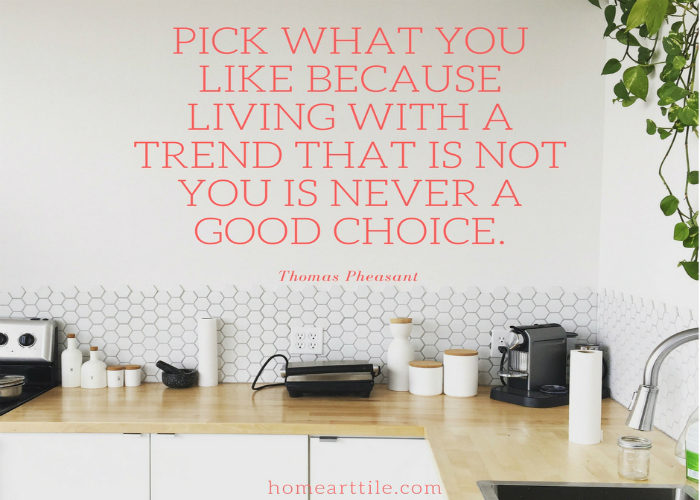 What Should I look for when Buying Kitchen Cabinets?
If you live in your forever home, or even if you're planning to sell, look for good quality kitchen cabinets when buying. In case you're planning to sell, high-quality cabinets will boost the value of your home and make the sale even more successful. In the event you live in your forever home, surely you wish your dream kitchen to come true. Make sure to find cabinets with top-quality construction, solid frames, door and drawer fronts, closed backs, and reinforced corners.
What is the Best Time of Year to Buy Kitchen Cabinets?
According to our sales and kitchen design team, the best time of year to buy kitchen cabinets is late fall and winter. Kitchen cabinet showrooms don't experience high traffic at these times as most of the homeowners have completed their remodeling projects during the spring and summer months. Due to these facts, it is most likely that your kitchen cabinets will be delivered in a shorter period of time than usual, as waiting lists are not long.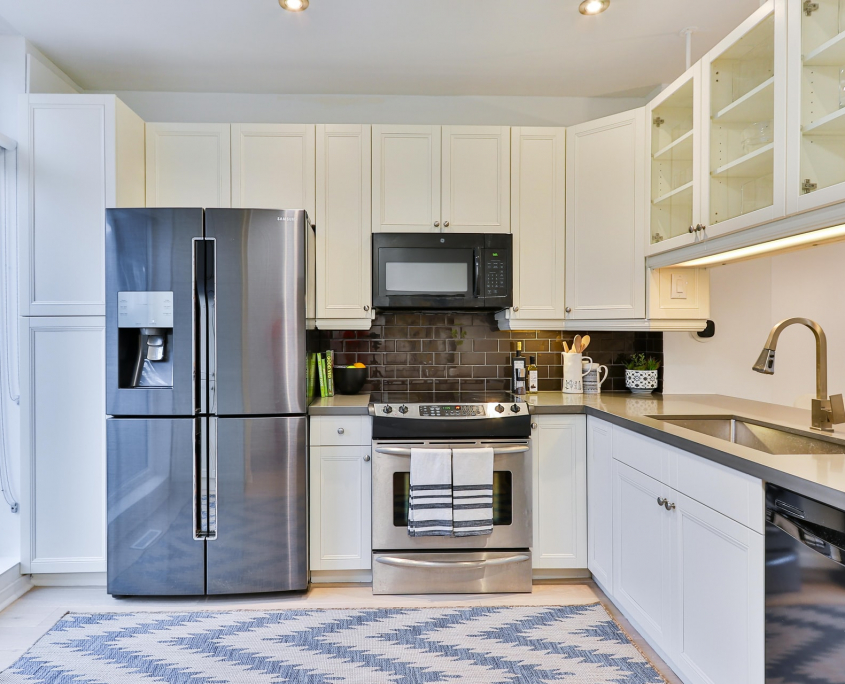 How Much Do Cabinets Cost for a 10×10 Kitchen?
A typical 10X10 kitchen can cost anywhere from $2,000 to $13,000, sometimes even up to $24,000. Average kitchen cabinets range from $100 to $1,200 per linear foot.
What are 2022 Kitchen Trends?
If you wonder what kind of kitchen cabinets are in style now, here is the answer. Wall-to-wall cabinetry without open shelving or no-uppers trend will play a major role in kitchen design trends 2022. Minimalist, clean-lined cabinets with minimal hardware, warm color palettes, and cabinets made of reclaimed wood will be huge kitchen trends for 2022.
Another exciting trend for the kitchen industry is the modernization of the pricing and ordering processes with the use of cabinet estimating software like KitchenDEV. This should speed up and simplify the shopping experience and make it stress-free for both the dealer and customers.
Where to Buy the Best Cabinets for Your NY Home at Low Price
While looking for the best cabinetry for your kitchen remodel, you'll learn a lot about kitchen cabinets brands and manufacturers. To do that, you can try finding the options you need via the internet.
Have you already tried looking for "kitchen cabinet dealers near me", "cabinet showroom near me", or "cabinet design near me"?
Try these, and depending on your location, you will find the nearest kitchen cabinet showroom. You will get an opportunity to meet your local kitchen cabinet retailers, ask them for all the information necessary to bring a thoughtful decision and for advice.
If you're in the Manhattan, Brooklyn, or Queens area, you will find us.
Home Art Tile Kitchen and Bath is in business for many years and kitchen cabinets are our true passion. When you visit us at our Queens kitchen cabinet outlet, we will not only show you all the cabinet options and top-rated cabinets available. We will also provide you with a cabinet comparison of brands, compare cabinet manufacturers, give you examples from our rich sales experience, and show you top kitchen trends.
Our kitchen designers will listen to what are you looking for in the cabinets. They will also remind you of some cabinet characteristics and of top-rated cabinets features and qualities that homeowners usually forget about when looking where to buy affordable kitchen cabinets. We will also be able to help you if you're looking for kitchen countertops to go with your new cabinets — Caesarstone Countertops and MSI Countertops come highly recommended.
Whether you're looking for white shaker cabinets, gray kitchen cabinets, or a special style like traditional kitchen cabinets, we will help you find those cabs you're looking for. Our rich selections of the most trusted brands like Fabuwood Cabinets, CNC Cabinets, and Forevermark Cabinets offer a wide specter of options for your dream kitchen.
Visit us — the best place to buy kitchen cabinets –and see for yourself that we have the best cabinetry in Queens, Manhattan, and Brooklyn, with the absolute lowest price tag when choosing best cabinets for your kitchen or the best mid grade kitchen cabinets. We will also help you organize kitchen cabinets and also offer the most functional solution for your remodeling project. You can fill out the form and contact us today.
https://homearttile.com/wp-content/uploads/2019/02/apartment-cabinet-contemporary-1027508-845x321-min.jpg
321
845
sandra
https://homearttile.com/wp-content/uploads/2017/11/logo-102214.jpg
sandra
2022-01-04 11:40:48
2022-05-19 21:28:17
Best Kitchen Cabinets with Style and Function Buying Guide 2022