Kitchen Cabinet Colors for a Transforming & Exciting New Look

Kitchen cabinet colors are probably the first thing that comes to mind when thinking about kitchen remodel. Changing the color of your cabinets may even be the most exciting part of your project. "How to change the color of my kitchen cabinets" is one of the questions we often hear in our showroom. And, there is no simple answer to that question or one-color-fits-all solution. Deciding what's the best color for kitchen cabinets is an important call, after all. Finding the right kitchen cabinet colors will instantly upgrade and refresh the look of your cooking space but it can also present a choice that you will be happy to live with and enjoy for years to come.
Regardless of the style of your home and current look of your kitchen, these kitchen cabinet colors will inspire your remodel project and encourage you to pick the right look for your kitchen that you will truly enjoy.
Kitchen Cabinet Colors: Trending Choices for Every Kitchen
Wood, all-white, and mysteriously black are classic and somewhat safe color choices for anyone looking to remodel their kitchen. Various hues of these colors are available on different cabinet styles, from modern flat-panel cabinet door style to shaker and decoratively ornamented traditional style cabinets.
However, painted kitchen cabinets are becoming increasingly popular. They are the perfect way to spice up your kitchen regardless of its style and introduce a new and fresh look. Do you want to go bold and striking or would you prefer your cabinets to be more neutral and toned down? Are you ready to go for a trendy option or would you like to stick to a timeless, classic hue?
Kitchen cabinet color ideas are endless and you can spend a lot of time just browsing, looking for the perfect choice.
Some new kitchen cabinet colors like the ocean and navy blue, soft, dove white, sunny yellow, farmhouse and sage green, and charcoal black are currently very popular.
Would you like to see how do they look?
Then keep reading and discover the best kitchen cabinet colors and their combinations for the ultimately gorgeous look of your kitchen.
Neutral Gray: Choosing the Right Tone for Your Kitchen
From dusty white, and tones of silver to charcoal, there are so many hues of gray that it can be tough to choose the right color for your kitchen. Instead of choosing one color for your entire kitchen, you can choose a light dusty gray for your walls while you can pick a darker color for the cabinets. A light gray will become the backdrop for a variety of other colors in the kitchen.
When choosing the color in your kitchen, you'll need to consider the light that enters the space. In cooler climates like those in Manhattan, Brooklyn or Queens, you'll want to be careful when choosing cooler tones of gray. A kitchen with cool undertones will make the entire space feel too cold. Make sure you are pairing cool grays with warmer hues in the accessories.
Gray Paired with a Vibrant Color
A gray with blue undertones can look great paired with greens and browns. This could be a good choice of gray if your kitchen floor is dark brown. Vibrant greens or aqua would complement the gray beautifully in the kitchen. It could be brought into the space using bowls, artfully arranged limes, and artwork.
You might want a light gray that is almost white if you have pops of bright red or orange in the kitchen. Fire engine red accessories will fairly explode against a backdrop of gray in the space. Gray cabinets can be used as a backdrop to colorful accessories, especially in a cabinet with open shelving.
While a vibrant color can make a kitchen space really pop, using a contrast of black against whites and grays can be just as beautiful. It's a restrained and elegant palette that is great in a modern kitchen with stainless or black appliances.
Gray Cabinets as the Essence of High-End Style
One of the biggest changes you can make to the kitchen is changing the kitchen cabinets color to a gray hue. The color you choose will depend on the color of the wall as well as the color in the rest of the space. Gray cabinets bring a sophistication to the space that can be lacking in most homes.
Cabinets can be painted with a soft gray stain to allow the grain of the wood to peek through, or they can be painted gray with regular paint. Whether you choose to coordinate with gray, white or colored walls will depend on how the gray cabinets look in a kitchen.
When choosing a gray palette for the kitchen, you'll need to bring the paint into the space to see how it looks with the amount of light in a kitchen. That can influence the look and feel of the gray cabinets along with the rest of the color palette. Kitchen cabinets can be given an entire facelift with a change of the kitchen cabinets color. It's a great way to add sophistication to the kitchen without doing a complete renovation.
Uplifting Yellow for a Cheerful Effect
Usually seen in country kitchen decor, yellow cabinet color is great for kitchens that starve for more light and brightness. Also, if you need a pop of warm color to break up the neutral or dark interior, yellow will surely enliven and energize the space. Whether you prefer lemon yellow, saffron, or muted cream-toned cabinets, be sure that all yellow shades have an invigorating vibe that will surely brighten up or soften down your kitchen decor, evoking the feeling of coziness.
A Refreshing Combination of Yellow and White
Citron yellow works beautifully in contemporary designed kitchens. Satin nickel pulls and glass front of the fridge provide an edge while leathered black granite countertops give depth and contrast white subway backsplash tiles. Combined with upper white shaker cabinets, citron-yellow tone of the base cabinets offers a playful and cheerful pop of color.
Soothing Pale Yellow
A pale yellow island rhymes wonderfully with blue leather seats next to it. The island colored in a soft, pale tone of yellow also wonderfully agrees with perimeter white shaker cabinets and provides a subtle pop of color. Taupe mosaic wall tiles look like they belong in this decor.
Yellow and Black for a Powerful Contrast
If you're not afraid to go bold, choose bright yellow for your kitchen cabinets and add touches of black color to create a captivating, powerful contrast. Maple gold shade of yellow on kitchen cabinets and black soapstone countertops create an uplifting interior that will cheer up anyone who enters the room.
Luscious Greens for All Cabinet Styles
Green color gives a fresh and inviting look to any kitchen, easily. Available in various shades and tones, from mint and hunter green to sage and pastel green, this color and its many hues will fit well in both modern, contemporary decors and more classic and traditional ones. Evoking new life, restoration, and unstoppable growth, green speaks "new", "fresh", and "vibrant". Pick one from its many tones to make your kitchen one of the liveliest rooms in your home.
Hunter Green for a Sense of Class
This shade of green evokes a sense of tranquility and composure. However, it can also bring a sense of lusciousness and classy touch when combined with rich hues like bronze. Hunter green plank cabinets with polished marble countertop, bronze lanterns, and shiplap wall evoke a feeling of calmness but also add a touch of class to the room.
Melon Green Cabinets for an Exciting Look
Charming melon green kitchen cabinets paired with a honeydew green island and white marble countertop radiate joy and a sense of balance at the same time. Mullion glass cabinet doors and brass pulls on stacked shaker cabinets provide a subtle touch of luxury and refined sophistication.
Vivid Green for Fun and Playful Look
Vivid green kitchen cabinets adorned with brass knobs and pulls, paired with white subway tile backsplash and white marble countertops create a dynamic, playful, and fun look. The floor covered with wood adds a sense of warmth and easies the sharpness of the cabinets, balancing the whole space. Stainless steel appliances add a touch of cutting edge for a contemporary style kitchen appearance.
Beautiful Blue Kitchen Cabinet Colors
If you're looking for kitchen cabinet color ideas that will empower you to choose a hue that will be surely noticed, look into blue kitchen cabinets. This is a very popular color and although it may seem like a bolder choice, it's actually a classic in the kitchens across the U.S. Currently most popular hue is marine blue, but lately other tones of blue start to prevail over it. Whether you prefer cobalt blue or light blue shade for your kitchen, many options are available for you to choose from.
Combine Blue with White for a Dreamy and Contemporary Look
Two-toned kitchens are all the rage for quite some time now. This is a versatile, uplifting and fresh design trend that works for many homes and for all kitchen styles. In this design, lower blue cabinets are paired with neutral gray countertops and white upper cabinets.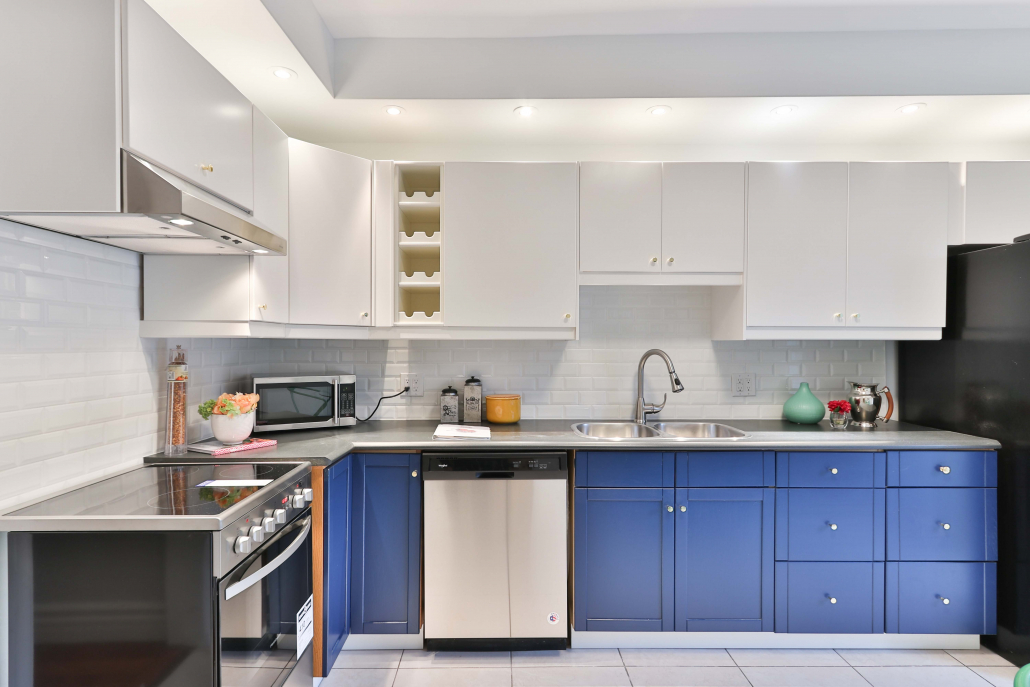 Image by Unsplash
All Blue Cabinets for Relaxing Look
Kitchen with both upper and lower cabinets is a daring choice perfect for those who desire a striking look of their kitchen. They will add zing to all kitchens, both small and large, contemporary and traditional. The color itself is very versatile and provides almost a historic look. At the same time, blue is also a color that invokes relaxation and a homey, cozy feel.
In this kitchen, white and gray quartzite countertop and white glazed tile backsplash open up the space between upper and lower blue cabinets. Brass pulls and knobs add a delicate touch of luxury.
Add Blue to Your Island for a Perfect Pop of Color
In all-white or brown wood cabinet kitchens, a pop of color can create a miracle and truly transform the space, making it more dynamic and interesting. Blue is a very popular color and adding it to the kitchen island is one of the innovative ways to provide contrast and interest in a kitchen.
In this, almost all-white kitchen, the island adds to the cozy, homey feel with its bookcase and deep blue color. White quartz countertop ties the island with the rest of the kitchen. Nickel and glass lanterns provide a classic finish for this authentic kitchen look.
How to Change Kitchen Cabinet Color
But, how to pick the best color for kitchen cabinets and how to change kitchen cabinet color in our kitchen? Seeing all the different hues and shades may be overwhelming at first. So, how do you choose?
Whether you'll be remodeling your kitchen space with new cabinets you recently bought or you wish to repaint or reface existing cabinets, color selection is the key. Pinpointing the best color and the perfect hue for your one-of-a-kind kitchen, means you need to take a look at the rest of your kitchen decor and decide what do you need.
You can go for classic and safe choices like kitchen color schemes with wood cabinets, kitchen colors with brown cabinets, kitchen colors with dark cabinets, or kitchen colors with white cabinets. However, many other wonderful colors are also available to add them to your home.
Whatever kitchen cabinet color you choose, we recommend you to pick a high-quality color and hire professionals to do this job for you for the best and long-lasting results.
Tips on How to Change the Color of Your Kitchen Cabinets
Buy high-quality paint and hire a professional painter.
Choose a contrasting color to add interest to the space.
Pick a color according to the style of your kitchen. Classic style demands classic colors. Modern design allows you to experiment with bold colors.
Consider two tone or multi color kitchen cabinets and add two or more colors to your cabinets for a dynamic look.
Review the size of your cabinets and then decide on the color. Use light colors in small kitchens and dark colors in well-lit kitchens.
If you want to resell and up the value of your home, choose neutral colors.
Keep in mind that high-quality cabinets will receive the paint better than lower quality cabinets. The paint will stick better and last longer on well-built cabinets.
Stop By Home Art Tile Kitchen & Bath to Find a Plethora of Kitchen Cabinet Colors and Styles
If you're considering or planning to remodel your kitchen, stop by our kitchen cabinet showroom located at 35-10 43rd Street, Long Island City, New York 11101. We're a perfect choice for anyone living in Manhattan, Queens, or Brooklyn. Our cabinet showroom is well-equipped with only the best quality kitchen cabinets that will endure high traffic and will last for years to come.
Besides classic kitchen cabinet colors choices, we offer you a chance to customize and choose the look you always dreamed of for your kitchen. You can take a look at our Kitchen Cabinets selection, along with Fabuwood Cabinets, CNC Cabinets, Forevermark Cabinets, and consider hot trends like Top 20 Hot Kitchen Trends, Best Kitchen Cabinets Buying Guide, White Shaker Cabinets and Gray Kitchen Cabinets. See how it is possible to have high-quality and at the same time well-priced kitchen cabinets just in time for your remodel. Contact us today.
https://homearttile.com/wp-content/uploads/2019/09/Kitchen-Cabinet-Colors.png
900
1000
homeart
https://homearttile.com/wp-content/uploads/2017/11/logo-102214.jpg
homeart
2019-09-16 13:20:54
2023-07-15 21:40:06
Kitchen Cabinet Colors for a Transforming & Exciting New Look