Top 20 Hot Kitchen Trends 2019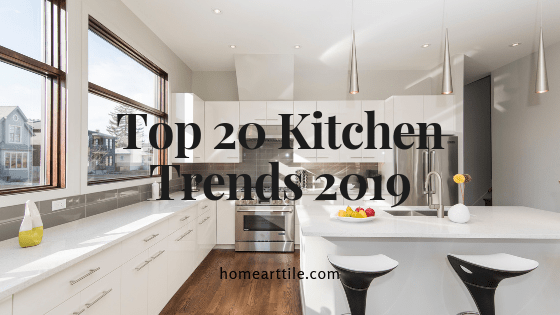 Kitchen Trends 2019 bring us some new styles that will dominate kitchens but also many time-tested finishes and hand-selected, personalized decorative options that will be all the rage in 2019. Functionality becomes more and more important. This is why design experts recommend introducing more storage space and a wealth of smart kitchen solutions that will save your time and energy.
If you're planning to remodel your kitchen in 2019, these top 20 hot kitchen trends are everything you need for guidance and the best advice on how to make your cooking and entertaining space stylish, beautiful, and highly functional.
What materials to invest in? Should I choose granite or quartz for my countertops? Open shelving or upper cabinets? White, black, something in between, or a combination?
Stop asking around and get all the information you need to make your kitchen gorgeous in 2019, whether you're doing a complete makeover or just a quick update.
We have all the answers you need.
2019 Kitchen Cabinet Trends
Kitchen cabinets often present the most important and the most expensive item when remodeling a kitchen. Certainly, you won't change cabinets every other year. You will try to find the perfect solution that will work for you and your family for many years to come.
Kitchen cabinet trends in 2019 bring truly timeless solutions. If you need more storage but don't want your kitchen to look too crowded and outdated — storage walls are a popular trend that will increase the functionality while keeping your kitchen looking classy.
If you're looking to find out what kitchen cabinet color trends are going to be the most popular, we also have investigated and have an answer for you.
These 7 kitchen cabinet trends 2019 that will last are definitely worth considering.
Storage Walls
We always need more storage space in our kitchens but we don't want to make our favorite room a crowded and unseemly place. Open, airy, and stylish kitchens that leave enough space for cooking and entertaining but that can also store everything you need to make your parties and cooking perfect are possible.
Make your kitchen your dream space by removing upper cabinets and introducing storage walls. A floor-to-ceiling storage space, lower cabinets, and a large island make a new definition of the perfect kitchen in 2019. Storage walls will often combine shelves of industrial strength, various roll-out trays, drawers, and durable, strong doors. Storage walls are one of the kitchen cabinets trends in 2019 that works great in both big and small kitchens as they can be easily accommodated to both.
In the design below, you can see a closed storage wall in an off-white color that is both highly practical and aesthetically pleasing. White closed shaker style cabinet door design with gold handles contracts a wood desk counter and wood kitchen counters.
A floor to ceiling blue-gray pantry wall cabinets makes this eclectic kitchen highly practical. They perfectly match blue-gray lower base cabinets topped with honed Calacatta Caldia countertops with black Aga Range. The kitchen feels light and spacious, in spite of and thanks to the storage wall. Floating shelves mounted on a combination of white and green subway tile backsplash additionally open up the room and give more light storage possibilities.
See Forevermark Cabinets wall options.
Floor to ceiling off-white built-in cabinets offer a lot of storage space and make good, practical use of this trendy kitchen design. Light fixtures featuring brass and glass material, black kitchen island topped with white quartz counters, and all-white storage wall cabinets make this kitchen highly practical, very modern, and beautiful.
Explore CNC Cabinets options.
Gold and Black
Some say that white kitchen cabinets are over and that they are one of the kitchen cabinet color trends to avoid in 2019. But we are not so sure about that, as we know that what you love will work for you regardless of the current trends.
However, if you love black elegance even in the kitchen, you can achieve that timeless appeal easily. Black kitchen cabinets combined with gold and copper hardware accents, as well as with appliances in similar tones will make an unforgettable gesture in any kitchen. This is is one of the kitchen trends 2019 that will last.
Hardware in gold will powerfully pop on simple, dark-colored cabinets. A combination of black and dark gray with gold brings an industrial vibe that is also surprisingly elegant.
Natural Wood Look
One of the ever-popular kitchen cabinet trends is cabinetry that features natural, wood finishes. Dark or light, with more or less pattern, wood is one of the kitchen trends that will last regardless of the current vogue. Kitchen cabinet color trends 2019 bring touches of the natural wood charm in small doses in traditional, classic, and industrial contemporary kitchen interiors alike.
All-wood cabinetry works amazingly well in modern kitchens. Quartz countertops, custom contemporary lighting, and details like sloped ceiling can make any kitchen one-of-a-kind.
Look into Traditional Kitchen Cabinets that feature abundant wood look.
Dramatic Appearance
Do you want to achieve a striking effect in your new kitchen? Add unexpected, extraordinary elements to your kitchen such as unusual hues and finishes, striking lighting fixtures, and ornamental decorative details to make your home unique.
Whether you decide to go white or dark, you can add some fabulous details to achieve a more rich, eye-catching, memorable, and outstanding results.
Everything is in details. Take a look at how this dark gray velvet curtain adds drama to a gorgeous gray and black dining room. Gold, marble, brass, glass, gray velvet, and black accents make this space elegant, classy, and truly unforgettable.
If you love contrasts, you will love this kitchen design by Haven Design and Construction. Statement lighting fixtures, gold accents, along with lots of natural light, make everything in this gorgeous kitchen pop!
Matte Finishes
Do you find kitchen cabinets with matte finish easier to clean? Kitchen design styles that include matte finish bring a slick, attractive contemporary allure that is so easy to keep clean and delightful. The matte finish is also not going out of style any time soon.
Walnut matte stained plank island and matte-finished white shaker cabinets create a beautiful mix with white marble countertops, a farmhouse sink, polished nickel faucet kit, and white backless channel-tufted barstools in this kitchen. Stainless steel oven range and three pendant light globes bring subtle pops of shine to this beautiful kitchen.
Explore Gray Kitchen Cabinets in a variety of finishes.
Two-Tone Kitchen Cabinets
Two-tone kitchen cabinets were big in 2018 and will continue to rule kitchens in 2019. This is one of the current kitchen trends that is not leaving anywhere anytime soon. Whether you decide to use complementary tones or two contrasting colors to surprise the eye, you can easily create an instant, fresh, modern look in your new kitchen.
This charming kitchen combines kitchen drawers in white color contrasted with espresso spice stained cabinets. Brass pulls, white and gray marble countertop, white floating shelves, white glass, and oil rubbed bronze semi-flush mount create an enchanting, timeless appearance.
You can see an example of a two-tone kitchen cabinet trend 2019 in this transitional kitchen, too. Gray shaker style cabinets adorned with brass hardware beautifully complement and accent white flat cabinets. Gray and white marble slab backsplash, stainless sink with a polished nickel gooseneck faucet, white marble countertop, vintage architect's stools, wood herringbone floor, and recessed lighting all work together to create a beautiful, seamless flow in this serene kitchen.
Explore White Shaker Cabinets perfect for designing two-tone kitchens.
High Gloss Cabinets
Do you love it when everything around you is shiny and festive? You can easily achieve this immaculate look with kitchen cabinets featuring a high gloss finish. They look slick and make you feel great, providing you with highly sophisticated and modern looking kitchen space.
Go white and glossy for a luxurious, bright, and happy feel! Glossy white kitchen cabinets that feature modern flat door style easily illuminate the whole kitchen.
2019 Kitchen Backsplash Trends
Tile design can significantly impact the overall look of any kitchen. Whether you decide to include striking and bold tile design for your kitchen backsplash or go neutral, these 2019 kitchen backsplash trends will refresh and update the look of the most important room in your home.
Check out our kitchen backsplash ideas for white cabinets guide.
Whether you're looking to remodel your kitchen from scratch or you're searching for a simple refresh inspiration, consider these kitchen backsplash trends in 2019.
So, what is the trend for backsplash in 2019?
Colorful Grout
Black or white grout? Stop limiting your options and don't settle with whatever is the safest option. Be bold when remodeling your kitchen, go for the unexpected and select a surprising grout color for your backsplash. Use grout color to balance the room or to simply add a graphic kick to the interior.
Do you like backsplash mosaics? White penny tiles are very popular. When accented with gold grout and combined with gold feather pattern tiles, they create a work of art on your kitchen wall.
Backsplash Shelves
As we already mentioned, functionality will be one of the most important kitchen trends in 2019. Introducing fewer traditional upper kitchen cabinets makes statement backsplashes pop. Besides mosaics and subway style, stone backsplash designs with shelves will be on the rise as one of the newest kitchen trends 2019.
In the backsplash design below, white floating shelves made of marble-like quartz stone come in L-shape. They are placed in the corner of a kitchen, mounted on a quartz kitchen backsplash wall. To create a truly stylish corner, display decorative containers, kitchenware, or plants. This backsplash design features a minimalist look with neutral gray and white tones, but you can make the colors pop.
Mix and Match
2019 kitchen backsplash trends encourage you to mix and match. Feel free to boldly combine textures, finishes, colors, and shapes, as well as materials. Unexpected backsplash combinations can create a truly memorable, stylish cooking space. Explore many kitchen backsplash trends to add a feeling of freedom and a playful vibe to your favorite room.
The kitchen below features a mix of white and green subway tile backsplash. The combination goes beautifully with blue base cabinets, Calacatta Caldia countertops, and white shelves.
If you like busy tile patterns, you will love this statement backsplash design.
Stone Backsplashes
2019 kitchen backsplash trends bring us many stone tile backsplash options to choose from. If you like rustic vibe, consider introducing stone tiles to your kitchen walls. The natural appearance will always be popular. Waterfall edges, tall backsplashes, and hood vents covered in stone are the thing in kitchen trends 2019.
This trendy kitchen design features a highly textured wall. Beige stone tile backsplash, flat-panel dark wood kitchen cabinets, granite countertops, and stainless steel appliances create a beautiful mix of modern and rustic.
Tall Backsplashes Trend
Tall backsplashes will be one of the hottest kitchen trends 2019. Consider a tall backsplash especially if you're looking into a marble-like quartz material. Those waves can give a unique rhythm to your kitchen.
Kitchen Countertop Trends 2019
Concrete Finish Countertops
Strength and durability in countertops will be the most-searched-for trend in 2019. However, kitchen countertop trends 2019 will emphasize on a minimalist look and introducing industrial notes.
What looks and feels more industrial and contemporary that concrete finish? And what could possibly be more durable and long-lasting than concrete?
Read our MSI Countertops Ultimate Guide to find the best countertop for your kitchen this year.
Quartz Countertops
Granite dwindles in popularity while quartz countertops start to dominate kitchens. They will be one of the most popular kitchen countertop trends in 2019. Strong and durable, quartz sometimes even comes with a lifetime guarantee for residential use. Quartz countertops are man-made countertops that offer a wealth of colors, patterns, and finishes, along with natural stone looks.
Marble looking Statuary quartz creates an unforgettable flow in this modern sleek kitchen. Used as backsplash and island material, quartz in this kitchen is a wonderful example of how contemporary finishes can make a kitchen truly timeless.
Explore our Caesarstone Countertops selection.
Smart Kitchen Design Trends 2019
Digital Technology
Smart kitchen designs with incorporated digital technology will have made their way into our kitchens in 2019. Whether you don't yet have a fridge with a smart display or you don't use remote light controls, this is certainly one of the most important kitchen trends in 2019 that you can opt for.
Digital technology innovations allow advanced functionality in a kitchen along with saving your time and giving you an opportunity to enjoy your kitchen more while working less.
A microwave built-in right where you need it will bring you more convenience when working in your kitchen.
Integrated Appliances
One of the kitchen appliance trends 2019 are integrated appliances. Modern hoods, fridges, and stoves bring a more sleek, minimalist look while they are becoming stronger and turn on automatically for your convenience. Integrated appliances bring a more subtle, seamless look to the kitchens and create a new luxury style.
In the design below, you can see how industrial charm can be achieved with stainless steel appliances and cabinets. Industrial baking oven, an integrated Wolf BBQ grill and sink create a perfect design with white cabinets contrasted, black marble countertop, and a row of stainless steel cabinets.
Induction Cooking
This is a kitchen trend that makes you more productive when working in the kitchen. Induction cooking stoves are smart, safe, fast, and aesthetically great looking. Their surfaces are safe to touch, they feature a seamless look, and they use less energy. What else is there to look for in a perfect stove?
In this modern coastal kitchen, you can see a cooking corner with a white, minimalist looking kitchen hood over a sleek induction cooktop.
Deep Kitchen Cabinet Drawers
Want to maximize your storage in a seamless way? Get deeper than average kitchen cabinet drawers. Place them in high traffic cooking areas to maximize your efficiency.
This deep drawer is such a saver! Placed within a kitchen island, this custom-made baking pan drawer features dividers for increased convenience. All drawers boast antique brass pulls.
Have you ever considered a custom beverage drawer for liquor with an ice maker and cooler? Could it be more convenient? Blue kitchen island with brass hardware creates an ultimately luxurious look.
How about a warming drawer? This kitchen island hides a warming drawer from your guests but makes serving and making your guests happy so convenient!
Instant Table and Seating Ideas
You love to cook but you also love to socialize in your kitchen? Is your kitchen a central room in your home where you and your family spend the most time together? Then consider introducing an instant table space and more seating options.
2019 kitchen trends bring ideas like extending your countertop over the edge of your kitchen island to conveniently add extra space for seating. This way, you can host more people while, at the same time, you eliminate the need for a dining table.
In the kitchen design below, a rustic wood island topped with beveled marble countertop offers seating for four people. Comfortable stools feature an attractive combination of wood and suede.
This white island topped with white marble countertop offers seating for four people in a form of backless seagrass counter stools.
For an effective kitchen remodel project, get inspired by our kitchen remodel ideas on a budget guide.
Kitchen Trends to Avoid in 2019
In 2019, make sure to avoid these kitchen trends.
Brown and Yellow Granite Countertops
Granite countertops won't be popular in 2019. However, brown and yellow granite will be even less popular. Although timeless, granite that comes in brown and yellow notes now looks dated and too busy. If you insist on granite, choose a lighter option in white and gray. Ideally, go with quartz countertops that are easier on the eye, give you more decorating options, are even more durable than granite, and so much easier to maintain.
Ornamented Kitchen Cabinets
Kitchen cabinet trends 2019 cast away too detailed and too decorated kitchen cabinet style. You don't have to go minimalist all the way with flat cabinet doors or even shaker style but make sure to avoid too many details that will scream for attention and make your kitchen look dated. Embrace other kitchen cabinet styles that give you more options.
Pot Racks
This detail was very popular before but there is really no need for it unless you cook all the time, 24/7. Instead of pot racks, use deep drawers with dividers to minimize the upkeep of the cooking space and provide a clear, welcoming look.
Graphic Signs
If you want to make a statement in your kitchen, be original, unique, and inventive. Graphic signs that can be found anywhere will only make your kitchen space look redundant and boring. Replace these unnecessary decorations with more personalized choices.
Shop the Latest Kitchen Trends 2019 in Queens, NY
If 2019 is the time when you will finally redecorate your Manhattan, Brooklyn, or Queens kitchen, make sure to consider these kitchen trends. Choose trends that you love and those that will last.
Stop by to our kitchen cabinets and home remodel store at 35-10 43rd Street Long Island City, New York and find all kitchen trends 2019 you want to consider for your kitchen remodel. Take a look at our kitchen cabinets selection, backsplash mosaics, faucets, sinks, countertops, and anything else you may need for your grand kitchen renovation.
We will also provide you with a free estimate and we can't wait to get started on your new kitchen. Contact us today.
https://homearttile.com/wp-content/uploads/2018/12/Kitchen-Trends-2019-min-1.png
315
560
sandra
https://homearttile.com/wp-content/uploads/2017/11/logo-102214.jpg
sandra
2018-12-31 13:54:39
2022-07-31 21:40:16
Top 20 Hot Kitchen Trends 2019