Farmhouse Kitchen Ideas to Steal for Your NY Home
Farmhouse kitchen design is a classic that everyone wants in their home. With a warm, homey look and cozy feel, freedom to choose modern farmhouse or traditional farmhouse style, unpretentious and personality-infused, farmhouse style is a perfect fit for any taste and preference. Whatever colors, materials, and finishes you prefer, you can have it in a carefully planned farmhouse decor.
But is the farmhouse kitchen design right for you?
The good news is that you don't have to live on a farm or a big house in a suburb to relish in a farmhouse interior decor. A warm, eye-catching farmhouse design is possible even in your Manhattan apartment. Wherever you live, you can remodel your kitchen to create the comfort, warmth, and coziness with the style you desire.
In this blog post, we bring you some of the best farmhouse cooking space ideas. But these farmhouse kitchen remodel ideas are different from the rest you can see on the internet — they are practical, affordable, and easily achievable with minimum effort, time, and means. Keep reading to learn how to recreate a farmhouse look in 2021.
What is a Farmhouse Kitchen Style?
Classic farmhouse style accents natural materials like granite and marble, knotty wood cabinets, shiplap, and hardwood floors. Typical farmhouse decor features a homely, cozy, simple design within interiors spacious enough to accommodate large families. However, the farmhouse kitchen style is getting more popular not only with homeowners occupying houses but also with those who dwell in apartments.
Luckily for them, large wooden rustic tables and wood beams are not a necessity when it comes to the farmhouse style. The down-home appeal of a farmhouse kitchen can be achieved using only some of the characteristic details. A combination of a farmhouse apron front sink, Carrara marble countertops, bronze faucets, open shelving, glass-front cabinets, black granite, colorful accents, reclaimed wood details, and shaker-style farmhouse cabinets, or only some of these ideas can make your small apartment kitchen radiate farmhouse charm.
What is the difference between a farmhouse and a modern farmhouse style?
Until recently, farmhouse interiors could be found only in rural or suburban locations and houses big enough to accommodate spacious farmhouse style characterized by oversized kitchen islands, barn doors, wooden beams, etc. However, the modern farmhouse style is getting more and more popular and can be found anywhere from the country to the city, even in urban apartments of Manhattan, Brooklyn, and Queens. These small kitchens won't be able to accommodate oversized kitchen islands but will gain farmhouse charm with marble-looking quartz countertops, shaker cabinets in soft colors, intricate, rustic details, and open shelving.
What are good farmhouse colors to use in a kitchen?
Any color from creamy white, butter yellow, blush pink, washed green, mauve, charcoal, muted navy, and subtle silver to absolutely black are great to use in your kitchen remodel. Neutral color schemes paired with wood and natural stone like marble and granite will speak volumes and radite farmhouse warmth and charm.
So, how do I make my NY kitchen look farmhouse?
Do you believe that the kitchen is the heart of the home?
If you said yes, then farmhouse style is right for you. To make your kitchen look farmhouse, regardless of its size and current style, consider adding and combining these elements with the rest of your kitchen. You may have to carry out a more thorough remodel and replace some of the elements but maybe you won't have to. It all depends on what your current kitchen style is like.
Subtle tones or playful colors and chrome pulls on kitchen cabinets, rugged wood shelves, white subway tile on the backsplash, marble or granite paired with natural wood, an island that will dominate the space, farmhouse apron front sink in a central position, and vintage charm details are only some of the ideas you can incorporate into your plans when making your kitchen look farmhouse.
For more detailed ideas, tips, and tricks on how to add farmhouse charm to your kitchen space, please keep reading.
Farmhouse Style Kitchen Cabinets Ideas
You don't have to splurge to find the perfect farmhouse-style kitchen cabinets. Simple bright white kitchen cabinets paired with contrasting natural stone countertops will help you create the perfect base for a classic farmhouse look.
Go Soft White
The transitional Fusion cabinets by Fabuwood Cabinets feature wide rail moldings, distinctive detailing, and classic profiling, so typical for the farmhouse decor. Soft, neutral color, glass-front cabinets, and chrome hardware give these cabinets a touch of traditional splendor with a refreshing twist. The exposed brick wall enhances the farmhouse look with its natural appearance.
Go Bold Green
Farmhouse-style kitchen cabinets don't have to be soft, neutral, or simply white. They can come in more bold and playful colors as well. Take this lovely kitchen, for example! Custom blue paint on maple cabinets, paired with glass-front upper cabinets, white subways backsplash tile, white apron sink, oversized island with gorgeous, carefully designed details, and a large, rustic wood beam make this farmhouse kitchen something to die for.
Classic Charm
The right cabinetry is a sure-fire way to give your kitchen a farmhouse vibe and create a solid base to keep building on it. But don't hold your breath, because you don't have to break the bank in order to afford them. There are kitchen cabinet manufacturers that provide low-cost, affordable farmhouse kitchen cabinets. Take the Signature Pearl variety from Forevermark Cabinetry.
Raised panel design, antique glaze, and intricate details combined with a white apron front sink and small wood island make for an ideal farmhouse setting. If you feel you need a pop, you can add a large island in a contrasting but still complemented color.
Modern Farmhouse
A farmhouse-style kitchen doesn't have to have that traditional vibe if that's not something you prefer. A smart combination of modern cabinetry with a farmhouse sink and natural marble can create a true farmhouse dream kitchen. CNC Cabinets Richmond gray shaker cabinets made of birch with full overlay in combination with marble full wall backsplash and kitchen island in white help create an exquisite, very elegant farmhouse decor.
Farmhouse Countertops Ideas
Butcher block countertops are one of the first things that come to mind when we think about farmhouse interiors. However, you don't have to include them in your own kitchen remodel if they're not your thing. Natural marble, granite, and marble-looking quartz are also great ideas for farmhouse kitchens.
The most important thing for a farmhouse countertop to offer is the multi-functional prep space and a spot for family to gather while preparing meals. Quartz offers supremely durable countertop surfaces to make these everyday events enjoyable and practical, with minimum time for a cleanup.
For example, Caesarstone Countertops offer a variety of white quartz options in pure white or marble-looking options to complement clean but still warm and cozy farmhouse interiors.
White Countertops with Green Cabinetry
London Grey quartz makes this green retro farmhouse kitchen absolutely lovely and perfectly balanced. Little details like open shelving, the hardware on the cabinets, island seating, old plates, and teapots add a unique rustic charm to this beautiful kitchen.
Pure White with Wood
Pure white quartz with the brass faucet, open shelving, and wood walls can create a dreamy, warm, and comforting farmhouse feel even in the tiniest of kitchens. A view to the backyard is desirable, but not necessary to achieve the perfect farmhouse look.
Marble Look Countertops
A marble countertop look can make a kitchen shine whatever its overall style. Calacatta Verona Q countertop by MSI Countertops gives off a luxurious white marble vibe against the island's black cabinetry. The seating, pendants, glass-front cabinets, and brushed brass fixtures add the perfect amount of farmhouse charm to this gorgeous kitchen space.
Combination of Quartz and Marble
A combination of real marble and quartz will amp up your farmhouse decor. Calacatta Vicenza Matte Finish Quartz by MSI Surfaces and metal chairs make for a perfect pair on the island while Arabescato Carrara Marble backsplash simply shines and illuminates the whole kitchen. Modern farmhouse designers love pairing contemporary, sleek surfaces like quartz with rustic wood beams, oversized doors and windows for more light, and impactful pendant lighting.
Farmhouse Backsplash Ideas
Whether your kitchen is spacious or tiny, you will need a backsplash to make it thoroughly functional, practical, and protected. If you're set on adding farmhouse charm to your kitchen space, the backsplash is one of the most affordable and easiest ways to do it. When thinking about farmhouse backsplash, think cool neutrals and simple lines. Exposed brick, white subway, pops of color on a white background, hints of white on a dark background, shiplap, and writings on the wall will help you create an inviting, relaxed, and unpretentious feel.
White Subway Tile for French Chic Look
You can even add some edge to your kitchen with black color. It won't lose anything of its farmhouse glam. This small farmhouse kitchen features full-wall, glossy white subway backsplash tile, open wooden shelving, black base cabinetry, black appliances, and wood countertops. Stainless steel adds an industrial charm to space. This kitchen is really tiny, but it's a great example of a beautifully executed, small farmhouse chic kitchen.
Take a look at it from another angle to get the whole picture. It has a bit of that farmhouse French country kitchen glam, doesn't it?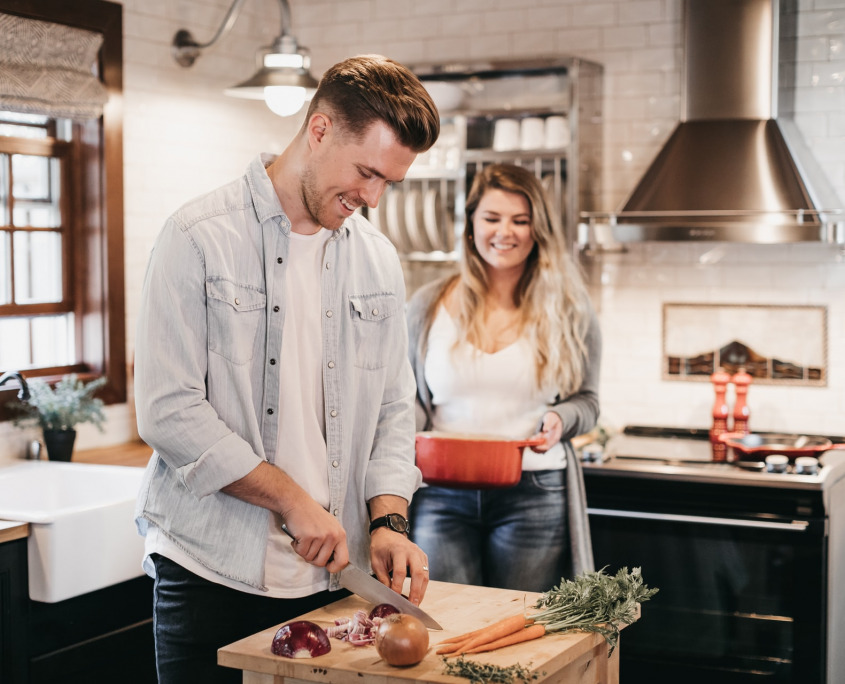 Delicate Tile Patterns
Even if you don't have lots of backsplash surfaces in your kitchen, you can make sure to incorporate a delicate tile pattern within available backsplash space. Just continue the lines of your shiplap and wood floors with unique shape white tile and contrasting grout color. Add classic looking faucet for a traditional, classic twist.
Modern Twist
Add a unique tile backsplash to your white kitchen for a more contemporary look, chic and modern twist. The floral pattern in neutral colors says both farmhouse and modern at the same time.
In any case, if you want to add farmhouse style and open up your small kitchen space, incorporating open shelving, rustic details, and white tile backsplash is a sure-fire way to achieve the look that defines a farmhouse style.
Farmhouse Sink Ideas
Sinks take a central place in farmhouse cooking interiors. A typical farmhouse kitchen sink usually features a deep, wide basin usually made of white marble, porcelain, or stainless steel. However, as more and more medium and tiny kitchens adopt farmhouse style, apron front sinks are also made in smaller sizes to fit these needs. Regardless of the size, apron front farmhouse sinks represent a unique combination of function and style. They are a natural, striking focal point that can solely carry a farmhouse design.
Rustic farmhouse charm can be achieved with a sink in a contrastingly different color — black. If your kitchen space is predominantly white, you can achieve a powerful contrast with a black apron farmhouse sink. Just add a few more black touch-ups to balance out the room.
Add Farmhouse Chic to Your NY Kitchen with Home Art Tile
If you weren't sure how to recreate farmhouse style in your own kitchen, we hope now you know exactly what to do.
Stop by Home Art Tile Kitchen & Bath showroom located at 35-10 43rd Street Long Island City, New York, and get everything you need for your kitchen remodel. From kitchen cabinets, countertops, to backsplash tiles, flooring, faucet, and sink, we can help you source everything you need to add farmhouse chic to your kitchen interior.
We guarantee the lowest prices, superior customer service, and expert design help, making sure everything goes smooth, from start to finish. Our expert designers will provide you with a complimentary 3D design service, so you can make sure your NY kitchen turns just the way you want — radiating farmhouse, cozy, warm, and inviting vibe.
Let's start on your kitchen remodel contact us now.
https://homearttile.com/wp-content/uploads/2021/04/Farmhouse-kitchen-ideas-min.png
312
820
sandra
https://homearttile.com/wp-content/uploads/2017/11/logo-102214.jpg
sandra
2021-04-09 12:14:18
2021-04-09 12:15:48
Farmhouse Kitchen Ideas to Steal for Your NY Home