Porcelain or Ceramic Tile: Best Kitchen Backsplash Materials Explained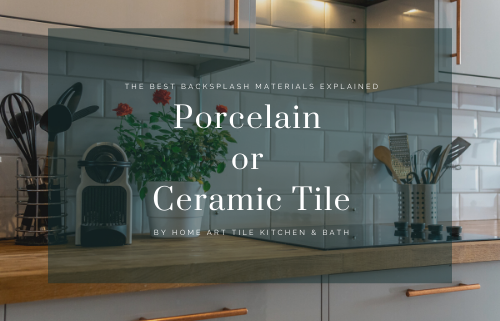 Porcelain or ceramic tile — what should I choose for my new kitchen backsplash?
The dilemma of choosing between porcelain and ceramic tile when remodeling a kitchen is common among the homeowners. Both ceramic and porcelain tiles feature a plethora of attractive, beautiful designs, styles, colors, and finishes, and both bring many unique benefits to the kitchen space. Questions like what is better, which one is more durable and practical, and which one will last more will surely pop up when you enter your local tile showroom. The options before you are spectacular, gorgeous, and inspiring, but they will also seem endless and a bit overwhelming.
To make sure you make a thoughtful and well-informed decision, to save your time, and make the process of choosing the best tile for kitchen backsplash easier, we will present and compare porcelain tile vs ceramic tile.
Porcelain or Ceramic Tile — What Are My Options?
The most popular backsplash materials are porcelain and ceramic tiles. Both can be colorful and versatile and therefore present a beautiful way to jazz up your kitchen with a decorative backsplash. When paired with matching, natural or engineered stone countertops, the backsplash you chose can take center stage in the kitchen and provide a powerful pop of color.
When looking for the perfect porcelain backsplash or ceramic backsplash, try to see its surface as an artist's canvas. Because it actually is. You don't have to settle for a plain, ordinary look. Your choice will depend on what look you wish to achieve, but knowing that your options are endless will help you bring the best decision that you will be happy with for years to come
You can select porcelain or ceramic tile backsplash designs that showcase color, pattern, or texture. Although you can simplify the entire process and choose a safe option — a simple, white, classic subway tile, you can also use the opportunity and make a bold impact or a powerful contrast in your kitchen.
Don't miss out on the opportunity to choose an option with more style, more elegance, and more functionality.
Walking into a tile showroom can be as overwhelming as it is inspiring. The displays are spectacular, but there are so many options, at so many price points. Before you run to the home center for a box of plain white subway tile—and miss out on the chance to make a bold impact in your kitchen—use Consumer Reports' tile primer to get the lowdown on this durable, beautiful material. To help you shop, we've asked an expert panel of tile manufacturers, retailers, and installers for their best tips on the pros and cons of the most common types of tile.
Porcelain or Ceramic Tile: The Differences
Which is more expensive, ceramic or porcelain tile?
What's better, porcelain or ceramic tile?
How to tell the difference between ceramic and porcelain tile?
These questions pop up whenever a kitchen update or a kitchen remodel is planned and includes adding or replacing a backsplash.
Let's remove any doubts you may have and answer the most common questions when looking into the best tile for kitchen backsplash.
Porcelain vs Ceramic Tile Cost Comparison
Ceramic backsplash price goes from about $2 to $7 per square foot, while porcelain tile backsplash is about $3 to $7 per square foot. If you're looking for high-end, custom-designed tiles, the price can go to even $25 per square foot. The more exclusive, luxurious tile you choose, the more you will have to pay for it, whether it's porcelain or ceramic tile.
In general, ceramic tile is slightly cheaper than porcelain tile because the porcelain tile is made differently, which makes it more durable and denser than ceramic tile.
When looking into kitchen backsplash cost comparison, take into consideration that the price of porcelain and ceramic tiles does not cover the cost of installation. Installation of ceramic or porcelain tile for kitchen can go anywhere from $4 to $8 per square foot. The price of installation will vary mostly on the complexity of the project and the surface where it's installed.
Porcelain Versus Ceramic Tile Liquid Resistance Comparison
One of the most important characteristics of kitchen backsplash materials is water resistance. Both ceramic and porcelain tiles are highly liquid and moisture resistant. Porcelain tiles are considered to be a bit less porous and denser than ceramic tiles because of the way they are crafted. However, ceramic tiles are also perfect in resisting water and other liquids. As long as the tile is installed properly, with high-quality grout, both options will protect the kitchen wall perfectly and stand unchanged for years to come.
Porcelain Tile Vs Ceramic Tile Durability Comparison
Whether you are looking for the best tile to use in a residential or commercial environment, porcelain tile is considered a better option when it comes to durability. It's denser than ceramic tile, therefore it's less likely to crack, have any other issues, and will be able to withstand whatever comes their way.
However, this trait is very important for high-traffic areas and flooring. The kitchen backsplash doesn't have to be as sturdy as the kitchen floor, for example. Porcelain tile backsplash and ceramic tile backsplash tile are both durable and won't crack if maintained properly. If you decide to go with a ceramic tile, make sure to choose a glazed finish variety because it's more water-resistant and more durable than an unglazed option.
Whatever you decide to choose, you should know that a quality installation and proper care will prolong the lifespan of both porcelain and ceramic tile to make them last and serve you for several decades.
Ceramic and Porcelain Tiles Comparison: Maintenance
When it comes to maintenance, there doesn't have to even be a dilemma — porcelain or ceramic tile. Both options of kitchen wall tiles are easy to clean and maintain. Porcelain tile has a natural stain which makes it water-resistant and very easy to clean. To keep it in perfect shape, simply clean it regularly to remove the dust or debris. You can also use a pH balanced solution to disinfect the backsplash area.
Ceramic tiles are also great for cleaning and taking care of. Stains, dirt and any liquid can be removed easily with a soft brush.
No matter what you choose, make sure to properly and regularly clean the grout between the tiles. This is possibly the most troubling area that needs a bit more effort to keep it look new, clean, and fresh.
Ceramic and Porcelain Tiles Comparison: Style
When it comes to appearance and design, there are no pros and cons for either of these two kitchen backsplash tile options. Ceramic and porcelain tiles are the two most common and most popular materials found in homes across the U.S. Both materials are durable, simple to install, affordable, easy to clean, and come in myriad options — an endless selection of various textures, colors, and styles.
Whether you decide to apply ceramic or porcelain tile as your kitchen backsplash, you have so many options before you. Not only will you protect your walls, but you will also be able to add a unique visual interest to your cooking space and bring a special kind of vibe, liveliness, and playfulness to your home. Not to mention personality.
Don't be afraid to mix and match, to play and combine different colors, textures, and patterns, as well as shapes and sizes of tiles.
Some of the most popular kitchen backsplash options that come both as ceramic and porcelain tile are subway, mosaic, and penny tiles.
Subway tiles are probably the most popular variety and a safe choice for many residential and commercial kitchens. Simple, elegant, pristine, uncomplicated — subway tiles will successfully complete a range of kitchen styles, from classic and traditional to modern, contemporary decors.
Mosaic tiles come in many distinct, attractive patterns and colors. These small tiles stick to a mesh backing which makes them easy for installation.
Penny tile is great for adding more detail to your kitchen and when you wish to adopt a vintage style. Tiny tiles in light colors and various shapes come with a dark border that adds to their attractiveness and a touch of historical sophistication.
Customization options are available for each of these possibilities, whether they come as porcelain or ceramic material.
Should I Choose Porcelain or Ceramic Tile?
Porcelain tile for kitchen backsplash is not subject to heavy traffic so it has only minimal waterproofing requirements. It's the same for ceramic tiles. You can use your imagination when creating a design you wish to enjoy in your kitchen. Deciding between porcelain or ceramic tile is merely a matter of choosing the colors, styles, and patterns. You just need to decide which design and style you like best. The backsplash is the ideal location for a ceramic or porcelain tile installation that is too delicate for countertops or flooring.
Although porcelain and ceramic tiles have very similar appearances, you can choose between the two by relying on their differences. If you want a tile that is less porous, denser, chipping resistant, scratch-resistant, and more hard-wearing, choose porcelain tile. It will cost a bit more than ceramic, but you'll be happy you acquired the best possible quality. If your kitchen backsplash budget is smaller, go with ceramic tile backsplash. An endless selection of gorgeous designs will make your heart skip a beat. Ceramic tiles are highly recommended as a budget-friendly option not only for interior walls but also for kitchen floors.
Choose From a Variety of Beautiful Options
Small kitchen wall area, flexible tile options and the opportunity to create a one-of-a-kind design increase your choices — what more do you need for a successful kitchen update? Your options with ceramic and porcelain wall tiles for the kitchen backsplash are nearly unlimited. A variety of custom or pre-determined designs can create a unique look for your kitchen. When looking for perfect ceramic and porcelain tile for kitchen backsplashes, take a look into our beautiful tile product selection. We provide gorgeous options both in earth tones and vibrant, modern colors that will pop.
When is Backsplash Tile Installed?
The backsplash is typically one of the finish items in the kitchen. It is important to have new countertops installed before adding the backsplash. The size and spacing of the porcelain or ceramic tile backsplash designs should be as precise as possible. A backsplash is one of the final items in the kitchen. Try porcelain or ceramic tile samples that will pair beautifully with your countertops. Think of how to pair them with other elements of the room as well.
How Do I Choose a Backsplash Design?
There are several considerations when choosing the ideal design for your kitchen backsplash. Here are some ideas to consider.
• Is this wall the right location for bright colors? Maybe you are looking for a pop of color in your kitchen. Perhaps you want a contrast to the rest of your kitchen decor. The backsplash is the ideal location to implement your unique ideas.
• Will a busy pattern be best? Perhaps the rest of your kitchen includes monotone colors or simple designs. A busy backsplash pattern provides a pleasant contrast. Maybe your countertops include beautiful natural veining. Maybe your flooring is patterned. Then your backsplash may benefit from a simple design. This design will not detract from the rest of your elegant decor.
• Dark colors or light colors? Perhaps you have chosen a contrast of dark and light finishes for your countertops, cabinetry, and flooring. Then your backsplash is an integral part of this design scheme. You can combine dark and light ceramic or porcelain tile for kitchen backsplash. You can also choose a pattern that will complement or contrast with the elements of your choice.
A great way to get the right vision of your kitchen design with the new backsplash is through a 3D visualization which we can provide you through our kitchen quoting software.
Express Your Unique Style with Porcelain or Ceramic Tile
When choosing between porcelain or ceramic tile, make sure to choose an option that fits your style, your kitchen space, and your budget. Choosing between these two options is safe because both of them will successfully withstand the test of time and will serve you wonderfully for many years to come. With regular cleaning and light maintenance, they will always look their best.
Choosing a backsplash for your kitchen is an important, personal choice. You need to make sure you and your family enjoy seeing the unique pattern every morning. Whether you're preparing food, drink coffee, or having breakfast with your family, the backsplash will probably be in your face all the time. So make sure you choose colors, patterns, and finishes you truly enjoy.
The good news is, both porcelain and ceramic tiles offer an endless range of options for you to choose from. The kitchen backsplash is an excellent opportunity to express your personal style and feature a unique, custom look that no one else has.
Home art Tile Kitchen & Bath located in Queens, NY is one of the largest porcelain and ceramic tile showrooms in the NY area. We stand by our premium selection of porcelain tile and ceramic tile backsplash design options, while our highly skilled and experienced designers will be happy to help you create the perfect focal point for your kitchen. Contact us today for a free estimate.
https://homearttile.com/wp-content/uploads/2019/10/Porcelain-or-Ceramic-Tile-1.png
332
500
homeart
https://homearttile.com/wp-content/uploads/2017/11/logo-102214.jpg
homeart
2019-10-31 21:30:00
2021-05-21 09:42:33
Porcelain or Ceramic Tile: Best Kitchen Backsplash Materials Explained