White Subway Tile Backsplash Ideas for Your Kitchen
A white subway tile backsplash is an absolute all-time favorite in many kitchens. Inspired by the tiles from the New York City subway, the subway tiles we now use in our kitchens have been popular ever since they were discovered at the very beginning of the 20th century. While some think of white subway tiles as a safe choice, others consider them a reliable option with an ultimately stylish design appeal. Whether you wish to achieve a classic kitchen vibe or introduce a fresh sensation and ambiance that will radiate novelty, white subway tiles are the easiest and most logical choice to realize your dream.
Learn how to decorate your New York kitchen with a subway tile backsplash, regardless of the spaciousness or kitchen style. We promise it is both a timeless and trendy choice sure to beautify your favorite room in a snap.
White Subway Backsplash Kitchen Designs
Straightforward, rectangular shape, a range of whites, from off-white to pure and wintery white, glazed, with a satin finish, or made of marble, porcelain, or glass, white subway tile is one of the most versatile backsplash options you can choose for your kitchen.
You can give your white subway tile backsplash an edge by adding dark gray or black grout. The effect this combination gives is a fine contrast that works wonderfully in both classic and temporary style kitchens. If you, however, prefer an all-white backsplash as a statement of discreet beauty and refinement, a canvas that welcomes other design elements, a white subway tile with white or light gray grout will be such a great choice.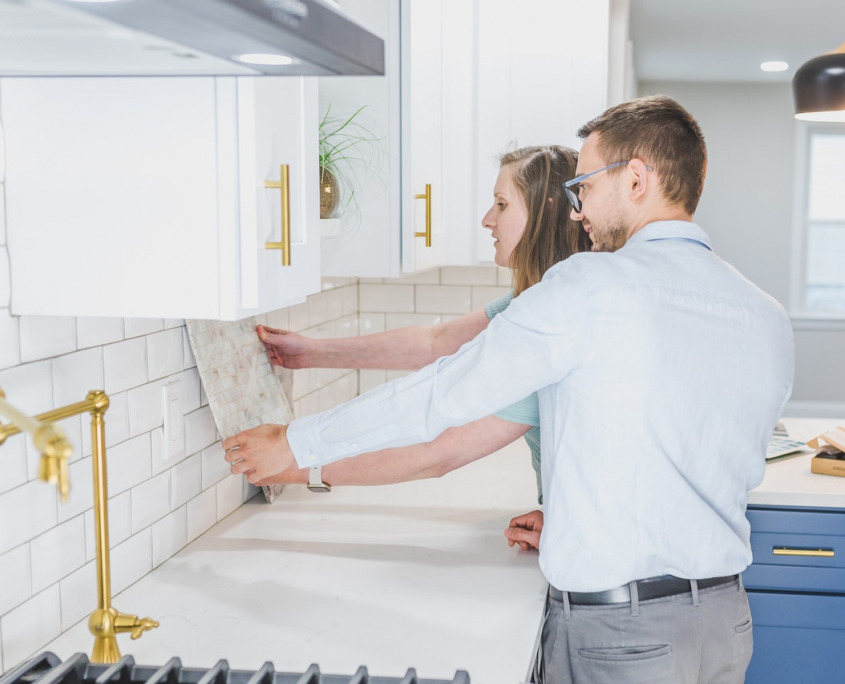 A white subway tile backsplash is also great if you love open shelving and feel that you need a full-wall backsplash. Actually, we cannot think of a better choice for this particular situation. If you need a classic backsplash between upper and base cabinets, white subway tile is, again, an unfailing and authentic solution.
Far from boring, white subway tile backsplash is a staple design element in any kitchen with the right design solutions well matched.
Continue reading below to find out what kind of white subway tile and what color grout to use with a white subway tile backsplash. The awe-inspiring designs below will show you the most popular but also timeless solutions for incorporating a white subway tile backsplash into any kitchen style.
Gray on White: Backsplash with Gray Grout
Choosing the right gray for a white subway backsplash is a struggle of many homeowners who desire this specific solution for their kitchen. It may sound silly, but it is true. Choosing the right shade of gray makes a major, almost night and day difference in the final tile job and overall look of your backsplash.
And there are many options of gray to choose from. From the lightest of grays, like frost, to moderately light gray, natural gray, and warm grays, to dark grays like taupe gray and silverish with a blue tint, the gray grout options are many.
Choosing the right gray makes all the difference between making the backsplash a centerpiece to design and blending it in with the rest of the design and making it a blank canvas.
If you desire to achieve a subtle contrast or a less dramatic pop, anything from light gray to medium-dark gray grout will work. Your choice will depend on the strength of the visual punch you desire. This solution is great for everyone who loves the simplicity of white subway tile but who would also love to get out a bit of their comfort zone.
But if you crave for something more, dark gray grout is a step further from light and medium gray grout. Although it won't give you the stark contrast that black grout provides, dark gray grout on white subway tile creates a moderate contrast that allows that outline of the tile to be noticeable and pop.
White on White: Backsplash with White Grout
If you like the idea of having a blank canvas for a backsplash that is also a style statement in all of its subtlety, white subway tile with matching white grout is the simplest and the most effective solution. This combination is the perfect starting point to creating a light and bright space.
White subway tile with white grout creates timeless rooms and gives them a marvelous feel of lightness and versatility. With a backsplash like this, you will be free to change and mix other elements because this kind of backslash can carry out almost any design and style.
White subway tile backsplash white grout is a combination that allows you to take upon a transitional design with white quartz countertops and gray shaker cabinetry or a more traditional style that includes earthy granite countertops and hardwood floors. There are no limits to your imagination and desires.
Check out our Arctic Ice white glass subway tile mosaic.
White Beveled Subway Backsplash
Although the classic subway look of a tile is great in itself, just as it is, some variations add more depth, dimension, and even more style.
Beveled style is that something a little extra that adds an additional punch of refinement to an already beautiful tile. Whether it is a pure white beveled subway tile combined with white cabinetry, matte white paired with wood cabinetry, or shiny white with dark cabinetry. White beveled subway tiles come in many colors, from neutrals to bright solid whites.
They will add texture and depth to your kitchen walls, and you can use any grout color you desire.
Choosing the right finish for a white beveled subway tile backsplash is an enjoyment, too. From matte options for an understated look to glossy and shiny finishes that reflect light, there are many ways to give your white subway backsplash a more intriguing look.
Black on White: Backsplash with Black Grout
The combination of white subway tile and black grout proves that a kitchen backsplash doesn't have to be boring, ever. The stark contrast of the pure whiteness of a subway tile and pitch-black grout allows a powerful pop as a design statement in any kitchen. For an additional punch, use a beveled tile to add dimension and create a movement that you can almost see and feel.
But black grout is not only great for the visual effects it creates but also for its benefits regarding maintenance. Black grout looks amazing and helps hide stains and splashes.
Black grout with white subway tile can add a modern feel to an otherwise traditional style kitchen and introduce a restaurant-like feel.
Glazed Subway Tile Backsplash Designs
If you desire a more shiny look on your white subway backsplash, opting for a glazed variety of white subway tiles is the way to go.
They look amazing with any cabinetry color, but we like them especially with all kinds of whites. And as you can see, they add such a special feel to a traditional kitchen. A dark grout will add depth and match the overall style of the kitchen.
White subway tile backsplash with white grout will provide a seamless look with a subtle shine to complement the transitional white kitchen look.
White Subway Herringbone Backsplash Style
If you love a good classic with an interesting twist, then white subway herringbone backsplash style is just right for you. Whether the rest of the kitchen is understated or features some interesting and pop-worthy elements, subway tiles laid out in a herringbone pattern add a focal point and add another dimension to space.
Marble subway tile laid out in herringbone pattern adds more color and subtle pop to a matching gray and white kitchen interior.
Long, slim, and narrow white subway tile laid out this way is such a perfect partner to the white cabinetry and countertops that pop.
Did it ever occur to you that you can lay your white subway tile in a herringbone pattern but horizontally? The movement creates such a special fee, doesn't it?
Check out our Arabescato Carrara white subway tile in herringbone pattern honed in a mesh.
White Marble Subway Backsplash
Marble is a luxurious stone that instantly elevates a kitchen. When shaped like a subway tile, it consists of two major style staples — a historical and highly versatile shape, and timeless pattern and quality.
A soft white background with cool gray veining allows the stunning contemporary elements of a kitchen to stand out.
If you opt for the larger size of the marble subway tile, you get a more modern look that perfectly elevates traditional elements to the transitional design.
Subway marble tiles usually come in a polished finish and multiple color varieties, such as Calacatta Gold, Tundra Gray, Arabescatto Carrara, or Crema Cappuccino.
Check out our Calacatta Gold 3×6 Polished Italian Marble subway tiles and Greecian White 3×6 polished and beveled marble subway tiles that feature whites and grays and are available in 12×12 mesh-backed tiles in a polished finish.
Pick Your Perfect Backsplash at Home Art Tile Kitchen & Bath
A white subway tile backsplash can be not only a staple in your kitchen design, a style statement but also a true piece of art in your home. Incredibly versatile, in many shades of white, with many finishing options, and made of many different materials, white subway tiles give a kitchen the look, style, and feel the need. From modern farmhouse and French chic to spotless, minimalist contemporary, white subway tile backsplash makes an impossible to not only possible but realistic.
Home Art Tile Kitchen & Bath is your destination when you're looking to remodel your kitchen and choose from the best white subway tile backsplash designs. If you're at the very beginning of your kitchen remodeling process and wonder what is the best grout color for white subway tile or what is the best size subway tile for a kitchen backsplash, our designer will be happy to help you out and answer all your questions.
Take a look at our tile and mosaics selections, get inspired by our porcelain tile and ceramic tile collections, and start planning a thorough remodel or just an inexpensive kitchen update with a carefully chosen backsplash from our tile showroom. Feel free to stop by 35-10 43rd Street Long Island City, New York 11101, anytime 8:00 am – 6:00 pm Monday through Saturday, and browse to find the right white subway tile backsplash for your kitchen.
If you need more, we are happy to provide! Contact us for a design appointment and let us help you get the kitchen you need.
https://homearttile.com/wp-content/uploads/2021/07/White-Subway-Tile-Backsplash-Ideas-min.png
312
820
sandra
https://homearttile.com/wp-content/uploads/2017/11/logo-102214.jpg
sandra
2021-07-22 14:09:40
2021-07-22 14:09:40
White Subway Tile Backsplash Ideas for Your Kitchen