Simple Kitchen Design – Ideas for Low Cost & High Quality
Simple kitchen design that is functional, beautiful, and easy to love even 30 years from now may not be that simple to create. Enough room for prep and cooking with loads of countertop space, efficient and well-proportioned layout, large pantry, modern and efficient but still warm and cozy space — an ideal simple kitchen design usually includes much more than we first think.
The trick to creating a kitchen space that is simple to work in and appealing to the eye is to know what you need, plan your budget wisely, choose quality and well-priced products, and work with professionals. This is a sure-fire way to create a kitchen design that is simple, effective, beautiful, and timeless.
However, there are many simple kitchen design ideas that can inspire you into creating a space that will stay highly functional and fresh for years to come. Take a look at some of the ideas that prove how much more you can do with less.
How to Design a Simple Kitchen
Choosing soft colors, mixing and matching favorite materials, making a statement with geometric details, going neutral with white or gray cabinetry, adding a singular accent wall, tackling navy, black, and other bold colors and adding them to the mix, choosing a singular statement piece of furniture, creating symmetry, or going all marble, are some of our favorite ideas of a simple kitchen design.
However, not all of these ideas will work for everyone. You may be a white kitchen person or white simply doesn't feel right for you. Perhaps you prefer wood and marble or you love metal accents and industrial design. But when trying to design a kitchen that is, above all, simple, beware of the details. It is true that details can make or break a design, but now you need to have a large picture of what you wish to create.
Hire Designers that will Understand What You Need
After many years in kitchen design in the NYC area, we have loads of experience working with Brooklyn, Queens, and Manhattan homeowners. Square footage, daily habits, way of life, and budget are the most important factors when deciding what kind of design you need in your kitchen. Having this in mind, we advise our customers to set up an appointment with one of our kitchen designers before they even start making plans. The extensive experience our designers have saves time and makes it possible for our customers to figure out what they can do much more quickly than they would do on their own.
We encourage you to think about the most important areas and elements of your kitchen. Focus on cabinetry, countertops, flooring, and tiles. Appliances are, of course, important, just as faucets and sinks, but these large elements are the main workhorses and will carry the most weight of your daily chores in the kitchen.
We help you with a 3D design of your kitchen, lend you a hand with measurements, help you choose the right products, and also help you find a trusting and reputable local contractor.
If you're not in the NYC area and thus not able to work with us, let this article and these tips be your guide when working with another kitchen remodeling showroom in your area.
Simple Kitchen Wall Tiles Design
Modern kitchen wall tiles design can be impactful or subtle. These kitchen wall tile design ideas are the two main paths you can take when creating a simple kitchen space and deciding on the backsplash style. However, 2 in 1 is also possible, because subtle and simple can also be impactful in their own unique way.
A simple kitchen marble design backsplash can invigorate your kitchen and make it truly timeless. You can opt for various wall tiles for kitchen design, for example, for a real marble that will show the patina that accumulates over the years and the unique charm that comes with it. But then again, you can choose a marble-looking quartz backsplash that easily cleans and maintains — it's almost maintenance-free. If you're aiming for simplicity just as you are, then we recommend you a quartz backsplash that imitates marble. A good quartz fabricator will be able to perfectly match veining and slabs to create the perfect flow.
Explore Kitchen Backsplash Ideas for White Cabinets guide.
Another among many kitchen wall tile design ideas is a simple kitchen wall tile design idea of installing a white subway tile backsplash. The shape and the color together make one of the simplest yet very effective options that always looks modern and fresh, and pairs with any style. Feel free to choose the color of the grout to successfully create a match with other elements in the kitchen.
For even more simplicity and greater ease of maintenance of your simple kitchen wall tiles design, you can also choose a full-height backsplash, meaning that your backsplash can go all the way to the ceiling. This can give your kitchen a very special vibe and introduce many creative options, like adding open shelving, for example.
Explore a variety of backsplash mosaics for your kitchen.
Shelf Design Simple Kitchen
Open shelving is one of the most convenient options for any kitchen design, especially if you're lacking space or you need to update it on a budget. It is also one of the best low-cost simple kitchen design options. If it's within reach of the dishwasher, sink, and countertops, it makes the working flow super-efficient and practical. You can also use open shelves to showcase the dishware that you also use on a daily basis.
Adding open shelves to your simple kitchen design helps you improve efficiency and also allows you to use your wall space to the max for storage. Plus, it can look really stylish. You can go for metal, quartz, or wood, or even implement a combination of metal and wood, for example.
Explore more Kitchen Remodel Ideas on a Budget.
Kitchen Cabinet Design for Simple Kitchens
When our customers are looking to create a simple kitchen design, they usually have a limited kitchen space. This is not always the case, but often, the amount of available square footage in the kitchen is less than they would ideally want. In small kitchens, storage space can be a number one issue. Homeowners with small kitchens that are not carefully designed tend to overcrowd countertop space with appliances and other items that are used on an everyday basis.
Simple cabinet design is a lifesaver in cases like these. If carefully planned and designed, they will introduce enough storage space for everything. Have in mind that pull-out drawers can store much more items than cupboards can. At the same time, 3 to 4 drawers can fit in the space only one cupboard takes, creating a much more organized and space-saving arrangement.
The functionality of storage is very important in a simple small kitchen cabinet design but looks play a significant part, too. Alternating white and black cabinets create a special geometric design flair while a single cabinet color brings in a more streamlined look. You can also opt for bolder colors like green, navy, or even black. Hardware can significantly change the overall look of the cabinetry, so have that in mind if you ever wish to shake things up a bit at a minimal cost.
Containing a fridge or another appliance is another simple pantry design idea that can help streamline and simplify the design of your kitchen further.
To further improve the functionality of your small and simple kitchen design, bring kitchen cabinets all the way to the ceiling. This way, you'll skip on a useless gap between the top of the cabinets and the ceiling. This also means less dusting and an improved, more streamlined appearance for your simple kitchen cabinet design.
Browse our kitchen cabinets selection. Explore high-quality cabinets from specific, reputable kitchen cabinet manufacturers like Fabuwood Cabinets, CNC Cabinets, and Forevermark Cabinets. Look into specific styles and colors, like White Shaker Cabinets, Traditional Kitchen Cabinets, and Gray Kitchen Cabinets.
Simple Kitchen Design with Island
A small simple kitchen design usually excludes a kitchen island but the truth is that it doesn't have to. Kitchen islands are an important part of any efficient kitchen layout, regardless of the size of the kitchen. Of course, you won't choose an oversized island for a small kitchen space but you can install a smart island with loads of storage space. With a countertop surface and storage space, a kitchen island can play an essential part in any small and simple kitchen design.
Not only the kitchen island can serve as a convenient spot for food preparation but also for dishwashing, dining, and entertaining. With it, a simple small kitchen turns into a charming spot where you can hang out with your family and friends.
Explore Custom Kitchen Islands design ideas from our designers.
Countertop Design for Simple Kitchen
A simple home kitchen design is never complete without a good, sturdy, hard-working countertop surface. This kitchen element will surely make or break both your kitchen design and its functionality. Without it, your workflow in the kitchen is not only bad but impossible. Countertops are an investment that will last for years to come and are especially important if you cook or bake a lot or spend a lot of time in the kitchen, which is usually the case in modern families.
When looking to simplify your kitchen design and make your cooking, baking, and serving process easy, pay attention to some aspects of countertops. Heat resistance, stain resistance, and chip resistance are some of the most important traits of any kitchen countertop material. Hardness, durability, and ease of maintenance are also very important.
So how to choose an ideal countertop for your easy simple kitchen design?
If you love patina showing, baking, and don't mind some extra maintenance, choose marble. Its looks is unmatched. Those who prefer easy to almost no maintenance and modern, uniform look should choose quartz countertops. Granite countertops are perfect for those who love classic and unique natural stone looks and don't mind occasional sealing maintenance requirements.
Browse our countertops selection. Explore specific countertop brands: Quartz Master Countertops, Caesarstone Countertops, and MSI Countertops.
Low-Cost Kitchen Simple Design
Wondering how to establish a low cost simple design kitchen while on a limited budget? We have some simple low budget kitchen designs ideas that can help you achieve this!
When you start planning your kitchen, have in mind your particular needs and everyday routine. Don't plan for something you don't need. Smart and simple low budget kitchen design includes only the items that will serve you exceptionally well, thanks to their quality and functionality. So, rather than going with many kitchen elements and items that you probably won't use or use rarely, decide to purchase only the kitchen items you truly need and will frequently use.
The best simple low-cost simple kitchen designs are practical and efficient but also stylish, with lines, colors, and finishes that stay on-trend for many years to come. Avoid kitchen cabinet colors and other design elements that are not your absolute favorites. Simple low budget kitchen designs often include cabinets painted in basic, classic colors that will be able to accept various decor elements that you may want to change over time.
Also, make sure to choose quality countertops for your low-cost simple design kitchen. Good countertops are the foundation of any sustainable, practical, efficient, and beautiful kitchen design you will need at all times.
Explore our selection of Modern Kitchen Cabinets Colors.
Simple Small Kitchen Design
Make the most out of your tiny kitchen space with our simple kitchen design ideas for small spaces. Whether you need simple kitchen design for a small house or small spaces in general, we have some suggestions you'll like.
Having in mind that any small simple kitchen design should also be a modern, you should never lose sight of the features you prefer and need in a kitchen. You will also want to maximize your small kitchen storage space, as well as its efficiency. This is why we've prepared some simple small kitchen design ideas and small simple kitchen design hacks that will enable you to make the most with your small kitchen space.
Simple Kitchen Design Ideas for Small Spaces
These simple kitchen design ideas for small spaces let you make the most of your tiny kitchen space. The goal is to utilize the best way possible each and every countertop space, wall space, and inch of flooring you have available.
So, if your kitchen is really, really small, consider removing the upper cabinets and installing open shelves instead. The ease of reaching the items you use most frequently and the functionality of open shelving will make you think twice about the necessity of upper cabinets.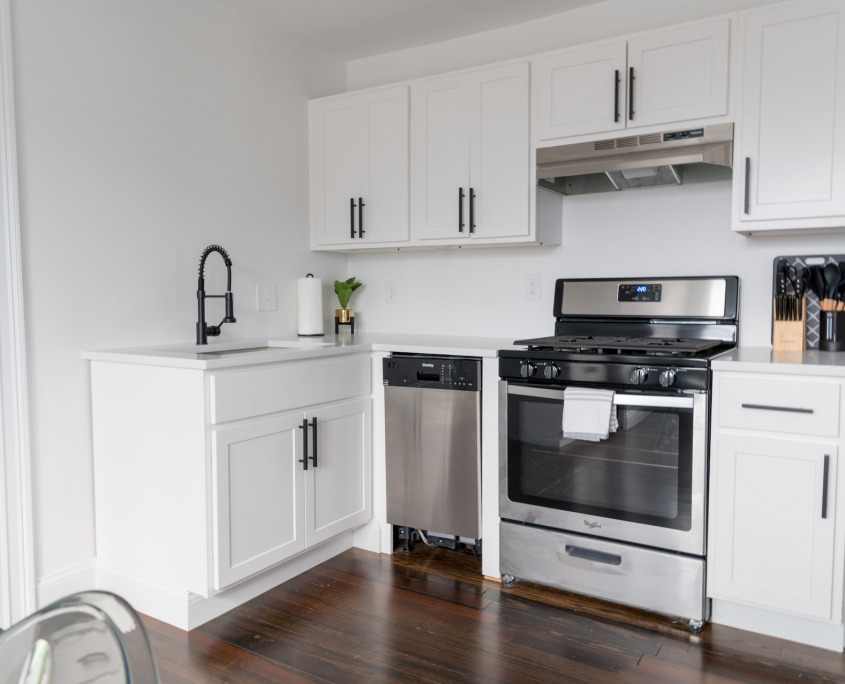 Another effective idea is to organize your kitchen cabinets immaculately. Homeowners with small kitchens don't have a lot of options, as no one really likes looking and going through the clutter on the countertops day in and day out. So getting organized kitchen utensils, all those little things you use every day for cooking and serving, as well as small appliances, is essential when it comes to making simple small kitchen design truly effective and functional.
When it comes to the visual appeal of a small simple kitchen design, we encourage homeowners to always use the colors, textures, and materials they love and enjoy. However, a modern simple kitchen design accentuates light colors that let you visually expand your small kitchen space. The lighter your kitchen is, the larger it will feel and look.
Simple Design Kitchen for Small House
Small house homeowners already know that they need to use the space they have available in a smart and efficient way. When all the other rooms in your home are already small and you need to make the most with the square feet you have, creating a simple kitchen design for small house is not hard.
Our kitchen designers have these ideas in mind.
When looking for appliances to equip your small kitchen, make sure to choose small appliances. Small doesn't mean cheap or low quality, it means that it will simply use less space and leave you with more space for actual food prep, serving, and entertaining. Small appliances that also combine two appliances in one give you even more convenience.
Add more storage using some inventive ideas, like adding a storage bench that is used both for seating and storing items. Another option is to include concealed storage where you can stash just about anything. This is a unique and creative way to acquire more space for your kitchen necessities without having to show them off.
Create a Simple Kitchen Design with Home Art Tile Kitchen & Bath
A simple home kitchen design is closer than you might think. Our designers will learn all about your style and preferences and share their in-depth knowledge and expertise to make possible what you imagined for your home. When looking to create low-cost simple kitchen designs, you'll greatly benefit from our friendly and personalized, professional, and hands-on service. Experienced in designing small and simple kitchens that need everything big kitchens have, our showroom is number one in the NYC area.
We won't only share our simple kitchen ideas with you but we'll also show you what the kitchen would actually look like and help you choose the best products that provide high quality but also save money. Our experts take away the stress and uncertainty out of your simple kitchen interior design creation process with top-class products at rock-bottom prices. You simply need to stop by our showroom to check for yourself.
After you choose the cabinets, countertops, backsplash tiles, faucet, and sink, we won't just leave you there. We'll also help you with installation and recommend a reliable, highly experienced, insured, and fully licensed local contractor to bring your simple kitchen design to life.
Speak to a designer at 718-433-0060 to get started or contact us through the contact form, and we will get back to you within a business day.
https://homearttile.com/wp-content/uploads/2021/11/Simple-Kitchen-Design-Ideas-min.png
312
820
sandra
https://homearttile.com/wp-content/uploads/2017/11/logo-102214.jpg
sandra
2023-05-29 11:30:00
2023-05-29 19:25:22
Simple Kitchen Design – Ideas for Low Cost & High Quality