Kitchen Remodel and Bathroom Remodel in Astoria, Queens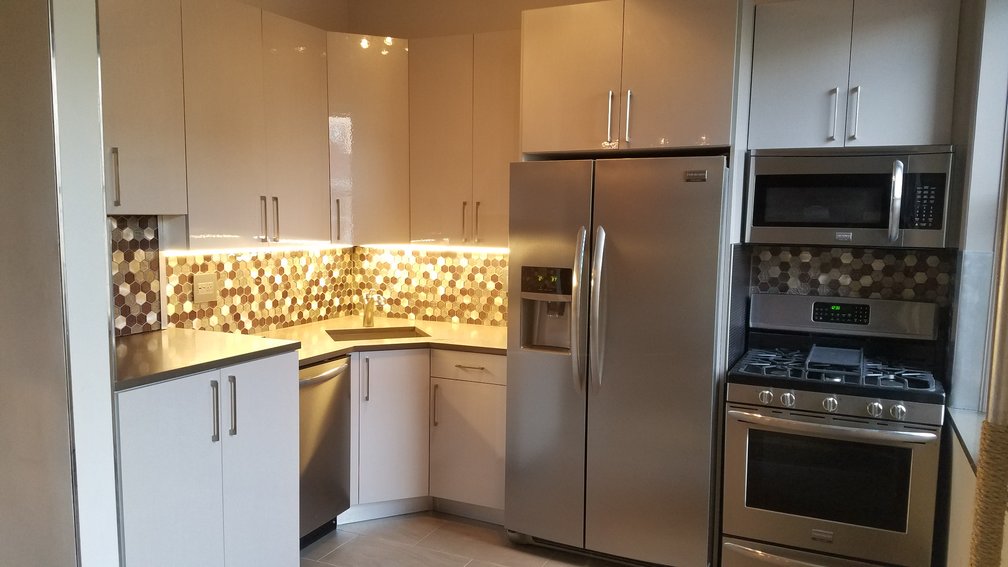 Home Art Tile Kitchen and Bath recently did a kitchen remodel and bathroom remodel in Astoria, Queens.
Astoria Queens Neighborhood
Astoria, Queens is about 15 minutes from Midtown Manhattan and a short drive over the Triborough Bridge to Bronx and Harlem. Astoria is a middle-class neighborhood with a population of 78,793. It is bordered by the east River and its neighboring Long Island City, Woodside and Sunnyside.
For Astoria Queens, people say that it's one of the best places to live in. This is a lively, traditionally Italian and Greek neighborhood. Over the past several decades, Eastern Europeans, Egyptians, Irish, Brazilians, and Bangladeshis arrive to Astoria. With an amazingly diversified cultural tradition and legacy, Astoria Queens is home to food destinations, arts, and great shopping experiences. The young population also loves this neighborhood because of its inexpensive amenities, affordable housing, and a short drive to Manhattan.
Astoria Queens was named for John Jacob Astor, a businessman from New York. The people were hoping that such a rich man could donate some of his money to this part of Queens. However, he eventually invested $500 in Astoria but, as some say, had never visited the area.
Today, Astoria Queens is a pleasant and energetic place to live. This neighborhood has always been known for Greek food. Now you can choose from Colombian, Turkish, Egyptian and many other national cuisines. This is one of the rare places where you'll want to eat out.
The Museum of the Moving Image is a place you must visit in Astoria Queens. This place was a major celluloid star in the early days of cinema. The places that should be also visited are The Museum of Modern Art, Socrates Sculpture Park, and the Isamu Noguchi Garden Museum.
Classy and Cozy Kitchen Remodel in Astoria, Queens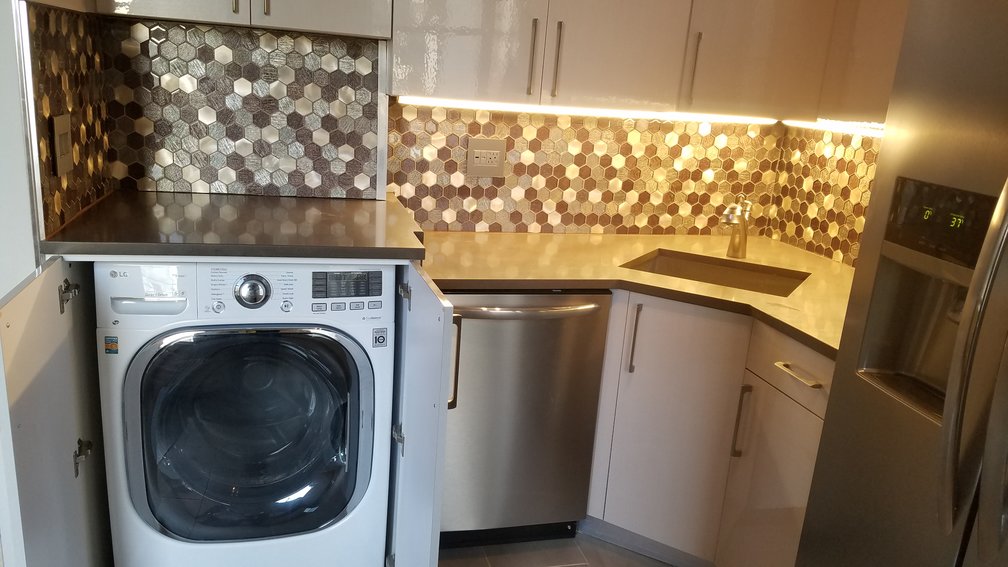 Astoria is a vibrant and diverse community inhabited by people who appreciate the quality and coziness in their homes. Home Art Tile Kitchen and Bath was a logical choice for a kitchen remodel and bathroom remodel in Astoria, Queens. It's a 10-minute drive and we carry the superb home products selection.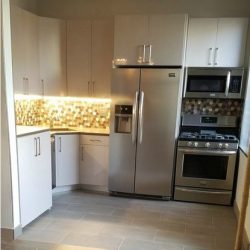 Porcelain floor tile was the best possible choice for the kitchen floor. We laid Sagamore Taupe 12×24 porcelain tile over the kitchen floor to bring in the natural feel. Our goal was also to provide the homeowners with porcelain tile flooring that will stand the test of time. This tile should also provide them with exquisite low maintenance porcelain floors.
The porcelain tile was an amazing combination with simple yet elegant and sleek glossy white kitchen cabinets. Both porcelain tile flooring and white kitchen cabinets are classy but also simple. This kind of space demanded a focal point – an element that needed to serve as a focus of the whole kitchen space. Tile backsplash seemed like the perfect kitchen element to serve this purpose.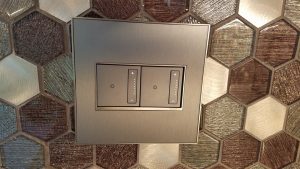 Merola tile Galaxy Bronze Hexagon was a perfect choice. Rich with shine and deep brown, bronze, beige, and gray color, this backsplash tile created a perfect marriage with the rest of the kitchen. The shape of the tile also gave this kitchen remodel a focus. However, nothing was taken from the beauty of the porcelain flooring or the elegance of the kitchen cabinets. On the contrary, the three elements worked together to create a place that is elegant and classy but also cozy, warm and inviting enough to make you want to live here.
Spa-like Bathroom Remodel in Astoria Queens
Bathroom remodel is, besides any kitchen remodel, considered one of the most demanding home renovations. All the products you use should be of top quality. They should perform perfectly. In the first place, they must be water resistant. These products are also required to last for years to come. This is exactly why selecting a bathroom tile is such a big deal. Before you decide and purchase that bathroom wall tile you set your eyes on, consider all the daily steamy showers, the kids' baths, and pet baths.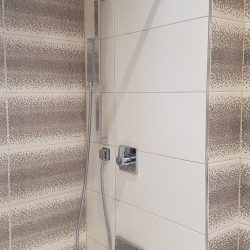 Bathroom wall tile must stand up to wetness and constant, continual, everyday cleaning. On top of all, when looking for the perfect bathroom tile for your bathroom remodel, the tile you choose should also look stylish, modern and elegant. It depends on one's personal taste. But one thing is certain – it must stand the test of time, both with its quality and looks.
The homeowners who invited us to renovate their bathroom decided to balance out their bathroom space. They accomplished this by using two different bathroom tile colors. Their choice were Wall Tiles London Cream 10×20 and Wall Deco: Tile London Coffee Deco 10×20.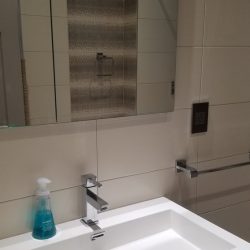 The two tiles have the same shape. Their colors and shades complement each other amazingly well. By combining two types of bathroom tile in one space we got a beautifully balanced and calming spa-like bathroom.
The bathroom wasn't completed until we installed an all wood, Barcelona 24-inch Gray Oak Vanity. The bathroom tile that possesses the shades of wood and the all wood bathroom vanity created an amazing space together.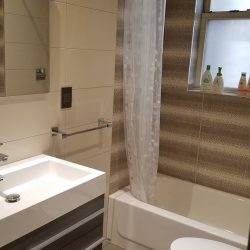 Bathrooms are sometimes considered cold places where people don't want to spend a lot of time, where people don't relax, where they just wash away everything and step out. This bathroom in Astoria Queens defies this belief with its warm shades and earthy tones. Home Art Tile Kitchen and Bath created this spa-like bathroom where you actually want to stay in and relax after a long day. This is the feeling that every bathroom space should offer to its owners.
Kitchen remodel and bathroom remodel in Astoria Queens by Home Art Tile Kitchen and Bath
Home Art Tile Kitchen and Bath is proud of its porcelain tiles, ceramic tiles, subway tiles, natural stone tiles, glass tiles, and metal tiles selection. We are confident that any homeowner will find the perfect product for his kitchen or bathroom remodel in our showroom. With the same assurance, we helped the homeowners from Astoria Queens to pick the perfect tile for their kitchen and bathroom remodel.
Our skillful team always helps with picking the best possible products – kitchen cabinets, countertop, ceramic or porcelain tiles for your dream kitchen or bathroom. We offer complete design services at no additional cost. The installation of all the elements is just a breeze with us.
Whether you live in Astoria Queens, Sunnyside, Woodside, Manhattan or Brooklyn, choose us and our products and services. Apart from being a few minutes' drive, you will save thousands comparing to Manhattan stores. Make sure to check out our products selection, get free 3D kitchen design and factory-direct prices. Call us today to get started with your kitchen or bathroom remodel.
https://homearttile.com/wp-content/uploads/2017/01/rsz_20170112_123925.jpg
567
1008
sandra
https://homearttile.com/wp-content/uploads/2017/11/logo-102214.jpg
sandra
2017-02-01 08:47:54
2022-10-13 15:20:04
Kitchen Remodel and Bathroom Remodel in Astoria, Queens