Marble Tiles Bathroom Renovation in Jamaica, Queens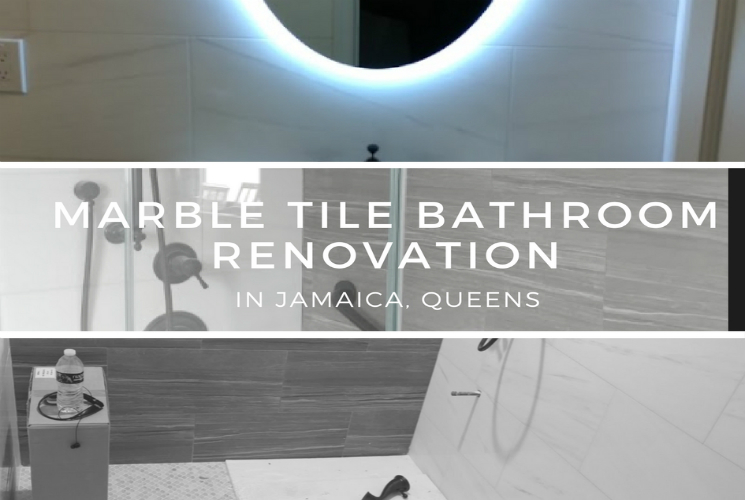 Marble tiles present a highly sophisticated yet durable solution for bathroom remodel projects. Some marble tiles that are as hard as granite can be used for floors. They are one of the most durable flooring options, while polished marble tile looks beautiful when used on bathroom walls.
Bathroom Renovation with Marble Tiles in Jamaica, Queens
Our customer from Jamaica, Queens, decided to renovate their bathroom and use marble tiles. White dolomite marble tile with the honed and polished finish, white Carrara marble mosaic, gray porcelain tile for the accent wall, and pure white quartz for the shower step made this bathroom look just as the homeowners wanted and needed it to look. Excellent quality and durability of these marble tiles ensure their longevity. The luxurious look of marble tiles complements and upgrades the satisfaction and makes everyday use very pleasant.
Jamaica, Queens is a neighborhood and a part of Queens Community Board 12. This Board also includes neighborhoods of St. Albans, Rochdale Village, Hollis, Baisley Pond Park, Springfield Gardens, and South Jamaica. Jamaica, Queens is the area where several government buildings, including Queens County Family Court and the Joseph P. Addabbo Federal Building, home to the Social Security Administration's Northeastern Program Service and Center Queens Civil Court, the civil branch of the Queens County Supreme Court, are located. The downtown center of Jamaica, Queens is one of the most diverse areas in the neighborhood. Jamaica Avenue in the downtown, with its specialty stores, clothing shopping stores, and popular retailer's stores make it one of the most visited places for shoppers around.
Our customer came to Home Art Tile Kitchen & Bath since we are conveniently located close to Jamaica, Queens, to pick and shop for the best marble tiles for their bathroom renovation.
The homeowner found shopping at our Queens tile store pleasant, convenient, and budget-friendly:
Home Art Tile team is the absolute best. They are responsive, knowledgeable and, most importantly, courteous and respectful. I had the pleasure of working with Omar, Mike and Rashid personally in designing and purchasing the materials for a full kitchen and 2 bath renovation for my parents home a few months back. IMO when selecting tiles, cabinets, fixtures etc. the inventory is often similar in many competing businesses. But what made our experience with Home Art Tile special was the customer service. When you're in the middle of a large renovation as was our case it can often be a very stressful and lengthy process. I was more than pleased that there was no stress, hiccups, or headaches involved in my dealings with Home Art Tile. Also, it helps that their prices were mostly lower than other quotes I had received. I can even say that I was quite demanding and often found myself calling them multiple times a day to make changes/requests. Each time, I was greeted warmly and helped promptly. Our bathrooms and kitchen look amazing. I am now beginning a full renovation for my own home and am pleased to be able to work with Home Art Tile again.
Dolomite Marble Tiles for Bathroom Wall
Our customer picked Dolamito 12×24 polished marble tile for the bathroom wall. This was a great solution, as Dolomite Marble Tiles are harder than regular marble. They are impervious to etching and acids. These marble tiles are also beautiful. This white stone with very gentle and faint gray veins gives sophisticated and elegant yet bold look to any space. When used in the bathroom, dolomite marble tiles make the space look clean and luxurious.
Dolomite marble tiles can also be used in kitchens, laundry rooms, pathways, hallways, and even for outdoor uses. These durable marble tiles, when used properly and maintained regularly, will stay scratch-free and stainless for years to come. If you are planning a bathroom remodel, take into consideration that marble is a natural stone and that marble tiles won't allow allergens and germs survive on their surface.
Dolamito 12×24 marble tile used in this Jamaica, Queens bathroom renovation project has polished surface. The polish coat serves as a type of protection and this is the reason why polished marble tiles withstand stains better. Using polished marble tiles on the bathroom floor is not a good idea as they can make the floor very slippery. However, using them on bathroom walls, bathroom countertops, and fireplaces even is highly recommended.
How Should I Maintain Dolomite Polished Marble Tiles?
Polished marble tiles don't require re-sealing, which is very convenient. Make sure to wipe stains like toothpaste as soon as you can. When cleaning your polished marble tiles, use a small brush, some water, and a mild bleach solution. Don't brush your marble too roughly and don't use sand or detergents with too much ammonia as they can damage your marble. If you do as recommended, you will be able to keep your polished marble tiles shiny and sparkling for years.
Dolomite Marble Tiles for Bathroom Floor
When renovating their bathroom in Jamaica, Queens, our customers chose Dolamito 6×24 marble tiles with the honed finish. This was an excellent choice because honed finish marble tiles are not slippery. They are velvety, smooth, and very gentle to the touch. These marble tiles are not as shiny as marble tiles with the polished finish, but they offer almost satin-feel and are one of the safest solutions you can find for bathroom floors. Dolomite marble tiles with honed finish are completely scratch resistant. Even when they get scratched, they won't show it.
Since they are highly resistant to scratching, soft to the touch, and not slippery, dolomite marble honed tiles are not recommended only for the bathroom, but also for all high-traffic rooms, like kitchen, living room, mudrooms, foyers, and other.
How to Maintain Dolomite Marble Tiles with Honed Finish?
Maintaining dolomite marble floor tiles with the honed finish is a simple and fast process. Mild household cleaning detergent with bleach is enough. Don't use regular soap or harsh detergents as they can damage your marble floor tile.
Carrara Marble Mosaic Tile for Shower Floor
MAG937 Carrara Petit Mosaic with the polished finish was what our customer from Jamaica, Queens chose to cover the shower floor. Carrara Marble Petit Mosaic features a unique shape with an artistic touch and luxurious texture. Its geometric style and structure is highly versatile. This quality of Carrara Marble Petit Mosaic Tiles easily changes the look of any space. They are especially effective in emphasizing certain areas in the room or adding width to them. Beautiful and practical in all rooms, not only bathrooms, Carrara Petit Mosaic Marble Tile will bring great strength and tolerance to different kinds of damaging contacts. Their look is stylish, luxurious, and timeless.
Gray Glazed Porcelain Tile for the Shower Focus Wall
Antalya Gray 12×24 glazed porcelain tile was used for the shower focus wall in this Jamaica, Queens bathroom renovation project. Tranquil, luxurious look of the Antalya Tile was used to break up the overall whiteness of the bathroom and create a unique and flawless accent.
Glazed porcelain tile is a wonderful solution for bathroom wall as it is highly resistant to staining. A non-porous layer of liquid glass protects it. Glazed porcelain tiles offer a wide range of colors and styles for your bathroom renovation projects.
Pure White Quartz for the Shower Step
Our customer from Jamaica, Queens, opted for Pure White Quartz custom cut for the shower step. This is one of the safest, simplest, and most effective solutions.  Not only it emphasizes the attractiveness and luxuriousness of the bathroom, it also provides one of the most secure settings.
Pure White Quartz is absolutely scratch resistant and non-porous. It is easy for maintenance, with no need for polishing or sealing. Pure White Quartz is also highly hygienic because it possesses a natural anti-microbial protection. When you use it using in your bathroom, you basically say no to mold, mildew, and bacteria growth.
To properly maintain it, simply use water and soap, or a mild detergent. If necessary, clean it using a non-abrasive household cleaner that contains bleach directly on a damp sponge, wipe the surface, and rinse thoroughly.
Visit Home Art Tile Kitchen & Bath for Your Bathroom Renovation Project
Home Art Tile Kitchen & Bath is number one tile store in Queens, Manhattan, and Brooklyn area. We carry exceptional porcelain tiles, ceramic tiles, glass tiles, and metal tiles. However, we are especially proud of our high-end marble tiles selection. Whether you need marble tiles for floor or wall, we will offer you the tile with the right finish for your need. Not only that they will make your bathroom look luxurious, marble tiles will make your bathroom a healthy and practical room.
If you live in Queens, Manhattan, or Brooklyn, and you are thinking about renovating your bathroom or a kitchen, stop by and take a look at our tile selection. Great prices we offer will save you thousands comparing to expensive Manhattan stores. We are always available to offer additional help, assistance, and estimate, free of charge. Contact us today.
If you are interested in what other people say about us, take look at other customer projects and testimonials.
https://homearttile.com/wp-content/uploads/2017/12/Marble-Tile-Bathroom-Renovation.jpg
500
745
sandra
https://homearttile.com/wp-content/uploads/2017/11/logo-102214.jpg
sandra
2017-12-29 14:34:13
2022-10-13 15:25:34
Marble Tiles Bathroom Renovation in Jamaica, Queens