Bathroom Makeover Ideas for Your Home in 2023: Top Picks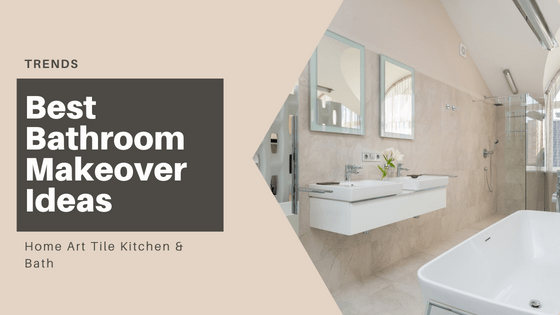 Bathroom makeover ideas are always welcome when you plan on remodeling your bathroom or simply updating it. From high-rises in Manhattan to brownstones in Queens, doing bathroom makeovers 2023 can be as easy and effective as adding new bathroom tile, repainting the walls, or creating additional storage. Whether you are considering a major bathroom overhaul or a simple refresh, these fantastic bathroom makeover ideas will surely fit your budget.
Having in mind that we spend a considerable amount of time in our bathrooms throughout the day, we naturally want to make them as beautiful as possible. Various bathroom elements like classy bathroom vanities, standalone bathtubs, sleek showers, and gorgeous tiles are available in many styles and at different price tags. This brings many bathroom makeover ideas to mind and performing bathroom makeovers in 2023 becomes possible and achievable.
If you are looking to largely renovate or simply update your bathroom, you're in the right place. We bring you a wealth of small bathroom makeover ideas, bathroom makeover ideas on a budget, as well as bathroom makeover ideas 2023 that will make your bath absolutely drool-worthy. Whether you live in Manhattan, Brooklyn, or Queens, these bathroom makeover ideas will blow your mind but not your budget.
1. Repaint and Refresh Your Bathroom
Simple solutions, such as a ceramic bathroom tile backsplash or a new mirror, are easy ways to update a space. However, few things can refresh a space like a fresh coat of paint. Whether it has been one year or ten years, your bathroom will surely thank you after a new coat of paint has been added. Besides all the hygienic effects, additionally, repainting the space gives you an opportunity to completely change the look of the space. Going white from yellow or green from beige will change the look and feel of your bathroom like nothing else.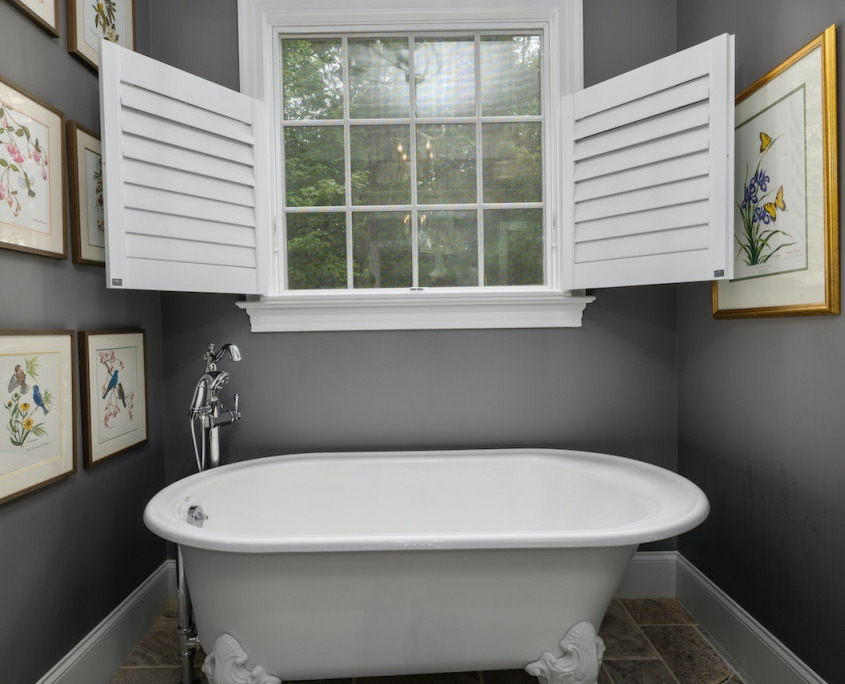 Consider the repainting of the room as a wardrobe change for your bathroom. The color you choose can reflect your style, and create a stylish contrast to your granite countertops or any other element. When looking to repaint your bathroom in 2023, consider ever-modern neutral tones like off-white, light gray, warm white, and calming light and soft blue and green variations.
But after all, the color for your bathroom repaint will be determined by your bathroom decor, the style of fixtures, and the furniture you're already rocking in it. If you're replacing everything in your bathroom, then feel free to completely change its look, along with the fresh coat of bathroom paint the closest to your heart.
2. Update Your Bathroom with a New Tile Backsplash
If you decide to update your bathroom with a new tile backsplash, it's good to know and it's actually an additional motivation, that it has two functions — as a stylish element and as a protection for the walls. You can choose the style, color, shape, material, and pattern from a vast array of options, and go wild with combining different or even opposing options. Whether you pick a classic white subway tile, a calming gray tile laid in a herringbone pattern, a farmhouse-style wood-looking tile, or decide to combine contrasting colors, it's important to choose what you love.
The bathroom backsplash tile will be one of the first things to see in the morning when you wash your face and brush your teeth. So it's important to make it pretty, attractive, and pleasant to the eye and heart. Off-white, light ping, gentle green, deep blue, calming gray — all these lovely neutrals are a great idea for a bathroom backsplash. However, make sure not to clash it with the rest of the bathroom interior. Also, have in mind that the quality of the material is very important. Both porcelain tiles and ceramic tiles are great ideas for a new bathroom tile backsplash.
Oftentimes, the area around a bathroom's sink and vanity is faded or in need of a refresh. Rather than repainting this area, consider updating the space by adding a glass or ceramic bathroom tile backsplash to the region surrounding the sink. The colorful pop of a glass or ceramic bathroom tile will enliven the small space and add interest to the bathroom's overall design. Additionally, the beautiful bathroom tile will serve practical use and protect the bathroom walls from possible future water damage.
3. Redesign, Reflect, and Shine
After you add the perfect bathroom backsplash tile, it's the perfect moment to add that oversized mirror you've always dreamed of. A great bathroom makeover begins with a vision of what it is that you want your space to become. Let your bathroom mirror reflect the image that you want to see and allow it to help form the space that you want to spend time in.
If you have a plain-jane mirror or an outdated piece of glass, simply switch out the mirror and watch as your space comes to life. Vintage or modern, a unique mirror adds character and style to your bathroom space.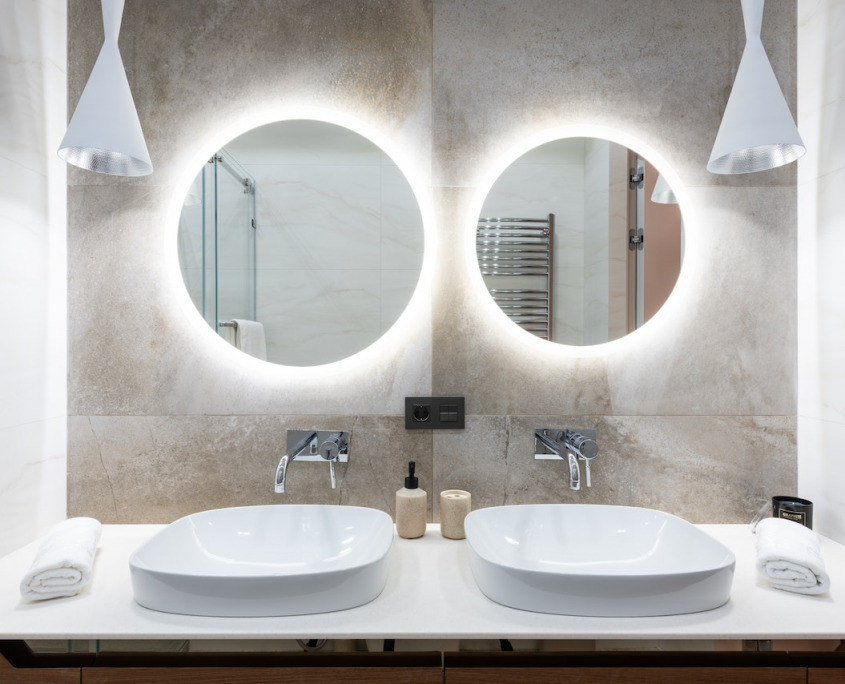 With a large, oversized bathroom mirror, you can truly transform the space. If you have a double-sink vanity, it's a good idea to add two mirrors for more reflection, shine, and visual expansion of the bathroom. With a mirror, your bathroom gets the profoundness you've always needed in your home. Depending on the style of your bathroom, you can go with a simple style, a frameless mirror, or you can go elegant and refined with a rich edge design. For even more glow, add more illumination to light it up!
4. Refine and Redefine Your Bathroom with Effective Storage
Less really is more when it comes to home design. Bathroom space should center around the renewal of mind and body. Likewise, the design of the space should reflect this idea. Cluttered counters rob a bathroom of its ability to refresh. However, fixing a cluttered bathroom can be as simple as editing what you keep on your bathroom's countertops and other visible spaces. Edit, throw away what you don't need, and find smart storage solutions for the rest.
Choosing the right type of storage for your bathroom is not only a space-saver but a life-saver, as well. You don't have to go with just one type of storage. For example, bathroom vanity storage with drawers and cabinets is a no-brainer. But there are also other options you can consider for smart editing of the bathroom. Wire baskets, modular drawer organizers, over-the-toilet built-in shelves, bins, bathroom ladders, floating shelves, leaning shelves, and magnetic strips — all of these storage options can help you edit and clean your vanity top surface to keep it clean and tidy. And, on top of that, all of your bathroom essentials will finally be organized.
5. Accessorize your Bathroom Space
Accessorizing is one of the bathroom makeover ideas that can play a crucial role in styling up the bathroom with a unique design and one-of-a-kind personal touch. When planning to remodel your bathroom, think about accessorizing everything — from vanity, shower, and bathtub to rugs, tiles, artwork, greenery, and more.  play a key role in creating a stylish bathroom design with a personal touch, from cabinet hardware to towels, rugs, plants, artwork, and more. The most important goal of accessorizing your bathroom is bringing life, uniqueness, and personality to otherwise already stylish elements but still impersonal.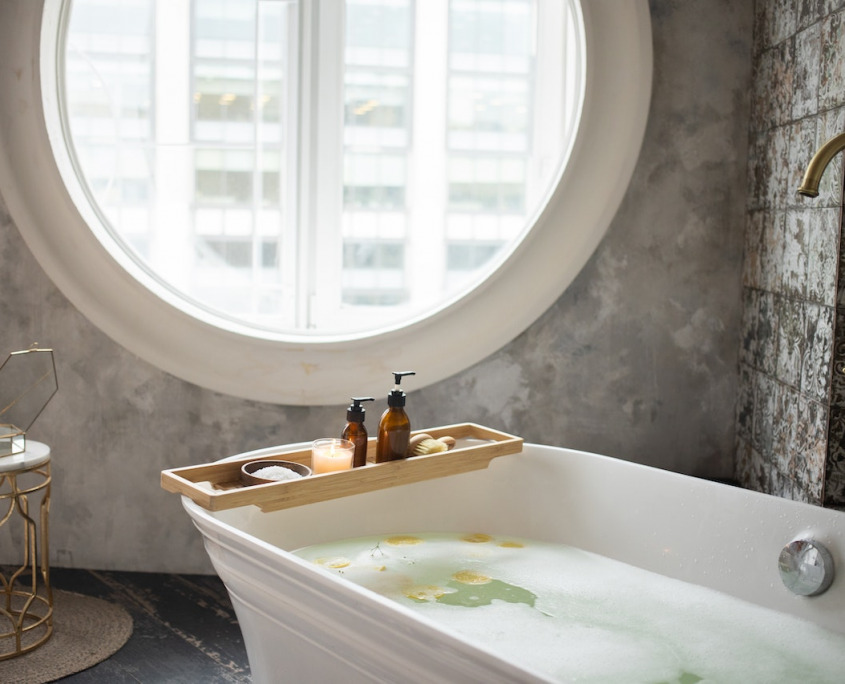 The most effective way and place to showcase accessories in your bathroom are perhaps vanity tops. However, the should also display only essentials that you use every day, so be careful not to overdo it. Choose useful items like trays, vases, cups, and soaps that will be useful to you but also something beautiful for your bathroom to boast. They are the perfect example of how even the smallest of items can go a long way in upgrading and perfecting even the best master bathroom remodel ideas. These small items can go a long way in creating a serene bathroom getaway. The most important thing — have fun when adding more life to your bathroom with texture and innovative or comforting color combinations. Some of the top ideas to accessorize your new bathroom are customized storage and innovative bathroom vanity ideas, fluffy rugs, bold lighting fixtures, brass vanity hardware, whimsical pieces of art, floating wooden shelves, unique decor, and more.
6. Add a Little Life to Your Bathroom with Some Greenery
Bathrooms can be sparse and clinical. This is why a houseplant is a wonderful addition to any bathroom space. Whether you prefer the bold, dark green foliage of a peace lily or the colorful bloom of an orchid, a house plant will invigorate your bathroom space. A plant's lively colors are sure to pop against the stark backdrop of your bathroom tile and add enliven even the most ordinary bathroom.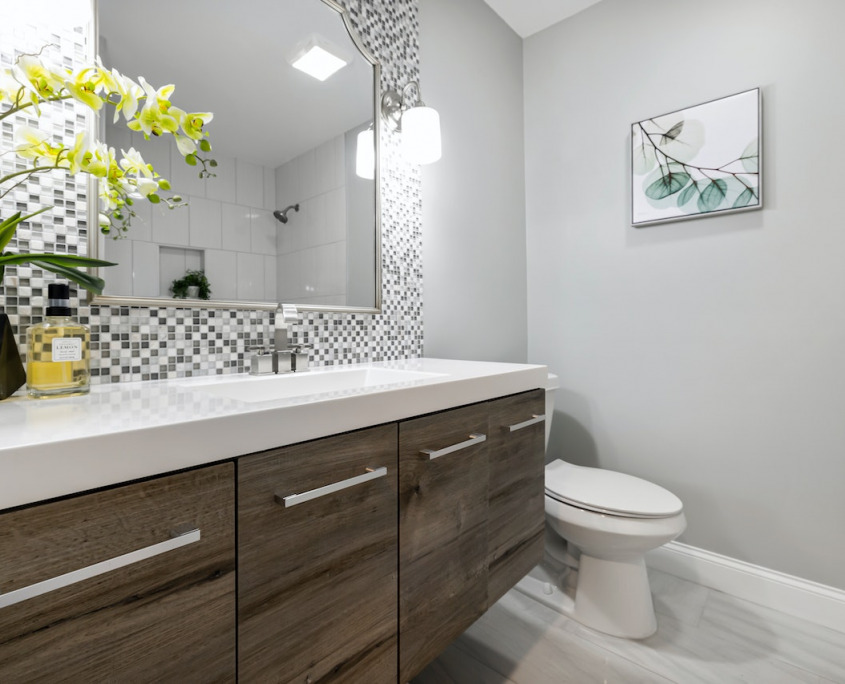 When choosing the perfect green plants for your bathroom makeover, choose plants that can thrive even in a humid and dark environment. Not all plants can take humidity. So, if you choose a plant that likes dry air and less water, you'll find yourself replacing it with a new one pretty fast. Plants that don't like humidity will develop root rot pretty fast, start wilting and die. But, fortunately, there are plants that can take less light and lots of humidity.
Also, when choosing a plant and the perfect pot for it, consider the colors you already have in your new bathroom. Dark green leaves will gorgeously pop in a white, light, and bright bathroom. But adding a plant to a navy, slate, or any dark accented bathroom will also create a unique and inspiring setting. Any type of fern will look amazing in a bathroom corner, for example, just make sure to leave enough space for it to grow and develop new leaves. Add small plants to the floating shelves and surround yourself with nature while bathing in your standalone tub. You can also hang plants on the ceiling and let them hang. The ideas of beautifying your bathroom with plants are endless. Just make sure to pick the best ones that suit you and your home.
7. Effective Small Bathroom Makeover Ideas
Is your small bathroom in need of a style overhaul? Your small bathroom makeover does not need to wait until you win the lottery. Use basic bathroom remodel ideas and upgrade them with many simple and affordable ways that you can add style to your small bathroom. Take stock of your home's current furniture selection. Is there something that would work in your bathroom? Consider adding, a stool or a side table. Perhaps a magazine rack next to the commodes. While you're raiding your home looking for that table lamp, consider adding a bit of furniture to your small bathroom. Adding sleek and simple pieces of furniture to your tiny bath is an easy way to interject a little style into a hum-drum space.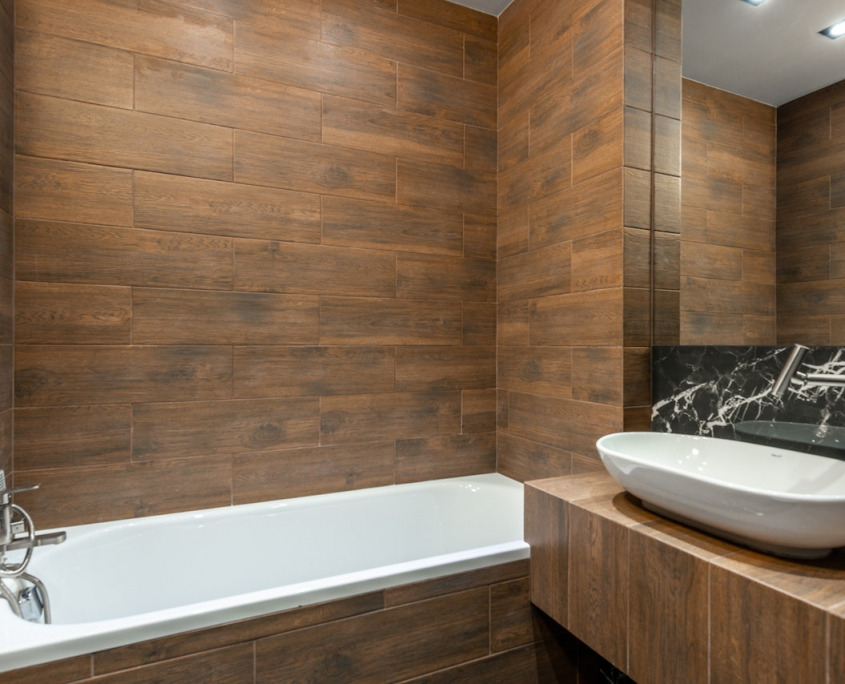 Even tiny bathrooms can bring incredible value to your home. So make sure to gather some great small bathroom makeover ideas to inspire your bathroom remodel. Choose a neutral color palette instead of strong colors and combine wood accents to add interest that will bring life to the bathroom but still not make it too busy. Sleek, simple, minimalist lines and decor is a God-given for small bathrooms. One of the best small bathroom makeover ideas is to add large mirrors and go white or light neutrals. Light and bright colors, along with large mirrors will introduce more reflection and visually expand your small bathroom. This way, you'll get a feeling of grandeur even in the smallest of bathrooms. Just don't forget to add some unique pieces of furniture, artwork, or unique fixtures because even small bathrooms need some personality and uniqueness.
8. Unique Bathroom Makeover Ideas on a Budget
If you're wondering, how can I make a cheap bathroom makeover, look into these bathroom makeover ideas on a budget.
If you're planning on a bathroom makeover in 2023, but your budget is not that big, you can relax because we got some great bathroom makeover ideas on a budget. Cheap bathroom makeovers usually leave the big items like showers, tubs, and even tiles alone because they are usually on the more expensive side. Bathroom makeover ideas on a budget include updating some budget-friendly items like paint, greenery, artwork, vanity hardware, mirrors, lighting fixtures, storage accessories, and other accessories. Updating these small-budget items has a high impact on the overall new look and feel of your bathroom.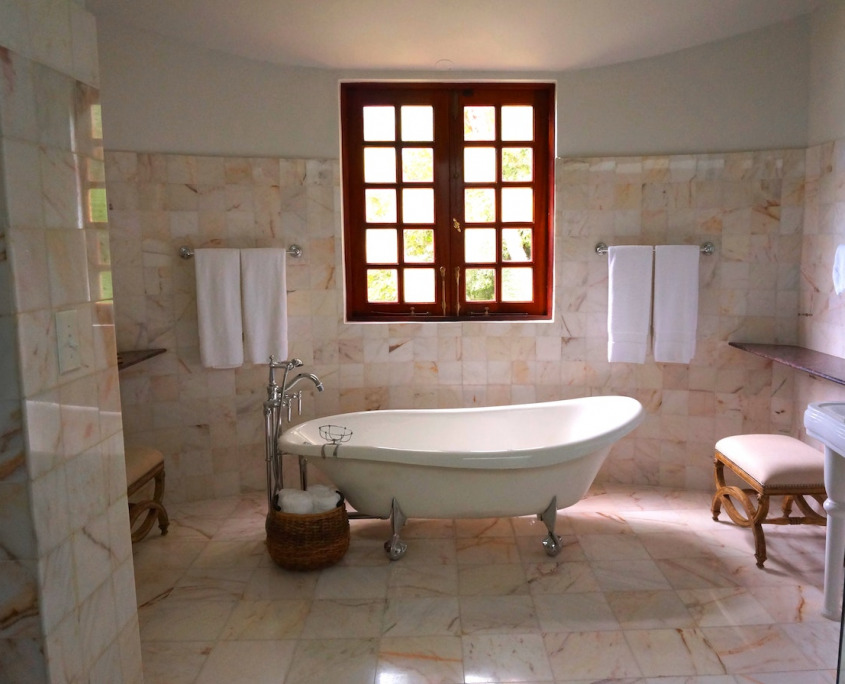 So, how to makeover a bathroom on a budget?
When considering bathroom makeover ideas on a budget, think blank canvas that you can customize any way you want, at a low price. Cheap bathroom makeovers are possible for any budget and aesthetic preference. Tiling parts of your bathroom to introduce accent with a specific and unique tile, painting your small bathroom with small or no windows in light colors, adding open storage for a feel of greater space, new, bigger mirrors, and bigger, more lavish light fixtures, adding another sink if there is enough space, introducing unique shapes, materials, and textures, replacing vanity cabinetry, updating shower doors, change up the colors — all of these bathroom makeover ideas on a budget will effectively refresh the look and feel of your bathroom. However, they can also introduce serious changes in their functionality and performance.
9. Trending Bathroom Makeover Ideas 2023
The bathroom is the one space in your home where you can also show your creativity, uniqueness, and designer talent. It's a room where functionality rules but that can also benefit from your creative and innovative ideas. Bathroom makeover ideas revive some old trends but also introduce new ones. The most important one is — bathroom makeovers 2023 should be performed and built to last. Ditch some of the dated styles, colors, and finishes if they don't work with your new theme anymore. Bathroom makeover ideas 2023 are not necessarily full remodels that would break the bank. Instead, choose to go with refreshing the space with some new trends.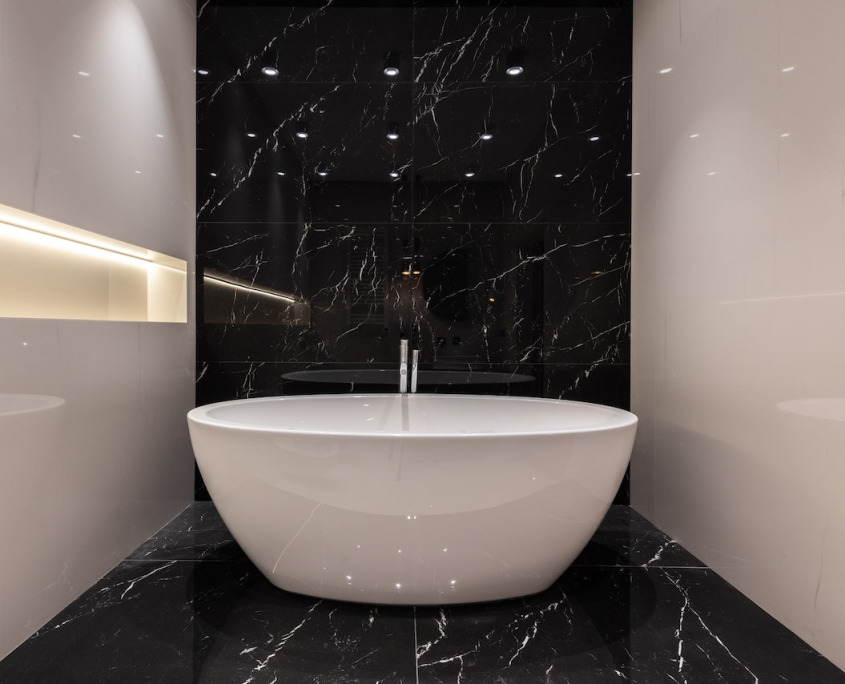 While some designers are sticking with neutrals and nature-inspired textures and colors with their bathroom makeovers 2023 designs, other interior designers have decided to go bold with colors, textures, and patterns. Your bathroom doesn't have to be a pure function room, and that is one of the leading bathroom makeover ideas 2023. Decorative fixtures, light, but not white tones, like warm wood, light pink, cream, and taupe, geometric, chic tile patterns, chrome and brass for metals, dark tile for contrast, concrete and earthy tones, bathtub as a focal point, textured tiles for more dimension, gold accents, stone showers, custom vanity cabinets, and dark finishes — these are all trending bathroom makeover ideas 2023 that can set you up for success with your soon-to-be done project.
FAQ About Bathroom Makeovers
How Can I Makeover My Bathroom Look Better
Now that you have all the timeless and latest bathroom makeover ideas down, you can start with ideation, planning, and work. First thing first — remove the clutter and everything you don't need in your bathroom. This is starting with a task that will cost you absolutely nothing. Go through your drawers and cabinets, and remove everything you and your family don't use, use very rarely, or with an expired date. The bathroom is the room that is so important and often visited, but we tend to forget about the clutter. Rather, we get used to it. So, make a big change and throw out everything you don't need, don't use, or don't like anymore.
Then put up a fresh coat of paint to bring fresh life into your bathroom.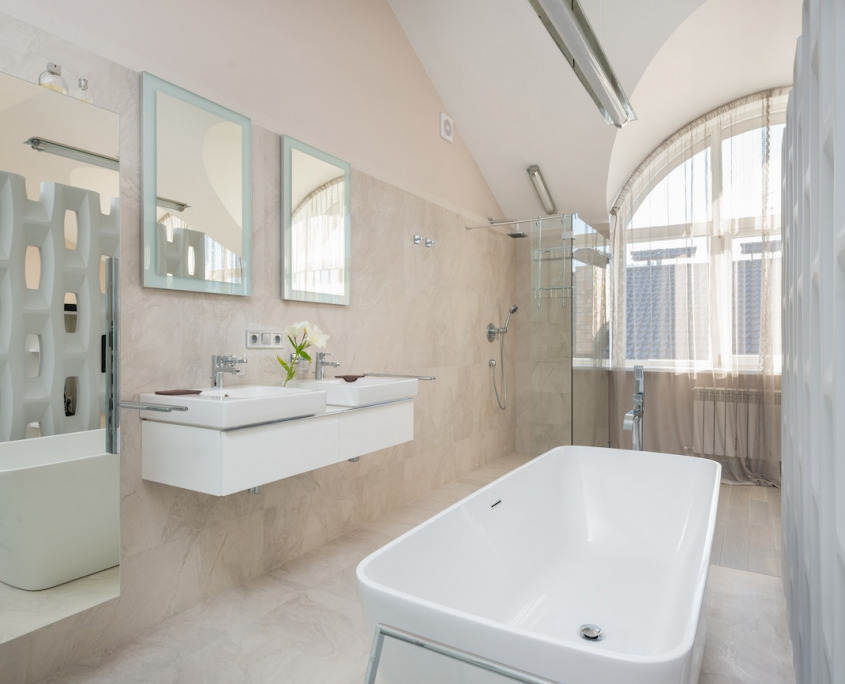 Now clean everything so that it shines. This means deep clean, and cleaning not only surfaces that are seen immediately as you enter the bathroom but even far corners. The next thing to go is the old shower curtain — switch it up for something different, more modern, and something that goes better with the overall design of your bathroom. Old bath mats and rugs are the next to go and be replaced with a more trendy option. Now add storage, more light fixtures, and some pieces of art. If you want a more dramatic but still simple change, throw out that old vanity top and add new granite or quartz countertops for more beauty, easier maintenance, and better functionality.
All of these actions will make your bathroom look better and they certainly require a minimum budget. However, if you want more dramatic changes that will be on trend, then go full force with some of the bathroom makeover ideas we've listed above. Just make sure to choose what you love and make combinations that will relish your days.
How Much Does a Bathroom Makeover Cost
A bathroom makeover cost will depend on the scope and size of your project. Are you going to simply refresh your bathroom with a new shower curtain, new rugs, and cups? Perhaps you're going for a new vanity, or switching your tub for a shower? Maybe you need a new vanity top? Each of these projects would require a different budget. Remodeling a bathroom is one of the most expensive jobs you can start working on in your home. For example, if you need to replace plumbing, that is a whole other level because you will need an extra budget to demolish, remove, and dispose of any extra items, and then replace and install new items. It will all add to the total cost of your bathroom makeover. A typical bathroom remodel will range anywhere from $5,000 to $15,000 while the national average is about $11,000, according to the latest Angi estimates.
Complete Your Bathroom Makeover with Home Art Tile
We hope you are inspired by our latest bathroom makeover ideas. For more than a decade, we're in the business of sourcing the best bathroom remodeling products for your projects in NYC. And just like every year, this year we also give you the best bathroom makeover ideas 2023 to inspire and jump-start your unique bathroom remodeling projects. Whether your bathroom is small or large and regardless of your preferences and style choices, we are sure our bath showroom can provide anything you need. Visit us and choose from many options for our products.
We make your standard, uninventive bathroom become a modern dream and a symbol of perfect functionality, and don't ever let it become an afterthought. We certainly hope that these bathroom makeover ideas will inspire your plans, help you plan your project more effectively, and decide what is it that you really want for your bathroom. We truly care about your home and how you feel about it, and this is exactly what our customers say in their reviews. Contact us for a free estimate and more bathroom design ideas suited particularly to your unique space.
https://homearttile.com/wp-content/uploads/2023/03/Bathroom-Makeover-Ideas-min.png
315
560
homeart
https://homearttile.com/wp-content/uploads/2017/11/logo-102214.jpg
homeart
2023-03-01 21:16:12
2023-03-09 11:39:44
Bathroom Makeover Ideas for Your Home in 2023: Top Picks