22 Bathroom Vanity Ideas You Shouldn't Miss in 2023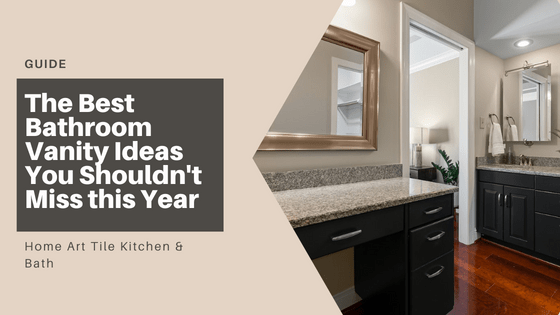 These are the best bathroom vanity ideas for your home in 2023. They are exclusive, versatile, functional, novel, and beautiful. Whatever style your bathroom is, classic or modern, farmhouse or minimalist, you can be sure that one of these bathroom vanity ideas will match perfectly with your taste, needs, and budget.
Being on the top of many wishlists, a vanity can make or break your bathroom design. Besides functional priorities like having enough storage, the right placement, and the best materials matched perfectly, a perfectly customized bathroom vanity presents a unique opportunity to show your style and a one-of-a-kind personality. It's easy to conclude — if you don't pick a vanity of the right size and style, the rest of your bathroom will suffer, both visually and functionally, as will your daily routine.
These bathroom vanity ideas won't let that scenario happen. Whether you plan to remodel your powder room, your small, single-vanity bathroom, or a master bathroom, choose something from our list of bathroom vanity ideas for your home in 2023. They all provide maximum function and purpose but they also make a statement and present a major fashion element in a home.
From traditional vanity designs to luxurious contemporary creations, and from small bathroom vanity ideas to modern double sink bathroom vanity styles, we bring you all the inspiration you need for your bathroom remodel. Take a look at these exclusive bathroom vanity ideas and choose the right style for your remodel.
Dual Bathroom Vanity Ideas
Bathroom vanities usually come in two sizes — single and double vanity. While single vanity will measure about 21.5 to 22 inches deep and be approximately 24 inches at the narrowest to 49 inches at the widest, double vanity will be the same depth, but the width could range from 60 to 73 inches or more, depending on the space and whether it's custom made or not. These dimensions will determine how much the countertops will cost if you're using an expensive stone countertop.
If you have enough square footage in your bathroom, installing double vanity in it is a great idea. Not only that you will get more storage space but morning and evening routines will be more efficient and enjoyable for all the members of your household.
Here are some of the best double vanity bathroom ideas, dual bathroom vanity ideas, or double sink bathroom vanity ideas for your ideal bath space in 2023.
Positano 48″ Double Vanity by Blossomus
This dual, all-wood vanity is resistant to any distortion or damage when handled according to instructions, and provides an elegant and modern look and feel. The vanity model provides large storage space, an attractive look, classic wall hung, soft-close drawers, five-layers paint for longevity and greater resistance to humidity, and an optional side cabinet for extra storage and better functionality and organization in your bathroom. As one of the latest releases from Blossomus, we believe this double vanity model by Blossomus will be a huge success in 2023.
Check out more double vanity bathroom ideas from Blossomus.
Britney 48 Inch Double Sink Transitional Ash Blue Bathroom Vanity by Eviva
One of the most popular modern bathroom vanity ideas in 2023 will be those in creative and ingenious colors and textures — something you don't see every day. Britney bathroom vanity We have had a great experience with this bathroom vanity manufacturer and we saw the quality, performance, beauty, and functionality they provide. This particular vanity is one of the most beautiful bathroom vanities we've had an opportunity to distribute and offer to our customers.
It comes with an elegant and durable Carrara marble countertop, and a stylish under mount ceramic sink, while rich paint keeps the vanity safe from any damage from regular, everyday use and makes it attractive and beautiful. Soft-closing doors and soft-closing drawers make for convenient and functional storage space for any and all items you and your family use on an everyday basis.
There are more double vanity bathroom ideas from Eviva vanity manufacturer that you can use to get inspired for your bathroom remodeling project. Be sure that vanity will make the strongest impact on the look of your bathroom space.
Small Bathroom Vanity Ideas
Bathroom vanity ideas single sink ideas or small bathroom vanity ideas are about 21.5 to 22 inches deep and approximately go 24 inches at the narrowest to 49 inches at the widest. This makes them very suitable for any bathroom size, especially suited for small NYC apartments. If your bathroom is tiny and needs a major refresh, these bathroom vanity single sink ideas can bring in a major change.
Finding bathroom vanity cabinets small enough but with still plenty of storage can present a major challenge. These small bathroom vanity ideas will enable you to use the available square footage better and live larger than you hoped for. Small bathroom vanities often provide high-end style without overrunning the space. With drawers and doors for storing necessary items you usually need in your bathroom and use on an everyday basis, small vanities can be as beautiful as they are practical.
Make the most out of your small vanity space and your tiny bathroom. Take a look at these small space-friendly small bathroom vanity ideas.
006 Series – 24 Inch Single Sink Vanity by Dowell
Coming in Metallic Brass, Dark Blue, and Oak Natural style and finish, this small wood bathroom vanity gives you a chance to combine beauty, functionality, and quality at an affordable price. A unique, true home spa experience is actually possible with this charming vanity that bursts with style. It goes well with contemporary bathroom trends and is sure to pair with any elements you already have in your bath space. But other than that, it also offers the required amount of storage space, longevity, durability, and quality you need for your bathroom and yourself, and comes at an affordable price. These benefits are very important and are the first to look for when shopping for the right small bathroom vanity for your bathroom remodel.
There are many small bathroom vanity ideas in Dowell vanity catalog that will save you money while providing a stunning modern look to a bathroom.
Alpine Vanity 20″ — White Marble by Fine Fixtures
Sometimes a single-sink bathroom vanity is all you can fit in your small bathroom. But don't worry, there is plenty of choices. Ensure the other surfaces are kept clutter-free by ensuring to add a single sink vanity with practical and big enough storage space. You can maximize space and add more storage space by mounting a cabinet or additional shelves on the wall. The best news is that by opting for a single-sink vanity you don't have to waive elegance and style. That's just the case with this Alpine Vanity 20″ — White Marble by Fine Fixtures.
Who says that a wall-mounted vanity must be an apparent or typical choice? This floating bathroom single-sink vanity may be just what you need in your NYC bathroom.
Fine Fixtures vanities, any of their particular small bathroom vanity ideas, can be perfect for your bath space. The look of marble and other ingenious finishes can create an impact like no other.
Blue Vanity Bathroom Ideas
Your bathroom vanity can be much more than a functional addition to your bathroom and your home. It can be a beautiful, stylish, and trendy addition that will excite, refresh, and help you relax any time you enter your bathroom. If this is what you desire to achieve with your bathroom remodel, feel free to elevate its aesthetics with the sophisticated appeal that blue vanity bathroom ideas offer. Combine a storage area painted in an attractive blue finish with the right basin, and transform your bathroom from regular to raising with blue vanity bathroom ideas or navy blue vanity bathroom ideas — whichever you prefer. Both will imbue your shower room with an elegant, almost royal look and feel, and add opulence, as well as a deeply comforting, relaxing ambiance.
Whether your home and bathroom are modern, classic, transitional, or farmhouse-inspired and designed, these blue vanity bathroom ideas will work perfectly. Besides that, they will also pair nicely with any other elements and hues. Paired with white, a blue or navy blue vanity will provide a sophisticated contrast. Combined with wood, it will add character and depth. As you can see, you can make no mistake with blues in your bathroom.
Check out these navy blue vanity bathroom ideas and blue vanity bathroom ideas if you're planning an upgrade or a complete remodel of your NYC bathroom.
Ashley Blue Bathroom Cabinet by Otto Home Goods
This free-standing blue bathroom vanity cabinet comes with a marble or quartz countertop, and an undermount porcelain sink. Mirrors are also available to add. Made of solid, manufactured wood, with soft-close solid wood dovetail drawers and soft-close doors, Hettich German-made door, and drawers hardware, gold handles, or optionally with brushed nickel handles, Ashley blue bathroom vanity by Otto Home Goods is everything you could have hoped for. Blue, white, and gold, just as brushed nickel, is the perfect combination when creating an inspiring, refreshing, and refined space where you can take the best care of yourself and your family.
Blue vanity bathroom ideas from Otto Home Goods can help you get inspired, imagine your spa space, and choose the perfect shade of blue for your bathroom vanity.
Hartford 24″ Blue Traditional Bathroom Vanity by Fresca
This navy blue vanity is one of the best navy blue vanity bathroom ideas if you love a more traditional aesthetic quality in your bathroom. It also works great as a stylish addition to a transitional-inspired bath space. Fresca's Hartford series bathroom vanity in navy color comes with an integrated white ceramic belly bowl that creates a magnificent contrast to the navy blue, highly refined cabinet. Its chic design achieved with navy blue color and vertical lines, this vanity also provides you with other attractive and much-needed qualities such as soft-close doors and storage space. The vanity boasts beautiful satin nickel handles that provide additional refinement, while the furniture-style toe-kick adds another highly appealing finishing touch.
If navy blue vanity bathroom ideas are the ones that inspire you the most, Fresca vanity manufacturer can help you find the perfect navy blue vanity design for your new bathroom.
Gray Bathroom Vanity Ideas
One of the most popular bathroom remodeling ideas is adding or replacing a vanity. However, it is not always easy to pick the right color. A wide choice of bathroom vanity colors is available and offers an opportunity to create a bathroom design of your own choice. But you may feel overwhelmed by all those string colors like blue, green, even orange and red. If you prefer something neutral, and calming, without too big of an impact on the style of your bathroom space, then looking into gray bathroom vanity ideas is something you can do right now.
Highly functional, neutral, and practical, gray bathroom vanity ideas give you plenty of inspiration for the addition you urgently need in your bathroom space. The vanity is one of the largest pieces you will add to your bathroom so it's expected that it will have the most powerful impact on the overall style. This is why it is so important to think, plan, and carefully choose the right one. If you didn't connect with other colors and you simply don't see them in your unique bath space, then one of these gray bathroom vanity ideas can be just what you're looking for.
Geneva 48″ Gray Vanity by Blossom
Gray is one of the most versatile, neutral colors or shades that is easy and will fit with any other color in your bathroom. This is why it is so easy to decide in its favor when choosing the best vanity for your bathroom. It also fits with any style — from traditional and classic, to contemporary and minimalist. Simply put, you cannot make a mistake if you choose a vanity dressed in gray.
We would like to present you with this gray vanity by Blossom from their Geneva Series. Our design team recommends this particular vanity because it comes with soft-closing doors, full-extension soft-closing drawers with dovetail constructions, adjustable screws for legs, a Carrara Marble countertop with backsplash, ceramic undermount basin, wood-frame mirrors, LED mirrors, and LED medicine cabinets. You can also choose between brush nickel and brush gold hardware. If you prefer gray vanity over any other, we recommend this one as a smart buy.
If this is something you like, Blossom Catalog may have the perfect bathroom vanity solution for your bathroom.
Double-Sink Gray Bathroom Vanity
With plenty of storage space, one or two sinks, one large or two mirrors, sufficient countertop space made of luxurious marble or practical and pretty quartz, and adequate lighting, your bathroom vanity will be the key to defining your bathroom style and function. Add some art pieces and plants, and you easily get a head-turner that will take breaths away.
Guaranteed to turn heads and catch your eyes every time you enter the bathroom, gray vanities look gorgeous just as miraculously effective and practical as they are. You can find them in a range of materials, with wood painted in several layers always preferred. But if you want a state-of-the-art and on-trend option, we recommend a combination that includes marble, wood, and brushed nickel or brushed gold. This winner combo from the cabinets, countertop, and hardware will provide you with the quality, durability, and high style you're looking for.
Don't stop exploring bathroom vanity cabinets if you haven't yet found the perfect one. And you'll know that it is the one when you see it.
White Vanity Bathroom Ideas
Tranquility, and cleanliness — that is what our home spas are all about — spaces where we're allowed to start our days the way we want and unwind after a long day at work.  After all, it is important for a bathroom to be free of mess and clutter, to be clean and relaxing. It's a small, private sanctuary where you can find refuge when you need it. With that in mind, a white vanity will never fail your expectations. If relaxation and cleanliness are your top priorities when thinking about an ideal bathroom, the white vanity bathroom ideas are something that you want to look into in more detail.
Don't forget about functionality, the practical goals of your bathroom remodel, or the overall aesthetics and design you wish to achieve. With white vanity as a functional and decor element, you will have a good starting point for any of your aesthetic goals. A white vanity is pretty in itself. The calm, the simplicity, the sleekness of design — every aspect of it gives you great potential for achieving what you imagined.
If your bath space is small, it will greatly benefit from a white vanity design. But feel free to play with another color of countertop if you prefer. Just make sure your vanity has ample storage for essentials as this is so important in situations where you're short on square footage.
Our white vanity bathroom ideas will be of great help even if your bathroom is large. A white vanity will give you the freedom in creating a unique design of your own choosing, and, guess what, your white vanity doesn't have to be small. With a large white vanity, you'll get tons of storage space, ample countertop space, and enough room for two people to carry out their morning routine at once.
Chelsea 40′ Antique White Vanity by Dragonwood
Your white bathroom vanity doesn't have to be just a plain simple white piece of furniture if you prefer something richer but would like for it to come in a somewhat more luxurious form. If that's your situation, we have the perfect solution for you. Chelsea 40′ Vanity by Dragonwood comes in an antique white, special shade of white that is powered by traditional, classic lines enriched with ornaments. It's white but it's not simple, and it's beautiful!
This is one of the best white vanity bathroom ideas when you wish to achieve a timeless traditional, warm, homey, rustic, and farmhouse look.
Dragoonwood manufacturer of bathroom vanities offers classic, even antique lines and detailing, providing an appeal that is truly different from what you can usually find in bathroom vanity showrooms.
Single-Sink White Bathroom Vanity
We cannot wait to show you how a small white bathroom vanity can help your design fulfill its full potential. There is always a chance that your white vanity will turn out to be too simple, or too plain. However, it really doesn't have to be like that. On the contrary, white vanities leave plenty of creative freedom for you to emphasize the details or elements you would like to.
For example, in one of our projects we completed in NYC, you can clearly see how the simplicity and soothing appearance of a white bathroom vanity helped marble-looking wall tiles to shine. The movement is supported by stillness, and the color is supported by whiteness. It's everything to wish for in your new bathroom design, isn't it?
By exploring further our trusted vanity cabinet vendors, you can see what other kinds of white vanities you can find in our showroom,
Black Vanity Bathroom Ideas
The bathroom is the one room in your home that doesn't have to be, look or feel spacious in order to provide you with a perfect relaxation spot. It's enough to give you everything needed to enable everyday routines for all the members of your family. And this is a good thing because it gives you space for any style, texture, and color preferences to implement in your bathroom. So if you love black and would love to see it in your bathroom, feel free to do so. Whether you'd like to add just some black details or you wish to add a whole black vanity to your bathroom, there are many options to implement.
Having in mind that there is plenty of white, cream, beige, and other neutral hues in any bathroom, decorating your bathroom with a black vanity makes perfect sense. A black vanity will create a powerful visual impact and provide a gorgeous focal point. Black says style, sophistication, and refinement, so you cannot go wrong with it. Pair it with luxurious handles and pulls, as well as with an elegant mirror, and you got yourself a rich, expensive-looking bathroom with minimum investments.
Modern Black Bathroom Vanity
The polished, shiny, modern bathroom vanity with minimalist lines and flat panel doors is the perfect picture of a contemporary bathroom suitable for any modern home. Sleek black vanity will easily pair with any other decor elements you have in your bathroom, whether your bathroom is new or not. Choosing a sleek, polished shiny finish for your black bathroom vanity will look amazing in a simple classic, transitional, or modern bathroom.
Paired with white, gray, or black marble, with suitable lighting, and plenty of other straight, simple, minimalist lines in the bathroom, a modern, shiny black vanity will dominate the bathroom while creating and completing the perfect visual harmony.
Traditional Black Bathroom Vanity
And although when we talk about black vanities we mostly imagine modern, contemporary settings, the truth is that black vanities are not made only for modern, minimalist bathrooms. There are also black vanities with different finishes, lines, and details that make them perfect for a classic, traditional, or even shabby chic bathrooms.
The finish and the detailing in the vanity doors will make the most important impact on the overall style of your black bathroom vanity. A distressed finish on black painted wood, with decorative handles and pulls, will create a different kind of feel than the one that creates a minimalist modern black vanity. The classic black vanity will exude the sophistication of a different kind — warm, familiar, historical, eclectic, and even rustic.
Dark Brown Vanity Bathroom Ideas
The dark brown color is very popular because it creates a cozy and comfortable ambiance filled with warmth and familiarity. Nothing says homey, secure, and intimate better than dark brown wood color. This particular shade of brown says welcome wherever you see it. It's connected to nature as it symbolizes the natural color of wood and earth, and we feel it is the most natural color to have around us.
On the other hand, when it comes to design and style, dark brown color is very easy to combine and pair with other colors textures, and patterns. Whether you wish to create a modern, contemporary, transitional, classic, or eclectic style bathroom, there are many dark brown vanity bathroom ideas and product solutions that will make your plan possible.
Subtle, warm, familiar — dark brown wood vanity is a safe solution for many bathrooms that you cannot go wrong with. These are the two dark brown vanity bathroom ideas for you to get started on your quest to find the perfect solution for your home spa.
Modern Eviva Lugano 24-inch Oak Bathroom Vanity
This 24-inch modern bathroom vanity made of oak wood with a white integrated acrylic sink is one of the most popular dark brown vanity bathroom ideas. And it may be just what your bathroom needs. With a modern, cutting-edge contemporary design and flat panel cabinet doors, it's highly sought after in a wide variety of homes. White integrated sink and simple, straightforward handles and pulls make this Eviva brown oak bathroom vanity a dream come true.
Add the right shape, style, and color of wall and floor tiles, and other attractive details, and you get the perfect bathroom area that you will not want to change for years to come.
Classic Dark Brown Bathroom Vanity
Just as you can achieve a beautiful bathroom design with a modern style dark brown vanity, you can create a traditional, classic dream bathroom just as easily with this pretty shade of brown. Shaker-style vanity doors and topped with marble vanity top — this double sink vanity is the perfect pairing for any classic or transitional bathroom style.
And just look at the contrast this vanity creates with the rest of the bathroom. The marble top adds classic beauty but also complements the functionality and quality the vanity already provides. White walls and light wood flooring help this lovely dark brown wood vanity to shine.
Green Vanity Bathroom Ideas
Adding colors other than white, beige, or cream to your bathroom is not an easy decision. If you have a favorite interior decor color that is already present in your home, then the decision you need to bring for your bathroom is a bit easier. But if you mostly stick with safe colors like mentioned neutrals, browns, and grays, bringing in a color that will create a more powerful effect and bring change will be a challenge.
Our designers recommend looking at bathroom vanity ideas that are currently on trend but also those that are evergreen. And when we say evergreen, we say it on purpose. Green vanity bathroom ideas are popular for many years now, making them evergreen and choosing one of many shades of green for your bathroom vanity will make for a safe solution.
Youth, growth, prosperity, nature, cleanliness — these are the first associations that come to mind (and heart) when we talk about introducing green color to the bathroom design. If you think you're onto something when looking into green vanities for your bathroom, you'll be encouraged by the versatile palette of available green bathroom vanities, ranging from dark green and forest green shades to pastel pistachio.
Forest Green Bathroom Vanity Cabinet by Otto Home Goods
A comforting but also the high-end ambiance is guaranteed with this forest green bathroom vanity by Otto Home Goods. Made of eco-friendly MDF painted in forest green, with an integrated porcelain white sink, brushed nickel handles, and a Hettich drawer system, this particular bathroom vanity is pretty and whimsical just as it is modern and on-trend.
The good news is that, although it is exclusive, this vanity is available in well-stocked bath showrooms and stores. It is also well worth the money and is well-priced.
Gray Green Bathroom Vanity by Dowell
The color green can be neutral just like any other color when combined with neutral tones of gray. This gray-green painted bathroom vanity features a soft, mellow shade of green, perfect for your bathroom vanity update. Made of RPVC, a new green, environment-friendly material that is also waterproof and cracking-resistant, it also features modern, minimalist black handles and pulls.
With a green wall cabinet next to the large mirror also bordered with gray-green color, this green bathroom vanity is a perfect solution for anyone who wants a new neutral in their bathroom with a twist.
Modern Bathroom Vanity Ideas
From mid-century modern bathroom vanity options to the farmhouse, industrial, and contemporary, to rustic designs, vanities come in various shapes, sizes, colors, materials, and finishes. You can choose wall-mounted, floating, single-sink vanities, as well as washstands for petite bathrooms. If your space requires a custom-made vanity, you can find many options but you can also design your own. Large bathrooms will welcome modern double sink vanities, from simple styled to colorful and cheerful designs.
There are many bathroom vanity ideas, but perhaps the most modern of them all are floating and wall-mounted vanity options.
Wall-mounted and floating bathroom vanities help free up space and allow for more airflow, so a bathroom looks larger and feels lighter. If you believe that a wall-mounted or a floating vanity would be the right option for your small bathroom, you'll be glad to know that there is an extensive range of these vanities, in many shapes, sizes, colors, and styles, delivering maximum customized and personalized luxury with high useability in any style of bathroom. An additional advantage is that wall-mounted and floating vanities free up the floor space, making it easier to clean and more sanitary.
Modern Floating Bathroom Vanity
Luxury doesn't come only in dark finishes. All modern bathroom vanity ideas introduce a wealth of choices, with modern floating bathroom vanity options in white color. This white, floating bathroom vanity, comes with white flat-panel doors bordered with black, in a minimalist style. In an all-light and bright bathroom space, a charming contrast is achieved by adding details in black.
This modern floating vanity by Blossom comes in an easy-clean high gloss finish, full-extension drawers, and compatible sinks. Ergonomic handles and compatible black metal legs are also available if you would like to change the style of your vanity.
Modern Wall-Mounted Bathroom Vanity
Modern wall-mounted vanity options, along with floating possibilities were often found in previous years in commercial settings. Luckily, they are slowly emerging in residential bathroom spaces as well, used in master bathrooms and as a modern vanity makeup solution in powder rooms, as well.
Various combinations of vanities and sinks can look truly elegant and expensive. If you don't need a lot of storage space, consider minimalist vanity with just a few drawers and a simple sink. The elegance can be achieved with a breathtaking marble tile choice.
Luxury Bathroom Vanity Ideas
Adding a little bit of luxury to your bathroom and home is something that no one will say no to if the price is right. And it's actually not hard to add luxury to a bathroom. All you need are some elements that say luxury more than anything else. Marble, gold, brushed nickel, black, large lighting pieces, custom moldings, touch-free vanity doors, high contrast colors, rich textures, bold movements, and spa-like details can make your bathroom look and feel truly opulent.
Now, what of these elements are easy to combine in a vanity?
High contrast colors like white and black, gold and brushed nickel handles, bold movements in a marble top, touch-free doors… these are more than enough to make your bathroom a luxurious centerpiece in your bathroom space.
Luxurious Touch-Free Black Vanity
Wood black vanity that features flat vanity doors that are free of handles and pulls because they are touch-free is perfect to use to create a luxurious, showstopping bathroom interior. Topped with two white porcelain sinks, this highly sophisticated bathroom vanity is one of the simplest yet most effective bathroom remodel ideas for your home when you wish to make it modern and refined.
Add some gold details and touches, and the right lighting, and you get the perfect design your family and guests will enjoy.
Large White Vanity Surrounded with Marble
When you have enough square footage in your bathroom that's enough luxury as it is. However, if you have imagination and creativity on how to make it truly luxurious, you certainly should put those ideas to work. Large white bathroom vanity with full-width wall mirror, shiny handles and pulls, and marble tiles all around say luxury more than anything else.
Our bathroom designers recommend a shiny, silky finish for any white vanity options. For one, this type of finish is very easy to clean and protects your vanity from moisture. Add designer lighting and some vibrant green plants, and you get a bathroom so great looking that it can be featured on the cover of Homes and Gardens.
Bathroom Vanity Ideas on a Budget
If you're shopping for a bathroom vanity on a budget, we also have some ideas that will set you at ease. Because injecting your bathroom with personality, satisfying your storage and style needs, and staying on trend, without breaking the bank, is possible.
The focal point in any bathroom is always on the vanity and mirror set, so updating these, in particular, will be worth your while. Whether you need to update or change your vanity in a master or primary bathroom, powder room, guest bathroom, or even the laundry room, the good news is that you don't need to dread the change. You can acquire a brand new-looking bathroom in a matter of days, thanks to the many affordable bathroom vanity options that are on a budget yet are functional, beautiful, and even unique.
Small Bathroom Vanity that Saves Your Buck
An all-wood, Barcelona 24-inch Gray Oak Vanity that possesses all the functional and visual perks helped us remodel a bathroom in Astoria, Queens, NYC.
This bathroom in Astoria Queens defies the common belief that bathrooms are cold spaces with warm shades and earthy tones. Home Art Tile Kitchen and Bath design team created this spa-like bathroom where you actually want to stay in and relax after a long day. It is a single-sink vanity that fits perfectly with the rest of the space while providing sufficient storage at an affordable price.
All-White Bathroom Vanity that Expands Space and Saves Money
When looking for bathroom vanity ideas on a budget, s single-sink, an all-white bathroom vanity can help you visually expand the space in your small bathroom and save your money at the same time.
With a simple white porcelain sink and enough storage space for your bathroom essentials, this small bathroom vanity meets your needs without breaking the bank. We helped this kitchen and bath remodel project in NY with our design services and product selection.
Bathroom Vanity Ideas FAQ
What type of vanity is best for a small bathroom?
A type of vanity that is best for a small bathroom is the one that fits the size of the space, looks great, provides necessary storage, and has enough countertop surface. Since we're talking about a small bathroom, it's always best to choose a light-colored vanity, preferably freestanding, with mirrored doors. Mirrors visually create a larger space, while light colors do the same. When thinking about storage, consider mixing open shelves and closed doors, to make enough space for any bathroom essentials. Since the space is small, you cannot expect an abundance of storage space, but this is an effective way to acquire both the looks and the functionality you need.
2. What color bathroom vanity is the most popular?
The most popular bathroom vanity color is white. Tradition, function, and classic beauty make white so attractive and desirable in any bathroom, big or small. Whether you prefer cool or warm white, ivory, vanilla, cream, or eggshell, there is a great variety of shades of white to choose from. If in doubt, you should be aware that white doesn't have to be boring or plain when smartly combined with the right hardware and other accent colors.
3. What will be the trend for bathroom vanities in 2023?
While classic white is traditionally the most popular color trend for bathroom vanities, interior designers expect that the trend for bathroom vanities 2023 will be introducing more color, patterns, and texture. Dark accents, elegant lines, refined shapes, unique vanity lighting, and remarkable stone vanity surfaces are something to enjoy in your bathroom in 2023, according to designers.
4. What is the most durable material for bathroom vanity?
Medium-density fiberboard (MDF), plywood, Polyvinyl chloride (PVC), and solid wood are the most commonly used materials for bathroom vanities. However, solid wood is the most durable material for bathroom vanity cabinets. While it's strong and resistant to humidity when finished the right way, it's also beautiful and gives your bathroom an appeal of timeless beauty.
5. Is it better to have a single or double vanity?
A single or double vanity is a question of your needs and the square footage available in your bathroom. Naturally, double-sink vanities are better to have, especially if you have children. Even with just two people in the household, it is better to enjoy a dual bathroom vanity as it saves your time, eases stress, and provides more convenience, especially in the morning and evening hours. However, if you're limited by square footage, you may have to accept a single-sink vanity which doesn't have to be all that bad if the vanity is smart storage-wise.
6. What countertop is best for a bathroom vanity?
The best countertops for a bathroom vanity are quartz countertops. In our showroom, you can choose from many options; among them are Caesarstone, MS International, Quartz Master, and other manufacturer brands. Ceaserstone countertops are probably the most popular bathroom vanity countertops in our showroom. Resistance to chipping, staining, and humidity, incredible flexibility, almost maintenance-free, with a variety of design options that include real stone and marble lookalikes, quartz is probably the best stone for bathroom vanity.
7. How much should you spend on a bathroom vanity?
Bathroom vanity cost can range depending on its size and whistle and bells it may or may not include. Stock bathroom vanity will cost less than a custom-made vanity. A single-sink vanity will cost less than a double-sink bathroom vanity. The price of a bathroom vanity will depend on the material that it is made of, the type of hardware, and whether sinks or faucets are included. Countertop stone will also affect the price of a bathroom vanity. A bathroom vanity made of solid wood will cost more than a bathroom vanity made of plywood. When budgeting for a bathroom vanity, also consider the price of installation which can go up to $1000 per vanity unit. Overall, you can expect to pay anywhere from $500 to $4000 for a bathroom vanity, depending on the items explained above.
Get More Bathroom Vanity Ideas and Shop at Home Art Tile NY Showroom
Until now, we are certain that you've managed to get inspired by the best bathroom vanity ideas and find the best bathroom vanity option out of the many ideas we've gathered and presented in this article. This exhaustive list of the top bathroom vanity ideas is also great to help you define your needs and requirements when looking to upgrade or remodel your bathroom in 2023.
Our bathroom vanity cabinet selection is sure to appeal to homeowners, interior designers, builders, and contractors who recognize, understand, and enjoy great design, appreciate high quality, and search for affordable prices. So we're happy to say that your search for the best vanity cabinets ends here, at Home Art Tile, 35-10 43rd Street, Long Island City, New York.
If your interior design business covers NYC areas Brooklyn, Long Island City, Queens, and Manhattan, or you live in these areas, we're so happy that we're a match. Located only 5 minutes from Manhattan, and close enough to all New York City boroughs, our bathroom vanity cabinet showroom is convenient for you to come and explore all the beautiful options we have in store for you.
Take a look at some of our projects completed in your area, see some of the customer reviews we've received, and get the reassurance you need to start your bathroom update or a remodeling project with Home Art Tile Kitchen & Bath team.
Contact us today or stop by our showroom to gather more bathroom vanity ideas from our experienced designers and start the bathroom of your dreams with our helpful and skillful team.
https://homearttile.com/wp-content/uploads/2022/12/The-Best-Bathroom-Vanity-Ideas-for-Your-Bathroom-in-2023-min.png
315
560
sandra
https://homearttile.com/wp-content/uploads/2017/11/logo-102214.jpg
sandra
2023-01-06 11:47:35
2023-07-15 21:27:14
22 Bathroom Vanity Ideas You Shouldn't Miss in 2023