Cabinet Door Styles in 2018 – Top Trends for NY Kitchens
Cabinet door styles we'll be seeing everywhere and pinning in 2018 bring new colors and evolving designs. These trends will definitely turn our kitchens into central parts of our homes. Even NY kitchens that put functionality and practicality in the first place will strive to add their personality back.
Simple and clean lines will keep the ever appreciated minimalistic look and bold cabinet door styles colors and hardware will turn our kitchens into very special spaces. All the kitchen trends we'll be seeing in 2018 will keep bringing together living and kitchen areas, and cabinet door styles will play a crucial part in this.
Cabinet door styles in 2017 kept white kitchen cabinets as one of the most popular choices but also showed us that black, grey, and blue can look beautiful and serve perfectly our practical needs in a kitchen.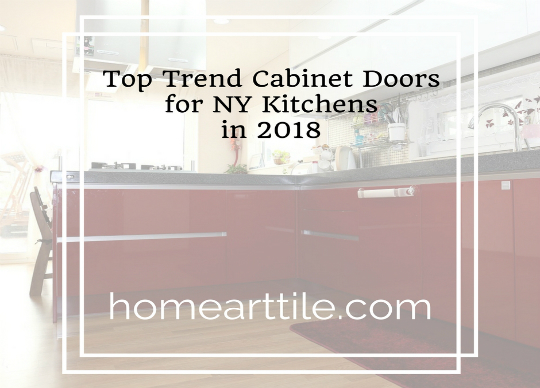 Cabinet door styles in 2018 that will be top trends for NY designers and homeowners will be shaker style kitchen cabinets, flat panel cabinet door style, different cabinet door styles with glass, and chalkboard cabinet door style.
A wealth of finishes, bold colors and materials, a combination of warm wood and innovative materials, clean lines and stylish details, as well as interesting and bold cabinet door hardware, pulls, and knobs, will help us to personalize and enjoy more our NY kitchens.
Let's see what kitchen cabinet door style options will be top trends for NY kitchens in 2018.
Cabinet Door Styles in 2018: Flat Panel Kitchen Cabinets – Back to the Basics
Flat Panel Cabinet door style features minimalistic form with hard, sharp lines and contours. This makes them a great fit for all who crave simplicity and fewer details in their kitchen design.
Contemporary and modern kitchen interiors in 2018 will appreciate the simplicity of this cabinet door style without a frame. Usually more popular in Europe, Flat Panel cabinet door styles are increasing in popularity in the U.S. too. This is because they provide a modern and clean look to any kitchen design.
Flat Panel kitchen cabinet door styles with high gloss finish are usually found in Euro-styled kitchen spaces. These are considered premium cabinet door styles and the price tag follows the high-end design and materials. If you love modern design, premium materials, and high-end finishes, these cabinet doors styles will be the top trend for 2018 in your NY kitchen.
Flat Panel kitchen cabinet doors are one of the simplest cabinet door styles. However, they can be very stylish although they are void of any striking or expensive details. Also called Slab Cabinet Doors, they are usually made of wood or laminate. More homeowners can afford the laminate flat panel cabinets because they are more budget friendly than wooden ones. The upside of laminate flat panel cabinet door styles is that they come in a greater variety of colors, finishes, and sheens.
If your taste goes beyond budgeting, consider a more economical option. You can still choose perfectly simple and clean lines of Flat Panel cabinet door style with a natural wood finish. Flat Panel kitchen cabinet doors are usually made of natural wood and often feature interesting finishes in bold, dramatic colors.
Flat Panel vs Raised Panel Cabinet Doors – What Style to Choose in 2018
The height of the center panel on the kitchen cabinet door is the main difference between Flat Panel and Raised Panel cabinet door styles. The Raised Panel cabinet door style features a center panel that is raised above the rest of the door. Usually, there are also a flat border and details on the door. This design provides a more traditional look and will be interesting to those who love Country, Traditional, and Rustic Kitchen Cabinets. Raised Panel cabinet doors add dimension and more details to the kitchen.
However, completely opposite to the raised panel, cabinet door styles with sleek, clean, simple, and streamlined look will be more popular in 2018. If you love minimalistic cabinet door styles, Flat Panel cabinet doors style will be a better choice in 2018. These kitchen cabinets feature a flat center panel with a border that goes around it. This design creates a sleek, clean, and minimalistic look.
Flat Panel cabinet door styles don't have any details on them and lack in traditional style. Either you choose high gloss flat panel style, a bold, or more of a natural finish, these cabinets will make your kitchen a contemporary and modern space.
If you aren't sure that you want to leave the tradition of the American kitchen design completely but are still tired of the bulky rustic look, you can go with the transitional option – Shaker Cabinet Door Styles.
Cabinet Door Styles in 2018: Shaker Kitchen Cabinets Stand the Test of Time
Although the shaker cabinet door styles are one of the most common door styles in NY kitchens today, it seems like they aren't leaving their top trend position anytime soon.
The simple style of shaker kitchen cabinets works in just about any interior, design, and decor — from modern, trendy, and minimalistic to classic, traditional, and rustic. Most NY homeowners choose it because of its versatility and convenience. Especially white shaker kitchen cabinet door styles are convenient and offer most practicality and functionality for NY kitchen spaces.
With their clean, simple lines and design, all of their variations in different wood sorts and collections, paint colors, hardware, and different stains shaker style cabinet door will continue to rule in cabinet door styles design in 2018.
Stained shaker kitchen cabinet door style will be one of the most popular options in 2018 because natural wood hues are becoming more and more desirable among homeowners and designers alike. This cabinet door style presents the perfect solution for those who love natural materials, traditional designs but still want simple and clean lines.
White shaker cabinet door style simply continues to be one of the most desirable kitchen cabinet trends in 2018 too, as it leaves a lot of space for personalization and detailing.
Like perfect canvases for your creativity, white shaker cabinet door styles – both stark and off-white option – leave some space for grey shades, too. Grey shaker cabinet door styles are becoming the next most desirable neutrals in the kitchen.
While 2018 will be mostly about simplicity and clean elegance, kitchen cabinet doors with glass, commonly found in traditional and country kitchens, are becoming more and more popular.
Cabinet Door Styles in 2018: Cabinet Glass Doors for More Display
Some kitchen cabinet manufacturers surprised us with more traditional glass cabinet door styles for 2018. To previously all-glass upper cabinet door they added more lines. Although this look can be seen more often in cottage and country style kitchens, it can add a fine touch of balance to a modern kitchen with minimalistic looking lower cabinets.
Also, glass is frequently being used in modern kitchen cabinet design. It always gives out an impression that the kitchen is more spacious and more open. Glass cabinet doors can also balance the look of modern kitchen design filled with heavy materials like wood and metal.
Glass kitchen cabinets can also present a nice transition or a middle ground between open shelving that will continue to be very popular in 2018 and solid closed upper kitchen cabinet doors.
Add a personal touch to your modern kitchen by displaying your favorite china, mugs, and plates behind glass kitchen cabinet doors.
For those who don't long for traditional kitchen details and designs, the next trend is going to be especially interesting.
Cabinet Door Styles in 2018: Chalkboard for Functionality & Fun
Although chalkboards have been present in kitchen design for a while now, they were mostly used as messaging boards instead of a backsplash. In 2018, you will be able to find them as kitchen cabinet fronts. A simple surface of mute black color will look like a matte black kitchen cabinet when you choose not to leave messages on it for your family.
Perfect for those who love relaxed kitchen interiors, chalkboard cabinet doors present an amazingly convenient spot for posting a lunch menu, a grocery list, or a recipe that you'll need to follow soon.
You can also opt to create the messaging space only on the inside of your kitchen cabinets. It won't be seen but you'll still be able to leave reminders, create grocery lists, or simply say "Have a nice day" for a family member who happens to open the door next.
Two-Tone and Washed Wood Cabinet Style Trend – Eclectic Mixes for the Future
Two-tone kitchen cabinet door styles make kitchens the perfect centerpieces of our homes. As kitchens are no longer being designed only to serve practical and functional needs, these two-tone kitchen cabinet door styles seem like a great way to give your kitchen a creative and eclectic flair.
Combining different cabinet colors is a trend that continues to hold strong.
Two-tone cabinet door style keeps trending for a while now and will continue to appeal to those who want to provide more visual impact and make their kitchen even more attractive. Contemporary combinations with white and grey and white and marine blue will give a unique life to any traditional kitchen in 2018.
Feel free to combine two shades of the same color, natural wood colors and white suites, stainless steel and natural wood, black lacquered and white color, light and shadow, or boldly contrast two opposite colors. These eclectic, contemporary and chic mixes and diversity of colors will enliven any casual looking kitchen.
Another huge trend in 2018 will be Bleached Wood. This design looks especially effective on flat panel kitchen cabinet doors. Bleached Wood trending may mean that we are slowly beginning to step away from the all-white cabinet door styles.
If thinking about renovating your kitchen in 2018 and you love bright spaces but still want to avoid white, make sure to check out Bleached Wood kitchen cabinet door styles.
Without a doubt, the biggest kitchen cabinet door style trend in 2018 will be color. Grey is still popular but it's slowly starting being replaced with greige – a softer grey with a little bit of taupe. At the same time, kitchen industry's leading manufacturers say that white will be replaced with grey. Black, green, chocolate brown, all kinds of blue, and especially Navy Blue will be the most popular.
Navy Blue cabinet door color will be a hot trend in 2018 and will be especially used in two-tone kitchens, for lower cabinets.
Navy Blue is darker and not so versatile and flexible like grey or white. Still, it works successfully with any kitchen cabinet style or decor. As opposed to a year or two ago, when Navy Blue cabinet door styles weren't a common choice in kitchen design, in 2018 they will be popular and seen as a classy kitchen cabinet design choice.
Get ready, Navy Blue is starting to make waves!
Cabinet Door Hardware and Countertop Trends for 2018
While looking and deciding on the cabinet door styles, colors, and finishes that you want to implement when remodeling your NY kitchen in 2018, also pay attention to the new trends on hardware, sinks, countertops, and storage.
Interior designers say that 2018 will be all about fresh hues for sinks. Just like cabinet door styles, kitchen sinks are leaving basic white and stainless steel. They should also be oversized with functionality as a goal number 1.
Chrome, brass or matte black pulls or knobs are going to be a big hit in 2018. At the same time, classic polished chrome finish is still popular.
Designers also say that granite is getting old while quartz is moving forward because of its timeless, impeccable looks and high functionality.
NY apartment dwellers should know that some kitchen cabinet manufacturers are doubling up kitchen cabinet storage with multi-tiered drawers. Finally, kitchen storage will no longer be an issue and 2018 is looking bright, not just because of the colors!
Cabinet Door Styles for 2018 at Home Art Tile, Queens NY
If you're planning on remodeling or building your kitchen from scratch next year or even sooner, make sure to stop by our kitchen cabinet door outlet in Queens NY. We are continuously monitoring and trace for you the hottest trends in cabinet door styles and other kitchen trends. Visit us, check out what we offer, and save thousands compared to Manhattan kitchen cabinet door stores. You can also contact us today.
Featured photo credit: Decorpad
https://homearttile.com/wp-content/uploads/2017/09/Cabinet-Door-Styles-in-2018-Navy-Kitchen-Cabinets-with-Glass-Fronts-and-White-Gray-Granite-at-Decorpad.jpg
497
740
sandra
https://homearttile.com/wp-content/uploads/2017/11/logo-102214.jpg
sandra
2017-09-29 18:41:53
2020-10-09 16:47:29
Cabinet Door Styles in 2018 – Top Trends for NY Kitchens