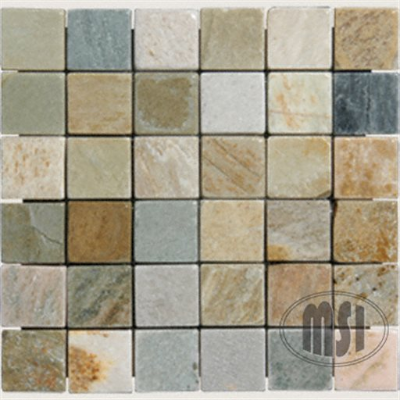 Display 12 Products per page
Golden White Quartzite tiles are incredibly popular. They come in many different variations and shapes. They can be used in mosaics. The array of colors is also spectacular, making this tile a dream for any designer or homeowner looking to remodel. Whether you prefer single color with delicate yellow and gold veining, or an interlocked pattern, we're sure you'll find a perfect way to integrate this tile into your design. 
Golden White Quartzite tiles can be used on countertops, backsplashes, walls, and flooring. This collection comes in many sizes, convenient for your use. Golden White Quartzite tile can look equally stunning in a modern or classic kitchen or bath. If you are not sure how to best pair the Golden White Quartzite in the space you are designing, we suggest you take a look at our blog. We have plenty of ideas and inspirational photos for your remodel. Our team is also at your disposal if you need design advice.
If you are wondering "where can I find Golden White Quartzite near me", stop by Home Art Tile, we are your closest and best tile showroom near Queens, Brooklyn, and Manhattan. And if you have any additional information, you can contact us via the website contact form or simply give us a call at 718-433-0060.