How to Color-Block With Confidence in the Kitchen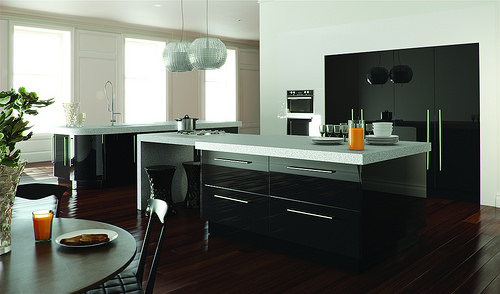 The Hottest Decorating Trend in Brooklyn, Manhattan, and Queens
The popular color-block fashion trend has swept through the country like a tumbleweed leaving streaks of creative smoke trails in its path. This hot new fad is showing up all over Manhattan, Brooklyn and Queens, in apartments, studios, art houses, and more. Not only can the method breathe life into a neutral, blah-inducing room, but it can also make a particular room or space stand out.
So how exactly is this method approached? Like any project, this one should be started only after careful consideration to detail has been completed. Fortunately, a guide such as this one can help people tackle this seemingly intimidating job so they can have the high-impact affect they've been desiring. Once you've read through these tips, check out the products and paint choices we have to offer at Home Art Tile Kitchen and Bath. You'll see why we're the No. 1 trusted tile store in Queens.
Tips for Color-block Styles in Manhattan, Queens, and Brooklyn
1. Start Out Small and Adjust as Needed
Specifically for those new to the world of color-block, first approaching this look with accent pieces in your colors of choice is a god way to test the waters. Try out this look for a while to determine if you actually like it. You can achieve this expressive but never over-stated look with bright furniture, appliances, decorations, and more.
2. Your Base Color Should be Dark and Dramatic
For a sharp, edgy, incredibly modern look that shouts confidence, go with a dark, bold color for your base color. Choose a couple eye-pleasing pops of color to break up the moodiness of the foundation shade. The sharp contradiction between the dark base and bright, lighter colors is breath-taking when done correctly, and can really add an incredible amount of flair and sophistication to any space. The dynamic look will be an attention grabber, we promise.
3. Brighten up Your Accent Wall
Try a bold new color to highlight your accent wall. Painting a feature wall in your preferred color is a simple way tocolor-block a white or neutral-colored kitchen without going overboard. Opt for accent piece in the same color or related shades.
4. Geometric Shapes and Bright Colors
If picking just one color is too difficult (who could blame you?), try something a little different by painting geometric color-blocked motif on one or multiple walls. Not only will it be a visual focal point, but it will also make your space completely unique to you and your personality. Create your own design and watch the magical transformation take place in front of your very eyes!
5. Use Related Shades to Create Drama and Intrigue
If picking hues that compliment each other is not your strong suit, you can always opt to decorate with differentiating shades of one color. This method is also popular among people who like the idea of color-blocking but aren't ready to commit to something that will be loud or overly aggressive. To increase visual interest and prevent boredom from settling in to these spaces, utilize different materials and textures, including shiny, glossy, tiled, metallic, and dull surfaces.
What You've Learned About Color-Blocking in Brooklyn, Queens, and Manhattan
As you have probably learned, the concept of color-block is not complicated. It is simply a matter of taking your time and knowing what you want before you begin the project. It is a great way to add artistic flair to any home or office space. The most important thing to remember is that by starting small, your risk of mistake is decreased. Come to Home Art Tile Kitchen and Bath and see what we can help you with. We offer exceptional service, the highest quality materials, and top-notch advice from our friendly staff. We can help you with any of your kitchen and bathroom fixture, supply, and accessory needs!
Featured image source: Flickr
https://homearttile.com/wp-content/uploads/2015/08/14801830547_120ea595e9.jpg
294
500
homeart
https://homearttile.com/wp-content/uploads/2017/11/logo-102214.jpg
homeart
2015-08-28 13:00:00
2019-01-15 18:02:20
How to Color-Block With Confidence in the Kitchen