How To Select Quality Kitchen Sink Cabinet Designs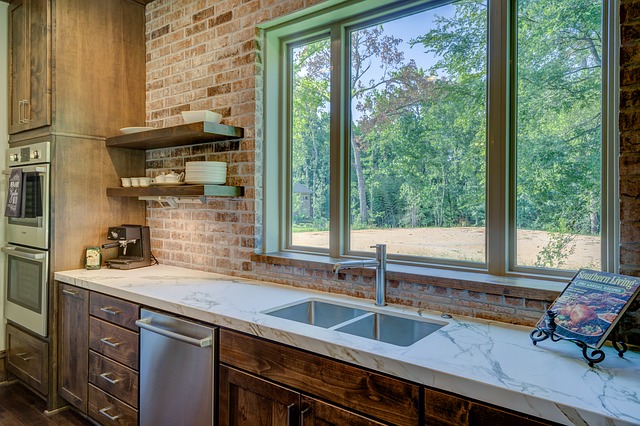 The design for your kitchen sink cabinet is different from every other cabinet in your kitchen. Properties in Manhattan, Queens and Brooklyn are short on space, and you must optimize the area you have under your sink. These kitchen cabinets designs will help you store items beneath the sink, and you will come away with extra space that you saved in other parts of the kitchen.
Cleaning Supply Storage
You may choose to store cleaning supplies under your kitchen sink, and a few baskets will help you organize everything you keep in the kitchen. You may choose little baskets that are attached to the doors, or you may find a basket that organizes everything in one place. There are kitchen sinks that have a fold out drawer just under the sink, and you may store your sponges or brushes in this drawer. Your cleaning supplies have their place, and you still have room left over.
Towel Bars
Kitchens in Manhattan, Brooklyn and Queens must be kept as clean as possible, and the kitchen sink cabinet can carry a towel bar for easy storage. There are special towel bars that fold out from the door, and you can hang a washcloth, multiple towels and possibly a sponge from the rack. The racks take up no space at all, and they fold flush to the cabinet door when it is closed. You save space in the cabinet, and you keep your towels off the counter.
Food Storage
A small kitchen in Manhattan, Brooklyn or Queens needs as much space as possible. You have very few cabinets to work with, and the kitchen sink cabinet above your head may store food you use regularly. You can install a spice rack in this cabinet for easy access to your spices, or you may use the cabinet to store dry goods. Making better use this cabinet will help centralize the most frequently used items in your kitchen.
Pot And Pan Storage
The area inside your kitchen sink cabinet can be used to store the few pots and pans you keep in the kitchen. Keeping your pots and pans off the counter makes your kitchen much more functional, and you will keep the kitchen much cleaner. You may not have much room to begin with, but you can increase the amount of space you have by simply adding a few pots and pans to the cabinets around your sink. You may install hooks in the cabinets that will help you hang up the pots and pans.
Kitchen Sink Cabinet Door Design
The cabinet around your sink can carry designs that beautify your kitchen. You may create a window around your kitchen sink, and the design may focus on the window that sits just over the sink. Consider how you will design the door to match the rest of the room, and remember that you can use the cabinet door by your sink to begin a style revolution in your kitchen. A tin of paint or stain will help enhance the door immediately.
Changing the style in your kitchen may start with the area around your kitchen sink. The cabinet door and the interior space will help you create more beauty and storage space for your kitchen. You need all the room you can get when putting your kitchen together, and a beautiful door design could become the inspiration for every other part of your kitchen.
Featured image source: Pixabay
https://homearttile.com/wp-content/uploads/2015/07/kitchen-1597018_640.jpg
426
640
homeart
https://homearttile.com/wp-content/uploads/2017/11/logo-102214.jpg
homeart
2015-07-23 13:00:00
2019-01-14 20:26:05
How To Select Quality Kitchen Sink Cabinet Designs