Bathroom Color Ideas: Pretty Gray Paint Selections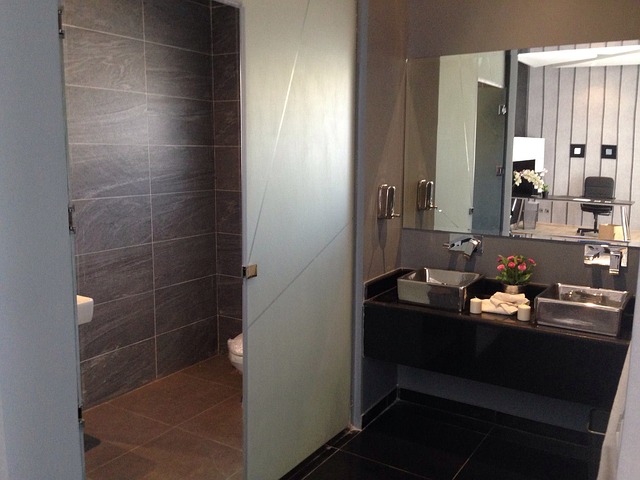 Many homeowners only consider popular bathroom colors based on trendy designs or easily available materials. However, by stepping outside the box with creative and unique bathroom color ideas, you can design a sophisticated look that will add value and elegance to your home. Gray is a color that is not often used as the primary color palette in a bathroom, but the soft tones can create an appealing spa-like oasis in a busy urban environment like Manhattan.
Neutral, Versatile Gray
Gray is a popular neutral color for the exterior of the home and for living spaces such as a bedroom or living room. However, it is rarely seen in the bathroom as the primary color. The cool tones of gray can end up feeling institutional or dull if they are not balanced with warmth and texture. A gray bathroom can be especially welcoming in the heat of summer; a quiet, monochromatic space in soft gray tones can be easy on the eyes and promote relaxation.
Warm Woods, Textured Tiles
Warm wood architectural elements can add interest in a gray bathroom as can tones of gray with warm, reddish undertones. The type of tile you choose for your bathroom can also have an impact, with choices of shape, texture and finish having an impact on the resulting design. Bathroom color ideas are not limited by sticking to a monochromatic palette; a focus on pattern, texture and contrast can make a bathroom's design especially beautiful. The accessories you choose can also contribute to a successful design, such as textured towels or window treatments that contribute interest without introducing new colors to the space.
Gray Bathroom Color Ideas
A bathroom with natural stone or marble elements can be enhanced by choosing a gray paint that matches the natural gray tones. For example, a marble with deep gray veining will take on a new dramatic look when a corresponding gray wall or cabinetry paint perfectly complements these natural colors. Dark shades of gray will also provide contrast with light-colored elements in the room, such as white sinks or other fixtures. Shades of white contrasted with deep gray colors will also make a room feel larger by adding a bright and spacious modern look to a small Brooklyn apartment.
Tile Adds Design and Depth
Gray tile can provide a rich and elegant look with unexpected textures and patterns. Tiles of different sizes and shapes will add a geometric look to the bathroom walls, shower surround or flooring. Textured tile can provide additional interest, such as wood-patterned tile in shades of gray. The neutral palette will prevent patterns and grout lines from becoming too busy or cluttered looking. The grout color will have a huge impact on the look of the final design, with a matching gray tone providing a uniform look that is soothing.
Adding Interest with Texture
You can also add interest by selecting tile in matte or glossy finishes, or you can even include both types of finishes to create subtle patterns or textures. Choosing tile to cover an entire wall of your bathroom is a dramatic look and eliminates the sometimes-awkward issues with the transition between drywall and tile that is not offered in a bullnose design. The type of tile you select can also provide light-catching elements; for example, glass tile will provide a three-dimensional look with a depth that is intriguing and modern in your Queens brownstone.
With careful design and consideration to simple gray tones, shapes, light and contrast, you can create a contemporary, minimalist look with gray bathroom color ideas that will add tranquility and a spa-like experience to your bathroom.
Featured image source: Pixabay
https://homearttile.com/wp-content/uploads/2016/03/bathroom-437210_640.jpg
480
640
homeart
https://homearttile.com/wp-content/uploads/2017/11/logo-102214.jpg
homeart
2016-03-08 12:30:00
2019-03-19 13:02:08
Bathroom Color Ideas: Pretty Gray Paint Selections