Modern Bathroom Remodel Project in New York, NY
As a kitchen and bath remodeling showroom for homeowners, contractors, and builders, with over a decade of experience under our belt, we are always up for a challenge when it comes to bathroom design! Our designers have delivered many beautiful bathroom remodeling projects for our clients across Manhattan, Queens, and Brooklyn. Various styles, from luxurious powder rooms to marvelous master baths and charming guest bathrooms embellish many homes thanks to our simple bathroom remodeling process, excellent product selection, and dedication of our designers.
Being in the industry for many years, we have seen styles and trends change, and we've witnessed homeowners' preferences regarding bathroom design change and evolve. One of the staples of a great looking and highly functioning bathroom is tile. Tile is the first thing you notice when you enter the bathroom and gives the space the look you desire.
Ceramic tile with a marble look is the star of our bathroom remodeling project in New York, NY
Sometimes, we remodel our bathrooms to enhance and update the look, sometimes to improve its functionality, and sometimes because we have to. The client from New York, NY came to our showroom after a pipe broke in their 1949 apartment bathroom. Interested in larger tiles with a marble look and feel, the client asked our designers for advice and decided to go with marble looking ceramic tiles.
Durable and practical, these ceramic tiles are also the ultimate thing of beauty. Warm white, softened by the natural marble veining, they present a timeless mosaic on the bathroom walls. These ceramic tiles with marble effect are a flexible, versatile, beautiful, and affordable option with care-free maintenance. They are an attention grabber perfectly balanced with stone looking, dark floor ceramic tile. Not only that dark floor tile choice is practical and functional, but it also provides a harmonious ambiance that won't overwhelm the space. Marble looking ceramic wall tile pops against them and the rest of the bathroom, providing an overall design that emanates refinement and sophistication.
Bathroom remodel pictures
This NY bathroom is all about relaxation and peace. It speaks for itself.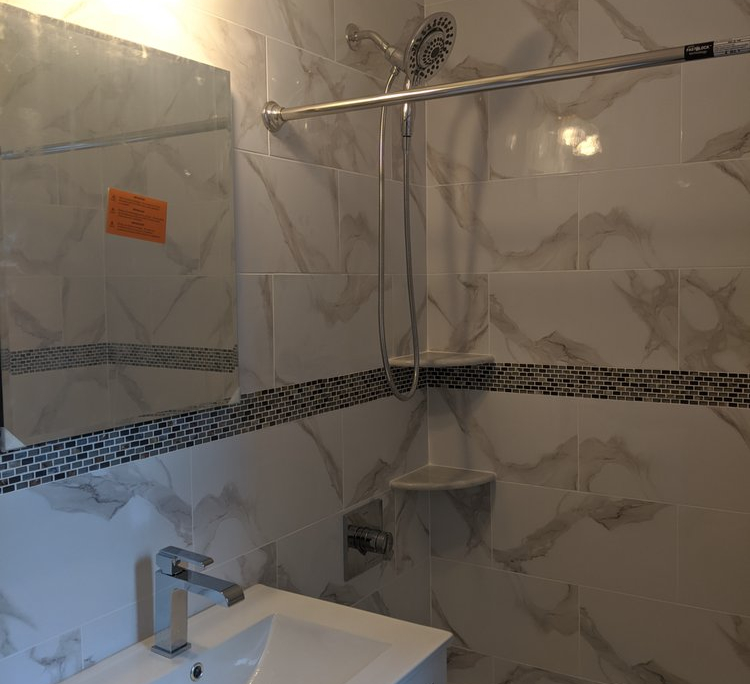 Do you like the border our client chose?
And what about these super handy and practical shower shelves?
We make sure to recommend affordable, functional, and beautiful options for any bathroom remodel. From experience, we know that bathroom remodel doesn't need to break a bank to be successful. There are many reasonably priced tiles, vanities, shelving, and other product options to make your renovation possible and enable you to enjoy your bathroom for years to come.
Bathroom renovation is always a big undertaking and a great challenge. Our showroom offers many various tile options and other bathroom remodeling products to relieve stress, while our designers are here to support you every step of the way.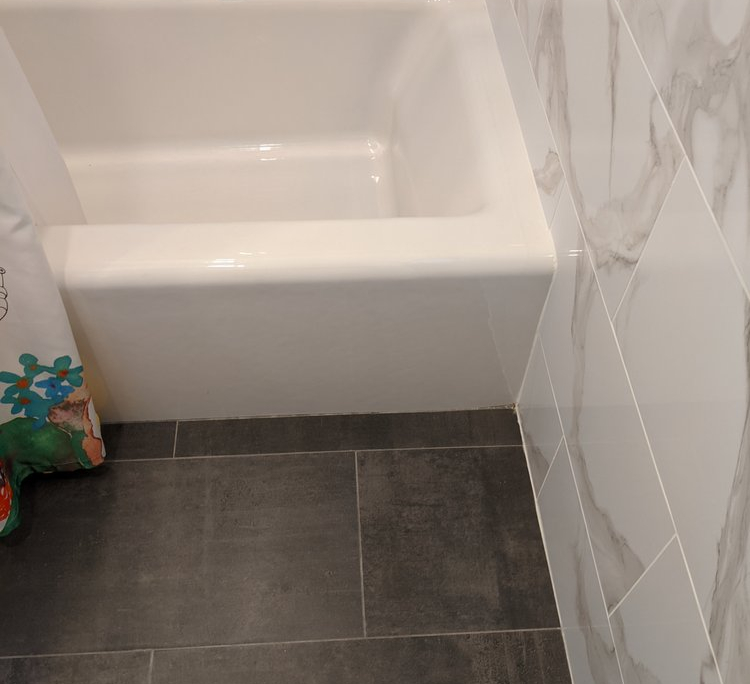 Gray porcelain tile floor completed and balanced the bathroom design beautifully, allowing marble-like veining to truly pop.
Home Art Tile Kitchen & Bath was a port in the storm
Our designer team was so happy to help this lovely NY bathroom come to life. We were thrilled when we learned about our client's impressions.
After a pipe broke in my 1949 apartment bathroom, I really had no choice to bite the bullet and renovation the whole bathroom. I wasn't looking forward to it – I hate these projects as they always seem overwhelming and expensive. But Home Art Tile was a port in the storm. I worked with Omer who was super patient and calming and made me feel like I could figure this out and get it done. We looked a little bit at the tiles that were out and once he got a feel for what I was interested in (larger, ceramic tiles with a marble look), he showed me options. And he explained why some people might choose one over the other. But within an hour or so, I had the tile picked out. I also knew that I wanted a border and while I was looking for "color" and "bling", Omer showed me what I was looking for but then also showed me some borders that were a little more subtle (but still had a little of bling!). That was really helpful because Omer was right, the more subtle border does look amazing in my bathroom. And then to go with the white tiles, Omer showed me some darker floors which look great. I did thought make sure that all of the materials were "in" which was important to me so that the contractor could get the job done in 3 weeks. Sure enough, when my contractor was ready to do the tile, he just showed up at Home Art Tile and they put together my order.
Home Art Tile made what I thought was going to be a time-consuming job – picking out tile – an easy, one-day event! While everyone at the store seemed really great, I really enjoyed working with Omer as his calming presence was a welcome refuge.

And in the end, the price was great for high-quality tile – better than any of the other places I looked at.

Highly recommend Home Art Tile. This is a great store with a great selection of quality tile and nice, honest people working there that will help you through your renovation.
Remodel your bathroom with us
We know remodeling a bathroom can be a challenge, to say the least. But finding the right balance between timeless design and hot trends can also present an issue, just like obtaining the right products.
Home Art Tile Kitchen & Bath design team will help you create a bathroom design that will not only be perfectly functional and beautiful but also stand the test of time. Whether you live locally in the Tri-State area or you're planning on relocating to Manhattan, Brooklyn, or Queens,  let our bathroom designers help you remodel your bathroom and make your vision come true.
Contact us to get a free estimate on your project, learn more about how we can help redesign your bathroom space, and schedule a free consultation today!
Meanwhile, explore our porcelain tile and ceramic tile selection, our vanity cabinet vendors, and a selection of bathroom vanity cabinets. To get inspired, look at our modern bathroom vanity ideas, and ceramic tile shower ideas. We are sure you're going to love the immediate inspiration for your bathroom remodel.
https://homearttile.com/wp-content/uploads/2020/11/Modern-Bathroom-Remodel-Project-in-New-York-NY-min.png
315
560
sandra
https://homearttile.com/wp-content/uploads/2017/11/logo-102214.jpg
sandra
2020-11-06 14:30:40
2023-02-24 21:10:54
Modern Bathroom Remodel Project in New York, NY