Reasons to Choose Porcelain Tile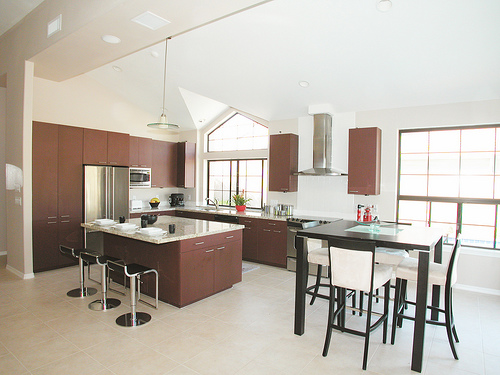 If you could ask your tile to walk a mile in porcelain tile's shoes, how do you think it would do? After all, a versatile tile like this fills some pretty big decorating and functional shoes. Simply take a gander at what makes it so special in the first place? As luck would have it, you are in the right place.
What About Durability?
Porcelain tile has a lot going for it when it comes to a hardy tiling choice. Resistance factor must-haves, like frost resistance dons this tile as a perfect option for commercial and residential use in colder climates like Manhattan, Queens and Brooklyn. Frost-resistance means less chance of cracking and more chance of enjoying!
Is Porcelain Tile Made from Rock?
Not exactly. While there is less of a chance to absorb water like rock, this tile actually contains smaller amounts of clay and more mineral (feldspar). There is a low range porousness; but it's absorbency rates are also extremely low. Moisture, stain and scratch resistance promises come easy for this durable tile. This tile's tough exterior holds up with a stronger, denser capacity for longer wear, heavy traffic desirability and continued beauty to boot.
What About Harsh Detergents and Cleaners?
Using harsh cleaners on any surface often generally isn't a great idea. However, porcelain's resistance to harsh detergents is right up there with its fabulous name. It can withstand small amounts of harsher chemical treatments for cleaning. Vinegar and water steaming or a damp mop on a regular basis works nicely, too.
What About Sealants, Glazes or Other Coatings?
Porcelain tile deserves a standing ovation for all kinds of reasons. One great reason is that it requires no polishing, no sealing and no waxing. The beauty of its natural colors, textures, designs and styles are practically maintenance-free. Glazing is optional if preferred.
Where Can I Incorporate Porcelain Tile?
Stunning porcelain beauty goes where you go – indoors or outdoors. Think about that beautiful slate tile look you've dreamed of on in your outdoor kitchen. How about an expensive marble look in the master bath? Mix and match with rustic woods or highly polished metals. This tile is like a chameleon – it turns into whatever style you can imagine. Family rooms, laundry rooms, porches and more scream for porcelain's easy going, but hard working promise.
Cover walls, counter tops, ceilings, back splashes and almost any flat surface. Break into pieces and create beautiful tile collage around pottery, cinder blocks and other unique items.
Will Porcelain Cost Me an Arm and a Leg?
While costs may be slightly higher for porcelain than say, ceramic, its durability pays for itself in the long run. Consider it a higher class of tile deserving of the love and appreciation it will soon gladly return.
What About Installation?
Installation is not a problem for this remarkable tile. That said, with its denser mass and harder structure, professional tile cutting with special cutting tools is required. Don't cut corners with an inexperienced tile installer or tile cutter as there may be more cost incurred as a result of improper cuts and waste.
When it comes to tile selections count on porcelain to take you all the way. This is a tile that not only exceeds aesthetic appeal, it will also add significant value to the home. Whether the look of terracotta, granite, limestone and travertine is the choice for you to shine up your space like a new dime, this is the right choice in fine flooring, wall and ceiling tiles. Its performance will outshine other tiles by a mile while demanding so little from its owner. Go for the gusto – go for porcelain tile.
Featured image source: Flickr
https://homearttile.com/wp-content/uploads/2015/04/2437147503_9d0481825e.jpg
375
500
homeart
https://homearttile.com/wp-content/uploads/2017/11/logo-102214.jpg
homeart
2015-04-22 13:50:44
2023-04-10 19:11:18
Reasons to Choose Porcelain Tile