Kitchen and Bath Remodeling Ideas That Pay Off

Kitchen and bath remodeling projects are two of the best, sure-fire investments you can make in your home. They are the big, most important rooms that can show off your style and bring up the value of your home significantly. New home builders and homeowners love to splurge on kitchen and bath remodeling, whether for a new home or for an existing home update because these areas are where people actually spend time in their homes. Also, these rooms are the most expensive areas in terms of construction and when the remodeling is over, you can easily tell if money has been well spent or not.
To be sure you make a positive contribution to your home's value, maximize the financial return, and not erode it, look into our kitchen and bath remodeling ideas that surely pay off, returning 100 percent of the cost you invest.
What Should Your Kitchen and Bath Remodeling Project Cover
To make sure you work on the right areas in your kitchen and bathroom — keep their existing structure sound. Before you venture into any additional improvements, make sure there is no mold, musty smell, or water leaking. Dated but functional kitchen or bath is better than a kitchen or bath that looks amazing but has grave issues. This is so important to have in mind if you're remodeling the home you live in, but maybe even more if you're thinking about putting the house up for sale. Once you're sure the basics are covered and your kitchen and bath are 100 percent functional and safe, you can move on.
If you have a limit on what you can spend for your kitchen and bath remodeling project, make sure to invest in a way that you'll most enjoy. Also, think about what do you need and of the functionality of each area in your kitchen and bath.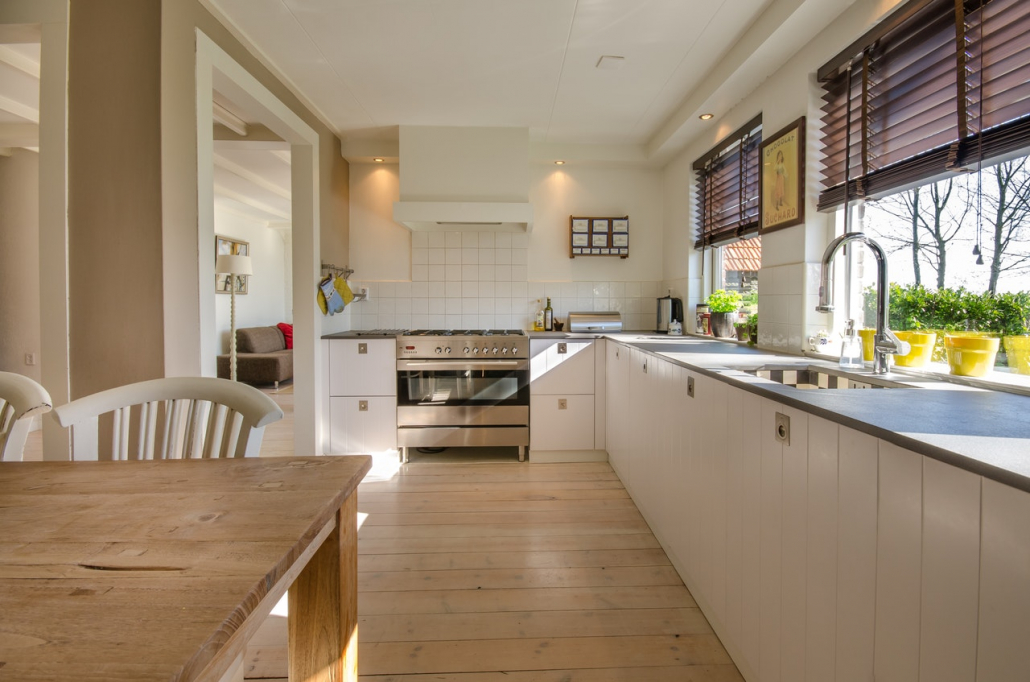 If you have a tub in your bathroom that you and your family rarely use, think about replacing it with a walk-in shower.
Do you need more prepping space in your kitchen? Why not add an island that would not give only prepping space, but also more storage options.
Also, think commercial-look appliances, all-natural wood cabinets, good lighting, stone countertops, and stone floors. These are infallible elements of any modern home that pay off immensely over the years.
If possible at all, avoid trends, especially those that seem like a current fad, and keep the basics in mind. Trends, especially those that are not evergreen like white shaker cabinets or marble-like quartz counters, can be fun for a while, but won't provide 100 percent satisfaction in the long run. Stick to solid elements and upgrading areas and elements that you use on an everyday basis — kitchen cabinets, tiles, countertops upgrade, and replacing old appliances with new, more efficient ones.
Kitchen Remodeling Ideas
When remodeling a kitchen, one's imagination can go running wild. There are so many stunning looking upgrades available that one can easily start thinking more of what is popular than what one needs and what is practical. Fortunately, a marriage between pretty, modern, and functional is not only possible but also available and affordable in our kitchen and bath remodeling showroom.
As a hub of a home, and a place of nourishment, love, support, and socialization, the kitchen deserves the best but not necessarily always the priciest. However, have in mind that high-cost kitchen remodels don't need to automatically translate to absolute or high returns on your investment. To ensure this doesn't happen and maximize the financial return, think about upgrades that will serve you and your family for years to come.
Here are some sustainable, functional, practical, and affordable ideas from our kitchen and bath remodeling experts with years of professional experience in the industry.
Remodel Your Kitchen Cabinets
Kitchen cabinet remodel projects always bring back amazing returns on investment. They can be sleek and contemporary, decorative, traditional, and classic, or stylishly transitional, but they are always an epitome of utility and convenience.
If your cabinets are outdated and don't serve you as they used to, it's time to replace them. Also, is your needs have changed and you need something else than before, updating kitchen cabinets is a basic and the most important job you will do in the kitchen. If your cabinets have squeaky doors, loose handles, or chipped paint, update them and make your kitchen a more attractive and functional space.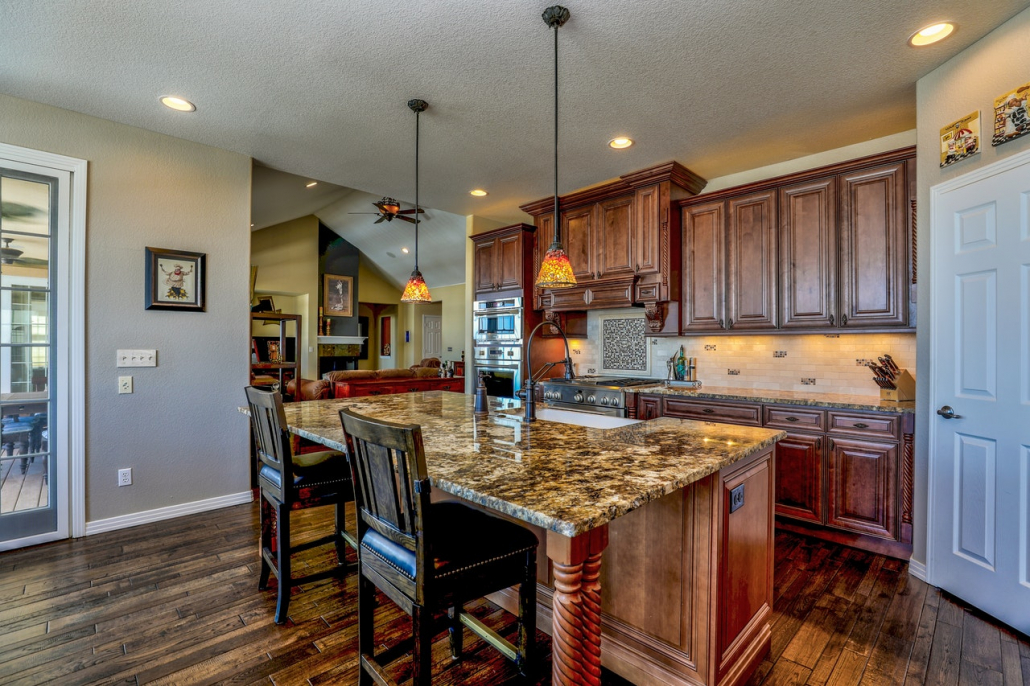 The functional aspect of kitchen cabinets shouldn't be disregarded, but aesthetic one shouldn't be either. If your cabinets are drab, old, and out-of-date, giving your kitchen an ignored look, replace them with what you love. Cabinets take the most of the space in the kitchen and by updating them, you will easily change the look and feel of the whole room.
The kitchen cabinet remodel doesn't have to be an expensive project. Our kitchen cabinets come in a wide variety of styles, colors, and finishes. Even if you are on a tight budget, we surely have something for you. Kitchen cabinet manufacturers like Fabuwood, Forevermark TSG, and CNC Cabinetry cover traditional, modern, and transitional styles in a wide range of colors, making sure to give you whatever you may need or what you have imagined for your kitchen. If you're wondering what is trending in our kitchen and bath remodeling showroom, we can say that white shaker cabinets and gray kitchen cabinets are very popular for a long period of time.
Updating Kitchen Countertops
Countertops say a lot about how you use your kitchen. If you cook every day, there are surely a million stories to tell, but if they endure high traffic and a lot of work, it may be time to replace them. Even if they are simply old, made of a low-quality material, not up to your standards, and don't look the way you want them to, we recommend replacing them with a cost-efficient, durable, and easy to maintain alternative — quartz countertops.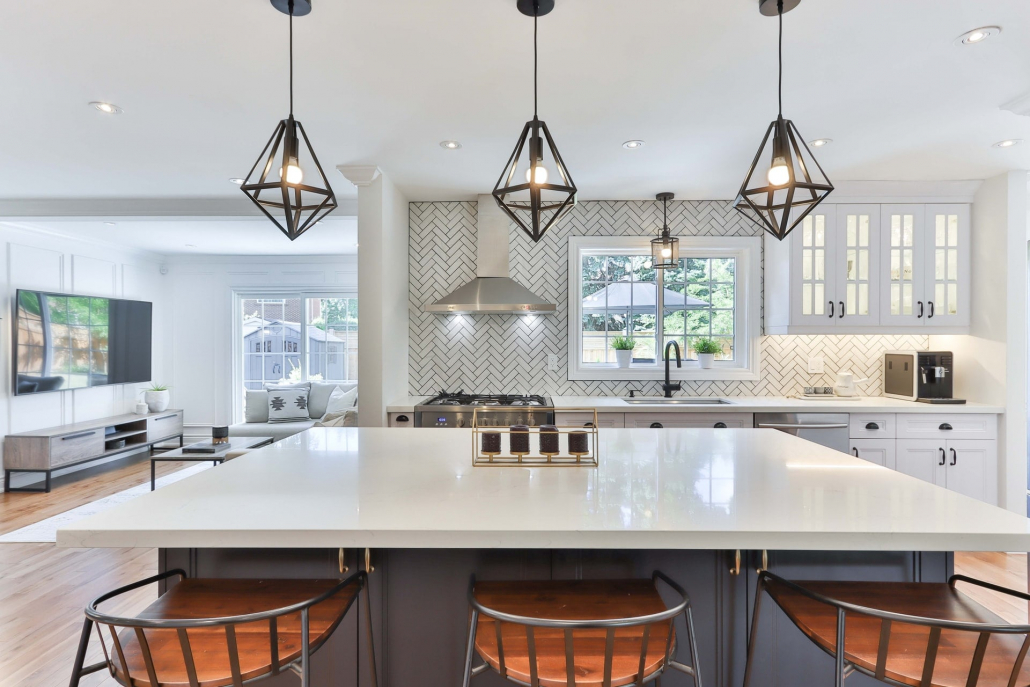 Although you can choose between many options of countertops in our NY kitchen and bath remodeling showroom, onyx, travertine, soapstone, marble, quartzite, and granite, our experience with Manhattan, Brooklyn, and Queens homeowners showed that quartz countertops present the perfect combination of quality, affordability, style, and ease of maintenance. You can choose between many options from Quartz Master, Caesarstone, and MSI. Whether you prefer a natural stone look like marble or granite, perhaps desire a sleek, bright, and airy white kitchen with perfectly white countertops, or looking to introduce a powerful contrast with pitch-black countertops, we have options for you.
Add a Striking Backsplash
If you're looking to add a noticeable but not an expensive upgrade to your kitchen, go for the backsplash. This area is sometimes overlooked, but it's very important and so noticeable. Any change you introduce to your kitchen backsplash area will be spotted immediately.
Low cost with high visual impact — what more do you need? A backsplash will save your wall from water, add texture and depth to your kitchen space.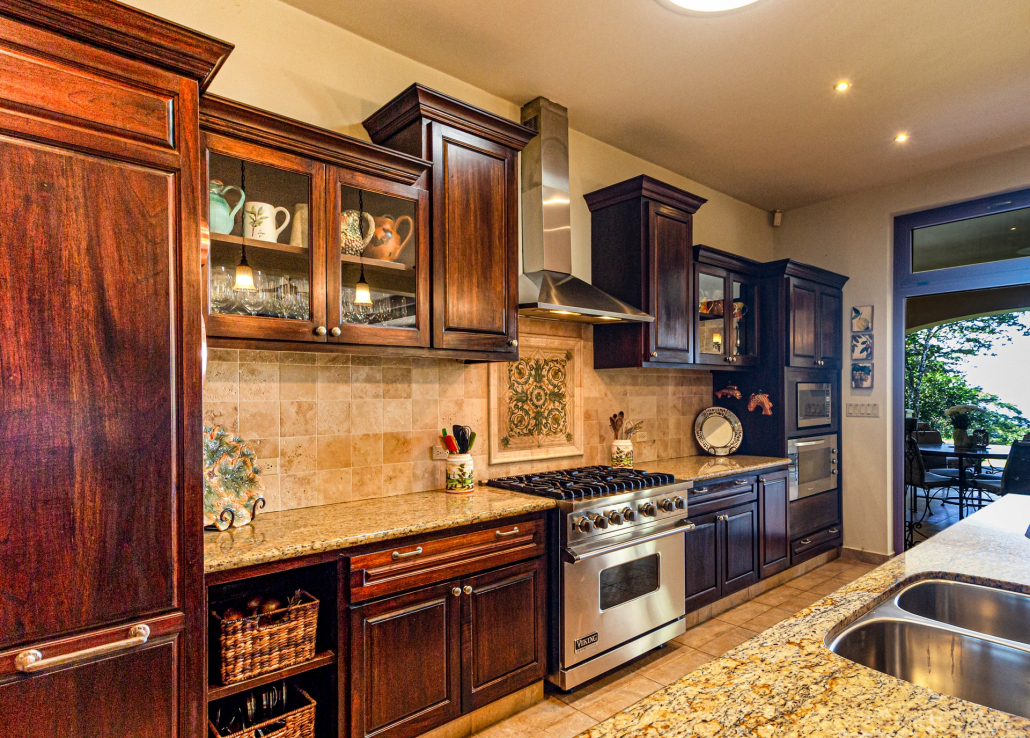 What kind of backsplash do you envision in your kitchen?
Do you prefer the classic and refined look of marble backsplash tiles or you'd rather go with something more trendy like metal or shimmering glass tile? Take a look at our selection of mosaics that offer more than 30 color options, over 20 material alternatives, and many finishing choices.
Bathroom Remodeling Ideas
Whether you're planning on putting your house up on sale or simply making it a better place to live for your family, bathroom remodeling is a great idea. This project will boost the value of your home significantly and provide a great return on investment whether you're selling or staying.
Updating a bathroom should mean delivering the comfort you and your family need, reflecting your personal style, providing function, and value. When planning a bathroom remodel, it's wise to find your purpose — are you going to remodel it from the ground up or you simply wish to improve some of its functions or enhance its design and make it more current. Now, don't forget to consider your space. Make sure to set reasonable expectations for what can be done in the space you have. Then choose the right materials for the areas you plan to remodel: countertops, sink and bath fixtures, vanity, wall or floor tiles, waterproofing materials, bathtub or a shower, or lighting.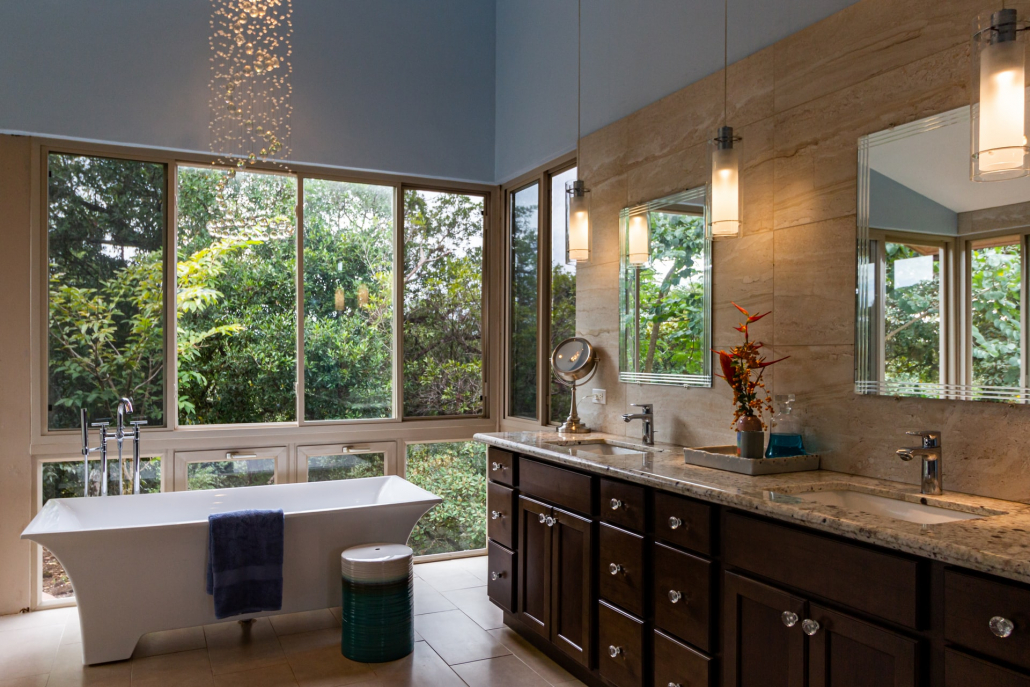 Whatever you decide to work on, make sure to introduce the updates that will reflect your current needs and serve you and your family for many years to come.
If you're set on a bathroom remodel this year, consider some of these fundamental upgrades to enhance functionality, performance, storage,  design, and comfort of your bathroom.
Replace Your Bathtub With a Walk-In Shower
Most people don't have the time to enjoy long baths. Often in a hurry, we are looking to start or wrap up our days as quickly as possible and get on with our chores and other activities. If you have a bathtub where you only shower, why not replace it with a walk-in shower?
Showers have many benefits comparing to bathtubs. They save space, remove barriers to living, offer more convenience and comfort for people of all ages, and, finally, provide a higher resale value upon sale.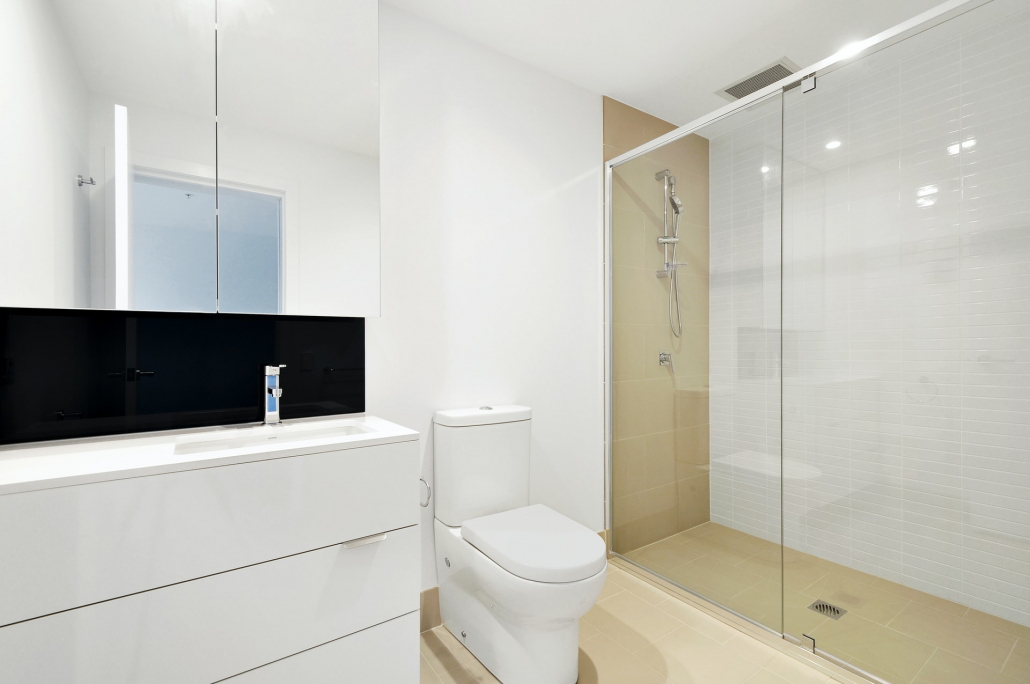 Replacing a bathtub with a walk-in shower is a complex job and can be pricey, but it pays itself off very quickly.
To get inspired for your shower remodel, read our guide Ceramic Tile Shower Ideas to Inspire Your NY Bathroom Remodel and let us know what shower tile design and material would be best for your bathroom.
Improve The Lighting
More often than not, bathrooms don't have a resource of natural light. This calls for adding more lighting, especially around the mirrors and above vanities, as well as in the shower. Adding lights in the shower makes showering more pleasant and safer while adding recessed fixtures around the vanity mirrors makes doing make-up, hair, etc. easier, more convenient, and faster.
Adding a window in the shower is a great idea to improve lighting and give access to the natural light, as well as to decrease humidity.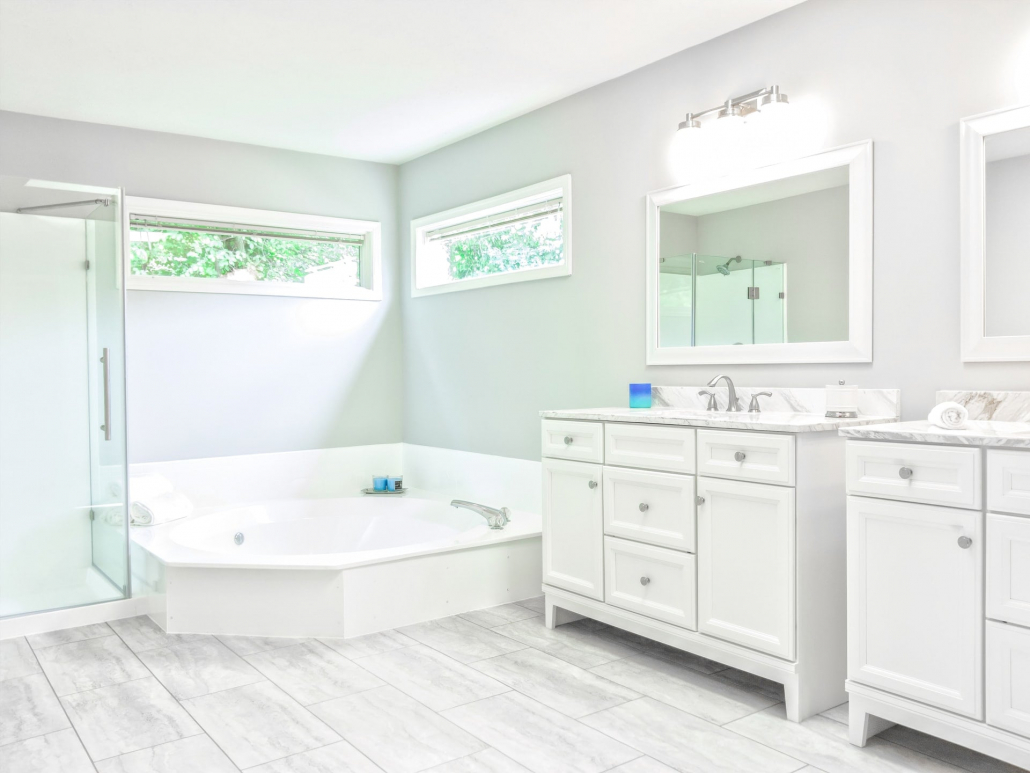 Pick Timeless Flooring for Your Bathroom
If the flooring in your bathroom is damaged, chipped, stained, or simply dated, it's time to update it and replace it with new, stylish, and durable tiling. Choose between porcelain tiles and ceramic tiles as both options provide highly durable and water-resistant protection of your floors that are also very easy to clean and maintain. Both porcelain and ceramic floor tiles come in a wide variety of modern designs that are very pleasing to the eye and easy to pair with the rest of the room. Choose from an assortment of appearance options, like wood looks, the concrete, metal, stone, fabric looks, as well as from different shapes.
To get inspired for your bathroom flooring remodel, read our guides 5 Ceramic Tile Patterns to Showcase Your Floor and 7 Bathroom Makeover Ideas That Will Blow Your Mind and let us know what ideas best fit with your plan.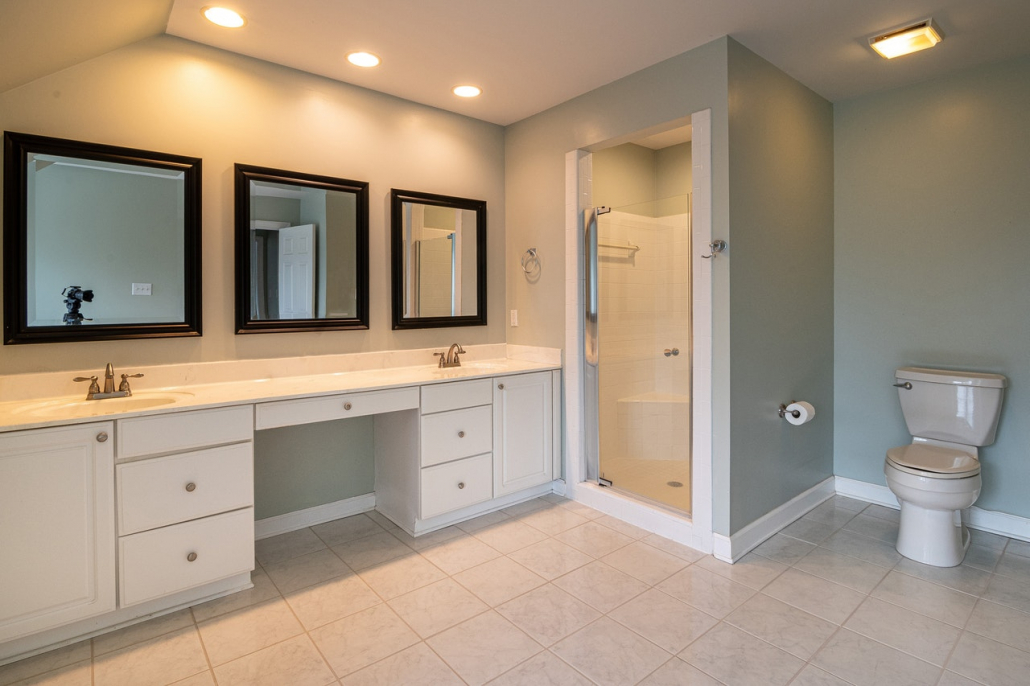 Elevate the Style of Your Bathroom & Expand Storage Space With the Right Vanity
When thinking about function, storage, practicality, and style in a bathroom, we usually talk about vanity. What kitchen cabinets present for any kitchen, a vanity is for any bathroom space. A vanity will dictate the look and style of the bathroom, add texture, and a focus point. If there is enough space and need, adding a double-sink vanity is a great idea. Larger vanity means more storage space, less clutter on the counters, and faster prep time in the morning.
Regarding vanity style and design, the options are endless. Start deciding whether you're going for a single or a double-sink vanity, whether it's going to be wall-mounted, free-standing, or a floating vanity. For small bathrooms, guest bathrooms, and powder rooms, washstands can work just as well.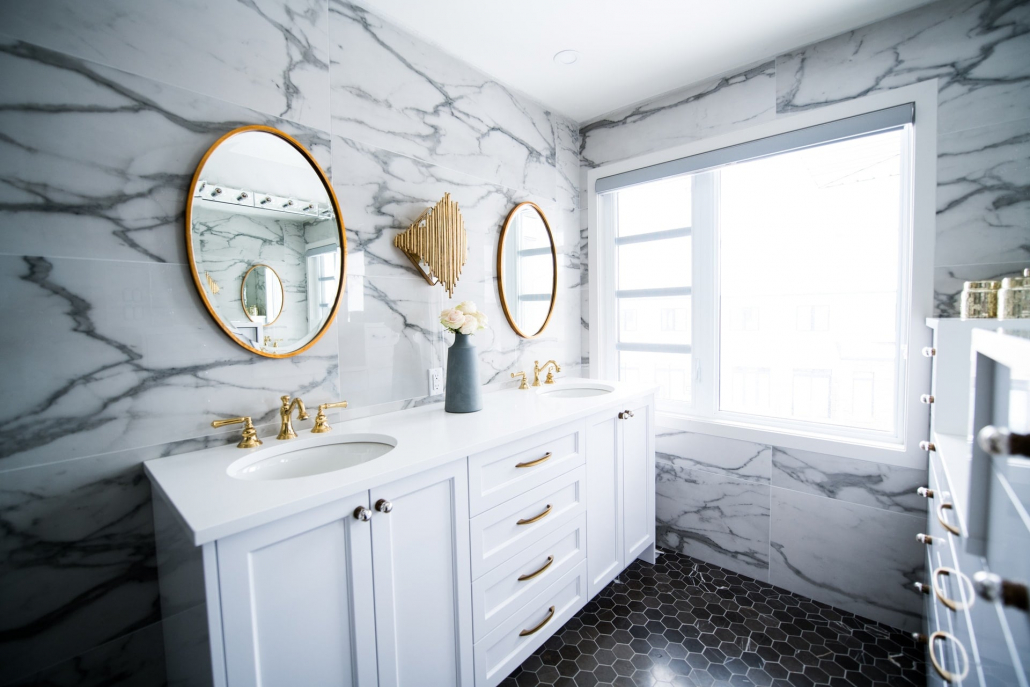 Depending on the look your going for and the style of the rest of your home, choose from many vanity style options — mid-century, rustic, industrial, contemporary, or even farmhouse designs.
If your bathroom remodeling project calls for a new vanity, get inspired by our guide Bathroom Vanities Ideas For Your Remodel. See our handpicked selection of bathroom vanity cabinets, and learn more about our vanity cabinet vendors.
Find Everything for Your Project at Our Kitchen and Bath Remodeling Showroom in Queens, NY
When thinking about your kitchen and bath remodeling project, consider our ideas mentioned above. When improving these two most important rooms in your home, remember to make them more efficient, more functional, and most stylish, for the best possible performance and the best possible look. This is the only way for kitchen and bath to serve you and your family for many years to come.
Whether you're planning on remodeling a kitchen, a bathroom, or both, Home Art Tile Kitchen & Bath is your kitchen and bath remodeling showroom located in Long Island, Queens, NY, that will meet all your needs. No need to visit multiple showrooms when you can get a one-stop-shop experience and an amazing customer service right here.
Contact us today for an affordable kitchen and bath remodeling and to tell us all about your plans and dreams. We cannot wait to hear all about it. Our designers will give you a free estimate and recommend products that will meet your needs entirely in the best possible way.
When you find perfect cabinets, vanity, countertops, and tiles, we will also help you with the installation. We will be happy to recommend a reliable, highly experienced, insured, and fully licensed local contractor.
Let's start working on your kitchen and bath remodeling projects today.
https://homearttile.com/wp-content/uploads/2020/08/kitchen-and-bath-remodeling-ideas-that-pay-off.jpg
312
820
sandra
https://homearttile.com/wp-content/uploads/2017/11/logo-102214.jpg
sandra
2020-08-28 12:41:13
2023-02-24 20:55:45
Kitchen and Bath Remodeling Ideas That Pay Off