Kitchen Remodel Project Reveal in Floral Park, NY
We were happy to help our client to equip, design, and remodel their outdated kitchen in Floral Park, NY. Our kitchen designers worked with Rita P. to balance her vision, her needs, her style, and her budget. Together, we made her dream come to life. Featuring linen shaker cabinets with modern flair and smooth feel, and gorgeous marble-looking quartz countertops, this kitchen in Floral Park, NY has everything it needs to provide maximum comfort and create memories.
Take a look at this labor of love and how we managed to reflect a contemporary transitional style throughout this kitchen space.
Fabuwood Galaxy Linen Kitchen Cabinets for a Polished Look
The first thing you'll notice in this Floral Park, NY kitchen is the cabinetry and the unique flair it provides. To provide maximum storage and style for this small family kitchen, we helped our client source the best possible cabinetry. Fabuwood shaker style cabinets with silky and smooth Linen finish from their Galaxy cabinetry series was absolutely the best choice. Linen finish, that's not only the color but almost a tangible experience, provides that irresistible elegant feel, while the very form and shape of the cabinet doors give space a contemporary, minimalist, subtle look.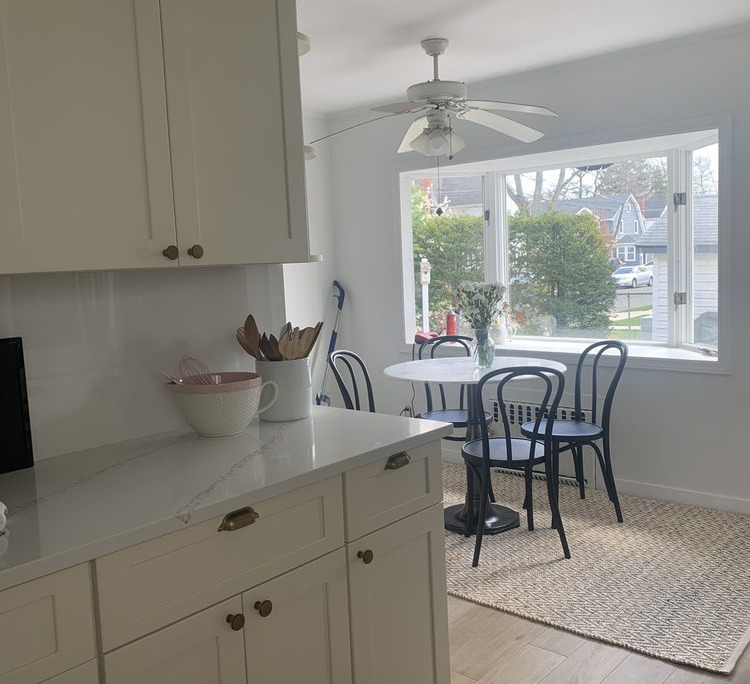 Although Fabuwood Linen cabinets are a stock option, and therefore a more affordable choice than custom cabinetry, we were able to customize them and meet our client's unique needs and space. Glass upper cabinets and sophisticated brass hardware give this kitchen a sense of refinement and one-of-a-kind balance you'll rarely see. The way the cabinetry fits with stainless steel appliances is another success story we're very proud of. Stainless steel appliances are often seen as the perfect decor element in ultra-modern kitchens, pairing with white or black contemporary cabinetry. However, this kitchen remodel project in Floral Park, NY shows just how perfect stainless steel appliances and transitional, linen-finished shaker cabinetry fit together.
Solid birch drawer boxes, box dovetail construction, and solid wood door frames with ⅜" MDF center panel with soft-close mechanism guarantee an enduring appeal that will continue to delight our client for many years to come.
Marble-look MSI Calacatta Arno Quartz Countertops for a Complete Kitchen Makeover
A kitchen makeover is never complete without reconsidering and updating the countertops. The most hardworking element in any kitchen, countertops require serious reconsideration. If they're damaged, cracked, or eroding, have burn marks or stains, look dull or outdated, here's a tip — it's high time to replace them with a new, better version.
However, don't fall for the first design you see. First and foremost, you need to decide what kind of material meets your needs best. The marble looks amazing but if you don't have time for maintenance and care, and you don't enjoy the patina this stone earns as it ages, then it's best to skip on it. But this doesn't mean you can't have the look of a brand new marble slab for practically forever. Marble-looking quartz gives you so many options… so, so many delightful looks. And you'll enjoy browsing and paring them with your cabinets.
For this kitchen makeover in Floral Park, NY we chose Calacatta Arno marble-look quartz countertops. Calacatta Arno Quartz is a beautiful, engineered stone option, with a warm white base perfect to fit in any kitchen. The interest in this warm, soft base is increased by thin gray veining and lovely, subtle gold accents. The gold details in the stone we enhanced further by pairing the elegant quartz with brass fixtures and soft, linen-colored cabinets.
Unlike real marble stone that succumbs to stains and water spots, the unique Calacatta marble look on this man-made, engineered surface will stay bright and looking like new thanks to the nonporous surface for many years to come.
Happiness is a Happy Client
Nothing makes us happier than our clients' happiness. The meaningful work of making your homes warm, joyful, cozy, and functional spaces that fit your needs and lifestyle, and that make your everyday activities easier is fueled by a true passion for many years now. This is why we are beyond happy and grateful when we get a review by a happy customer as we got from Rita.
"I recently moved to a new house and decided to gut renovate both kitchen and bathrooms. Rashid, from Home Art Tile, was extremely helpful. I bought kitchen cabinets, countertops, and tiles for both of my bathrooms from them. The process of picking the right colors and materials was so much easier thanks to Rashid and the entire staff. There was a small dent on the cabinet door, and he requested replacement right away. He even called to see how everything came out. I was beyond happy with the service and entire process. Would definitely recommend them to my friends and family."⠀
Rita P.
Feedbacks like this make us humble and give us wings to take our service to an even higher level.
Take a look at the customer reviews we get.
Remodel Your NY Kitchen with Home Art Tile Kitchen & Bath
The update of this kitchen is nothing short of amazing, and we're sure you agree with us! It was a privilege to with this client from Floral Park, NY, and bring their vision of an ideal kitchen to life.
Do you like what you see?
You'll like our work, even more, when you take a look at more of the remodeling projects we helped complete.
Are you interested in connecting with us about finding the one place where you can shop for everything you may need for your kitchen remodel and design? Then contact us today.
A rich selection of kitchen cabinets, countertops, floor tile, mosaics, and many more products is ready for your kitchen or bath remodel project. You will also get many kitchen and bathroom remodel ideas. Take a look at our blog with many trends, ideas, tips, and tricks to get inspired for your project.
⠀⠀
You can also schedule a design appointment in our showroom and see for yourself that we have the best kitchen and bath products in Queens, Manhattan, and Brooklyn, with the absolute lowest price.
https://homearttile.com/wp-content/uploads/2021/05/Kitchen-Remodel-Project-Reveal-in-Floral-Park-NY-min.png
315
560
sandra
https://homearttile.com/wp-content/uploads/2017/11/logo-102214.jpg
sandra
2021-05-20 13:15:06
2021-05-21 08:17:37
Kitchen Remodel Project Reveal in Floral Park, NY