Beautiful White Shaker Kitchen Remodel Project in Little Falls, NJ
Our client from Little Falls, NJ wanted to create a light and modern kitchen while ensuring a classic feel so it coordinates well with the rest of this lovely family home. The previous traditional, dark wood-finished cabinetry was of high quality, warm, and durable, but did not fit well with the preferred aesthetic. Our client felt they need to up their game in the kitchen — improve the work flow, add better tiling on both floors and walls, and upgrade cabinetry with more functional pantry space. The style of the cabinets is another thing that was very important to our client. The goal was to achieve a modern look without sacrificing the quality and refinement that classic features usually lend to the cabinetry.
To achieve our client's goal, we chose GH White Shaker Cabinetry, Calacatta Gold Lantern marble tiles for backsplash, and Wind Gray floor tiles. Tall cabinets created additional verticality to the space, while the island created a comfortable eat-in area perfect for the family to sit in or cook together.
Take a look at how we completed this bright and inviting kitchen space in New Jersey.
GH White Shaker Cabinets — The Star of The Kitchen
Kitchen cabinets are usually the focus of any kitchen renovation project. Providing both functionality and style, kitchen cabinetry can create the perfect backdrop for any other elements you wish to add to your dream kitchen design. But kitchen cabinets also lend a sensation of novelty, freshness, and originality. All of these cabinetry traits are the reasons why cabinetry almost in any kitchen remodeling project gets picked first. The cabinetry is a staple in any kitchen that will dictate the rest of the kitchen and any other additional elements.
For this particular kitchen in Little Falls, NJ, we decided on the Golden Home White Shaker cabinets. These cabinets feature contemporary frameless construction with dowel and cam-lock structure which provide superior functionality and modern appearance. The pure white color of the cabinets provides a fresh feel to the room, along with a versatility that allows many other elements to come into play and help create a kitchen that grows and changes with its owners.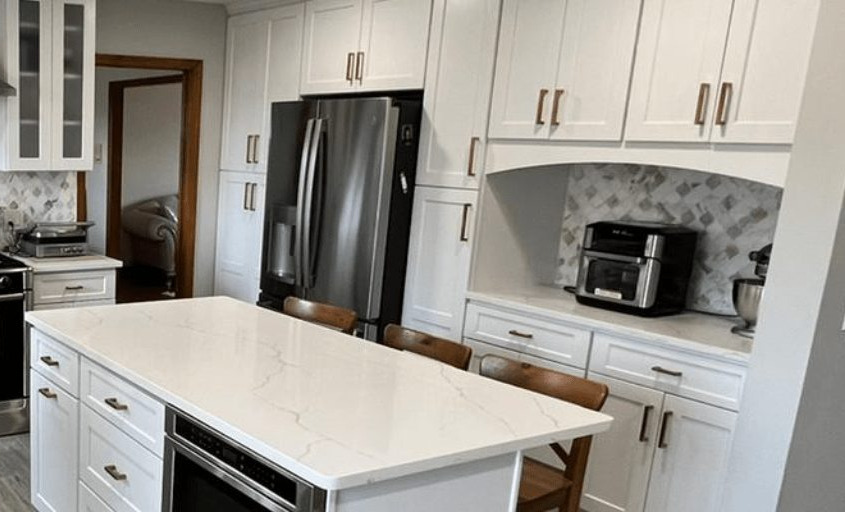 And last, when it comes to these beautiful white shaker cabinets, but not least, are the environmentally-friendly features they possess. The material is fully controlled, ensuring it meets the standard of E1, KCMA, and CARB 2. The outstanding quality of the finish and contemporary, fashion-forward cabinetry design makes any kitchen space top of the range.
Calacatta Gold Lantern Backsplash for Special Refinement
Finding the right backsplash design to pair these lovely white shaker cabinets wasn't hard. Marble is well-known for its gorgeous looks and high quality, as well as ease of maintenance. So it was easy to pick Calacatta Gold Lantern, classic Italian polished marble tiles, among other backsplash material options we considered together with our client. These white marble tiles are accented by gold and soft gray veining, which give them a highly desired luxurious look.  Sophisticated, elegant, and beautiful, Calacatta Gold Lantern backsplash tiles grace this Little Falls, NJ kitchen and give it a highlight that it needed to achieve a highly refined appearance and feel.
The smooth lines of this luxurious Calacatta Gold Lantern marble tile backsplash pair with white shaker cabinets, white marble-looking quartz countertops, and wood-looking floor tiles to add an opulent touch to the ambiance. The natural variation of Calacatta Gold Lantern mosaic tile allows many different style elements to be incorporated. Its neutral scheme easily complements a wide range of colors and finishes while its elegance and refinement embellish any decor style.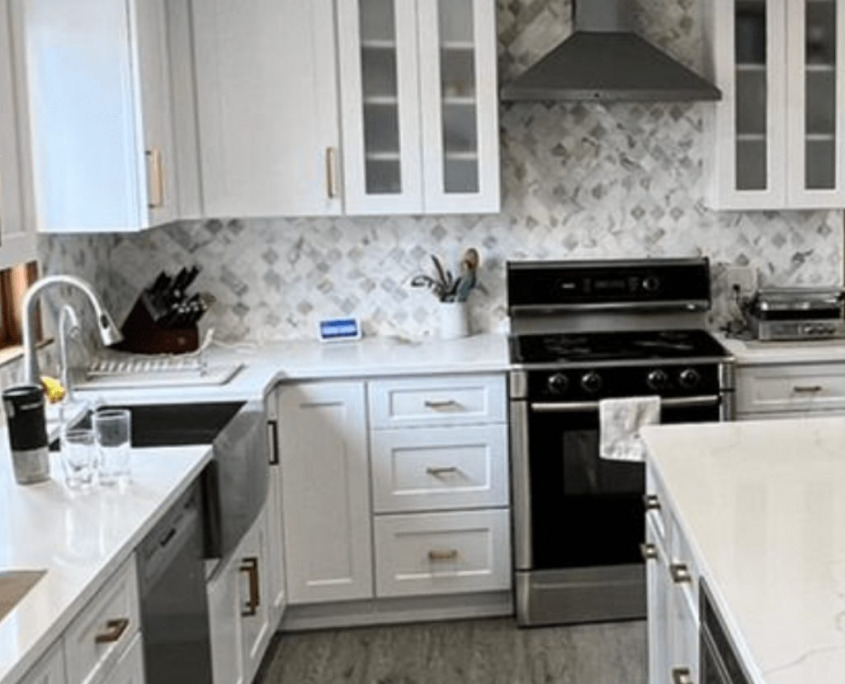 Just as our client used Calacatta Gold Lantern marble tile to enhance the look, performance, and functionality of their kitchen, you can also use it to create a continuous design flow on your kitchen walls — under the cabinets, behind the stove, or simply cover your entire wall, from countertops to the ceiling. You can accent your kitchen with this gorgeous white and gray backsplash, and use it with other marble surfaces to achieve a more eclectic look. The natural variations of Calacatta Gold Lantern marble tile allow unique color intensity, so you can always expect a one-of-a-kind and a truly special feel in your kitchen, along with superb quality.
Northwind Gray Floor Tile Brings In a Touch of Nature
A kitchen is never complete without carefully selected flooring. Flooring is, besides cabinetry and countertops, the most hardworking surface in any kitchen.
To achieve our client's goal and design a modern, classy kitchen that will also possess a natural feel, we suggested Northwind Grey 6 x 36 porcelain wood look floor tile. The client was amazed by its look! A modern matte finish of the tile has a realistic distressed texture that resembles reclaimed hardwood planks. And while we have perfectly white, light, and bright cabinetry and countertops, the flooring gives the kitchen a vintage hue and loads of natural feel. The rectified tile edges allow for minimal grout lines and provide an even look at the floor surface.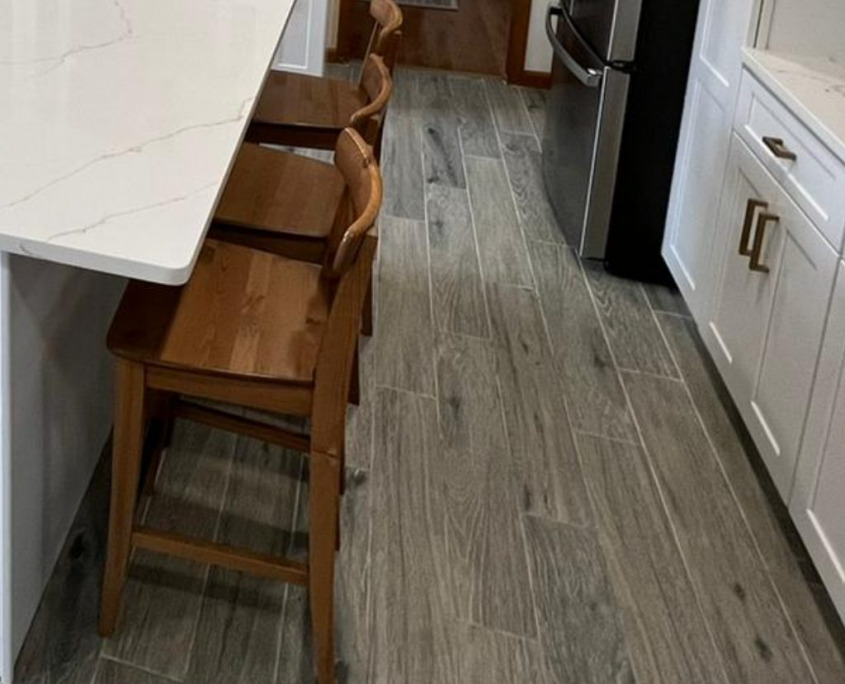 Besides their unique, natural beauty, Northwind Gray Floor Porcelain Tile is so durable and sturdy that it's perfect for high-traffic areas such as a busy family kitchen. It's also a great solution for any commercial setting.
Customer Feedback Means a World to Our Designer Team
When we completed the design, helped our client set up their new kitchen, and made sure they are 100 percent happy with their new kitchen set up, we were thrilled to receive the feedback:
"I had a great experience with Home Art Tile Kitchen and Bath during my kitchen renovation project. Rashid carefully measured and designed an awe-inspiring kitchen maximizing space and using every inch possible. Built-in microwave space was custom designed on the island. Two long pantries added a lot of room for storing foods, spices, etc. Home Art helped us select a matching countertop, backsplash, and floor tile. All products were delivered in a timely manner. The kitchen looks great and I get lots of compliments. Thank you, Rashid, Ibrahim, and the whole Home Art team!" ✨ Eric Y.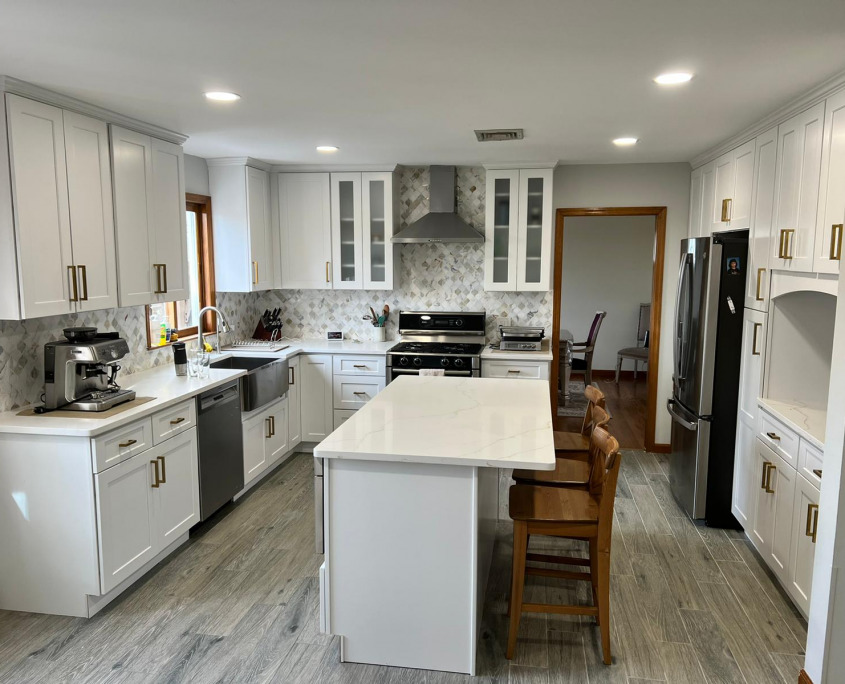 Feedback like this means the world to us and gives us wings to perfect further everything we do, for you.
Let's Get in Touch Regarding Your Kitchen Remodel Project
If you're planning on remodeling your kitchen, we would love to get in touch with you.
With many years of experience working with both homeowners and commercial clients within the area of Manhattan, Brooklyn, and Queens, we know what are you trying to accomplish when looking to remodel your kitchen. The most important thing to think about when remodeling a kitchen is ensuring everything you need and want to include will work practically within the space and look great. Many aspects and elements come into play here — cabinetry, countertops, wall tiles, floor tiles just to begin with. If these aren't right, you'll end up with a space you won't use because it simply doesn't work for you. And we cannot allow that nor you can afford it.
Our expert designers, along with our bespoke kitchen remodel product selection means we can always offer a unique, customized solution to turn any challenging room or layout into a beautiful and functional kitchen.
If this year is the one for remodeling your NYC kitchen, take a look at 2022 Kitchen Trends, and go over our Best Kitchen Cabinets Buying Guide to make sure you cover everything you need to create a kitchen you always wanted. You're welcome to browse many kitchen design ideas and helpful tips on remodeling a kitchen on our blog; these will help you greatly to consider all the aspects of the kitchen remodeling process and give you ideas on how to save money while achieving the results you need.
Contact us today to get started on your dream kitchen. We can't wait to help you make your dream come true.
https://homearttile.com/wp-content/uploads/2022/02/White-Shaker-Kitchen-Remodel-Project-in-Little-Falls-NJ-min.png
315
560
sandra
https://homearttile.com/wp-content/uploads/2017/11/logo-102214.jpg
sandra
2022-02-09 09:37:35
2022-03-20 19:05:39
Beautiful White Shaker Kitchen Remodel Project in Little Falls, NJ