Modern Bathroom Vanities Ideas For Your Remodel

We've gathered the best modern bathroom vanities ideas for your bathroom remodel. Being on the top of many wishlists, a vanity can make or break your bathroom design. Besides functional priorities like having enough storage, the right placement, the best materials matched perfectly, an all modern bathroom vanity presents a unique opportunity to show your style and a one-of-a-kind personality. If you don't pick a vanity of the right size and style, the rest of your bathroom will suffer.
Don't let it happen. Whether you plan to remodel your powder room or a master bathroom, choose something from our list of modern bathroom vanities. They all provide maximum function and purpose but they also make a statement and present a major fashion element in a home.
From traditional vanity designs to sleek contemporary creations, and from small modern bathroom vanity ideas to modern double sink bathroom vanity styles, we bring you all the inspiration you need for your bathroom remodel. Take a look at these modern bathroom vanities ideas and choose the right style for your remodel.
Modern Bathroom Vanities Styles
From mid-century modern bathroom vanity options, farmhouse, industrial, and contemporary, to rustic designs, vanities come in various shapes, sizes, colors, materials, and finishes. You can choose wall-mounted, floating, single-sink vanities, as well as washstands for petite bathrooms. If your space requires a custom made vanity, you can find many options but you can also design your own. Large bathrooms will welcome double sink vanities, from simple styled to colorful and cheerful designs.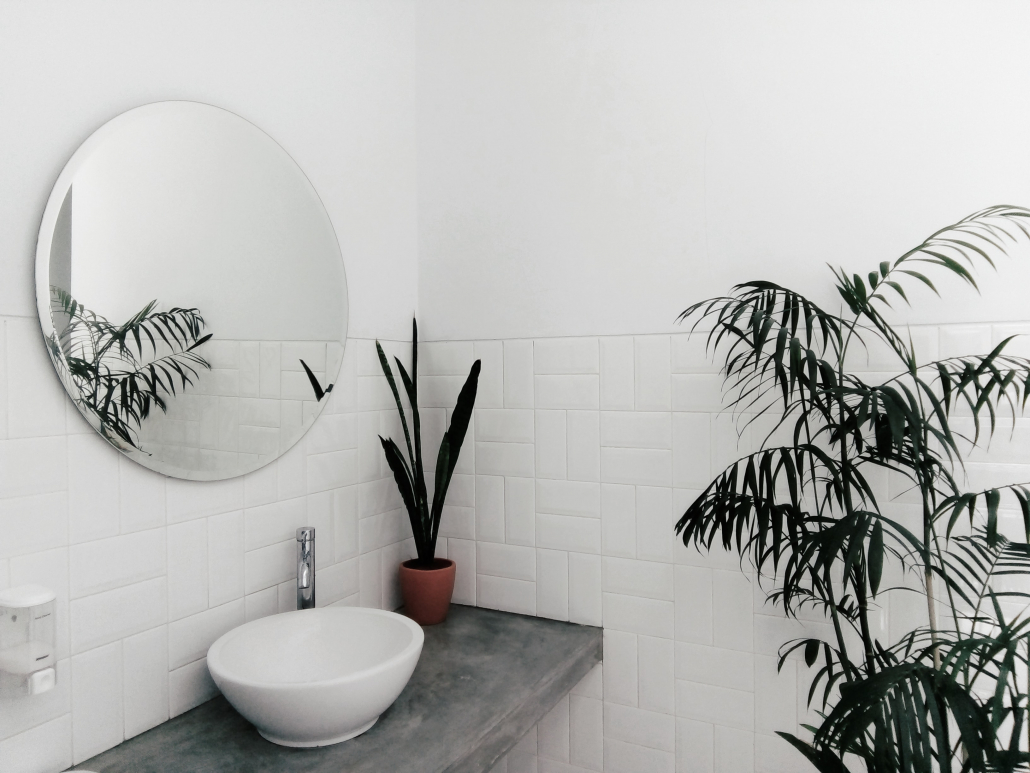 A great vanity should provide you not only with elegant and trendy style but also with a comfortable spot where you will be able to store bathroom items and a well-functioning sink. You can always add and incorporate some classy features, but quality material and sturdy construction will ensure our vanity lasts and serves you well for many years to come.
Explore our Bathroom Vanity Cabinets.
Small Modern Bathroom Vanity Ideas
If your bathroom is tiny and needs a major refresh, a new small modern vanity can bring in a major change. Finding bathroom vanity cabinets small enough but still with enough storage can present a major challenge. The right small modern bathroom vanity enables you to use the available square footage better and live larger than you hoped for. Small bathroom vanities often provide high-end style without overrunning the space. With drawers and doors for storing necessary items you usually need in your bathroom and use on an everyday basis, small vanities can be as beautiful as they are practical. Make the most out of your small vanity space and your tiny bathroom. Take a look at these small space friendly bathroom vanity ideas.
Explore what options our Vanity Cabinet Vendors offer.
Washstand
A small, classic washstand offers timeless, elegant ambiance in any bathroom. This is the perfect option for small bathrooms or powder rooms where storage is not needed because washstand doesn't have any cabinets or drawers. If you still need some storage, but still desire a stylish washstand, the best idea is to use another wall to add it.
Although it doesn't offer storage space, a washstand allows you to keep your towels at hand with a basin. This is a very practical choice that also looks very stylish. Traditional or rustic looking washstands with nickel-metal or chrome legs with special detailings that resemble Victorian style are particularly attractive.
A combination of brass and marble is quite effective as well. The elegance and refinement are absolute.
Browse Blossomus Vanities Catalog.
Single Sink Vanity
Sometimes a single vanity is all you can fit in your small bathroom. But don't worry, there is plenty of choices. Ensure the other surfaces are kept clutter-free by ensuring to add a single sink vanity with practical and big enough storage space. You can maximize space and add more storage space by mounting a cabinet or additional shelves on the wall. The best news is that by opting for a single-sink vanity you don't have to waive elegance and style. On the contrary, single sink vanities come in a variety of styles, colors, and finishes.
The gray color looks amazing in any bathroom. It's clean and neutral, perfect to compliment any style. Additionally, gray is a light color and it will open up the space even more. If you choose a vanity with subtle or minimalist hardware, the overall effect will be even better.
A minimalist, all-white, single-sink vanity will occupy the minimum of space in your bathroom and offer maximum storage.
A combination of drawers and cabinets in your small, single-sink bathroom vanity can be a true space-saver.
Browse DWL Vanities Catalog.
Modern Double Sink Bathroom Vanity Ideas
If your bathroom is spacious enough, you can plan a remodel with a double sink bathroom vanity. Measure your space, decide on the style you want for your bath, and pick the one that's just right for you and your family. Elements to consider when planning adding a double sink vanity to your bathroom is having extensive counter space between the two sinks, symmetry, lighting, and a large mirror that will span both sinks. Alternatively, you can add one mirror over each sink. Lighting is crucial, so make sure there is ample light above both sinks.
Everyone loves double sink vanities because of the plenty of storage space, an effective and functional combination of open shelves, drawers, and cabinets. The storage eliminates the chances for clutter on the countertop and in between sinks.
Double sink vanities are usually set up on single pedestals and more often than not in the center of a bathroom. Guaranteed to turn heads and catch your eyes every time you enter the bathroom, these vanities should look gorgeous just as miraculously effective and practical they are. You can make them of any material you choose, but if you want a state-of-the-art and on-trend option, we recommend a combination that includes marble and wood. This combo will provide you with quality, durability, and high style you're looking for.
Double Sink Vanity Designs
A blend of marble, gold, and white tones, is an all-time winning choice. So timeless, so elegant!
All white doesn't have to be the answer always. Mable looking quartz, dark gray or marine blue vanity cabinets and drawers, and wood-framed mirror can be an epitome of elegance, as well. Paired with glass shower stand and white tile, this bathroom is homey and warm, but still highly refined space.
A double vanity can be accomplished with two vanities standing across from each other. Installing two matching single vanities across from each other is a sensible solution when the bathroom is spacious enough.
If you love a more modern and practical design for a sink, a double vanity is a wonderful opportunity to emphasize and celebrate your adoration by installing two of them.
Industrial style is taking over our homes, kitchens as well as bathrooms. Stone, concrete, and brick, look amazing. Double-sink vanities come in a variety of styles, shapes, and sizes, and they incorporate pretty well in any decor. Besides that, double vanities provide another perk — extra storage space gained beneath the sink. The multitude of shelves and drawers means a clutter-free bathroom. It's almost a boutique hotel feel at home.
Even smaller bathroom spaces can fit a double sink vanity. Countertop space won't be so expanding, but the vanity will still serve the purpose and look great.
The modern bathroom vanity light is always crucial. It's important for practical reasons, but it is also an essential decorative element. We adore the contrast the vanity hardware, mirrors, lighting, and floor tile provide this otherwise all-white bathroom.
Browse Eviva Vanities Catalog.
Modern Floating and Wall Mounted Vanity Ideas
These options present a more contemporary approach to a bathroom design. Wall-mounted and floating bathroom vanities help free up space and allow for more airflow, so a bathroom looks larger and feels lighter. If you believe that a wall-mounted or a floating vanity would be the right option for your small bathroom, you'll be glad to know that there is an extensive range of these vanities, in many shapes, sizes, colors, and styles, delivering maximum customized and personalized luxury with high useability in any style of bathroom. An additional advantage is that wall-mounted and floating vanities free up the floor space, making it easier to clean and more sanitary.
Modern wall-mounted vanity options, along with floating possibilities were often found in previous years in commercial settings. Luckily, they are slowly emerging in residential bathroom spaces as well, used in master bathrooms and as a modern vanity makeup solution in powder rooms, as well.
Browse Otto Home Goods Vanities Catalog.
Floating and Wall Mounted Vanity Designs
Who says that a wall-mounted vanity must be an apparent or a typical choice? Just look at how stylish the combination of a sink and vanity can be. Elegance is also achieved by introducing contrasting colors of the sink and vanity itself.
Luxury doesn't come only in dark finishes. All modern bathroom vanity ideas introduce a wealth of choices, with modern floating bathroom vanity options in white color. This white, floating bathroom vanity, comes with flat-panel doors in a minimalist style. In an all-white bathroom space, a charming contrast is achieved by introducing plants and fabrics in lively colors.
Wall-mounted vanities can be perfect space savers. Often times, a modern wall mounted bathroom vanity will fit right between two walls. Although you may not be able to fit two sinks here, you can still make sure to use the space to the maximum.
Various combinations of vanities and sinks can look truly elegant and expensive. If you don't need a lot of storage space, consider minimalist vanity with just a few drawers and a simple sink. The elegance can be achieved with a breathtaking marble tile choice.
Wall-mounted vanity can present a combination of cabinets and open and closed drawers. Plus, you can use it to make a towel quite at hand, as well.
But you can also mount a vanity that is all-closed and made in a minimalist style. Elegance is easily achieved with the countertop and cabinet contrast.
Browse Dowell Vanities Catalog.
How to Pick Out a Bathroom Vanity
To make vanity work for your needs, you need to choose the right style, size, shape, and materials. Follow these steps when planning to remodel your bathroom and add a vanity that will fit your needs.
Decide on the placement.
Choose a spot for your vanity that won't create confusion, block doors, or disturb your bathroom traffic flow. All areas need to be easily accessible for cleaning. When choosing a spot for your vanity, also consider the proximity of plumbing if you don't want to reroute drains and pipes.
Choose the right materials.
Bathrooms are wet, humid, and busy spaces. This is why it is so important to find durable and sturdy materials such as laminates, thermofoil, and wood veneer. If you opt for wood, make sure it's properly sealed.
Consider how much storage you need.
Depending on how much storage space you need, you will choose the right vanity for your bathroom. Make an inventory of all the items you need at hand.
Take measurements and pick the right vanity size.
Depending on the amount of available space and square footage, you will choose between single or a double-sink vanity, a floating or a free-standing vanity design. Make sure the vanity is not too tall and not too short.
Browse Fresca Vanities Catalog.
Modern Bathroom Vanities for Sale in Queens, NY
Have you recently updated your bathroom vanity? Does it match your needs and meets your everyday activities? If it doesn't, if it's outdated or not fully functional, it's time for a bathroom remodel or at least for a vanity update. Choosing the right vanity for your bathroom will mostly depend on how you feel about your home. Choose wisely when shopping for a vanity. If you're looking to update the powder room or a guest bathroom vanity, a single-sink variety can work just well. But if you're looking to update a vanity in your master bathroom of your forever home, then you're allowed to splurge and find truly the best possible option.
Home Art Tile Kitchen & Bath provides you with a wide selection of bathroom vanities, from small to medium and large options. We provide a one-stop-shop experience where you can find a variety of vanity bases, vanity tops, bathroom faucets, and vanity sinks. Our experienced bathroom designers will give you helpful advice if needed and suggest the right vanity size depending on the space available and the measurements you took.
We are located at 35-10 43rd Street Long Island City, New York 11101, close enough whether you live in Queens, Manhattan, or Brooklyn. Contact us today and find beautiful discount modern bathroom vanities perfect for your update.
https://homearttile.com/wp-content/uploads/2020/06/Bathroom-Vanity-Ideas-for-Your-Remodel-1-min.png
312
820
sandra
https://homearttile.com/wp-content/uploads/2017/11/logo-102214.jpg
sandra
2020-06-25 14:46:43
2020-12-18 12:21:49
Modern Bathroom Vanities Ideas For Your Remodel