Stone Look Porcelain Tile Design Ideas 2015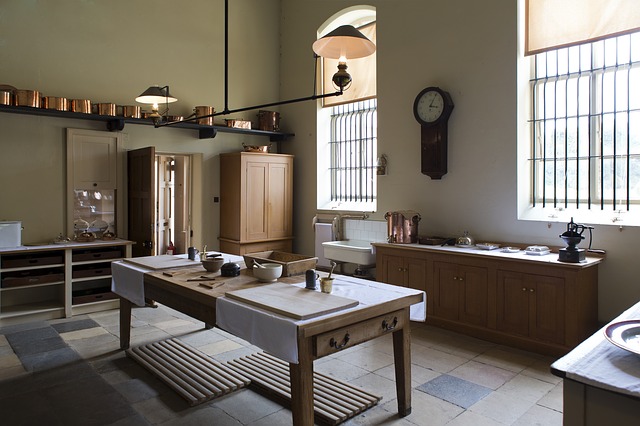 Porcelain tiling is an inexpensive and easy way to recreate the look of any room. Since the tile is relatively light, it is easy to install and inexpensive to ship. The right tile can open up a small room or make a large room feel cozy. Adding the right accessories and textiles to stone tiling will pull the room together and add the finishing touches.
Classic Stone Look Porcelain Tile for the Kitchen
How to give your kitchen a classic look
Make any room look like a chic Manhattan restaurant with tile that is reminiscent of subway tiling. A simple white tile gives any room a classic and vintage look that would blend in with the Oyster Bar at Grand Central Terminal. Classic tiles are available in several colors; however, using tiles in white or off-white palates will pull together the subway tile theme and are extremely popular in high-end restaurants. Friends and family will think they're going out to dinner when they come to visit.
Hang the white tiling on the walls as well as installing it on the floor to achieve this look. Once the tile is installed, you can hang bold signs, chalkboards and wire baskets to pull the look together. Hanging simple letters on the wall will give the room character while personalizing the decorations. Wire baskets double as storage and can hold fruits, vegetable, bowls, utensils and extra dishtowels. Chalkboards will add decorative flair while keeping weekly menus organized, as well as daily chores and activities.
Rustic Stone Look Porcelain Tile for the Bathroom
How to give your bathroom a rustic look
Rustic tiling will make any home—from Brooklyn to Queens—feel like it's on a country estate. Rustic tiling can be made to look like natural river rock, popular in many spas and country estates. Combined with a natural waterfall showerhead, rustic stone creates a sense of Zen-like calm in the bathroom. Include tiles on the walls and ceiling for a cave-like ambiance. Tiles can be placed in alternating patterns on the floor to mimic the appearance of a natural rock formation.
Stones that mimic river rock can be installed on the floor and feel luxurious underneath bare feet and create a calming oasis. Hang natural-colored drapes from the windows to enhance the spa-like feel. Bathmats with natural fibers can be placed over stone tiles to pull the look together.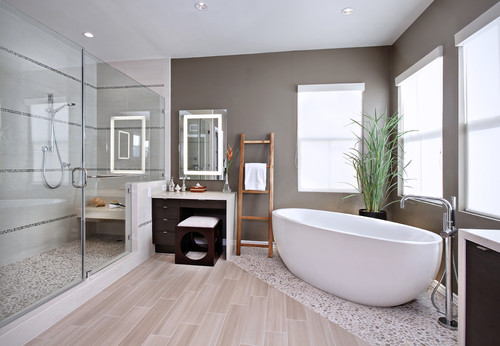 Cozy Stone Look Porcelain Tile for the Living Room
How to give your living room a cozy feel with stone look porcelain tile
Smooth porcelain stones installed on the living room floor are easier to maintain than wood floors and can look just as cozy. Install tiles in an even pattern and top with a cozy high-pile rug or a classic oriental rug. Warm brown tiles can pull together a large living room and keep it feeling intimate, while alternating different colored light-brown tiles to give the illusion of wood or bamboo. Create a shabby-chic room by hanging lacy curtains on windows near light brown tiles or a masculine room by hanging faux leather drapes over windows near rich tiles that mimic mahogany wood.
Combine different shades of brown or black to create depth in a room's decorative qualities. Line the exterior of a room with a light brown tile, and place dark brown tiles in the center of the room to look like a giant rug that never needs to be vacuumed or professionally cleaned. Use overstuffed sofas in rich colors to pull the cozy look together, and top coffee and end tables with chunky candles for calming mood lighting.
Light tiles will make a room look larger. Top a plain, white tiled floor with a patterned rug, like an animal print or a bold solid color to add character. Paintings with highly saturated colors and funky shapes add movement to rooms with plain white tiles.
Featured image source: Pixabay
https://homearttile.com/wp-content/uploads/2015/02/victorian-kitchen-770286_640.jpg
426
640
homeart
https://homearttile.com/wp-content/uploads/2017/11/logo-102214.jpg
homeart
2015-02-05 21:13:18
2019-01-15 16:32:42
Stone Look Porcelain Tile Design Ideas 2015